A game-changer for those wanting a fast run...
First Impression
The first thing I noticed when these shoes arrived was how light they were; before I had even unwrapped my parcel, I lifted it up and wondered if the shoes were even in there. On opening the shoebox I was struck by the colour way - my favourite colour is black but I love pops of neon too, and these shoes were essentially embodying everything I love style-wise. I'm always a little apprehensive to try new shoes as I'm a lifelong Gel-Nimbus fan and find I need a bit of extra cushioning to keep my legs feeling healthy, and at first glance the NovaBlast don't look like they'd provide much in the way of cushioning as they look like a very fast shoe - thankfully I was pleasantly surprised and my legs actually felt even fresher in these after running a fast and hard paced run than they do in the Nimbus, which is something I wasn't expecting at all but is thanks to the bounce technology within the sole.
How do they perform?
I am seriously impressed with the performance of the NovaBlast, with all the talk in the running world currently about those marginal gains you can make with advanced technology, this feels like a shoe that really steps up to that challenge. On my first run out in them I was amazed by the fact that I was running about 15-20 seconds faster than my normal 'fast pace', I could tell I had the speed but it didn't feel like I was exerting any more energy than usual. Because of this, from that first run I had already decided that these would be the shoes I'll be wearing for my 1h30 half marathon attempt in June (if that race still goes ahead!). They also felt quite spongey in the sole - not in that annoying way where you sink into the shoe on every step - but in the way that it feels like your leg and foot health is being looked after properly. The only slight concern I have is that I feel like if I'm going all-out in a race, there's a slim chance I may roll my ankle as I sometimes overpronate inwards and there doesn't appear to be as much sturdiness around the ankle area as I have in my Nimbus. That being said, I've only been running in these shoes for a week and I think my running style will easily adapt to being vigilant about this, so it perhaps won't end up being an issue at all. All I know for sure is that I absolutely love the NovaBlast and am so pleased I have a pair to run in. These are going to give me a whole new level of competitiveness in my racing and I cannot wait to build my fitness up even more so in order to make the most of the benefits a shoe like this can bring to my running.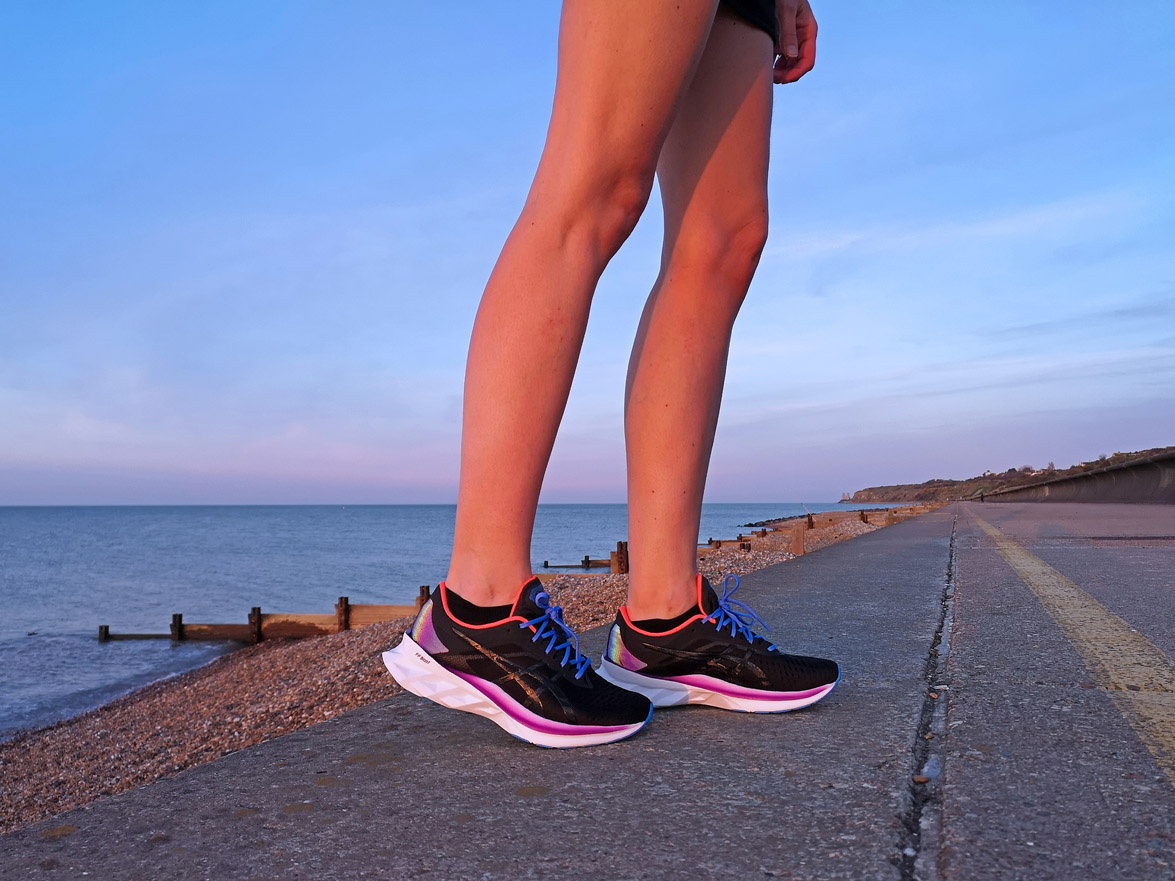 Technical stuff: 
FLYTEFOAM BLAST™ midsole foam
Forefoot Twist GEL™ technology
Rearfoot GEL™ technology
AHARPLUS™ Rubber outsole
ORTHOLITE™ lasting
Reflectivity
Monofilament Engineered Jacquard Mesh
Pros:
Price - £120 makes it feel very economical for the kind of shoe and responsiveness you are getting
Designed to help you run faster - and it truly is a fast ride for no extra effort
Heel drop of 10mm which shakes things up a little but is really great once you get used to it 
It's a really beautiful looking shoe
Cons:
Only suitable for neutral runners 
Only really suitable for anything up to half marathon (this is my own personal opinion - I'm sure there would be others out there who would wear it as a marathon shoe)
Verdict:
I absolutely love this shoe. I was sent the shoe to review by ASICS and am always brutally honest in my opinion as I'm a creature of habit and usually don't like to veer away from my usual running shoe, but the NovaBlast is brilliant and will be a shoe I choose to race in going forward. I'm so pleased I've finally found a shoe that works for my feet which is designed for speed. If you're a neutral runner but need a bit of protection for your legs (ie. to avoid shin splints etc) then these are definitely a good choice.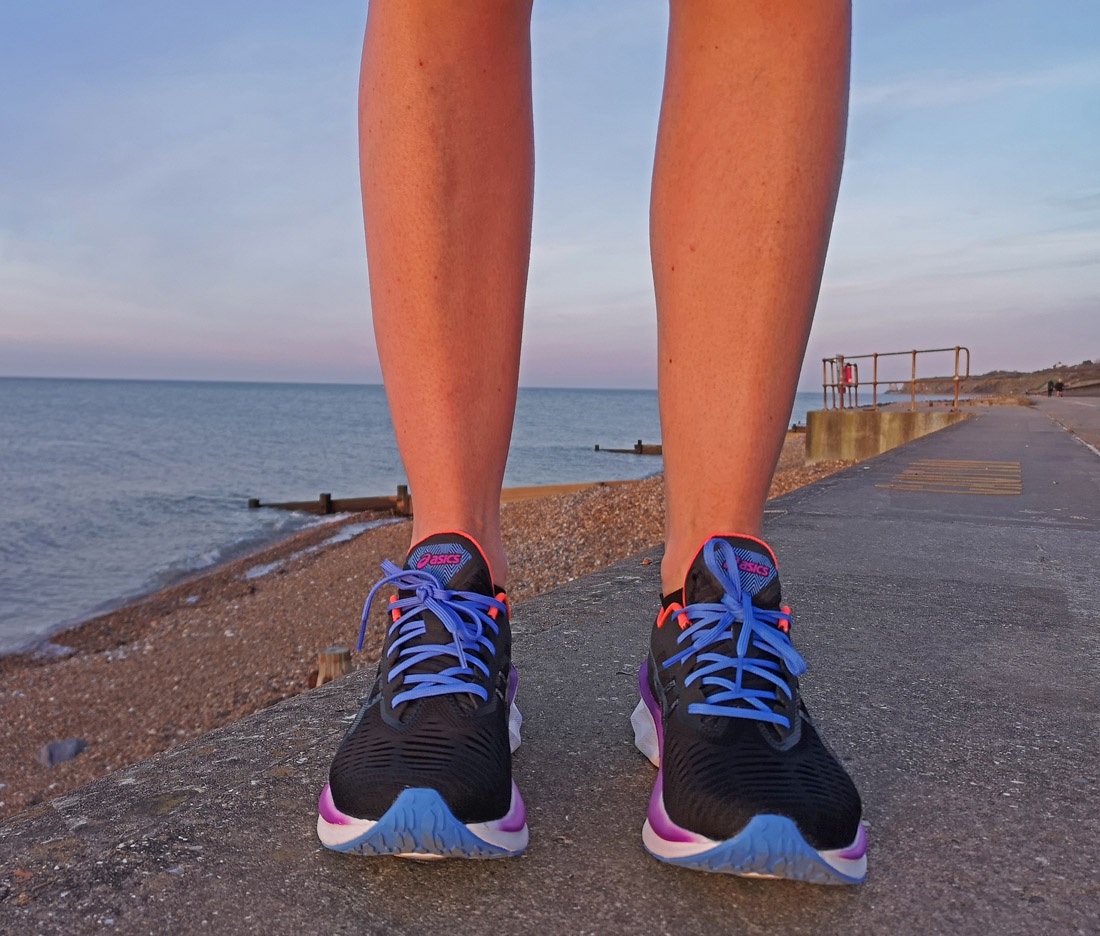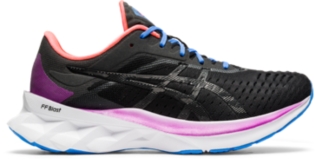 NOVABLAST™
The NOVABLAST™ shoe by ASICS is for neutral runners seeking a responsive running experience. This lightweight design includes our new FLYTEFOAM BLAST™ midsole foam for an energetic bounce with each stride.The outsole and mid...
SHOP NOW
written by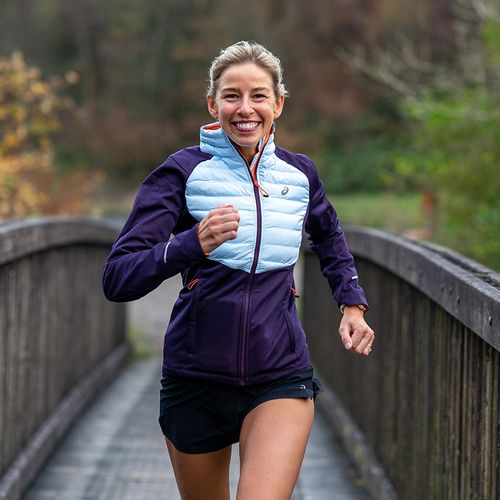 Victoria Stears
Head of Global Marketing - Sports/Education Sector from London

Age group: 34


MY DISCIPLINES