Don't be tempted to go into overdrive at a time when you need to be looking after yourself...
It may seem like a juxtaposition to include overtraining and lockdown in the same sentence, but it's a very real possibility right now. At time of writing, we are still allowed outside to exercise once per day in the UK and I am sure we can all attest to the benefits of vitamin D and fresh air during this otherwise challenging time. There's also a plethora of high quality online fitness content readily available to tempt us too.
For those of us who have had an unhealthy relationship with over training and eating disorders in the past, it's time to become a little more vigilant whilst we enter this peculiar period of being time-rich and without some of our usual constraints.
I write this from experience; my relationship with running has been an interesting one over the years, and has included many self-destructive years too. I know that for my own physical and mental health, running every day isn't helpful to me – in healthier non-COVID-19 times, I would run four times per week and strength train at least once per week, and this is more than enough to see me PB in races and frequently end up on the podium, or at least top 10 ladies.
However in the first week of working from home during lockdown, and in combination with the glorious weather we simultaneously experienced in the UK, I found myself suddenly running every single day, and guess what? My body hated it. On day 7, throughout the entire run I felt fatigued (which I had started to feel in previous sessions) and in the last two miles, every step I was taking made my shins hurt….as soon as I started feeling that pain, I knew I was verging on dangerous territory and needed to reassess what I was doing to stop myself getting carried away with this new found freedom.
I've found that the way to make this work for me so that I can avoid overtraining is to come up with some rules to follow during lockdown; of course, I'm expecting that at some point we will no longer be allowed to exercise outdoors, but until that point these are the rules that I'll be following:
One FULL rest day per week – now sometimes my brain tries to trick me into thinking that I can have a rest day whilst still smashing out a session on the rower or a strength training YouTube video, but actually that would do me a disservice…this is a proper rest day with absolutely no exercise-related activity
I'm only going to run a maximum of 5 times per week in lockdown and will also include a couple of easy bike rides on the days I'm not running
No proper long runs…it may feel tempting to try and use your one 'exercise token' of the day on a super long run, but actually, that'll leave me injured or exhausted so I'm only allowing one of my runs each week to be a long run and the maximum I'll allow myself to run during this time is 13 miles
No maximum effort runs – I can still run tempo miles, but if I'm already increasing my frequency of running then now is not the time to be including speed work
I'm going to ignore the online fitness content that I find so seductive at this moment in time and just keep to my usual routine of a barre class twice per week – thankfully my barre instructor has moved her classes to Zoom so I can still do these sessions, but as much as I want to add a fitness class into each and every day, now really isn't the time to be putting that kind of stress on my body
No additional secretive exercise – as a teenager I suffered with anorexia and one of the things that I so vividly remember is all the extra exercise I would do before bedtime, every now and again I feel like my mind starts to wander in that direction before I give it a stern talking to – but seriously, now isn't the time to be doing 200 crunches before bed…you won't get abs from doing that so it really is a waste of time and will just give you back ache in the long run!
Hopefully some of these 'rules' will be helpful for others who have a similar mind-set when it comes to exercise and training. Remember it is absolutely vital to fuel for any increase in activity, and is particularly important to make sure you are eating plenty of nutrient rich food at the moment (including lots of carbohydrate!) to keep yourself fit and healthy.
written by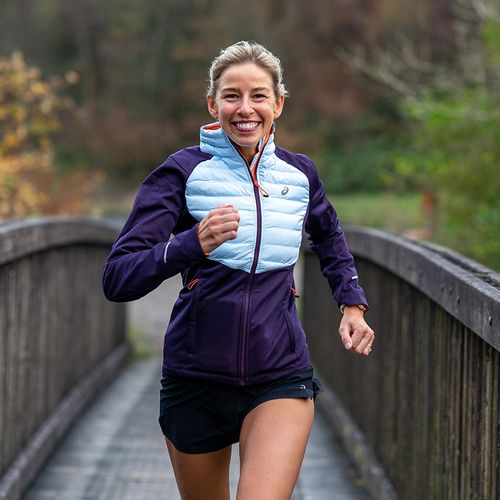 Victoria Stears
Head of Global Marketing - Sports/Education Sector from London

Age group: 34


MY DISCIPLINES