A PB Course ran in PB Shoes in a beautiful city. Here's what I have to say....
I'm currently training for a sub 3 hour marathon at Manchester this April and so Barcelona HM in Feb was a great time to test out a bit of speed. The course is known to be flat and unlike the UK, the weather is a little more predictable which should provide great weather conditions and it did just that - no wind just lovely sunshine. The race starts at 8:30am which is perfect for Spain as temperatures are still around 8/9 degrees again all ticking the boxes to help the uncontrolables on race day.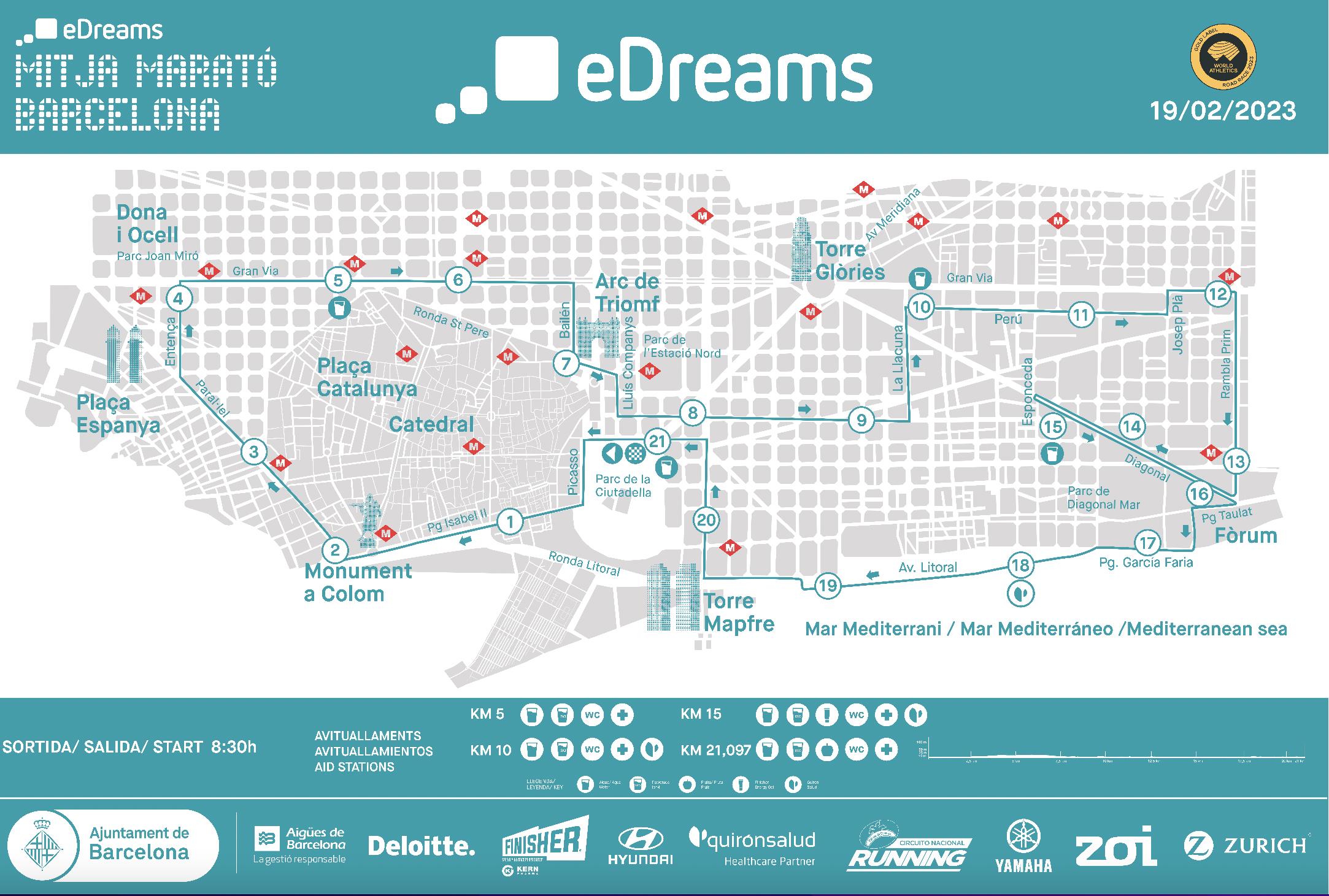 EXPO
Let's start with the Expo, the event organisers understandably didn't post out race numbers so you have to collect them from the Expo. This is a big event with in excess of 20,000 runners so there was an exciting buzz at the expo to get you ready for race day. The expo was well organised with runners being emailed their race number a couple of days before, then it's a case of showing them the email with ID and walking to various desks there to pick up, numbers, t- shirts, bags etc. I went Saturday afternoon and there was no queue at all so it went really smoothly. There's a number of exhibitors there if you want a little retail therapy before the big day.
RACE DAY
As usual we all giving bibs with colours on to correspond with your coral (the pen you stand in before starting the race) which corresponds with the estimated finish time you put down when you registered. I recced the bag drop and start line the day before so I knew where to go which is just a short walk down from the Arc De Triomf. Again that was smooth and no queue, I just tagged up my bag and handed it over. Job done. The race chip is a plastic tag that you attach to the trainer laces which stayed put and I didn't even know it was there - I always prefer this to the strip chip attached to a bib.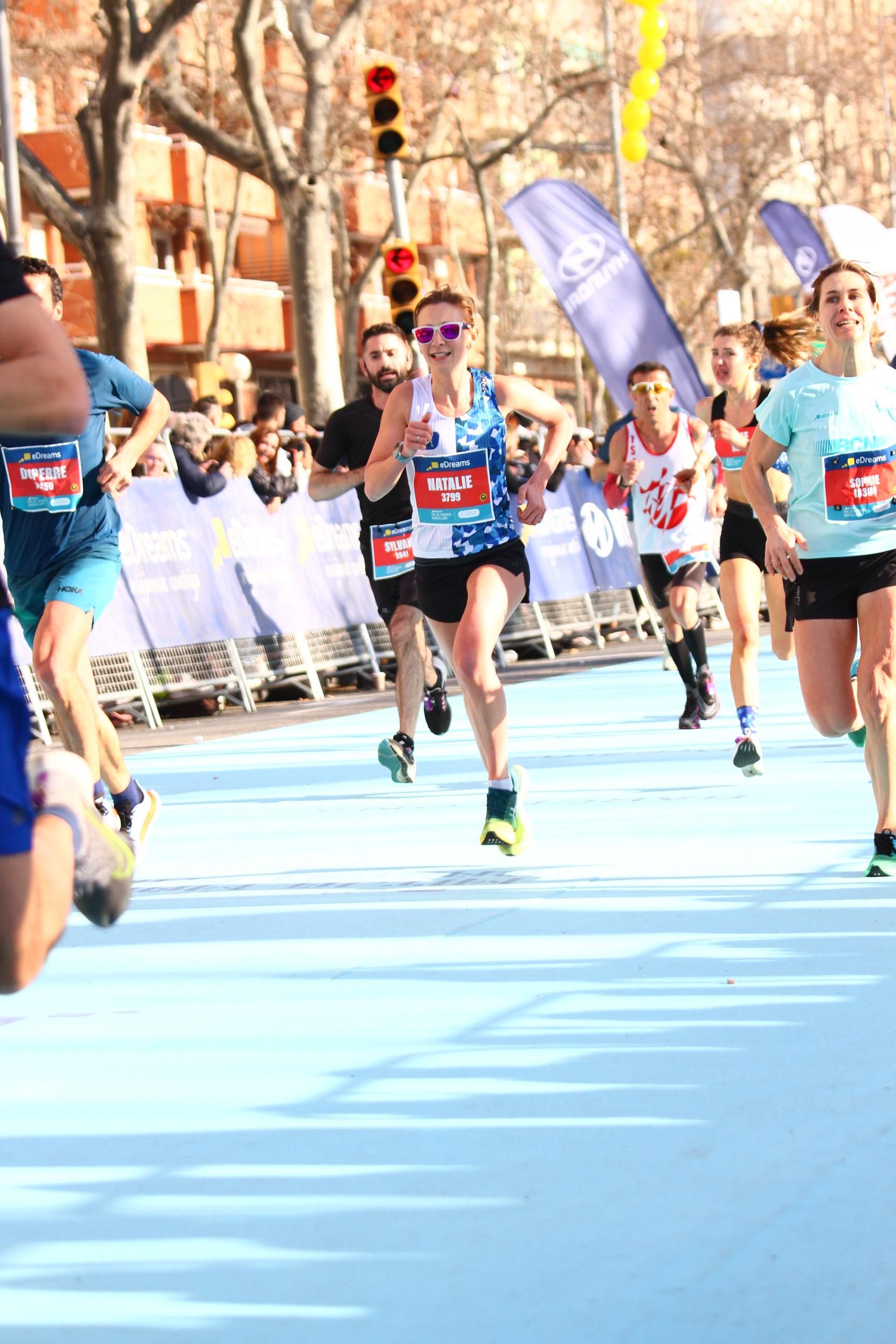 The toilet situation was not so smooth! As it's a huge event I just don't think there was enough toilets - seems to be the usual thing at races! There were about 6 at each entrance point to your coral but the queues were ridiculous. My start was just behind the elites so 8:30am and I just didn't have time to go so bear that it mind if the toilet is a must!
The corals were organised well with people at every entrance only letting the right colour bib numbers through. The race started on time with a great atmosphere to get you in the mood to run! There are pacers every 5 mins from 2:00hrs - 1:15hr which is really useful if you're planning to hit a certain time. I was hovering around the 1:25 pacers at the beginning and there were really good with pacing and just chatting to everyone - telling people where the turns were and the timing of the last split. I'm not Spanish so half of the time I had no idea what they were saying but it was good distraction. The start was a little manic! So many runners in not a huge space so I felt like the first couple of Ks was about just staying upright! A little clipping here and there and a few elbows but after a while space was created with packs of runners. The course is marked with K markers and with live tracking at every 5k so people at home can watch you! There's also real time clocks at every 5k which is great when the watch GPS doesn't work (not uncommon).
The atmosphere was amazing! People on the streets cheering you on and bands playing. What I loved was that the bibs have your name on it so the crowd shouted your name - great when things were feeling a little tough. The course was also a delight - nice and flat with minimal turns really and a lovely section along the coast. People have mentioned that the beginning is a bit of an incline but I honestly didn't feel it and there about a 20 second hill to take you to 18k but that's about it. I do remember a fair few downhills which is a winner!
There are also water stations at each 5k, I didn't really take advantage of them until 15k but again due to amount of runners compared to people dishing out water they just couldn't get it out quick enough which meant I was left without. To be honest it was in paper cups so even if I did manage to get one I wouldn't have been able to sip it and I wasn't go to slow at 15k as the game was on!
With the last 600m or so to go you take a left turn and that's when you can see the finish arch! If that doesn't make you try and push a little harder for that come closer quicker then what will! It's as flat as a pancake to the finish, the crowds are cheering and so I had a word with myself and went for it! In the last few meters you hit the blue bouncy carpet and your are there crossing the line… you've done it!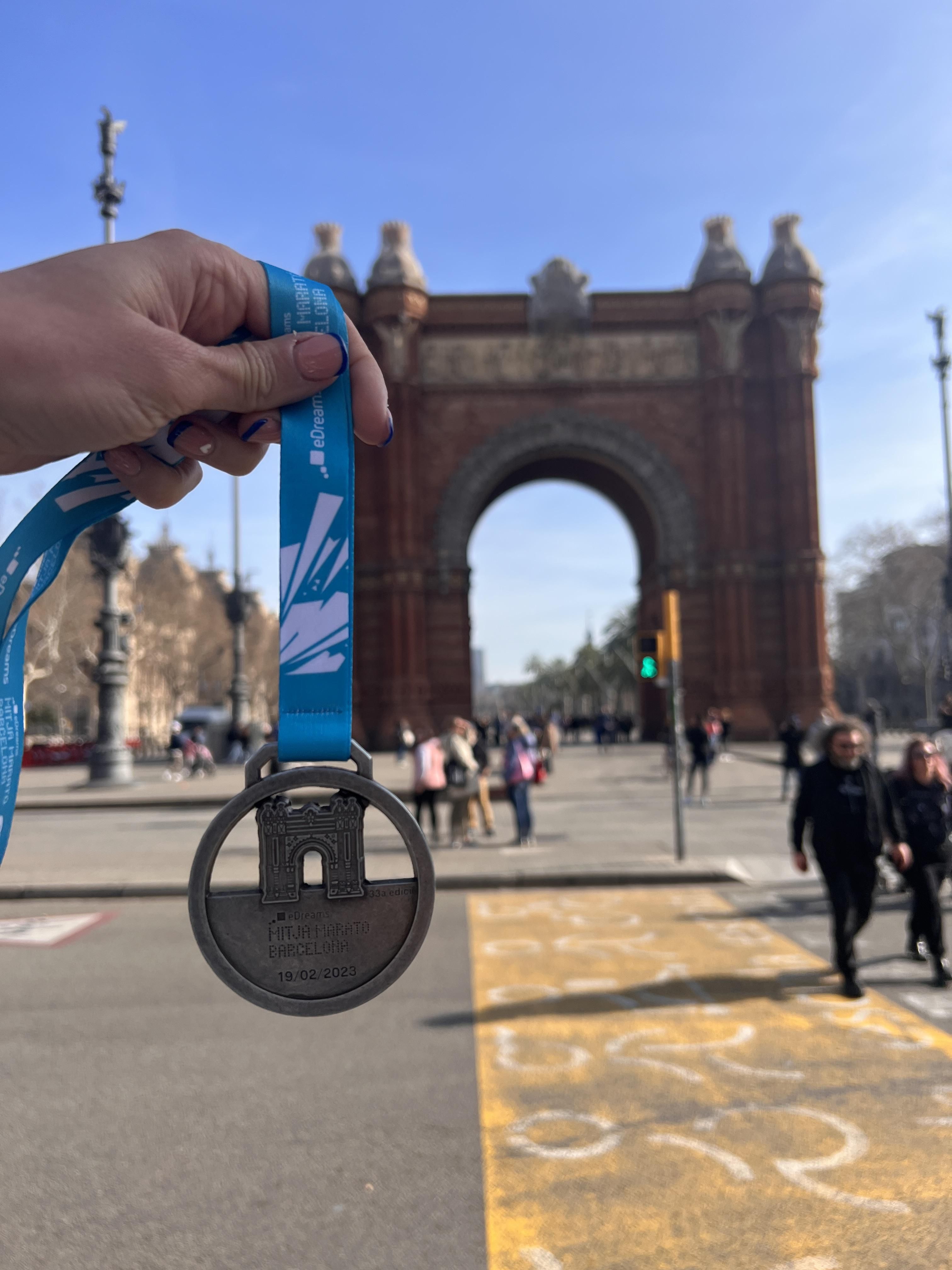 You carry on walking and collect your well deserved medal plus a cute little coin (if anyone knows what this is then let me know!) There's water, electrolyte drink, protein drink and fruit on offer. Obviously the atmosphere around the finish is great to as everyone so pleased to have finished and celebrating their achievements! 
A great PB course in an amazing city with an amazing atmosphere. The runners I came across during the race were all awesome to - A real vibe that we are in it together and we are going to get this done! I will definitely be going back.
Thank you for having me Barcelona no doubt I will see you again next year!
Natalie
P.S hit the link to get yourself the ASICS METASPEED SKY + - so comfortable to run in - when it started to hurt during the race , I would focus on my feet and shoes as they felt like they were gliding! Click here to get yourself the ASICS METASPEED SKY +
written by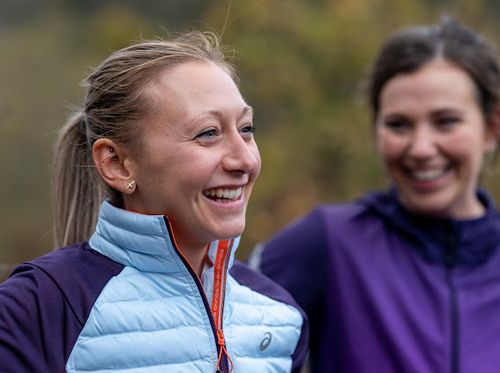 Natalie Bunce
Personal Trainer/LiRF/ Run Coach from Nottingham


Club: Best Athletics

MY DISCIPLINES