101kms - 6,100ms elevation - 3 countries - 1900 people
This weekend I completed by second CCC race, the 'little sister race of the UTMB' which starts in the centre of beautiful Courmayeur. The Italian town creates an atmosphere only Italians can provide with a stunning backdrop of Mont Blanc and all the emotional start to the music of Vangelis. 
The first ks are on the original route, different from the UTMB which quickly climbs to 2500ms of altitude to one of the most exceptional panoramas you could imagine, facing the Mont Blanc and the Grand Jorasses. This is the best time to settle into the rhythm and not go of too crazy as its a long old climb (about 2hrs) before the first check point at Bertone. The passage of the Grand Col Ferret (2537m) marks the entrance of the race in Switzerland, after a long slow climb from Arnouvaz. Then my favourite decsent down to La Fouly where I finally got to see my crew (Martin and John), they weren't able to help me but it was just nice to see them and they were surprised to see me so soon. I had plugged my earphones in going over the pass which had really helped me push on, passing 4 girls on the way over and then passing the favourite runner Natalie Maunclair as I ran into the next CP ( I was shocked to see her so soon but I felt comfortable enough with the pace) as I ran into the aid station an official strapped a tracker onto my pack indicating I was in the top 10 which gave me a real boost. After Le Fouly there is a long cruel 5k climb unto Champex Lac which marks the 55k mark. This is the first place you are able to be helped by your crew members. I was feeling considerably better than last year at this same point. I gobbled down some flat coke and a big bowl of hot noodle soup and put my rain jacket on as the weather had taken a turn for the worse. My friend Mira Rai was crewing another girl in the race but was there also to give me a pep talk and keep my smiling. 
After Champex Lac there is another big lonely climb over La Giete and then down into Trient for my second crew point. I was really glad to see them again, the weather was pretty poor and the trails were turning to slippery mud and brown streams. I took on some more soup and loaded up with gels and bars before setting off for another massive climb over Catogne at over 2000m and entering back in to France again. I was really starting to struggle with the climbs now, dizziness was slowing me down on each climb but I knew after Vallorcine I only had one more push to get to the finish line. I had been religiously stuffing in gels or bars every 30 mins but the dizziness just didn't go away, I can only put this down to lack of altitude and not enough hill training ?
As I ran into the lovely French town of Vallorcine I remembered last year it had been pitch black....this really lifted my spirits as I still hadn't put my head torch on yet ......a reminder that I was doing well. Once again it was uplifting to see Martin, he insisted I eat more soup and put on warm clothes before I set off into the dusk. I only had 18k to go but as always those 18k felt like the worst. The rain was lashing down, over the high points it was now sleating and the trails were now treacherous. Only made worse by the thick fog which was now reducing visibility to 5m. This was making my Petzl head torch work overtime (its an intelligent torch which changes brightness according to amount of light, so it was flickering the whole time) resulting in the batteries going after only 1.5hrs. Trying to change batteries in the dark in the middle of a storm up a mountain isn't ideal. 
Coming into Flegere with 8k to go is always a feeling of utter joy but also terror as you are watching your back the whole way and I find the descent into Chamonix really tough on tired quads and bashed toenails. I must have took seconds there filling up with water before running out of the tent and down the sharp bank onto the ski slope. I really wanted to enjoy this bit but I have to say I didn't feel fully confident until I hit the tarmac with about a k to go. I was over joyed to run into the finish straight knowing I had done all I could. I had run two hours quicker than last year and come in 7th woman, one place higher than last year, a testament to the quality of the world class women's field as my time this year would have podiumed in previous years.

I can't thank Martin my husband and John Ward my good friend for all their support and kindness over the weekend. I know how exhausting it can be to crew for someone especially over 3 countries, they really kept my spirits up during the shitty weather. 
Also thank you to ASICS for all their support and trust in what I do and last but not least my ASICS FrontRunner family who literally felt like they ran the whole thing with me. When you get back to your digs after a 14 hour race and find your have 256 messages from your friends you know they must be pretty special people.
written by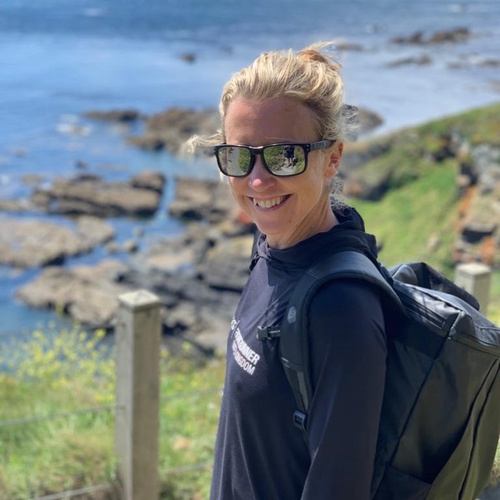 Holly Rush
ASICS UK Frontrunner Community Manager from Frome, Somerset
Age group: 40-45
Club: Avon Valley Runners
Coach: Alan Storey
MY DISCIPLINES
MY DISCIPLINES