​ The fact is, we are all busy in life. It doesn't matter what job we do or what our family commitments are, we are all pushed for time. And if you love to run and race, you also need to find time to fit in the hours to train.
I used to be far more time rich than what I am now; up until the end of last summer I had a lot of flexibility in my daily routine which meant fitting in running was easy and had little impact on my personal relationships (well, apart from the fact that I had fallen into the trap of over-training and had no social life, but that's a story for another day…), but then I changed job and with that change I ended up with a 4hr commute each day, many nights staying late in the office in order to catch up with my US-based team, and an even-busier work travel schedule than I had in my last job. But I still wanted to run, a lot. And I still wanted to spend time with my husband, and I also wanted to meet up with my friends every now and again too…but it felt like there weren't enough hours in the day for everything I needed to do. So I had to get smarter with my time whilst also being very careful not to take on too much and burnout.

Now, I don't get it right all the time but I have made a few adjustments in order to make things work better for me – and whilst I don't think I'm at the same level of performance I was last summer, I think I'm doing okay. So what have I changed?
I've started to run once a week with some colleagues during the day – a group of us run from our office in Bloomsbury up to Regent's Park, run the outer circle (and the inner circle if we have time) and then run back to work – it's between 5-6 miles and is a good recovery run for me as we tend to keep to a 9:00 min/mile pace. We only tend to fit in one #runch per week and the day changes on a weekly basis to accommodate my schedule, but I'm lucky that I have a few trusted colleagues who are always happy to dust off their runners and join me. I'm sure it improves our productivity once we're back at work too.
My husband has started joining me on my Sunday long runs…on his bike. My husband hates running, but loves to cycle. We want to spend time together at the weekend, however my long run is always 2hrs+ and I tend to head out during the middle of the day on Sunday, which essentially writes off the entire day. Sure, people have told me to wake up earlier and get my training done before my husband wakes up…but, I have to wake up at about 5.30am each morning to catch the train into London, I often end up staying late, and by the time the weekend arrives I need to get a little extra sleep…so there is no way that I'm waking up before 9am and there is no way that I am running before 12pm.  But having my husband join me on his bike means we both get to spend some quality time together doing something we enjoy, we both get some fresh air and exercise, and we tend to share a lot of funny moments too. An additional bonus is that he can snap a quick running shot of me which means I don't have to stop to set my phone up. We only started doing this at the beginning of 2019, but it works and has dramatically improved our lives as me heading out for my long run used to be the source of arguments.
I've started working from home once a week which means I can adjust my hours to US time and therefore use the morning to fit in a good quality speed session.     
With the above steps, I manage to fit in my 3 key training sessions each week. I can usually fit in one or two more runs around the edges which I call my 'junk miles', and will head to a barre class once a week for my strength training.
It's a lot to fit in, and I'm often more exhausted from work than I would like to be, but for the moment I feel like things are working in the way they should be. And whilst I may not be as time-rich as I once was, I'm still able to run and that's what makes me happy. 
written by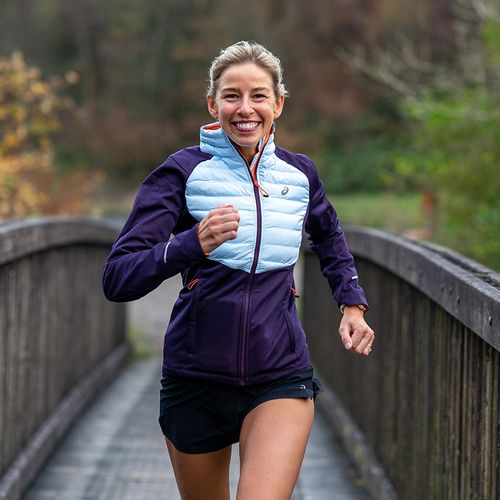 Victoria Stears
Head of Global Marketing - Sports/Education Sector from London

Age group: 34


MY DISCIPLINES