The ASICS GEL-NIMBUS have been my go to shoe for distance running since 2017. I've worked my way from the 19s all the way through to the imminently released 25, relying on the GEL-NIMBUS to provide the comfort and support I need during marathon and half marathon training. Long story short, the GEL-NIMBUS and I are well acquainted.
I've recently been testing the GEL-NIMBUS 25 ahead of their official release this season. As a GEL-NIMBUS fan I'm always keen to see what the latest model of the shoe has to offer and the 25th iteration does not disappoint. Boasting to be a revolution in comfort, I was certainly excited to take these for a spin and put such a bold claim through its paces.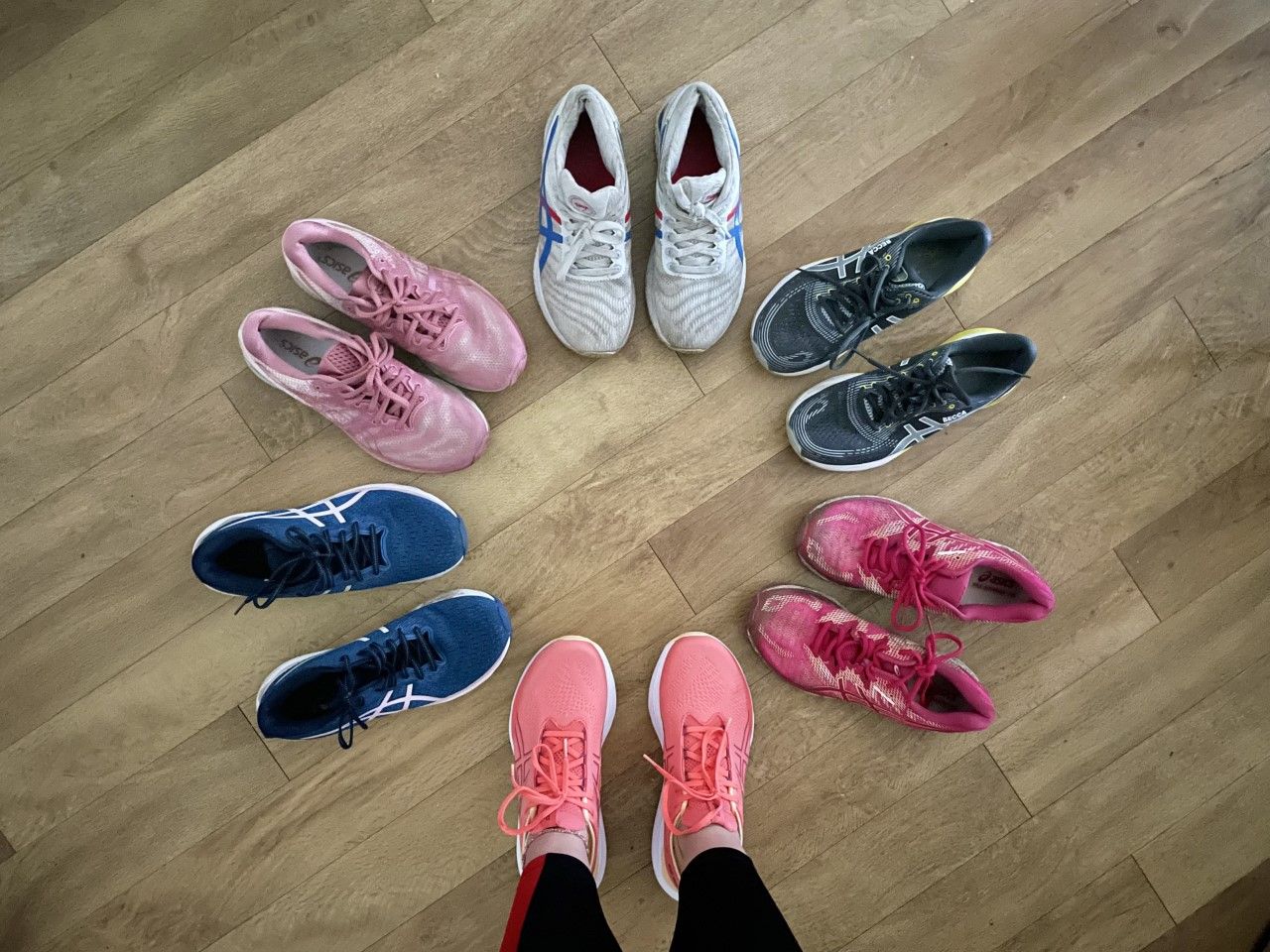 First impressions
Opening the box I was completely taken aback. I've become used to the GEL-NIMBUS appearance changing over the years but these are a radical aesthetic overhaul: with a super soft knit tongue, chunkier built up sole and a knit collar with reflective detailing. The colour is an attractive coral (one of my favourite colours) with a white sole. They certainly grab your attention and fit in well with the bright and bold designs of previous GEL-NIMBUS shoes. I did wonder if keeping these under the radar when testing them would be a challenge because of how bright they are! Looks wise, they appear to be a cross between the Nimbus 23 and 24, which I guess makes sense!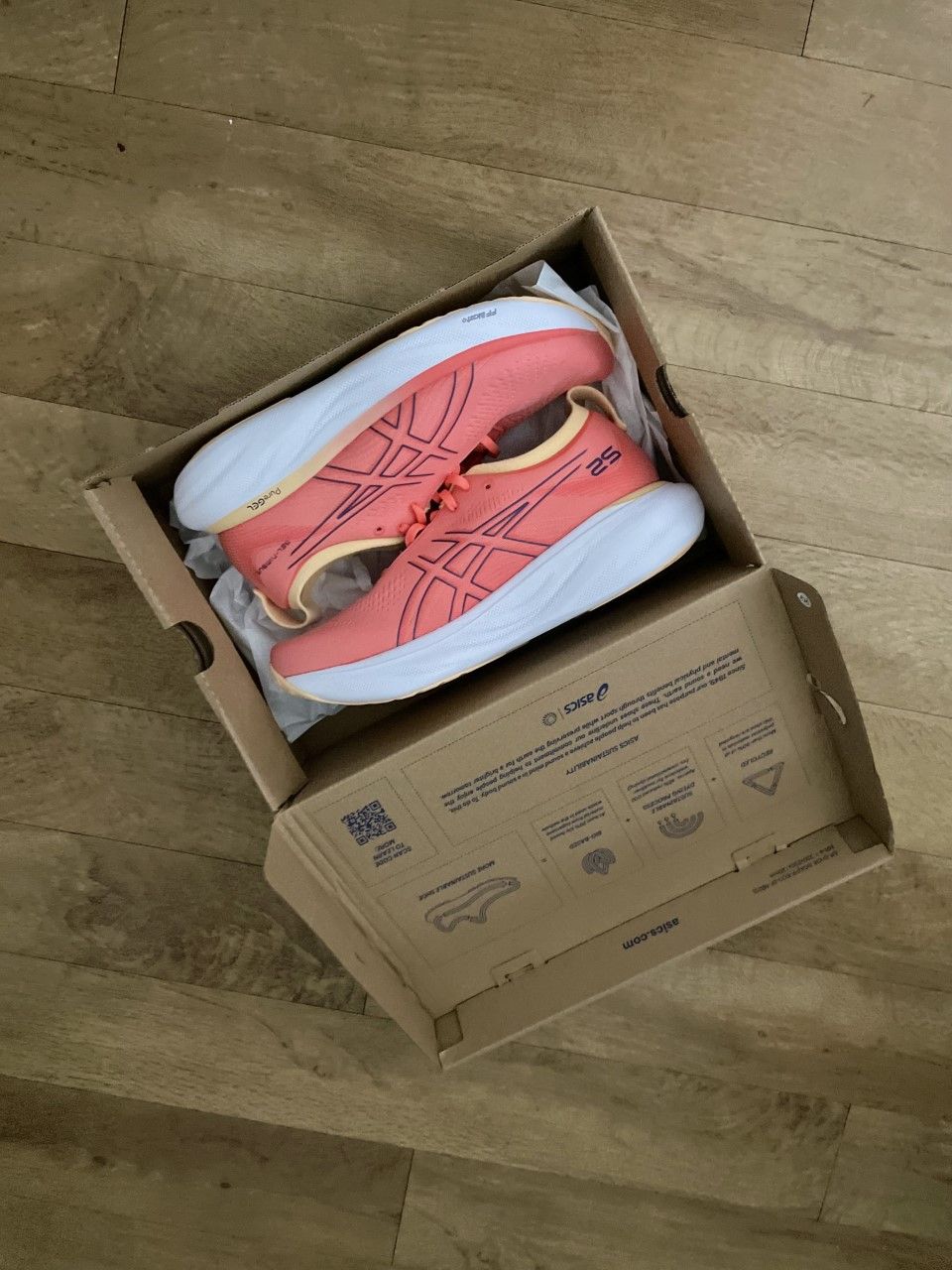 Fresh out the box
When I first put them on I was filled with a slight bit of dread. The sole felt quite firm and I had flashbacks to the GEL-NIMBUS 21s which were my least favourite of the range, as they felt very hard underfoot. However upon standing up and beginning to walk around my flat I was hit by just how bouncy and almost spongey the shoe feels. They are very comfortably cushioned with an almost memory foam like feel. The soft stretch knit tongue and collar are also a welcomed change as on previous models the tongue and collar have been quite bulky, making it slightly more difficult to get your feet in and out.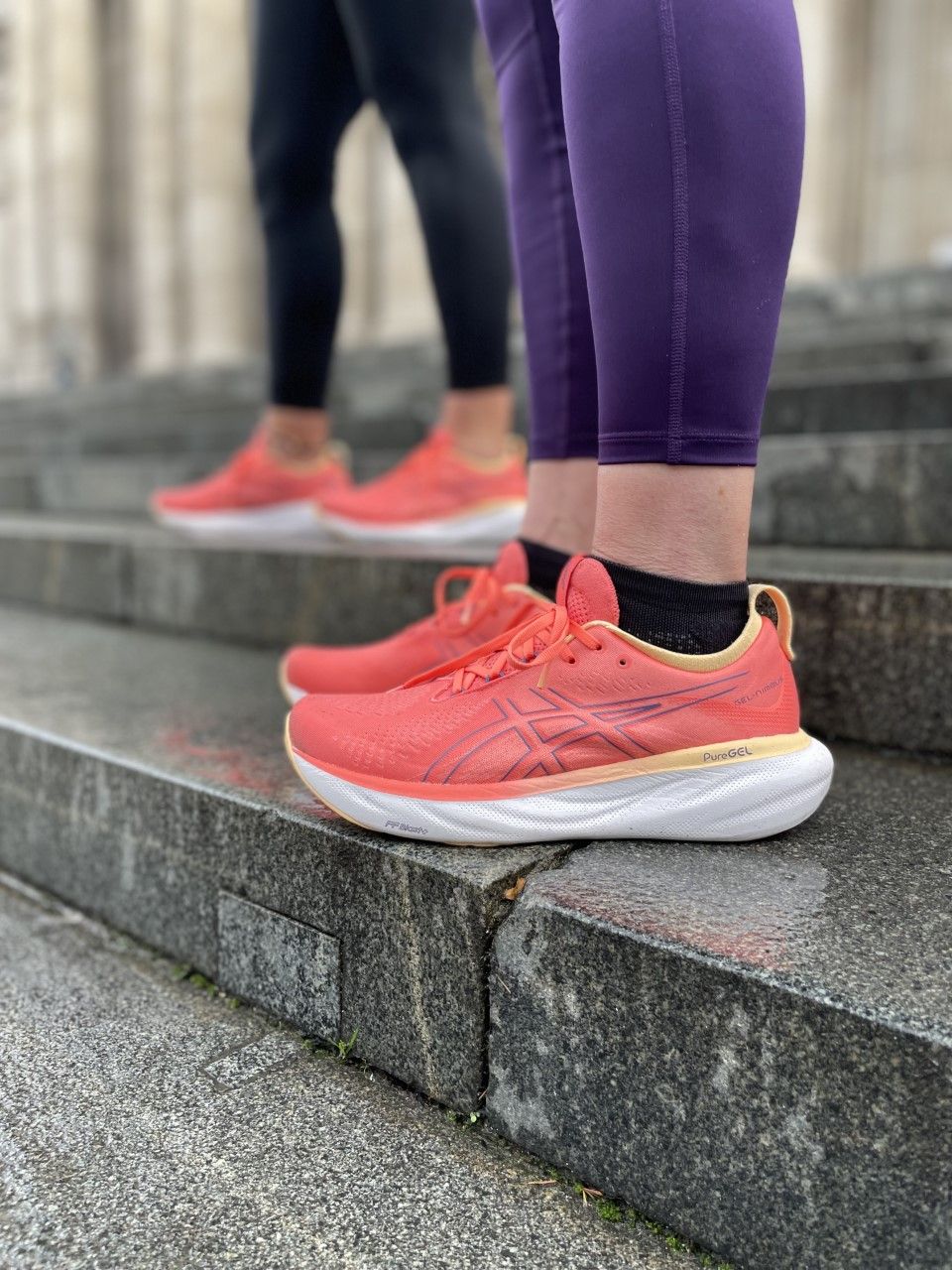 Putting them through their paces
I've trailed these in various conditions and I'm a big fan! Here are just a few of my initial thoughts, I can't wait to continue to put these through their paces with more and more mileage:
They feel extremely light which is ideal for longer runs – whilst I absolutely love the GEL-NIMBUS 22s (and they have been my go to long run shoe for many years) they do feel heavy towards the end of a marathon.
They are extremely well cushioned thanks to the FF BLAST PLUS ECO cushioning, with 20% more foam underfoot. Whilst the GEL-NIMBUS 23 felt like it had almost too much cushioning and the GEL-NIMBUS 24 slightly under cushioned, the 25s are a perfect compromise – without feeling bulky or heavy. This cushioning is not only extremely comfortable but also very lightweight and the extra win is that this is made with at least 20% bio-based material from renewable sources. Hopefully this is a step in the right direction and the 26 will be even more sustainable.
The soft stretch knit tongue is such a great improvement and helps the shoe to feel less bulky. I hope that this will help keep my feet comfortable on long summer runs, when the previously bulky tongues have often felt quite restrictive as your feet swell.
They are very bouncy – now I wasn't expecting this. I've gotten used to the flashy speedier shoes feeling bouncy, whereas the GEL-NIMBUS are the faithful, understated distance shoes, however the 25s can now compete with some of my speedier shoes in terms of bounce. This is largely helped by the PureGEL technology which is lighter and softer than the previous GEL technology, with enhanced shock absorption making your landings feel softer. It definitely was a pleasant surprise seeing the impact this had on my pace and how effortless running felt whilst wearing the shoes.
I've tested these on a variety of surfaces including gravel trails, cobbles, pavements, up and downhill and in the wet and dry. I'm really impressed by the grip, their stability around corners and on uneven surfaces and how they handle wet slippery pavements.
The toe box feels slightly narrower than other models. I usually go half a size up from my regular running shoes in the GEL-NIMBUS and I would recommend doing the same.
Final Thoughts
I like them! They are definitely a welcome step forward for the GEL-NIMBUS. Whilst I liked the GEL-NIMBUS 24s for their thinner mesh tongue and lightweight feel they didn't feel like they had enough cushioning, the 25s are definitely an improvement in this department and it is great to see that comfort, cushioning, bounce and a lightweight feel are coming together in one shoe.
Are they the most comfortable yet? Let me get some more miles in and I'll let you know, but my first month of testing certainly hasn't disappointed.
written by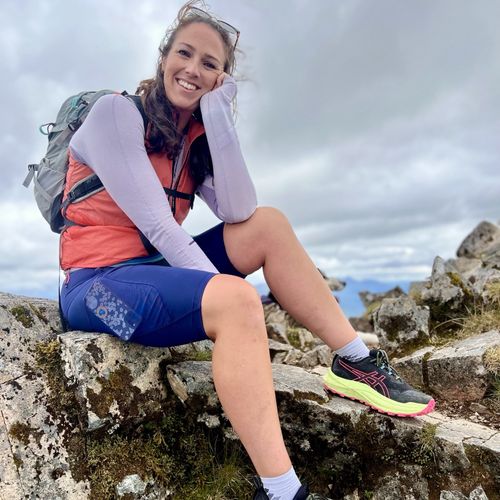 Becca B
Envrionmental Research from London/Southport

Age group: 30 - 35
Club: Greenwich Tritons, Southport Strollers

MY DISCIPLINES