My first half marathon and the biggest event I've ever been to
Great north run
The greatest show on earth is probably how best to describe the Great North Run.
Am I biased being a northerner ? Most definitely but when it comes to running spectacles there are few that rival the atmosphere of the biggest half marathon around, boasting a running field of over 57,000 taking part in this it's 39th year and raising millions for charity in the process.
Being so popular an event the chances of getting a place in the ballot aren't the best so for me i was pretty shocked to get a place at the first time of trying.
Training for this event though wasn't going to be easy, with our annual holiday falling in the middle of what would be a six week schedule, and having eased up a bit due to an ongoing Achilles issue prior to it. I was pretty much going to have to rely on the endurance I had put in my legs.
Our holiday came and went and I managed to squeeze in 5 runs over the 10 days we spent in France varying a little trail with a few road sessions including some hills for good measure. Having returned from holiday I only a couple of weeks to go before the GNR so just concentrated on getting some miles in my legs with 3/4 runs each week and a maximum distance of 7/8 miles.
Race day
I've been to spectate at the GNR on numerous occasions when my wife @Debs_runs and friends have taken part and have always been near the finish area. This certainly was no preparation for what I was to experience as I made my way to the start line. We parked at the finish area and got the bus to the start line which is on the central motorway through Newcastle.
As we walked with the crowds towards the start from were our bus dropped us I really started to get anxious! Crowds and noise really raise my levels of anxiety. All I could think was 'What have I done, what have I let myself in for.'
Having failed to find Mel (@littlerunnermel) who I was going to run with, at the start area I made my way to my start pen, wished Debs and Kerry good luck and then tried to calm myself. I had about 20 minutes until the start and everyone was going through the warm up watching the big screens with the music blasting at a deafening noise.
I was so anxious at this point I could have just went home! I could have climbed the barrier and just walked away, and I was really battling to hold back the tears, it was horrible.
I remember them announcing the elite men and then away they went, Great it won't be long till I'm running and then I can just switch off count the miles up until halfway and then down to the finish. How naive!
20 minutes gone and I finally step forward towards the start line, and a further 17 minutes before I cross it. As I hear the bleeps as everyone's chips cross the start line mat the anxiety starts to reduce and I drop my head a little to watch the road in front.
The road ahead winds a little and as the incline starts I can just see a mass of people snaking along in front. As we head down into the tunnels the cries of oggy oggy oggy ring out and I manage a smile, maybe it won't be so bad after all.
As we cross the Tyne bridge I ponder the amount of spectators that are lining the route and think it's possible the best day to go to the metro centre shopping as surely everyone in a 30 mile radius is here making this the best supported race ever. And on we go into Gateshead.
As my anxiety subsides my frustration starts to increase at not being able to get a decent rhythm and pace for having to weave my way through what seemed like hundreds and hundreds of people walking, as I check my watch we aren't even at 3 miles yet and so many people have opted to walk. I should say I haven't got an issue with people walking, I do however feel frustrated when they are have white and orange numbers which means some of them have started about 20 minutes before I did.
I battle on weaving in and out trying not to think about it and just concentrate on my run as it's the only variable that I have control over.
The miles are rising but so is the temperature and as I look to see where the next water station is I spy spectators handing out rocket ice lollies! Omg have you tried hitting your mouth with an ice lolly while running along ? It was certainly appreciated though and as I pass the next water station I pour most of it over my head to try and wash the sticky bits from my beard.
John Reid road !
Has been the nemesis of many a runner but for me it's actually were I started to enjoy the GNR the most. The field is starting to thin a bit and running is becoming a little easier, although I'm still having to weave through people walking there is much more space to do it.
As I near the round about where I've stood spectating in the past I hear the crowd cheering, bands playing and for the first time I hear people in the crowd encouraging me on and shouting my name.
I'm lifted as I know it's a down hill a left turn and then a flat last mile to the finish.
I quicken my pace and I'm determined to keep it going to the finish line. 800m to go and it's just a massive see if runners and spectators and for the first time I feel what the finish straight feels like as a competitor rather than being on the other side cheering people on. As I see the 400m mark I catch a glimpse of my mate Matt who's brought my daughters down to watch us finish, I dive over give them a sweaty hug and a kiss and then dash off quickly to finish.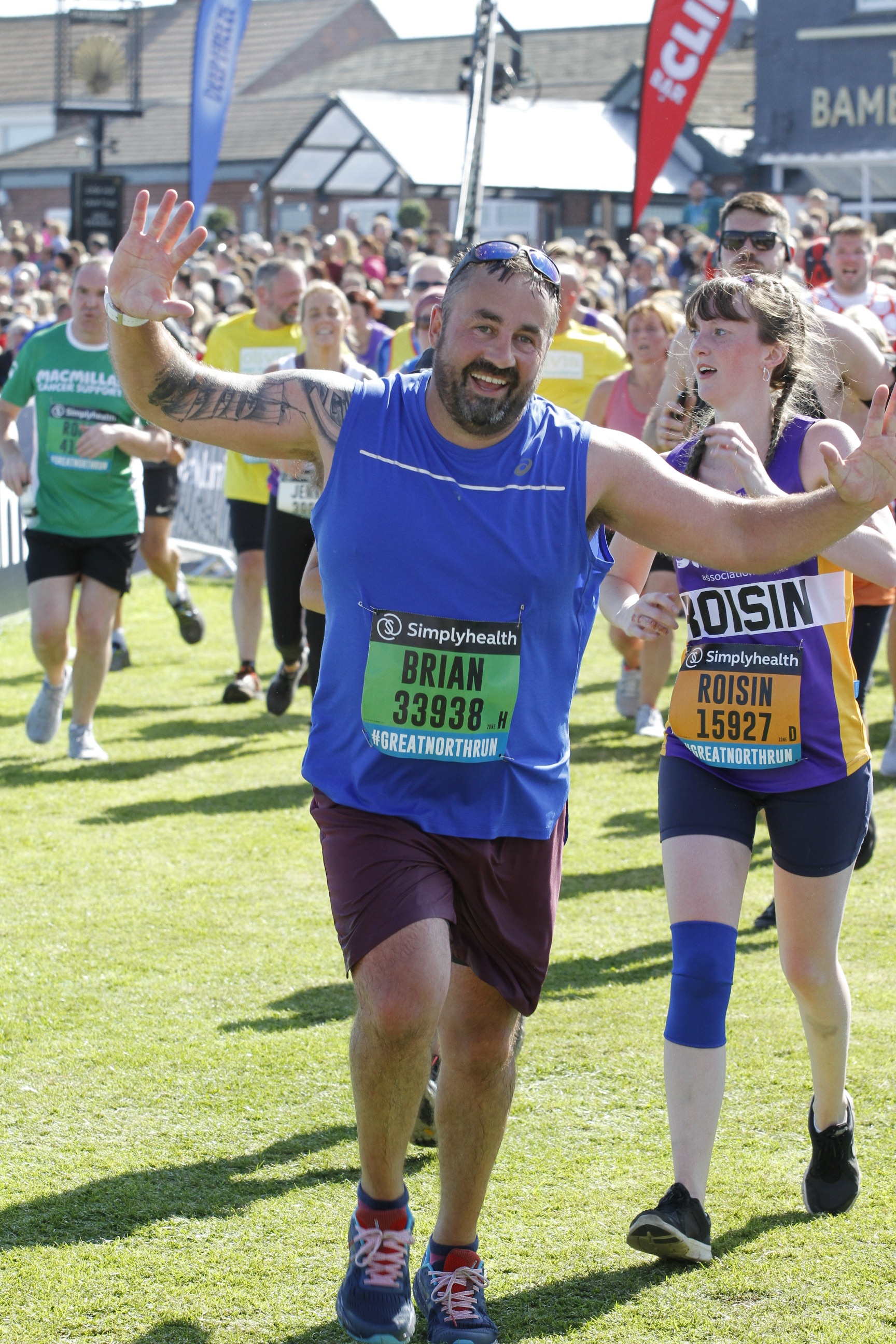 I suppose for many the finish line is a welcome sight and can't come soon enough and for others it's a joy if they PB
For me it's a real mixture as I cross the line arms aloft and then collect my goodie bag with my T-shirt in it, my first thoughts are I hope Debs and Kerry are going well and not too far away and then it dawns on me ! I'm on my own
I started on my own, I ran on my own and I finished on my own, and I suddenly feel the urge to share this,but as I take my phone out to try and contact everyone else it's dead. It's somehow reset itself I can't believe it. I've done all that and I'm at the end with no way of getting hold of anyone. I look about through the sea of people and there stretching on the grass is a familiar face. Jarnail, @themightysingh we congratulate each other and he grabs a picture (for the gram obvs) and then I'm surrounded. Chimmzey , Brad , Curtis and Hadooli all congratulating me taking pictures and loads of hugs. I really couldn't ask for better teammates, teamates who are friends, teammates who are so supportive and encouraging and then I see her, the person I started my running journey with, the one who's been with me on all those cold and wet training runs. My training partner and biggest supporter Debs.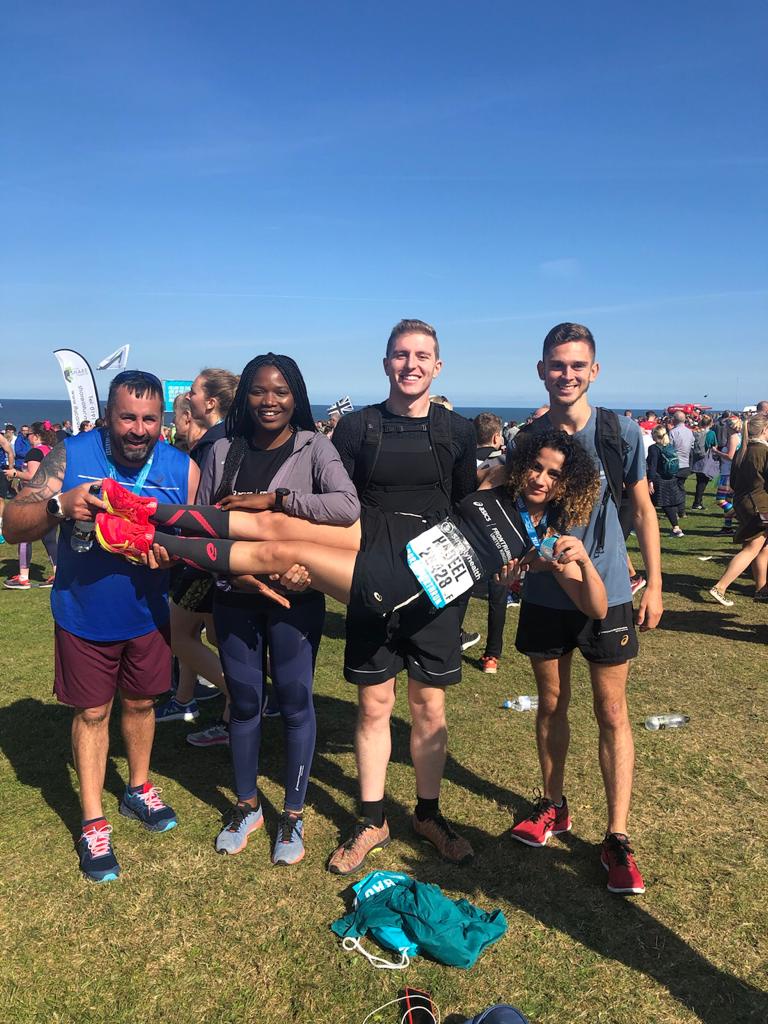 I saved the biggest hug for her.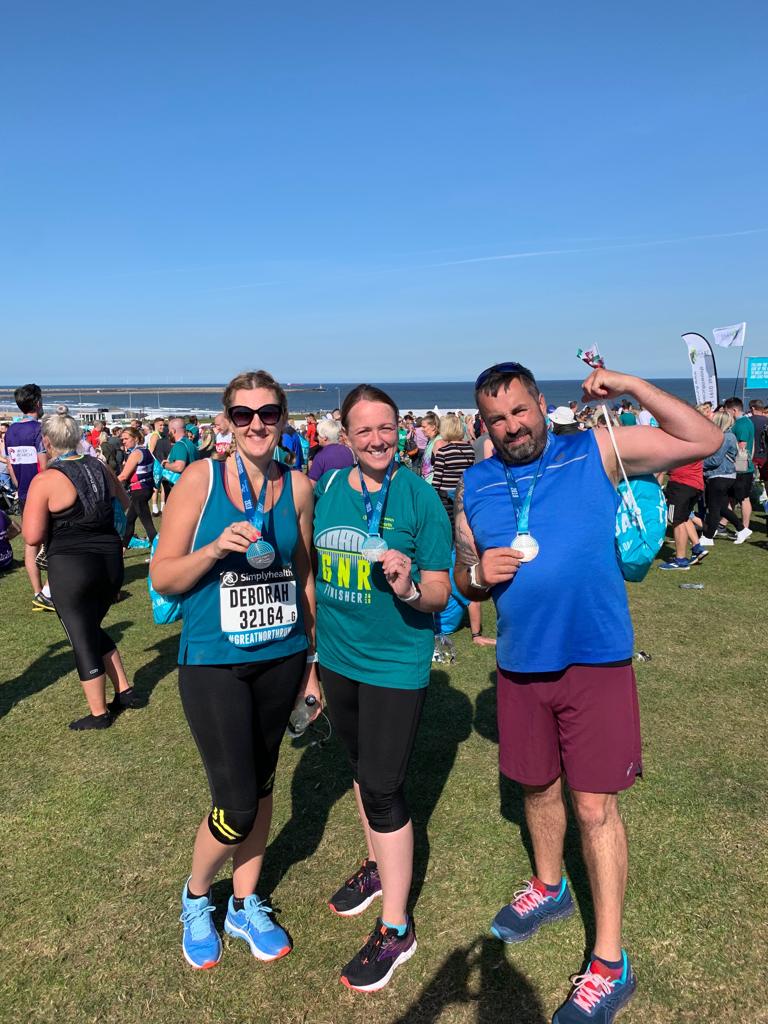 written by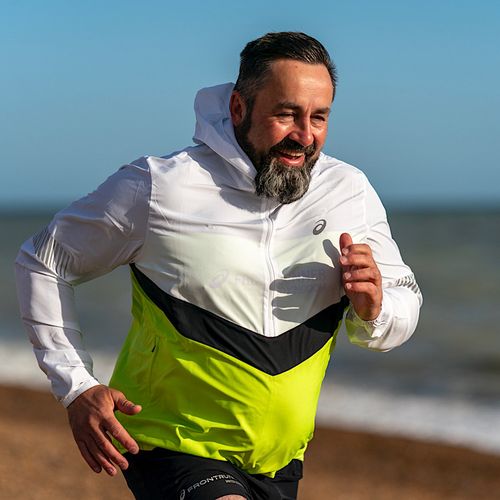 Brian Bowden
Team leader @ Network Rail from Berwick-upon-Tweed

Age group: 40-49
Club: Tweed striders

MY DISCIPLINES