Knowing how to set running goals can be a daunting task. Having a running goal, however big or small, can help you to keep focused and motivated as a runner. Your running goals should remain personal to you and relevant to your own training targets.
So think about what goals you are going to set and if they are realistic to you as an athlete. Whether you're setting out to be able to run specific time for a 5K or are planning on entering your first race. As you progress through your goals, you will find that your motivation and enjoyment increase, but the pain may stay the same!
Making S.M.A.R.T Running Goals
S.M.A.R.T running goals are the best goals that you can set as a runner. It breaks it down for you into chunks and makes you dive deep into the goal rather than just setting one for the hell of it.
S = Specific.
Make your running goals specific to you. Rather than saying you want to run further, which makes your goal very vague. Say you want to able to complete 5k under 20 minutes by the end of the year.
M = Measurable.
You need to be able to prove that your running target has been reached. Instead of guessing what time you are running or have run why not invest in a running watch so you can measure your progress?
A = Achievable.
Your running goals must be able to achievable. Be wary of setting a goal that isn't achievable for you. For example, a non-achievable goal would be breaking a world record when you have been running for only 2 weeks. (Unless you are stupidly talented and if so you need to be racing at the top stage!) A more achievable goal would be completing your local half marathon.
R = Realistic.
Have some common sense when setting goals. Setting a target of improving your 10K time by 20 minutes this year is a pretty difficult target but not impossible depending on your training and running background. BUT, a goal of improving your 10K run time by 2 minutes is likely to be a more realistic goal.
T = Time-related.
Make your goal time-related because you can then create a deadline to work towards. It will inspire you to get out of the door when you realise that your event is in 6 weeks time! "When I run a parkrun in 12 weeks time I am going to beat my time by 1 minute" would be a great time-related goal!
Knowing how to set running goals can play a massive part in how well you can achieve your goal! Here are five great examples of running goals that you can add to your training!
1. Run Non-Stop
Running continuously for a short distance doesn't come as easily to some as it does to others, especially if you are a beginner runner. Setting yourself the goal of running non-stop over a given distance that you decide is an awesome place to begin! Think of little wins with this goal, last week you may make one lap of the park but the following week you can run a lap and a half. Celebrate these small wins because they mean a great deal!
2. Enjoy Your Running
For some people running can be a means of weight loss only rather than running for enjoyment, community, stats or speed. Running can offer so much more, from an opportunity to get away from the stresses of life, to the achievement of finishing an event that you've trained months for. Make sure you are keeping your running fun and switching up your sessions, terrain, running with others and not getting overly serious about your running when the enjoyment starts to lack.
3. Run Consistently
You have all heard it before. Consistency is key for us runners. Instead of doing one week of 20 miles and then the next 5 miles, break it down so you are able to do 10-15 per week on a consistent basis. You will reap the benefits more this way!
4. Aim For Specific Running Distances And Train Specifically For Them
Be it anything from 800m, 10km, or even a marathon. Figure out your training and what distance per week you should be running. Not forgetting to mention the speed sessions that give you more bang for your buck when improving for that distance.
5. Enter Your First Race
Completing a race has to be your ultimate goal whether you are the runner that is chasing a time or completing the distance for the first time. It entails every aspect of SMART goal which was explained above. It will put proper focus on your training. When you have an event coming up it inspires you to get out of the door on those cold winter mornings.

written by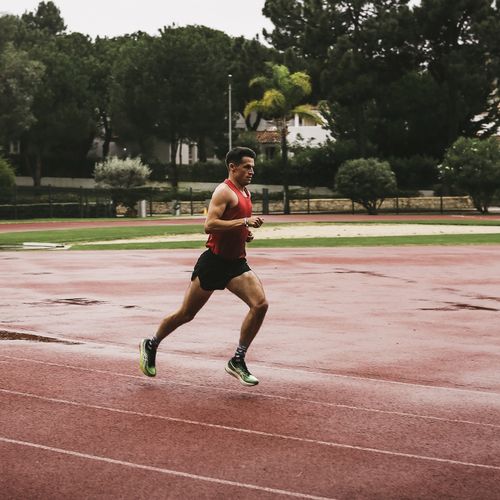 Marcus Sladden
Digital Marketing Executive from Norwich

Age group: Open

Coach: Self Coached
MY DISCIPLINES