The past year since COVID started has seen a huge amount of people taking up running for a number of reasons. Things like escaping COVID, getting fit, getting outdoors, helping your mental health is just some of the reasons why there has been an increase in the amount of people running.
The past year since COVID started has seen a huge amount of people taking up running for a number of reasons. Things like escaping COVID, getting fit, getting outdoors, helping your mental health is just some of the reasons why there has been an increase in the amount of people running.
Strava and running apps have said there has been a huge increase in the amount of uses and still people registering on these apps. This is mainly because running apps are easily accessible for people and all you really need is a pair of running shoes and off you go. However this blog will help you get started in your running journey.
First Step
First step is to get out the door; it might sound easy but people struggle with motivation at times and it is easy to stay indoors. I always go by the 10 minute rule if I don't feel like running. That is to get out the door and run and if I don't feel like it after 10 minutes stop and come home; there is no shame in this and no one will judge you, we all get like this. However most of the time you will stay out much longer and these tend to be the best runs, that's what I find.
Hydrate – I can't stress how important you must be hydrated before you run, because if you don't it will cause a lot of problems and you can struggle in your run. Cramps, tired legs and so on can cause you problems if you are not hydrated. So drink plenty of water – I drink it by the bucket and I am not lying (but everyone's required amounts are different). It will also help your muscles if you hydrate straight after your runs and ease the soreness the following day.
Don't make a mistake with food and eat a feast fit for a king just before your run and then expect to run shortly after. I always say that if you having a big meal before a run then leave 3 hours before a run. A small meal you can head out after an hour, that's what I do. If you go out bloated or on a full stomach you will struggle and will likely throw it up which is of course not what you want to do.
Suitable footwear
As mentioned above you need running shoes. I would never recommend anyone to run in trainers not suitable for running because the likelihood is you will get injured. I have seen it a lot and even with friends running with fashion trainers and then complaining their legs hurt. If you can get your gait looked at then do because they will tell you what kind of runner you are and whether you are neutral, over pronate etc. After you have got the shoes you ideally want to be wearing comfortable clothes for running, so clothes that are well fitted and of course suitable. So no running in jeans!
Start slow and small steps
Start slow and build it up each week. It is so tempting to go out fast like a sprinter but that will just end in tears and you will get injured. Let's face it no one wants to get injured and it will of course effect your motivation which can lead you to giving up. So start slow and build up; if you need to walk then do a brisk walk for a few minutes and then 1 minute jog and repeat to your ability and build if up over the weeks. Each week you might add a few minutes of running or even a mile to your run each week but don't overdo it or double the mileage. Then build it up slowly so that you don't need to walk in your runs; you might not need to walk so adding time or miles to your run will be fine.
Plan your route
Have a think of where you want to run and plan a route – running in countryside is relaxing and also takes your mind off things. I find countryside running relaxing and it's my favourite run. It's important to plan your route and not go too far to start off with just in case you get a problem. My advice is also to carry a phone with you (but not in your hand as this affects your technique!) just in case you come in to a problem and need help. Motivation can be tough when you're out on your own and I find listening to music helps pass the time and enjoy it more. Listening to music can motivate you and even push you. People also listen to podcasts so that's a good way to pass the time on the run.
Rest is important
It is ok to rest up and rest is so important in anyone's plan. You need to listen to your body and if your body hurts or aches you best rest up. Even in the runs if your legs are sore then stop, don't overdo it or push it; until your body gets used to it. Be patient, because if you are not this is how people get injured and certainly do not compare yourself to others. Your body is not the same as theirs and just take your time, no one will judge you. Rome wasn't built in a day so you won't get faster or improve over night. The key is to keep at it and be consistent in your runs and over time you will look back and see the benefits.
Join a running club
I would highly recommend to join a running club, I did that when I first took up running in 2012 and never looked back. However with current COVID restrictions it might not be easy to join with the limited numbers a club can have each night so you might have to go on the waiting list. What I found when I joined a club is that it is open for all abilities not just for speedy people. I made a lot of friends and you have people there to help you in your journey. This lead me to Parkrun which is a good way to build up your running, they have all abilities and it is free. In the early days I used to do one every week on a Saturday morning at 9am.
I hope you found this useful and these are some of my tips to help you get started, but most of all enjoy it as there is no point if you don't enjoy it. You never know your journey or achievements but what I do know is that when you have a good run or new personal best you get a buzz. Good luck with your running journey.
written by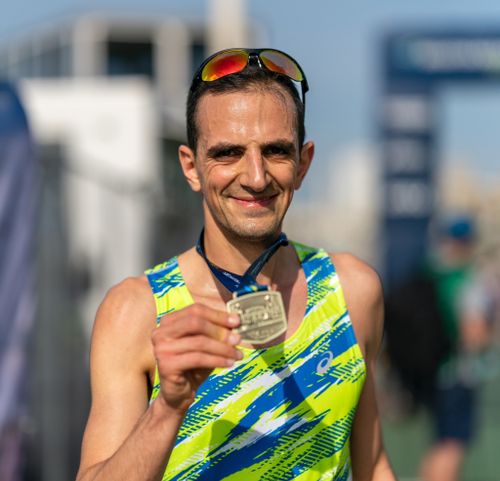 Yiannis Christodoulou
NHS Performance analyst from Canterbury

Age group: 40-44
Club: Canterbury Harriers, Ashford Triathlon Club, GB Age group team, Age group 2017 Aquathlon team captain
Coach: My self in running Level 2 coach in running fitness, Craig Coggle Strength coach, John Wood Swimming coach
MY DISCIPLINES