You may have seen a few weeks back that I decided to open up about my personal life on social media and the post was the following.
You may have seen a few weeks back that I decided to open up about my personal life on social media and the post was the following:
We have debated this post so many times about posting this but we need to be real and talk about infertility. We feel at this stage people should now know what has been going on behind the scenes.
The last 6 months have been very tough for us, over the last 3 years I have had mental health problems that have been a big battle. Only a very few know this & a few individuals who have been immensely supportive during this time.
This isn't is rant, but the last 6 months have taken a huge toll on us, Saturday we received another unsuccessful IVF cycle. This time us has hit is even harder because we did everything asked for and more. However we are still positive and hopeful because we managed to freeze eggs this time round and still have another two tries. It has been a very long 4 years of trying to conceive.
I am not after sympathy but I have found it very hard to open up to anyone about my mental health issues and what we are going through. Some people just brush it off and think we are good or they just don't understand what we are going through. I am a positive person but because I post things up that are positive on social media it does not show the true reflection deep down what we are going through.
I am not after hope you are ok messages etc but just to express that to people we look well and appear happy you never know what is going on behind the scenes.
We are both good and strong & we will keep fighting together to overcome this obstacle.
This is to bring awareness to infertility and know that your are not going through it alone as there is others out there experiencing the same battles
Since then I have received nothing but kind messages and support and what surprised me most is that so many have been through this or are currently going through this, even people close to me opened up which was the point of the post. However I am going to be very open still in that for the last four years my mental health has not been great. We never know what is going on behind the scenes and for me I had many cryptic posts as I was struggling with my mental health and to even talk to people about. I did get help and that managed to help and put be in a much better place; I feel I am almost back to myself now, however it does flare up now and again. Having a life coach and having acupuncture has helped me slowly overcome this; counselling and CBT worked a little for me but only stopped it temporary.
Despite having serious anxiety and PTSD issues I have come through this from sport. Last year was a tough year for me and every race got worse for me, effecting my mental health and therefore not enjoying races. In fact I raced at the European Aquathlon Championships as a nervous wreck and therefore my race was over before I even started. However despite this being my hobby I found the training sometimes a chore and I was therefore not enjoying it even though I got on with it. I fell out of love with the sport towards the back end of last year with a lot going through my head and things going on, but my hobby is the very same thing that helps me tick over and keep a steady mental state.
No one has told me to do my hobby; yes I have won medals and I am proud and enjoyed races so much. So I needed to find the love for my hobby again because this is also the thing that helps my mental state hugely. People still don't open up, I have friends ask me how are you and most of the time you just say good thanks, but I tell them the truth now, if I am having a bad day I tell them. Anyway I found a break away from training and deciding to not set goals at the start of the year and to just see what I can fit in with no pressure has made me love my hobby again.
I didn't plan races until now as with IVF we never knew what we were going to do and I had to spend time with no pressure and not even knowing if and when I could fit in training; this has worked in my favour as I went with the flow. With no targets for this year apart from to enjoy every session and
every race I decide to enter. I went out recently on a cold wet run; I decided not to go on the treadmill but just to go out and I enjoyed it. I was told this recently – find happiness in what you do as happiness makes life so much easier – this is correct. You may of seen I looked so happy at my last road race in January and that was the case; I was enjoying the race, just holding back and not over doing it, allowed me to reflect on why I do this. People cheering my name and me saying thanks because they are making it enjoyable.
You must enjoy your hobby or question why you do this, keep positive at all time and find happiness in what you love doing. The hunger for being the best I can be there, is there and I feel like if I am happy and enjoying – you never know how far you will go. If you are happy and enjoy what you do then surely the results will come? But that does not matter for me, I may make a crazy goal for this year but for me I aim to enjoy every race I enter regardless of a PB and at the end celebrate doing it because let's face it I am getting older and you don't know when you will have to stop.
I have found myself many times not in the right frame of mind but I find just getting out and doing something goes a long way in changing my mind-set and making me feel better. There will be days you don't feel like getting out but honestly they are the days which are the best. If I don't feel like running I force myself to go out and say if I am not enjoying it after 10 minutes I will come back home, but most of the time I stay out longer and end up enjoying it or having one of my best runs. Keep moving don't just sit about all day if you are working from home – I walk around the house if I can't go outside for some reason. It's important to keep moving as it will help your health and wellbeing. I always found when I am exercising I relaxed and it's helping me clear my head and therefore destresses me.
However, don't over train because you will just burn out or give up. Make sure you have the right balance of mixed training with easy training and hard training, the 80/20 percent rule is a golden rule to follow. 80 percent of training easy and 20 percent hard training. This has worked well for me over the years and allowed me to get in consistent training which has allowed me to improve and achieve my goals as well as keeping injuries to a minimal. Mix up training often, don't do the same things every day and every week, changing this up not only keeps it fun and interesting it's the way you get better and improve.
The best way is to just get out, enjoy your hobby, go easy and just listen to your body, focus on something positive such as previous good runs and success. I know the experts say exercising has so many benefits on your wellbeing and mental health and it does, it does help a lot.
written by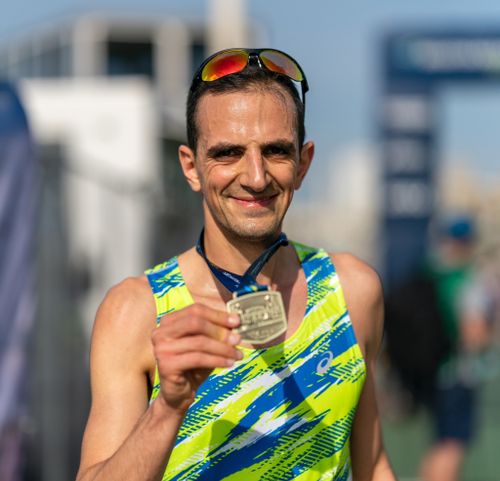 Yiannis Christodoulou
NHS Performance analyst from Canterbury

Age group: 40-44
Club: Canterbury Harriers, Ashford Triathlon Club, GB Age group team, Age group 2017 Aquathlon team captain
Coach: My self in running Level 2 coach in running fitness, Craig Coggle Strength coach, John Wood Swimming coach
MY DISCIPLINES