This blog aims to give an overview of my race day experience.
I was fortunate to be invited to the ASICS METASPEED : Time : Trials event in Málaga towards the end of April. This provided me with an opportunity to test out the METASPEED SKY+ shoes in a 5km event, watch professional ASICS athletes chase down their personal bests, and to meet up with some of the international FrontRunner community.
This blog aims to give an overview of my race day experience. If you are interested in the METASPEED SKY+ shoes, I will write a full-length review once I have tested them out a little more over the coming weeks. They are expected to be available to buy online in June.
Pre-Race Preparations
Starting at 7:45am, the first elite race of the day was the half marathon. With the intention being to race to our current potential, myself and my roommate, Marcus, decided not to join the official ASICS FrontRunner cheerleading squad for this race. As an alternative, we tucked into a good breakfast and tuned into the livestream of the race on my phone. It was really inspiring to see Yeshi Kalayu Chekole and Mohamed Reda El Aaraby both taking victories and recording personal bests. Mohamed had an impressive finishing kick!
Marcus and I walked down to join the cheerleading squad part way through the elite 10km race. On our walk down we managed to take in the top end of the course and see the likes of Josh Griffiths and Zane Robertson cruising past. It was quite surreal to have been tuning into the live stream less than half an hour ago and now to be watching these world class athletes in person. Having made it down to the ASICS cheering zone, we were able to watch on as the elite 5km athletes were called out to the start line. The two stars in the 5km line up were Mohamed Katir and Eilish McColgan, both of whom won in comprehensive fashion and posted new personal bests. If you're interested, it is possible to watch all of the elite races on YouTube via this weblink. 
Following the elite 5km race, Marcus, Kerry, and I set about warming up for our race. As Kerry and I were not in shape to hit our existing best 5km road times, we had devised a 'fool proof' plan to support Marcus in his pursuit of ~16:25. The group warm up helped get us into a racing mindset and we soon found ourselves bunched together on the start line.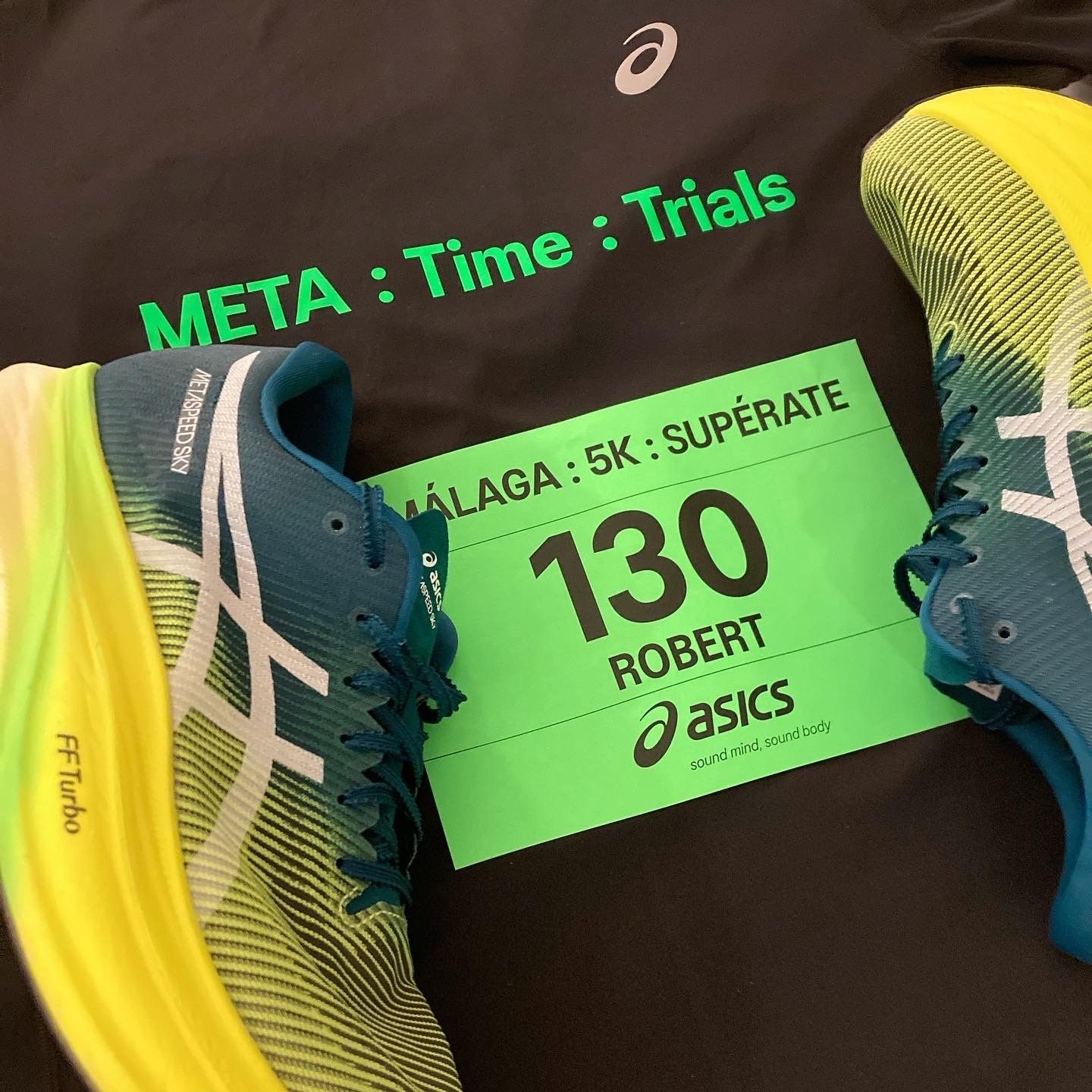 The Race
The start of our race was hectic. We found ourselves towards the front of the starting pen, but with everyone packed in a little too tightly the first 100m was basically a mosh pit. I haven't spoken to Ania about this yet but given her love of the Foo Fighters and Biffy Clyro she was probably in her element! Kerry didn't have such a fun time, having to put up with some pushing and shoving that broke up our planned pacing effort. Everything had calmed down after the first turn, at which point our strategy to pace Marcus was dealt a further blow after he took off up the road as if he was chasing down an ice cream van. My initial attempt to support this move saw my first km flash up as 3min 13s. It was at this moment that I tried to rationalise how our initial plan had now led to Marcus becoming our pacemaker and come to terms with the fact that I still had 4km remaining.
My pace gradually (but consistently!) dropped over the following kms, but I enjoyed trying to dig deep and not let all speed fade. Despite struggling for grip on some of the corners, the ASICS METASPEED SKY+ shoes were really response throughout. Not wanting to take the 'super shoes' for granted, I put in a finishing kick and came home in 16min 41s. Despite not seeing each other during the race, Kerry crossed the line almost immediately after me. Ania and Lizzie were in not long after too. Both Marcus (16min 25s) and Lizzie (18min 02s) came away with personal bests, while Kerry and Ania were both relatively satisfied with their race efforts. Kerry finished 2nd place in the women's race! While initially frustrated with my performance, I have accepted that this time is a fair reflection of my fitness.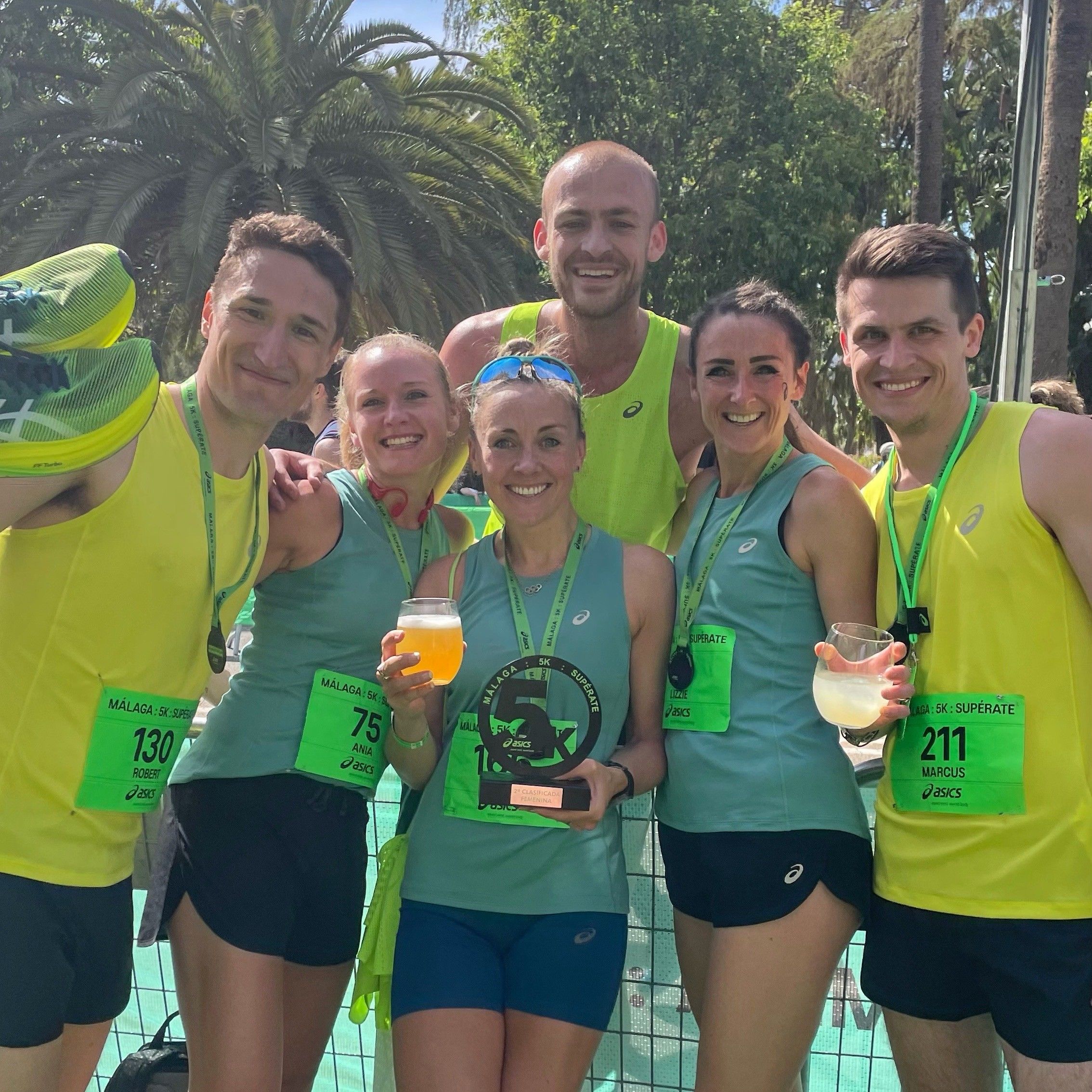 Post-Race Recovery
My immediate post-race recovery included cheering runners over the line with a beer in one hand and a full plate of Iberian ham in the other. I enjoyed catching up with other members of the international FrontRunner community about their race experiences too, with many of them riding high after having smashed their personal best. Having spent time getting to know everyone in the build up to this race, it was really rewarding to be able to celebrate their success.
Having showered and had some lunch back at our hotel, I was able to enjoy a second round of post-race hospitality in the form of a rooftop bar. This was a unique experience, as I was able to meet many of the professional ASICS athletes. I spent a good amount of my time chatting to some of the British athletes, including Josh Griffiths and Natasha Cockram, in addition to the race day commentator (and marathon legend), Mara Yamauchi. Kerry managed to organise a bit of a group photo with Eilish McColgan too!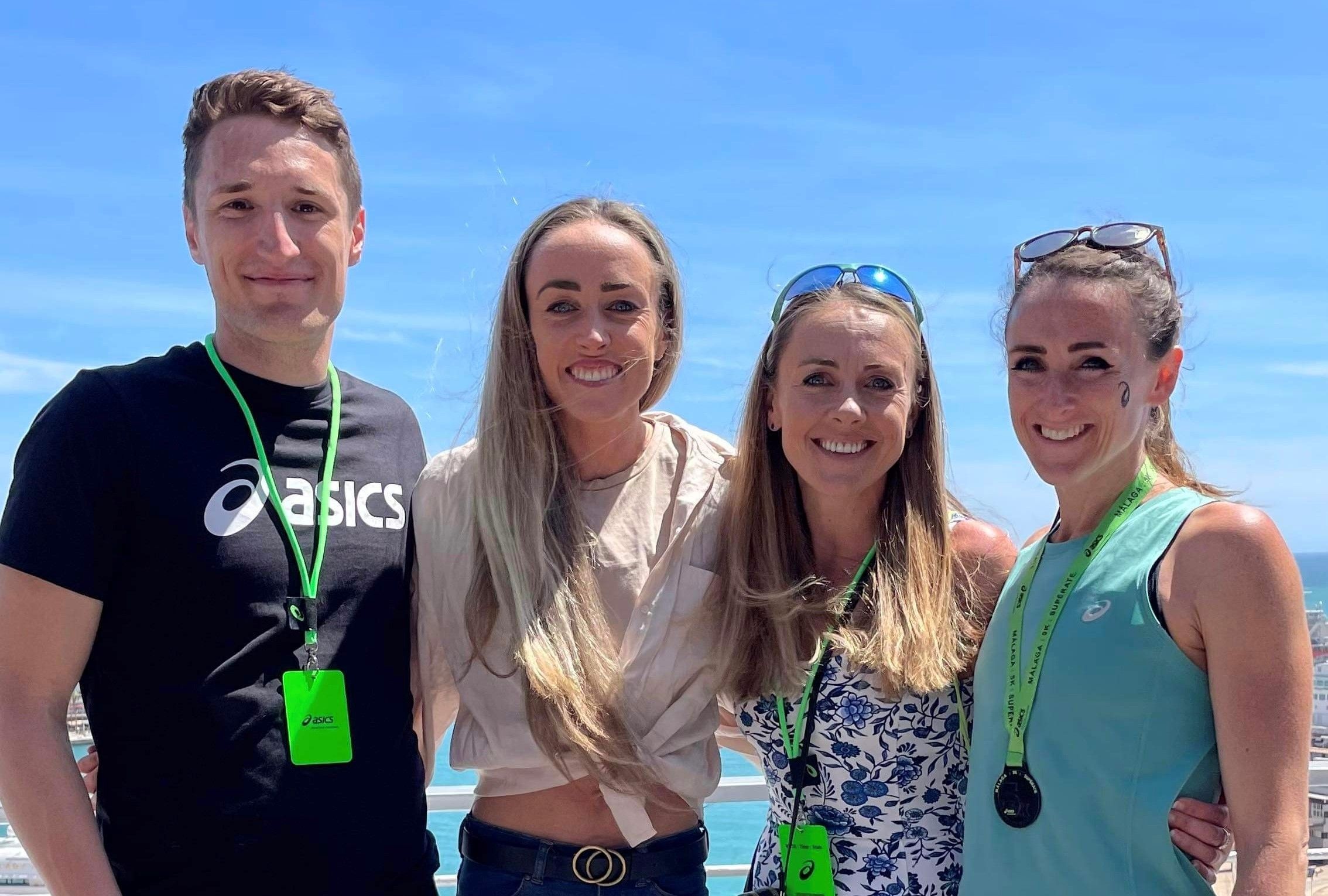 Being able to look down on the 5km course from the rooftop bar I was able to reflect on a wonderful weekend. A weekend during which the METASPEED + Series was put through its paces and was shown to facilitate some very fast times – exciting times ahead! As a final point, I would like to say a massive thank you to Beata, Lina, and Alessia for organising the international FrontRunner community during the weekend - certainly not an easy task.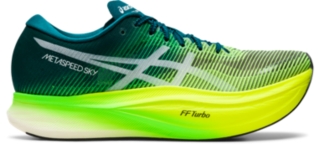 METASPEED SKY+
The METASPEED SKY+ racing shoe moves you towards a sound mind and a new personal best. It's designed to help you go faster by extending your stride length.Stride-style runners take a longer stride once they start increasing their speed, but thei...
Shop Now
written by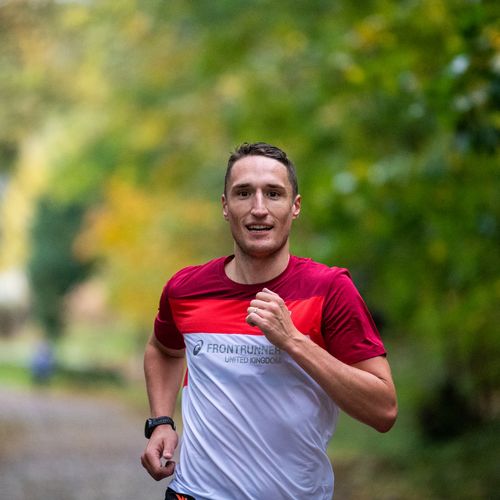 Robert Mann
Postdoctoral Research Fellow from Exeter


Club: South West Road Runners / Exeter Triathlon Club
Coach: Phil Wylie
MY DISCIPLINES