So you're ready to start your running journey? Or perhaps you're not quite 'ready' but you're keen to give it a go? WELCOME to the running community and congratulations on having the bravery to try something new and push yourself out of your comfort zone.
The last decade has been one of huge change for me. From being unable to run for a bus, to running marathons and participating in triathlons, I'm the happiest and healthiest I've ever been and its all down to running. It's not always been plain sailing, there are always bumps in the road, but here are the valuable lessons I've learned along the way and I hope they help as you begin your journey or start planning your next goals.

You can start your running journey at any time. I started mine on a random day in July 2010, when I was 19 years old, ran for a few months then quit and came back to give it another go in 2016 aged 25 whilst I was going through a turbulent time in my life. The most important thing is having the motivation to get started and the courage to keep going. Sometimes there is a watershed moment where you suddenly wake up and think I'm going to start running today, or it might be a decision that creeps up on you slowly, or perhaps its something you've wanted to do but never quite gotten round to, however you reach your decision, the most important thing is to be brave and give it a go.
You have to do this for you, you'll only find true happiness in running if you have the motivation and desire to succeed inside of you. Before I started on my fitness journey I had so many false starts. Times where I vowed to make changes but never followed through, or never believed I could. The power of positive thinking and having a fire in your belly are two big essentials to get you going and keep you running. Yes, it feels hard sometimes, but take the highs with the lows and enjoy the ride.
There is no right or wrong way of getting into running. You need to find what works for you, what makes you feel good and what you enjoy. The best thing about running is it is so diverse. You can try road running, trail running, cross country, obstacle races or combining running with swimming or cycling. Then, there are all the different distances, you could choose to race 5km, 10km, 10miles, half marathon, a metric marathon (26.2km) a marathon, an ultra marathon. There are so many possibilities! Or you might not want to race, you might want to run just for you. You can run on your own, or you can run in a group. There are lots of things you could do, but there isn't any pressure to ever run a certain distance or discipline. Remember everyone has been a 'newbie' once. Whatever pace or distance we may run, we all were a beginner once and we all had to start somewhere.
If you're not sure where to begin there are loads of people and groups that can help you. I think going to a local parkrun is a great way to get started. These are weekly, free 5km runs held in many locations across the UK and a number of countries worldwide. You can print a barcode and get a time (should you wish) which can help track your progress. It is really friendly and you never need to worry about coming last as they have a tail walker who always sticks at the back. You could try a local running club or group. This doesn't need to be an England Athletics affiliated club (although you can search these on their website). There are lots of local groups where people come together and go for a run, for example in London we have the ASICS London Run club Mondays and Wednesdays from the Oxford Street store, lots of gyms do a run club night, then there are community groups like good gym.
Couch to 5k is also a great way to get into running. You can download a couch to 5k app, find a training plan online or search for a local group run (lots of running clubs or parkruns offer these courses). This style of training helps break things into really manageable distances, starting with walk/run intervals and building you up to running 5km confidently.
Using the motivation of others can help keep you motivated. Join a running club, sign up to runkeeper, go to parkrun, join a Facebook forum, go to group classes, or simply talk to your friends/family. You don't have to do this alone. However it's important not to compare yourself to the people around you. Your journey is not their journey, your challenges are unique to you and even if you have the same goals your backgrounds may be completely different. Stick to your goals and your mini targets. Similarly if the network you're a part of isn't making you feel good, find a new one!
Invest in a good pair of running shoes. There are so many options out there, but a good pair of running shoes is essential. The right shoes can help prevent injury and make running feel much more enjoyable and comfortable. Many running stores offer gait analysis where you can find out if you're a neutral runner or if you pronate (there are different shoes for these different styles). You can also try on a variety of shoes and find out what works for you. Some comfortable gym/running clothes are also essential to avoid chafing and a waterproof jacket is a good investment if you'd like to run outdoors during winter.
It's not going to happen overnight. Whatever your running or even fitness related goals are, it won't happen instantly, or in a week or probably not even in a month. Change requires time and consistency, and every little thing adds up, so don't be disheartened if your progress feels slow or daunting. Remember that every day, every run, every training session gives you an opportunity to practice the habits that will get you a step closer to your goal. Celebrate all the little wins along the way too
Make flexible goals. Be firm about your dreams, but flexible about your methods. Break everything down into smaller, less overwhelming chunks. Give yourself targets along the way to act as progression checkpoints and celebrate the small wins because it all adds up. Remember measurable goals and targets don't need to be numerical- it can be a measurement based on how you feel too! Often the journey teaches you more than achieving your goal does! If you start missing your interim targets, or you're not enjoying the process, then the chances are your bigger goal may need some more time or might not be the right option for you at that exact moment. Time to get flexible with your methods! Re-assess and where needed re-plan- don't go chasing something that is slipping further and further from your grasp (and you'll know this if you're not hitting your planned milestones) or just isn't working, as that isn't good for your motivation or physical/mental health. Re-planning a goal or switching methods isn't a failure, it is just a chance to acknowledge that the challenge is a big one, needs some more time or just isn't the right goal right now.
When you feel unmotivated or disheartened remember why you started and where you're going and use your smaller targets to help you along. It's ok to feel overwhelmed and it's ok to feel like progress is slow. Keep your head up, trust the process and keep striving for those goals.
written by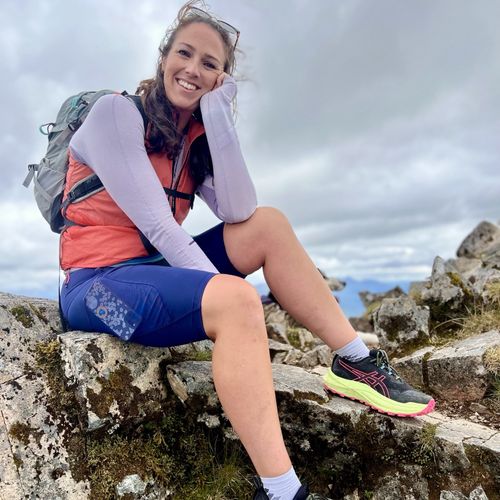 Becca B
Envrionmental Research from London/Southport

Age group: 30 - 35
Club: Greenwich Tritons, Southport Strollers

MY DISCIPLINES