Stepping up to the middle distance triathlon
After doing a number of sprint and olympic distance triathlons and watching a friend complete the full distance at Nottingham Outlaw 2016, last year I made the decision that my challenge for 2018 would be to do a middle distance triathlon. 
The Outlaw seemed like an apt choice as Nottingham is where I grew up and where my family live so I'd have accommodation and support covered!
In February, at the last cross country match of the season I unfortunately sustained an injury (essentially took a large chunk out of my knee) which meant I was out of action (no running, cycling or swimming) for 5 / 6 weeks. I had a decision to make, but rather than pull out I decided to go ahead. So could I do a half iron man distance on 8 weeks training?! 
Registration and briefing takes place the Friday and Saturday before. With an ETU sprint distance qualifier on the Saturday the atmosphere was already building up and we even got to enjoy the breifing over a 'sports performance isotonic beverage' (non alcoholic beer), it was a thorough talk and left me feeling relaxed. The whole registration process was all very smooth, the only negative being I couldn't rack my bike the night before so that means an early start! 

Even with 8 weeks my training hadn't quite gone to plan, it wasn't that I hadn't trained but I'd just found it hard to fit it all in. I told people that I was hoping for a time of 7 hours, but secretly I sill wanted to push myself for that time of 6.
Kit all packed and laid out the night before, alarm buzzes at 4.30a.m. I'm already awake and getting up doesn't feel like struggle, so far so good. Eating breakfast that early in the morning is never easy but I need to make sure I'm fuelled. I'd planned not to get there too early but I was maybe pushing my timings a little. Rookie mistake #1, getting there later than others (despite not needing to queue in traffic) meant that we ended up being parked quite far away and getting to the transition area took a little longer than planned. 
I get into the transition area just after 6, my race start is 6:48, I hang up my bike and set out my shoes, the positive thing about not having much time is that despite the initial panic, there isn't time to mess around. This probably works in my favour as I don't have time to get nervous! Quick visit to the porta loo's (I also hadn't done up my tri-suit so was in danger of the breaking nudity rule before I'd already started), and I throw my bag up to my dad who's waiting in the spectator area. This supporter plan is working well for me already! 
6:42 I pull on my cap and googles and jog over to the water, nearly everyone else is already in. 300 women doesn't look as scary as I thought it was going to. I ask one of the ladies not yet in the water if she'll do up my wetsuit, it's a bit of a struggle, I'm hot and bothered, but then it's on. I hear a familiar voice and one of my club mates, Lizzie is beaming up at me. She tells me this is the back. I'd made the decision to start at the back as I didn't want to get swum over or elbowed in the face, mass starts can be competitive!! 
I duck my head under the water a couple of times to acclimatise and slowly swim out a bit to join the other ladies holding back. I feel ok, I even feel confident?! 3, 2, 1, we're off! 
The swim is one lap of the regatta lake (not all the way to the top I was pleased to note!), I get into a steady rhythm and swim on. It's quite intimidating swimming alongside others but I was pleased to note that I was keeping up with those either side of me. Unfortunately you realise that it's really hard to swim in straight line, I keep spotting and using bilateral breathing to keep a check on where I'm going and the position of others around me, but that doesn't stop people from swimming into me. I'm sure I ended up swimming more than the 1.9km weaving to avoid others, but it's a good distraction. I note markers on the side of the lake, soon I'm at 750m, it can't be that far until I'm turning. The turn isn't too far from where the car is parked, it gives me a frame of reference, you can almost see the pavilion, I swim on, I could have maybe pushed on harder but I was conscious of using too much energy given that this is the first of three endurance events. 
I exit the water in approx 46mins, that's ok. I feel elated, emotional even, I want a little cry, one down, two to go! I give a whoop, it's quite a long way back to transition, a lady running next to me tells me that she nearly DNF'd, I couldn't quite comprehend what she was telling me but I congratulated her and reminded her that she'd done it! 
Find my bike, helmet on (don't want to get penalties for that bit), shorts on, socks on, shoes on, I'd decided that spending extra time to get to comfortable was worth it for what I was expecting to be a 3-4 hour bike ride.
Legs a bit shaky, we start with a lap of the lake, which is good for settling into a rhythm. I turn the corner to exit the park and I see my parents and Rob who give me a big cheer, I'm out of the park and on my way. I was worried about 56 miles being lonely, I'm used to my rides being in groups with a bit of chat and banter, but the great thing about the bike is that there are always people to hunt down (especially as there were 4 waves before me). As you're not allowed to draft, if you catch someone up the option is to hold back and slow down or push on and overtake. 
The bike course is two loops, one to the north and one to the south. It's a reasonably flat course with one 'climb' and some undulating sections. 
I have a few cat and mouse moments with a coupe of riders, I overtake but they push back, I get most of them in the end though! Someone shouts out my name, it's a fellow athlete from Manchester Triathlon club, I overtake her, she'll smash past me later! 
We get to the Oxton climb, theres a guy with a massive flag, I'm more concerned about getting tangled in it than the hill, I fly up it, these aren't hills, I'm lucky as the bike training I have done has been in the peak district. 
Rob was out on his bike to support and it was great to see him popping up all over the course to spur me on!! I was going so quick up the hill he couldn't get his phone out to take a photo, the support at the top of the hill was fab and it was great to see my family again here. 
We pass some of the riders who are on their way back in, it's still a way for us to go yet. It's an open road event but most cars are really considerate. It gets quieter on the bike. I'm caught up by another member from Manchester Triathlon club, having her on my wheel drives me on, we've hit 40miles it feels good to know that there's not too far to go.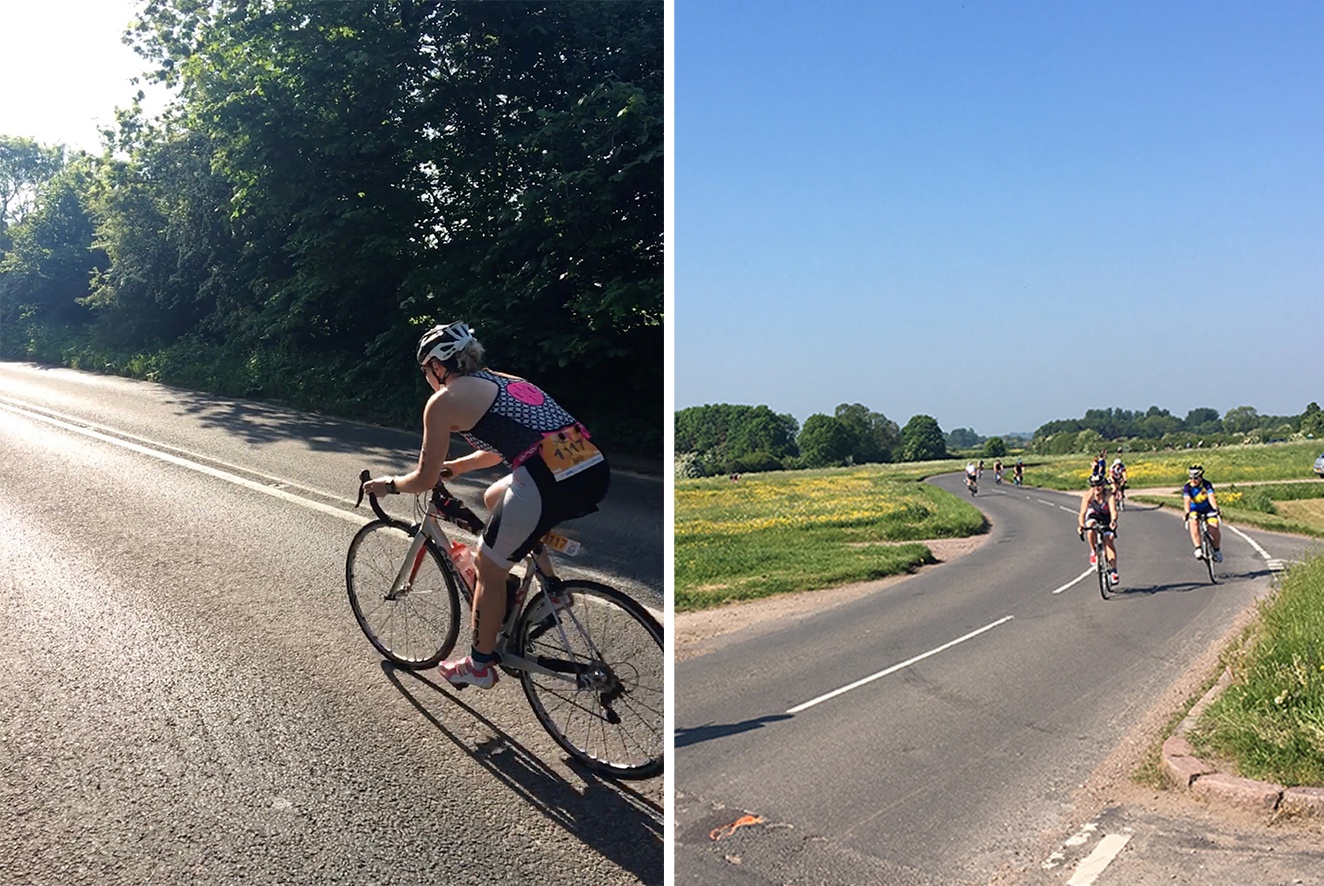 The final bit on the bike goes through the grounds of Pierpoint Hall, it's very gravelly and we have to slow right down, a crash in front of us round the corner tells us we've made the right decision and it's also a welcome rest for the legs! My bike computer tells me I've done the ride in just over 3 hours, brilliant, faster than expected and I feel good! I enter transition on a high, the support from the marshall's is great. 
Despite telling myself as I entered the park to take off my cycling shorts I put on for additional comfort, as I exit the transition area having racked my bike and swopped my shoes, I realise I'm still wearing them! Rookie error #2, it's not the end of the world but it's plus 25'C and they're another layer I don't really need,
My family are stood on the embankment above me, cheering me on. I almost cry again, I've done two thirds of it, I'm almost there, I can do this! 
I start off ok, I can't see my pace on my watch but it feels comfortable, post race analysis tells me it was maybe too fast so lessons to be learned there. It's 11a.m, it's hot and getting hotter. We run out and along the river Trent towards the forest ground. it's very exposed, it's a strange experience because despite running with hundreds of other runners it's almost lonely, everyone's very much in their own headspace. The support reduces along the river but the ones who have made the effort are doing a great job, I lap it up. I stop at the fuel station and sip water, I pour the rest over my head! 
At the top of the river section is a switch back under a bridge, lot's of welcomed support here, back down we go along the same path to the waterside. I decide to take of my shorts, there's a no litter rule so I give them to a woman on the side supporting and ask her nicely if she could hold on to them or donate them to charity if I don't make it back (not sure who would want my sweaty shorts though?! You'll be pleased to note Rob collected them for me at the end!).
A wrist band is placed over my hand, the run then goes on to a lap of the lake, this is quite a drag, it's really exposed and by this point it's coming up to mid day. There's a fuel station on the far corner, the music is blasting, the marshal's are having a great time, I stop for more water. 
Another Man Tri athlete and friend, Naomi pats me on the shoulder, she's on her final lap, I give her a cheer, I'm so pleased that I managed to time it to see her finish, I try to keep up so I can see her cross the line, 2ndfemale home, 1st in her age cat, inspirational stuff, back to reality, I've still got another lap to go. 
Back past transition and it's time to do it again, as I run up the short bank I see my family, it's the most welcoming sight in the world! I give my nephew a high five and then a big sweaty hug! My target today isn't about time and I need this for my sanity. I also need to eat, I grab a banana. My sister squirts me with a bottle of water, it feels amazing! Right, here goes, second lap along the river, stop at the fuel station for a Jaffa cake and more water, under the bridge, past the supporters and back down we go. My pace at this point has slowed significantly, I'm stopping at every station to take on more water, probably the worst positive split run I've ever done!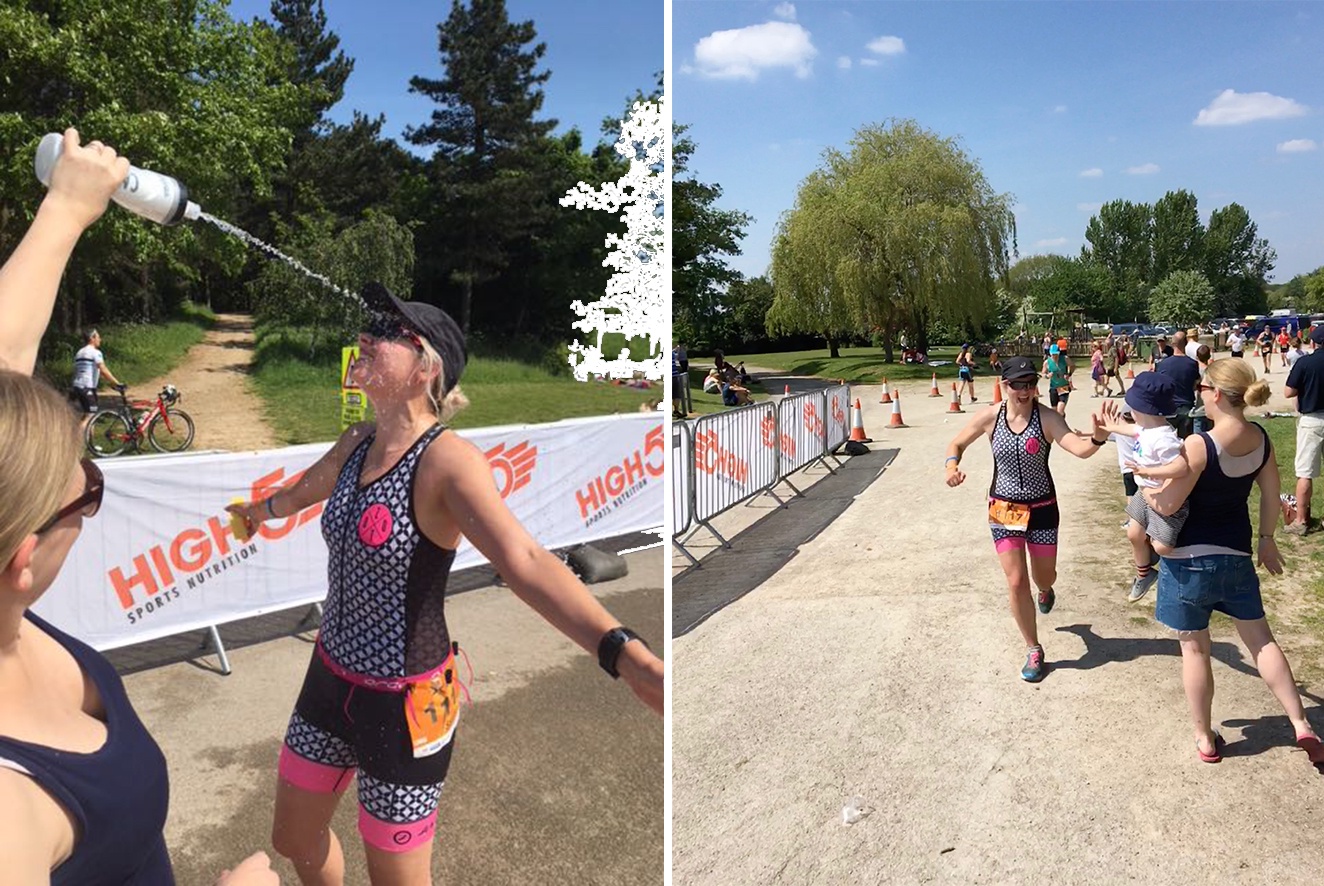 Rookie mistake #3, I'd done some brick training but nothing that covered the distances I'd now done and I obviously haven't fuelled enough on the bike. Rob had also suffered on his ride the day before, not hydrating and fuelling properly, he only had himself to blame but this was playing on my mind. It's difficult as you don't feel hungry but I know now that it's key to keep fuelling little and often. 
One last lap of the lake and I'm done, I grab the second wrist band and off I go. The end of the lake feels like its getting further away, it's like a Hitchcock film shifting perspective. I feel depleted and am starting to need the toilet, there are no mile markers but in some sense this is a good thing, I can see how far I've got left to go and I have time to keep my run within two hours. I pass a runner walking and manage to push him on, we run together for a few mins but his cramping comes back on, I realise that I'm lucky that despite lacking in energy, body wise I feel ok. 
I can see the finish, but my legs won't push, then suddenly I'm on the red carpet and I want to sprint! Where has this come from? I can hear my family shouting at me, I can't believe I've done it, I've actually done it! 
I've also done it in 5 hours 47 minutes and 17 seconds!
I feel epic. I'm so elated!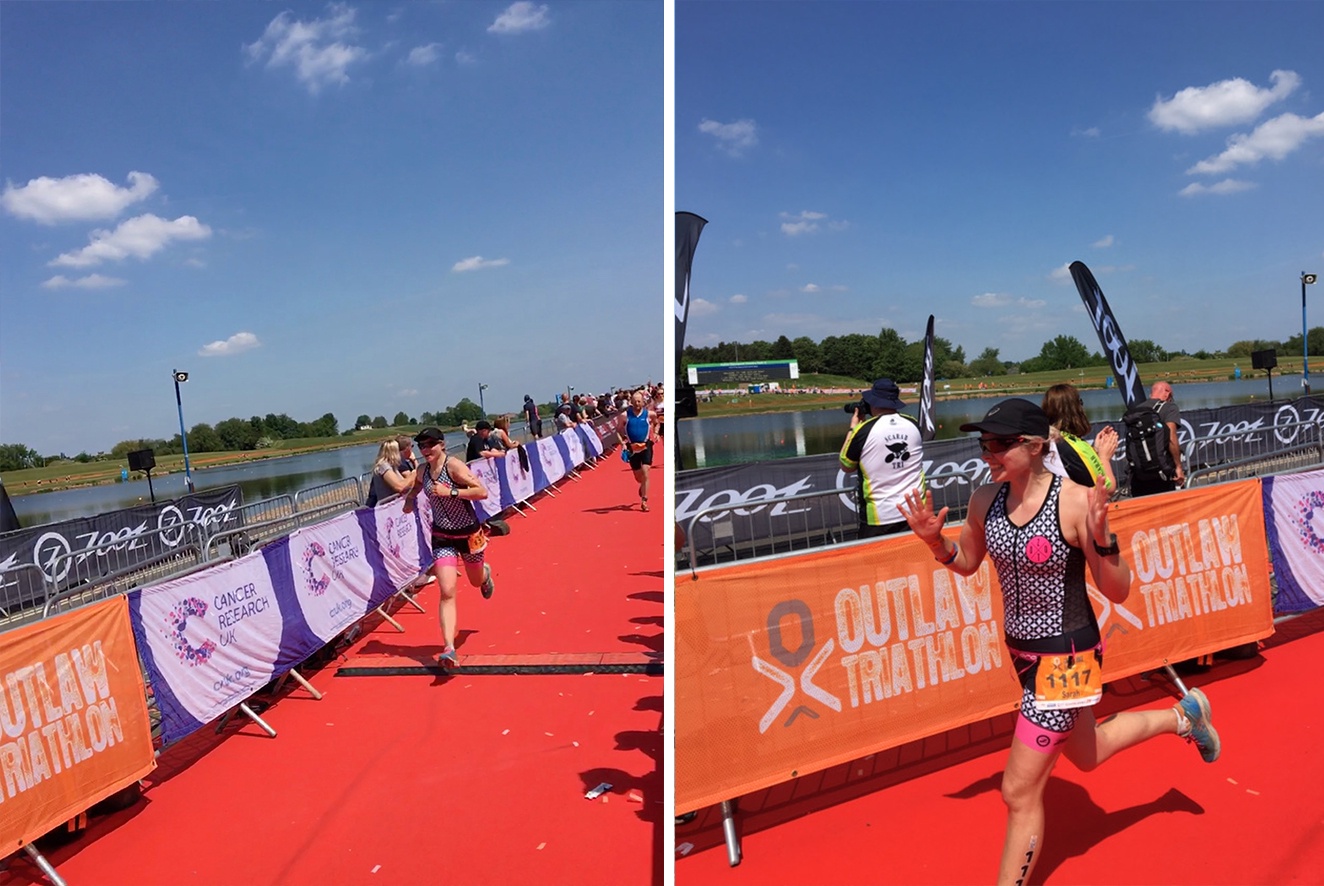 I heard this on the morning and it feels appropriate 'On the start line you're wondering if your body can take it but your body can always take it, it's the thing in between your ears which goes first.' I wanted to stop so many times on that run but I'm so pleased I didn't give up. Well done head! I was also delighted to be able to see my mental training partner Lizzie finish. On the drive back up to Manchester we were already looking at what we could book in next!
My top tips and lessons I've learnt
1. Give yourself enough time at the start!
2. Respect the distance. I did have a good base before my injury, I'd done all of the individual distances and felt comfortable but I hadn't done much combined training of the total distances, so I'll be making sure I do sufficient brick sessions next time. 
3. Think about your fuelling strategy and test it out a few times, also where the brick sessions can come in handy. 
4. Plan for comfort in transition, it's worth the extra minute or so, to save you multiple minutes on the road.
5. Go out with the intention of enjoying yourself, it really helped me to have turned the pressure off with just the aim to enjoy it, everything else then becomes a bonus. 
If it's something you've been considering I'd say go for it. There's never a perfect time, and there's a whole range of people who take part, so no excuses if you want to do it. 
I'd been told before but OSB put on a really good event and I wasn't disappointed, the support was brilliant and the marshal's and fuel stations were spot on. I defiantly want to do it again!!! It's been a great experience and I also know where I can make improvements.
written by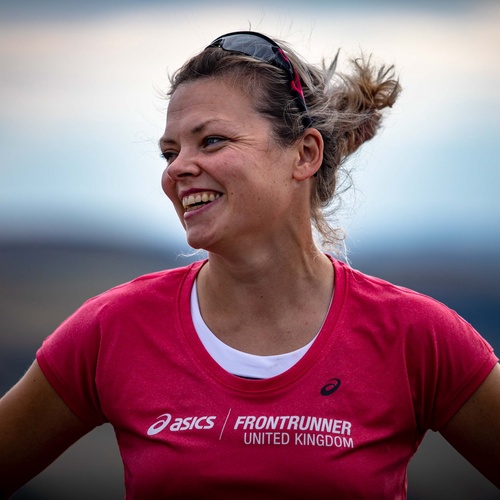 MY DISCIPLINES
MY DISCIPLINES