Last week 10 members of the ASICS FrontRunner UK Team joined teammates from around the world for a once in a lifetime trip in Catania, Sicily. Think endless sunshine, street raves, pizza oh and some running thrown in there too! Catch up with just some of our highlights…(its definitely a hard task to pick the stand out moments)
Harry Every now and then a once in a lifetime opportunity will come face to face with you. Sometimes you wont realise that until you're in the moment or even not until the moment is over. People from 20 different countries all gathered and brought every ounce of energy with them creating such a special weekend. From start to finish it was off the charts. I came here to write about my favourite moment, yet literally every single second was incredible.
Running around one of the worlds most active volcanoes, Meeting incredible people from all around the world and getting to know them, partying, running with everyone. If I truly had to pick one moment it would be the shake out run on the friday when we all arrived. You literally could feel The energy and the vibe of all the members, then the best moment on the run was when some local boy racers had music blasting from their sound system; a car the size of a Fiat500. They created a what felt like a festival of runners.

If every week ended like that I'd live for the weekend. Thank you to everyone involved and Thank you ASICS for the Opportunity.

Taz My journey began by leaving my hotel in London at 2am to get to Gatwick aiport. I must have checked that I had my passport a thousand times. I was so nervous and excited at the same time and all I knew was that I would finally relax once I was on the plane.

Shortly after arriving at the airport I met fellow AFRs Semeena and Chimzy. It was so lovely to meet them to share our excitement of what was to come. I wont bore you with any further travel details so lets fast forward to Catania
I will be completely open and honest here when I say that I was anxious about meeting everyone. Would I fit in? was the question I had on my mind a lot. But I had no reason to worry. All the different AFRs I met were so warm and friendly and I loved how 120 of us from all over the globe were able to unite and connect over our shared passion for running regardless of ability
On the 1st day we got a taxi into town where we explored the local area. I loved the little streets with the colourful umbrellas- it was just so beautiful. In fact I found all of Catania just beautiful.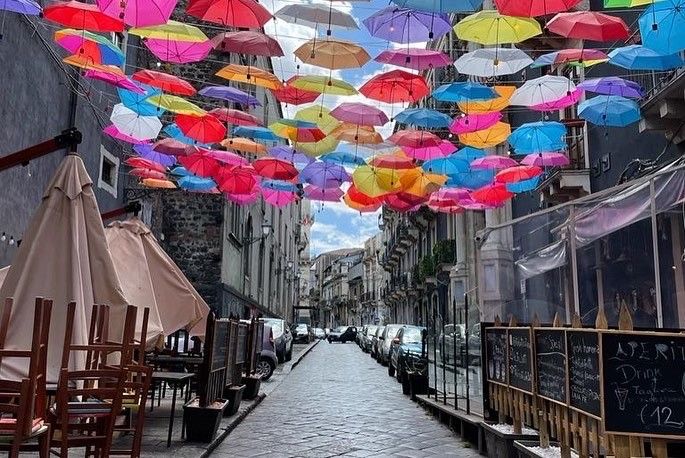 Kerry "You can pack for every occasion, but good friends will always be the best thing you could bring"
I wasn't sure how I was going to manage for 6 days on hand luggage, but for any International ASICS FrontRunner meet as long as you have your running kit, running shoes and a bikini you're flying. Spending some quality time with my UK teammates was really special on this trip, the pandemic and travel disruptions meant that I hadn't seen them in so long. My face is aching from laughing and smiling all week long. It was also great to link up with all the other teams, old friends and new. We all love to run and we all love to party too. One of the new friends we made, and who made a big impression on us, was Simen from team Norway. There's never a sad face when Simen is around and we are all hoping to see him soon.
Although Mt.Etna is the stand out memory of this trip, nobody will forget the street rave we all had with the local teenagers. The shake out run kicked off on Friday and as we came to our turn around point we ran into some local lads playing music in their cars at the edge of the coast. I'm sure they didn't know what to think as this wave of vibrant colours ran towards them - all 120 of us! As the kids cranked the music up all the locals came out on their balconies to watch the party and we danced in the streets.
Marcus I can't find the words to describe the weekend other than filling my cup (both mentally and physically! :D )
This was my first time attending an international frontrunner meeting and it was exactly what I was expecting, everyone felt like family and we're just happy to be surrounded by likeminded people!
Myself and a few others from the team decided to head to Sicily a few days earlier to make the most of the hotel and sunshine before the weekend antics began, I'm not normally one for sitting by the pool and sunbathing but that's exactly what I did (The first day I turned into a lobster though, both on my body and feet which made running very hard!)
Highlights for me? Raving next to a random car on our first run, partying so much, running up Mt Etna and just spending time with some absolutely incredible, inspiring and motivating people which makes up for the lack of sleep!
Semeena What a crew, what a weekend!
Being new to the team, I had no idea what to expect from the International Team Meeting. To say it exceeded my expectations is an understatement – looking back at the photos fills me with so much joy and laughter. It's a trip that I'll never forget!
Although this was the first time meeting most of the teammates, you would have thought we've been a family for years. Most of us arrived in Sicily on Friday and met for a city shakeout run at 5pm. As we took group photos, I was right at the back and couldn't see a thing – short girl problems! So my roommate, who I only met 5 mins prior, said "get on my back" and gave me a piggyback!
The shakeout run was definitely a highlight for me and karaoke on all the bus journeys (I lost my voice by Monday). We started our run along the coast, towards the castle – grinning ear to ear… There were locals parked up, playing loud music - all of a sudden we stopped running and everyone was singing and dancing… It turned into one big street party! I'd never seen anything like it. I looked around and knew then, that the weekend would be nothing short of epic. Who says runners don't know how to have fun?!
I honestly never thought when filling in the survey that my name would be drawn, I'm so grateful not just to have been picked but also to have been chosen to be a FrontRunner this year. It really has been the most incredible six months… This is exactly what it's about for me – people of all different backgrounds coming together to share the same love and passion for running as I do. The community is truly amazing and I'm honoured to be part of it.
I'm so excited for more moments like this with the ASICS FrontRunner team. We really are one big happy family!
The OCR Camp

Alan Overdosing from the cannoli's at the 'ASICS Frontrunner Italian Bake Off', I don't want to see another cannoli for at least a year.

The best way to deal with a 'dolce' hangover is to go out in the blazing sun and sweat it all out. Starting off the day with my first taster at an OCR Camp. Along with the sprints surprising to find how much of an all round workout each obstacle throws at you.
After that it was a bus ride up to a sensitive volcano, Mount Etna. I opted for the more challenging route as it was my first time up over 2000 meters of altitude since 2019. Started to feel the toughness of the climb as the terrain felt like running on small pellets of rocks, one step forwards, five steps back.

Running on Mount Etna
Becca Saturday afternoon was a highlight of the trip and something a lot of us had been looking forward to - exploring some of Etna's trails. Mount Etna is one of the world's most active and tallest volcanoes and dominates the skyline above the plains of Catania. Whilst we were there, there was a noticeable ash cloud lingering above the volcano and lava flows which were visible at night. As an environmental scientist and all round geography geek visiting here was the highlight of the trip for me.
We began our adventure at the refuge area of Nicolosi at around 1900m above sea level and explored the trails around Crateri Silvestri inferior (1886m asl) and Crateri Silvestri Superiori (2001m asl) which were both formed during eruptions in 1892 and are now inactive. As a typical road runner used to the lovely flat tarmac paths along the River Thames the rough basaltic lava trails of Etna provided a real challenge with the conditions underfoot extremely gravelly, fragmented and at times steep, the more experienced trail runners were in their element. The views were insane and the landscape almost lunar-like. It is a very surreal experience to run here - absolute bucket list vibes.


Kerry Running on Mt.Etna was an amazing experience, the highlight for all of us I would say and a massive bucket list tick for sure. Our amazing photographers captured these memories for us all as we ran up and down the volcanic gravelly craters like kids in a sweet shop. I'm still pinching myself that we were actually there, if you had told 13 year old Kerry back in geography class that one day she would run on Mt.Etna she wouldn't have believed you - and my Geography teacher Mr.McVeigh is now very jealous - and I'm sure very proud that I have continued my geography field trips at the age of 40!

Taz The highlight of the weekend for me was running on Mount Etna. I admit, some of the steep trails on there was very much outside of my comfort zone but nonetheless the experience is something I will never forget, but even better still I got to share this whole weekend with my awesome AFR team mates.
Karen What a humbling experience thIs was, under the summit of the ever active volcano. It was tough going on the steep, soft, ashy terrain with some lung busting climbs when I felt I was sliding back more than moving upwards.

International Friends

Karen Meeting other ASICS Frontrunners from all over the world was just brilliant and resulted in a few invitations to go and run in their country-yes please!! After a couple of years of COVID chaos I really loved spending time with and getting to know my UK team mates as well, some of whom I hadn't even had the chance to chat to before.
Becca Beyond our Etna adventure I loved getting the chance to spend time with friends old and new. The last few years have been challenging for us all and to be able to come together again and share these incredible experiences (plus an aperol spritz or two) has really lifted my spirits. I'm so grateful to have been able to join this trip and to everyone who made it an incredible few days.
Sea Swimming
Karen And I have to mention the swimming. Two years ago I started swimming in the sea several times a week, all through the year. Climbing into the sea in Sicily was pure heaven after battling the freezing murky depths of the UK!
And I made a decision … this year after the Berlin Marathon in September, I'm going to focus on seeking out more unusual places to run-more for the experience than to race. Sicily most definitely ticked the box
All good things come to an end...
Chimzy I bring my diary with me everytime I go on a trip to write down moments I want to relive in the future. Here is an expert from my diary that I wrote whilst at the airport.
HOLY COW! What just happened? I can't stop smiling. I havent stopped smiling since I got here. This weekend truly has been amazing. One that I most definitely wont forget. It's been so nice spending time with these incredible humans. All of us from different backgrounds and countries, but connected by one thing- RUNNING. A highlight was running around mount Etna.The views were magnificent, made even better by sharing the trails with new and old friends.
Now that I am back in Edinburgh, I cant help but think of how lucky I am. Lucky, to have shared running beautiful trails with 120 Frontrunners. What an incredible weekend. Looking back at all the photos fills me with so much joy.



A big thank you to Andy Astfalck, Mikko Mallo, Martha Gattringer, Laura Ortiz de Zarate and the UK team for the photos used in this blog
written by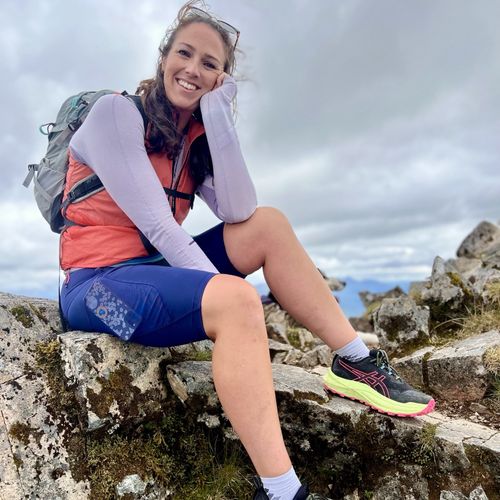 Becca B
Envrionmental Research from London/Southport

Age group: 30 - 35
Club: Greenwich Tritons, Southport Strollers

MY DISCIPLINES