Running in memory of someone is a massive incentive to cross that finish line.
April is typically the month of the London Marathon. Although the first event took place on 29 March 1981, other than 1982, 1984 and 1987 it has always taken place in April. That is until a global pandemic changed everything. This will be the second year running (no pun intended!) without an April Marathon with the actual event, for 50,000 runners, plus a virtual event taking place in October. I have a place so I have my fingers firmly crossed that life will be back to normal by then. Hugh Brasher must have had some kind of crystal ball when he announced last August that the 2021 event would be in October and not April.
April also brings other emotions for me. 
Whilst the blooming of the daffodils always brings hope and anticipation of sunshine, warmer weather and Spring races it also reminds me of the time, 41 years ago, when my mum died. She was 38. As the oldest of four sisters aged between 7 and 16 you can probably imagine that it was a pretty traumatic time. We've all dealt with it in our own way but I can safely say that all of those emotions from that period of time are firmly shut away in our own Pandora's Box with the lid only being unconsciously opened (often by completely unrelated, external events that just seem to get to you) without any warning.
The blooming daffodils are an annual trigger that I've learnt to deal with but I only discovered this year, when it has for some reason made me a bit teary, that I'd never even shared that with my husband.
For me, there's been two triggers in the last few weeks, both out of the blue and completely unrelated.
The first was a photograph of our family, taken in the summer of 1973, that I had never seen before. I have a copy of a very similar one that I've previously worn on my running vest but not this actual one which is slightly different. It was sent to me and my sisters by my godmother who lives in the US. Like many people she used lockdown to catch up on 'life admin' and have a total sort out of bits and pieces.
The second was the incredibly sad death of the brilliant actress Helen McCrory on 16 April.....she was just 52, leaving a husband and two teenage children. Knowing what they are going through losing their mum (after no doubt witnessing her being terminally ill for a period of time) stirred those memories and it has hit me quite hard. Not feeling sorry for myself but prompting some quiet time for reflection and inevitably leading on to a sense of renewed gratitude and appreciation as well as trying to keep life in perspective.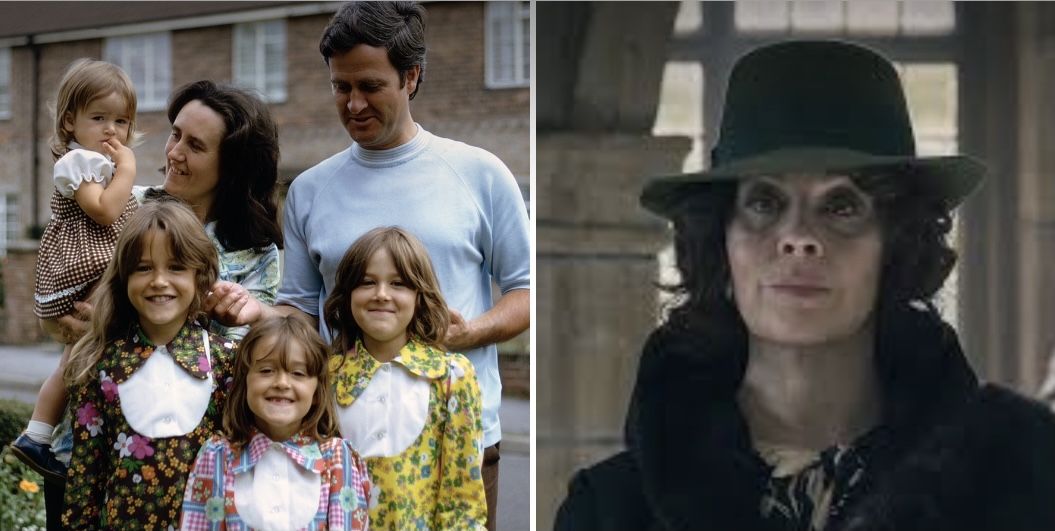 Then just a few nights ago when scrolling through Instagram I read a #ThrowbackThursday post about how a woman that I follow started running marathons 15 years ago in memory of her dad and to raise money for the hospice where he was looked after. This made me think about how people deal with the tragedy and sadness of losing someone close to them, family or friend, and how many of these people feel inspired to take on a challenge, such as the London Marathon or other sporting event, in their memory. The London Marathon, with over 75% of the field being charity runners, is the biggest annual mass-participation fundraising event in the UK and has, so far, raised over £1 billion for charities.
Running in memory of someone is a massive incentive to cross that finish line. 
Since I started running I had always wanted to run in memory of my mum. I've been fortunate to do that twice so far and raise money for two fantastic cancer-related charities...the Royal Parks Half in October 2018 supporting Macmillan and the Great North Run in September 2019 supporting Breast Cancer Now. The Great North Run is right up there as one of my favourite races and the atmosphere in the corrals, with so many other charity runners with the "I'm Running For" photographs on their running vests, provided such an inspirational start to the race. I can also say that when you're flagging or having a low moment, you just visualise that photo on the back of your vest, give yourself a massive kick up the bum and remind yourself why you're running this race. I remember that last couple of kilometres of the GNR where you run along the coast in South Shields with loads of spectators cheering and feeling particularly emotional. My mum was a big athletics fan....particularly David Bedford, Steve Ovett, Sebastian Coe and of course Brendan Foster, the founder of the event and I have incredibly happy memories of watching the Commonwealth and Olympic Games on TV with her cheering on the Brits, often staying up late at night because of the time difference. 
I think that she would have been smiling down on me that day.
With 2020 places being rolled over to so many of this year's events, taking a charity place at some of the bigger events and raising money for a cause that you feel passionate about may be the only way to get a number......in my experience, it's been totally worth it.
written by
My Disciplines