Exercising with your dog is a great way to bond while getting both of you in shape. For some dogs, part of their everyday exercise could be a run. With the help of my dog running friends I have put together some helpful tips.
Firstly, it's always a good idea to see your vet before you introduce a new exercise your dog doesn't normally do. They'll be able to advise you on your dog's current fitness levels and if there's a limit to how much they can manage.
You must wait until a puppy is fully grown before taking them running. I didn't start running with Mole until he was a year old and even then we did a walk run and not too far for the first few weeks. Running won't suit all dogs and not all dogs can do the same distance or the same speed as others. Just remember to keep an eye on how they're doing and if they are struggling at all then it's time to reassess. Some breeds are born to run others are born to snooze all day ;) 
I would also advice that your dog should be well trained before starting running. Only a well-trained and socialised dog will result in a relaxed run for you and other walkers. Your dog needs to be used to the leash, accept guidance from you, react to your commands, and cope with meeting other dogs. 
I would also invest in a good well-fitting running harness and 2/3 metre adjustable waist bungee for yourself. 
Top Tips

Always work at your dogs pace. Dogs, like humans, need to train and build up their tolerance. Start by doing an easy mile and work them up to longer distances if everything goes well. Take it slow.
Plan your route - preferably as much off road and trail - the more cushioned the ground, the better. Forest soil, meadows or sand are ideal. Dog paws are highly sensitive and can get sore on hot tarmac/pavements in the summer.
Running shouldn't be their only exercise - dogs need walks and time to play and socialise with others.
Leave at least half an hour after feeding to run with your dog (that includes you ;)
Make sure you either take water or run near a water source especially if its warm. I wouldn't run at all on hot days.
Always build them up gently - they may not be able to run the whole route straight away so be sure to include walk intervals.
If you are running in the dark make sure they have some reflection gear on and a light (same goes for you)
Be mindful - you need to be really aware of everything thats going on around you. Many distractions are waiting for you: people, kids, other dogs, other animals, cars, bikes… Therefore focus on your dog and put your own pace or distance goals aside.
Make sure you wash their paws after runs as they can get grit/salt etc between the pads. Also worth checking them over for any other foreign objects. A good paw ointment/oil is worth investing in too.
Like us, with age,  expect your running buddy to slow down and want less mileage as they get older. 
Next time you are able to get to a Parkrun, don't forget to take your four legged friend.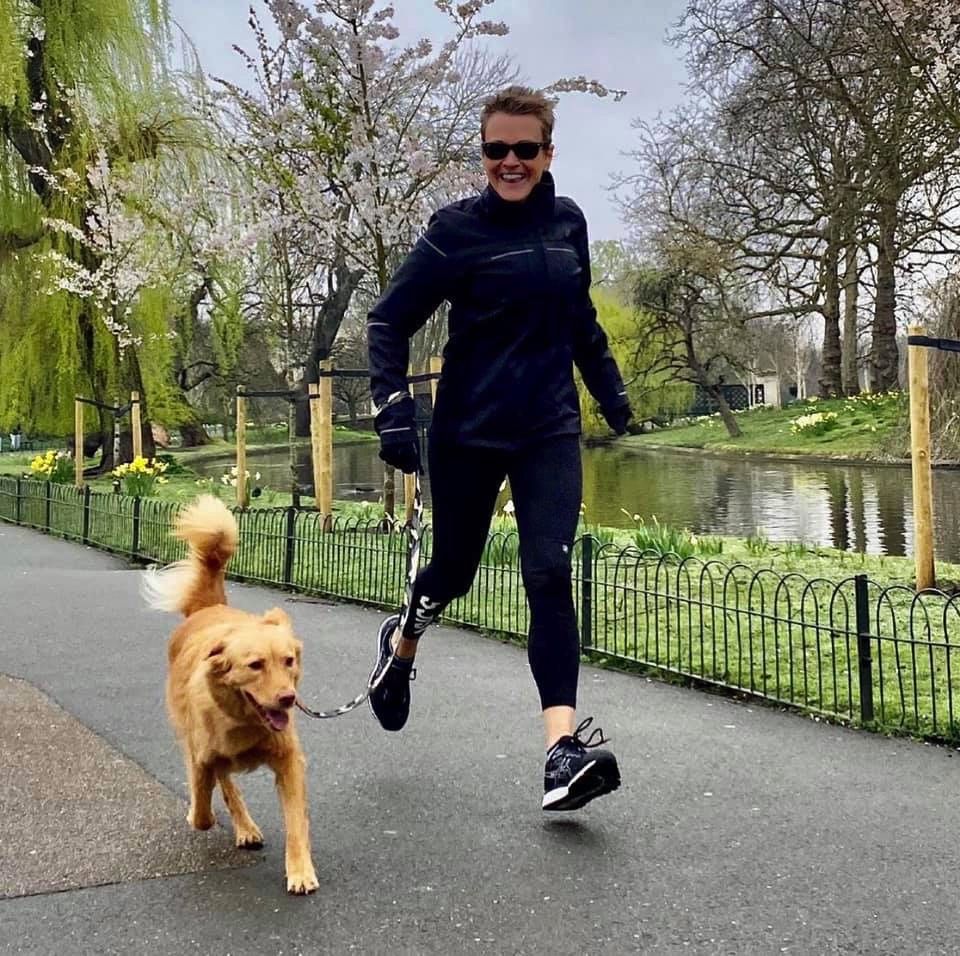 written by
Holly Rush
ASICS UK Frontrunner Community Manager from Frome, Somerset

Age group: 40-45
Club: Avon Valley Runners
Coach: Alan Storey
My Disciplines