With gyms, pools and communal workout areas closed more and more people are turning to running as a method to get fit or stay fit during the COVID-19 lockdown period. For those new to exercise this can be exceptionally daunting- with footpaths seemingly busier than ever, and for those who already engage in regular exercise but have never run before it can be a tough serving of just how demanding running can be. But that isn't to put you off!
Running has many excellent health benefits, both physical and mental. Physically, running can improve your cardio-vascular fitness, strengthen muscles, help maintain a healthy weight and also build strong bones. Running also helps improve our mental health, and for many is used as a way to de-stress, experience nature and the great outdoors and provide resilient coping mechanisms which are vital during this uncertain period. But where on earth do you begin? Especially when usual entry networks such as parkrun and running clubs are suspended? Here are my top tips for newbie lockdown runners:

The most obvious starting point relates to your health and the current government advice. In the UK we can exercise once per day (an hour has been recommended, but this is subject to debate) but we must run solo or with members of our household and maintain at least a 2m distance. Also be sensible with your route, time and distance covered and be mindful to your health.
There is no right or wrong way of getting into running. You need to find what works for you, what makes you feel good and what you enjoy. The best thing about running is it is so diverse. From roads to local trails, combining it with cycling/swimming (when we're able to do so) there's lots to try. Then, there are all the different distances, you could choose to race 5km, 10km, 10miles, half marathon, a metric marathon (26.2km) a marathon, an ultra marathon. There are so many possibilities! Or you might not want to race, you might want to run just for you. You can run on your own, or you can run in a group. There are lots of things you could do, but there isn't any pressure to ever run a certain distance or discipline. Remember everyone has been a 'newbie' once. Whatever pace or distance we may run, we all were a beginner once and we all had to start somewhere.
Build up gradually. Going from 0 to ultra runner in a few weeks is a bad idea. Gradually increasing the time and distance you run (10-20% each week) can help avoid overuse injuries and tightness. Once you get going you will fall in love with running and the temptation is to run alllll the miles, but your body won't thank you for it, so slowly, slowly, bit by bit.
Don't forget rest, just because you're not hammering it in a spin class or pumping the weights at the gym doesn't mean you aren't getting a good work out in. Your body needs time to recover, include a minimum of one rest day a week.
Running etiquette is more important than ever. Keeping your distance, picking your side of the pavement, being kind and courteous and keeping your bodily fluids to yourself. You can catch up with my tips on how to enjoy and embrace running and social distancing here.
There are so many different sessions you can try. For beginners who need to build up their running couch to 5k is a fantastic app to direct you from 0 to running 5k in weeks. The sessions are measurable and achievable and leave you feeling encouraged. For those looking for a running based workout you can get your teeth into speed, tempo or fartlek sessions and apps like EastNine offer some great coached sessions through your phone. If you want more direction in your running try chatting with an online coach or download a training plan. Many online coaches are self employed and by supporting them through this period everyone wins. A coach or plan can help give you serious motivation and help you track your progress, giving helpful pointers along the way. Or you can just run for the pure joy of it! It's your choice and your journey!
Join a virtual race. This might give you the training mojo you need and can reward you efforts with a virtual medal! The guys over at RunThrough offer some great virtual options, you can also look for races organised for charity.
Use the motivation of others to help keep you on track. Usually I'd recommend joining a running club or heading to parkrun to enjoy the social benefits of running and gain support from others but whilst we can't do that social media and apps like Instagram, strava and run-keeper are great at adding a community element. Follow and connect with other runners virtually, get involved in challenges and hear about/share your training journey. There's also a plethora of people willing to help- the running community is extremely supportive.
Motivate yourself with a great playlist, or try some new podcasts or just run in the company of your own thoughts.
If you can, invest in a good pair of running shoes. There are so many options out there, but a good pair of running shoes is recommended. The right shoes can help prevent injury and make running feel much more enjoyable and comfortable. This can be quite difficult with stores being closed, but many retailers are still shipping online. If you're unsure where to start, YouTube has a plethora of shoe reviews to seek advice from.
Run in any weather- the rain might put you off but the pavements are much quieter, so if you need some space, or like me when I started running you just need a bit of time to try running without feeling everyone is watching you, damp days can offer that.
Be mindful of your safety. Right now we're asked to run solo for our health but this also has implications for our personal safety. Stick to common routes, share what you're doing and where you're going with a member of your household or text a friend if you live alone and if you choose to go out after dark use well lit paths.
Don't be put off by a bad run. We all have them, the ones where our legs feel heavy or mentally we just aren't feeling it. One bad run does not mean all runs will feel that way. Persist and stick with it. Also the chances are your first few runs may feel awful- I hated my first ever run. Give it two weeks, I promise it gets easier.
It's not going to happen overnight. Whatever your running or even fitness related goals are, it won't happen instantly, or in a week or probably not even in a month. Change requires time and consistency, and every little thing adds up, so don't be disheartened if your progress feels slow or daunting. Remember that every day, every run, every training session gives you an opportunity to practice the habits that will get you a step closer to any goals you may have. Celebrate all the little wins along the way too.
If you feel unmotivated or disheartened remember why you started and where you're going and use your smaller targets to help you along. It's ok to feel overwhelmed and it's ok to feel like progress is slow. Keep your head up, trust the process and keep striving for those goals.
There's no right or wrong way to get started or approach your fitness regime. You have to do you. Some people seemed to have nailed lockdown life, but most of us, we're all just getting by. Exercise is personal to you so don't compare yourself to others.
So whether you're a new running nut, or you're just dabbling to get through lockdown life, Welcome to the running community 
written by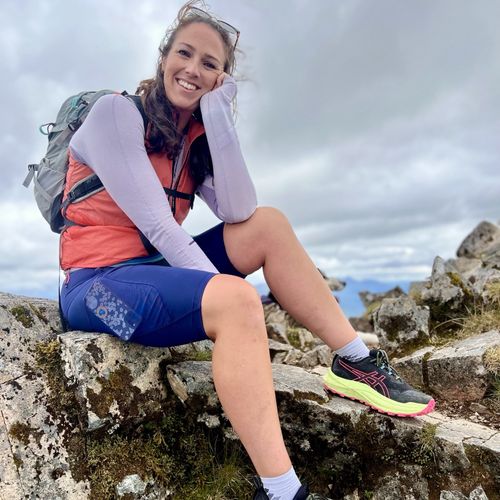 Becca B
Envrionmental Research from London/Southport

Age group: 30 - 35
Club: Greenwich Tritons, Southport Strollers

MY DISCIPLINES