Saturday 4th of August evening and I am out with a friend enjoying a bike ride. I am 25 miles into our long bike ride on the outskirts of Canterbury in quiet country roads. I go round a bend and look up to my horror to see a car take the corner very wide, it was going to hit me head on. The only thing I could do was quickly turn my bike while going around 20mph to avoid the car.
I managed to avoid the car but I went flying and so did my bike, with my bike going the other side of the road. I then slowly got up to find the driver of the car decided to drive round me and carry on why I was still on the floor.

Some nice guy came to help me and check I was alright. I seemed to have got away with nothing broken but my hip was badly bruised and cut and I was covered with cuts around my body. The bike handle bars were the wrong way round and my friend was able to sort this at the accident scene. No other damage to the bike apart from scratches and a minor dent. I think I was very lucky to not break any bones but also very lucky as it could have been worse.
The following day I woke up in pain and bruises, the pain was more to do with the cuts. As a mental aspect I didn't want to get back on the bike after this. I definitely wasn't myself. The cut on my hip was the biggest problem as it was just taking a while to heal. I was able to go to the gym a few days later but struggled with doing my strength stuff on the floor on that side and felt stiff. I started feeling better during the week and went for a run and then a bike ride later that week. The run felt fine but the bike wasn't very comfy and I seemed to be getting pain on my opposite hip. I woke up the next day with a sore hip but was able to still train. Anyway I couldn't swim until 10 days after the accident as my hip was cut and wasn't healing and I couldn't risk an infection.
So I am very lucky to have come away from this with just some bruises. Mentally this has affected me in a way that I don't feel safe cycling and wanted to not cycle again. So I made sure I got out on the road a few days later to overcome this fear. Since the accident it took me the best part of a week to get over this, knowing that fact that people are like that and drive off.
Two weeks after the accident, with training limited I was getting my head round to keep focused and not be disheartened by this. Training wasn't ideal and on the positive side if I had come off worse my season would have been over and I would of missed the European Championships. When my training hasn't gone well I have been looking at how far I have come and what I have achieved to keep me positive. I was hoping to get out more on the bike but because of the problems and my bike needing a refit I was limited. This changes my triathlon targets for the Channel Tri in a few weeks time to just go out and enjoy and not race it.
So two weeks after the accident I was back racing at the London Aquathlon. A race that is in its third year and a race I look forward to as it's in the Olympic pool and its not every day you can race there where so many Olympic greats achieved successes. I helped out at the event starting the 3 waves off and chatting to competitors during and after the race. It was nice to see the race numbers had increased significantly and had also attracted other GB athletes.
I decided not to push hard because of my training and also to experiment with my running.  So I decided to just swim to a point where I wasn't feeling tired and maintain speed. I always find it harder swimming in a pool when you don't tumble turn. I  started the race and gave some advice to people and was first to start in wave 1.
I got over taken in the pool by two people; I am not keen on racing in the pool as I always find I am slower. I came out into transition with another GB age group athlete. Being a pool race we were not allowed to run until we got outside. As soon as we got outside I started to run past the person in front and I was in the lead. I tried a different strategy by not going out as fast on the first mile and aim to get quicker.
I didn't get it right and was too slow at the first mile, oh well never mind. As I was running round I was encouraging people around the course. I came back first in my wave but second overall. I was pretty happy with it, considering my lack of training.
After the race I got to chat to a few people who did the race and it was such a lovely vibe and getting to meet new people. Also a special well done to fellow Asics Frontrunner team member Becca for finishing her first ever aquathlon.
So I am now 9 week's away from the European Championships and I am hoping to get in some consistent training and hopefully be ready for the race.
written by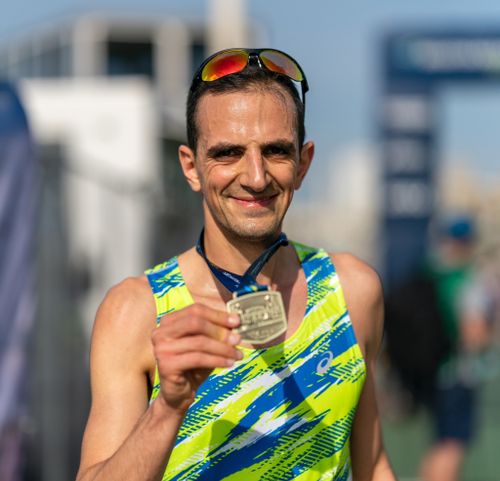 Yiannis Christodoulou
NHS Performance analyst from Canterbury

Age group: 40-44
Club: Canterbury Harriers, Ashford Triathlon Club, GB Age group team, Age group 2017 Aquathlon team captain
Coach: My self in running Level 2 coach in running fitness, Craig Coggle Strength coach, John Wood Swimming coach
MY DISCIPLINES