'Coming together is a beginning Keeping together is progress Working together is success' -Henry Ford
I joined the ASICS UK frontrunner team in June 2019, a little while after the initial intake which was at the beginning of April.
I'd met some of the new team at Manchester marathon weekend.
where new members are inducted into the team and get to meet other frontrunners.
Rewind:
How I came to be at the ASICS weekend was a bit luck !
Debs, my wife, had been running for a couple of years along with doing CrossFit. I was really struggling with my mental health and had been for a while.
She encouraged me to try do some exercise to see if it would help so I started using the gym at the rugby club I've played at most of my life.
This then progressed to training with them 3 times a week at 6am !!
Those sessions consisted of a 1 mile run to warm which I really struggled with followed by a 30 minute circuit session and another 1 mile run to finish.
Debs had talked about running a marathon before she was 40, something I never expected her to be serious about. So before I'd even thought about it it I said " If you do it I will run it with you ".
Mel, who we trained with, has been running for a while and had actually been chosen as a frontrunner the year before, she told us about how project ASICS wanted to get a group of people to run their first marathon.
Never thinking we would be chosen, we both applied! And to both mine and Debs' astonishment…We were selected!
I had 16 weeks to basically go from running two miles three times a week to taking part in a marathon, what had I done!
We were lucky enough to be taken to London and fitted with trainers and kit and along with Mel's mentorship we worked our way through our training plan. And without her help support and the encouragement of the whole team and people who followed our journey on social media I don't if we would have done it.
I really enjoyed meeting other people who shared my passion for running at Manchester but presumed this was the extent of my association with ASICS, and I couldn't help feeling a little envious of those who were just starting out on theirs
Little did I know that in June my ASICS journey would be reignited…
Unexpected phone call
A family day out to the cinema usually means a drive to Edinburgh for us and it was while driving there that I received a phone call from Laura who been in charge of the marathon project.
After the usual pleasantries Laura said "Myself and Holly have got something to ask you! Would you be interested in joining the team?"
I was dumbstruck and totally taken aback, before I could even say anything Debs piped up "Of course he would, Yes definitely!" The kids were excited about and I was struggling to take it in.
Laura and Holly went on to explain the process of becoming a frontrunner and what I'd need to do and when it would be announced and the rest as they say is history.
Through prior commitments I was unable to attend the meet up that had been scheduled that summer at the ASICS London 10k.
However, I was determined to get to the next one and continued to story my journey and openly tell people how running had changed my life.
As we all know things changed in 2020, with restrictions and closures, most people found they had more time on their hands.
For me it meant more quality time with my family, something that's always hard to balance while working full time and trying to fit in training, this gave me an opportunity to try and help and inspire others to get out and try running.
A few friends messaged me to ask about running and what could they do to get started as they had never run for years, some never since the days of being made to do cross country at school.
Watching and encouraging those people over their journey of weeks and then months from non-runners to competent runners by following couch to 5k and helping with advice about shoes and kit for me has become more rewarding than I could ever imagine.
For me, this has to be the best thing about joining the team and becoming an ASICS frontrunner that I've been given the opportunity to inspire and encourage other people who are just the same as me.
Sound body sound mind
written by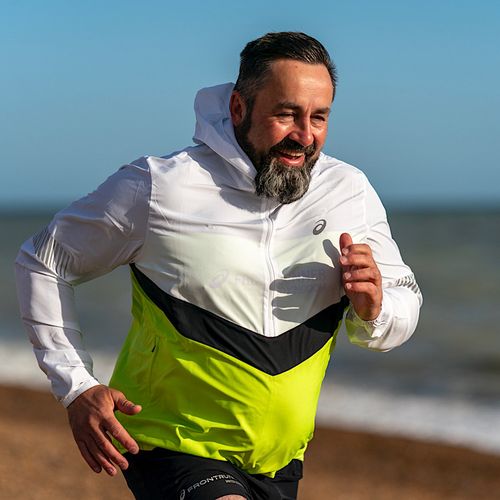 Brian Bowden
Team leader @ Network Rail from Berwick-upon-Tweed

Age group: 40-49
Club: Tweed striders

MY DISCIPLINES