On the 24 – 27 August 10 Frontrunners from the UK team: Aaron, Veronica, Lotta, Marcus, Kelly, Jenna, Kerry, Carl, Geoff and Becca (me!) joined 150 Fronties from 25 teams across the globe for the super duper ASICS FrontRunner meet up.
Over the course of the weekend we braved raft building, 7am runs, rain showers and a 5/10km race all in beautiful Holland (not to mention some epic partying!) It was an amazing chance to get to know team mates from different countries and make lifelong memories.

Here is an account of our experiences……
The Friday kickstarted with a welcome run. Aaron, Kelly, Kerry, Jenna and Geoff headed out early to join the first run of the weekend! Geoff was a late addition to the UK team members heading out to Amsterdam, but threw himself straight in with the welcome run…
"The program showed several different runs that would be taking place over the course of the event, but with my ankle still not quite at 100% I knew I wouldn't be able to participate in all of them. I had made the decision to run the 5km welcome run on Friday afternoon and see how that went. It was brilliant to be back out running and to be with 150 other people from all over the world who all share such a passion for running and movement was amazing. After the run, my ankle was a little bit sorer than I would've liked. I made the decision to not run on Saturday and to save myself for the 5km race on Sunday"
After everyone had calmed down from the initial excitement and a few later arrivals had joined, we all headed to the auditorium for talks from the ASICS Europe, Middle East and Asia CEO, and the team representatives. We even got a sneak peak of some new kit! Once the introductions were over, we headed to the Hostel which was going to be team HQ for the weekend. It was lovely, and even had its own nightclub…more on that later! For the evening we went on a canal boat cruise of Amsterdam. The weather wasn't on our side and the thunder and lightning was crazy! We all felt so lucky to be in Amsterdam and excited for the weekend ahead.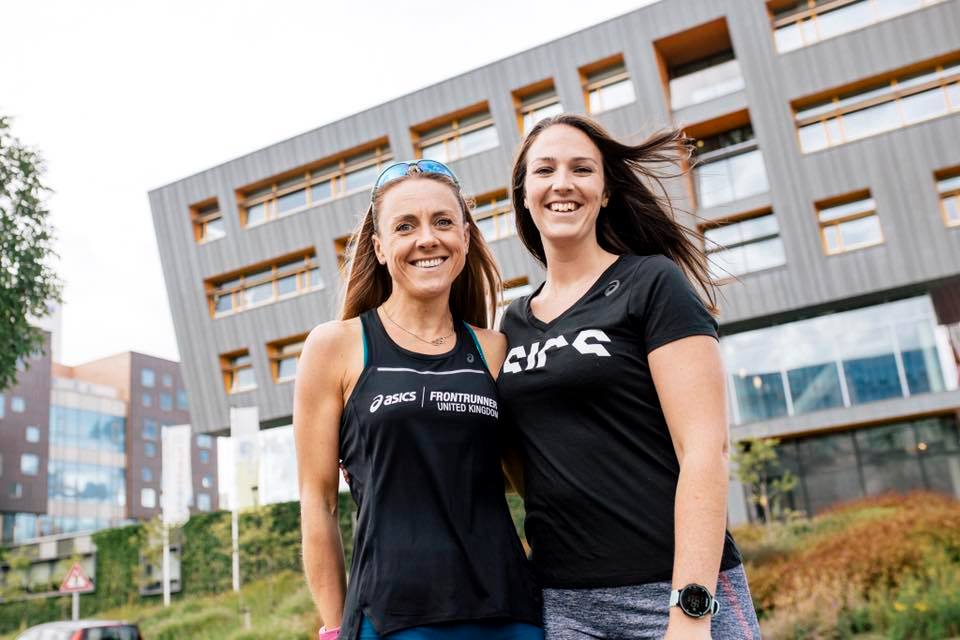 To get the party started on Saturday morning, we were given several 7am options to choose from: 6.5K Sound Mind Sound Body Worlds Run, Relax & Stretch Yoga with Eliza Müller, or a Morning Mobility class with Anna-Lena Vahle.  Veronica, Kelly, Becca, Kerry and Jenna chose to brave the damp morning and explore Amsterdam on the 6.5km morning run. This was Veronica's third ASICS meetup after joining the team in February 2018. Here's her take on the morning run…
"After a safety briefing, we set out towards Body Worlds: The Happiness Project (https://www.bodyworlds.nl/en), which is an anatomy museum in the heart of Amsterdam, "taking visitors on a thrilling voyage of discovery through the human body, in search of what makes us happy and the impact of happiness on our health".  After a few miles in the cool morning rain, we toured the museum, which kindly had arranged a private viewing for us. One of the coolest things was a screen that used facial recognition as you walked past to rate your expression on a scale for: anger, happy, sad, surprised.  A wander and a few team photos later, we headed back, thoroughly warmed up and ready to tackle the day!"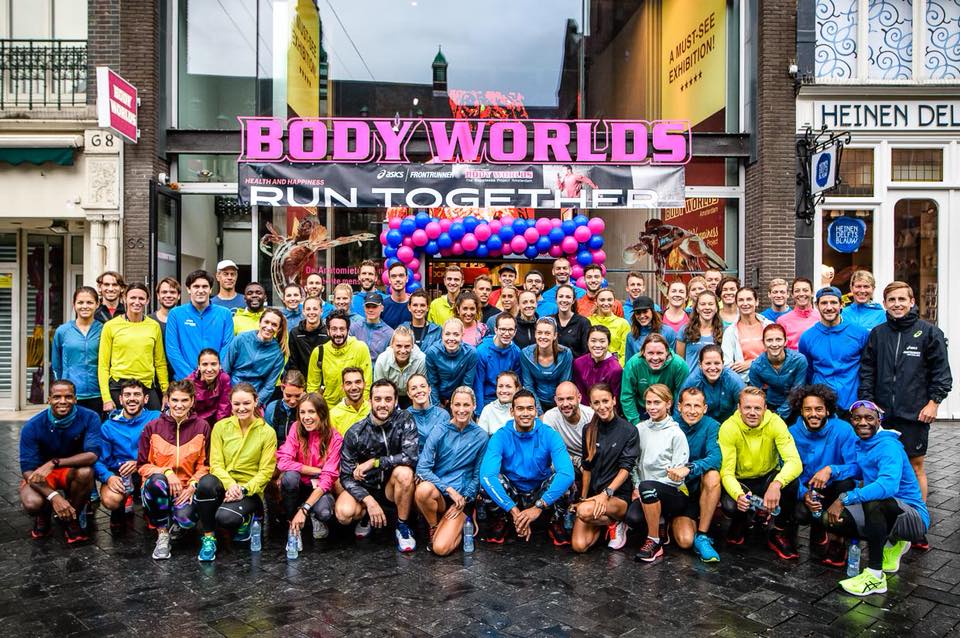 The rest of the day was spent doing workshops and team building games (in amongst the heavy rain showers!) The rain came out to play on Saturday. It could not dampen our spirits though for the Farmers games. Geoff being the crazy brummie he is, 'went with the philosophy of if you wear shorts and t shirt / vest in the rain you'll dry quicker when it stops. To quote photographer Andy "skin is waterproof right?"'.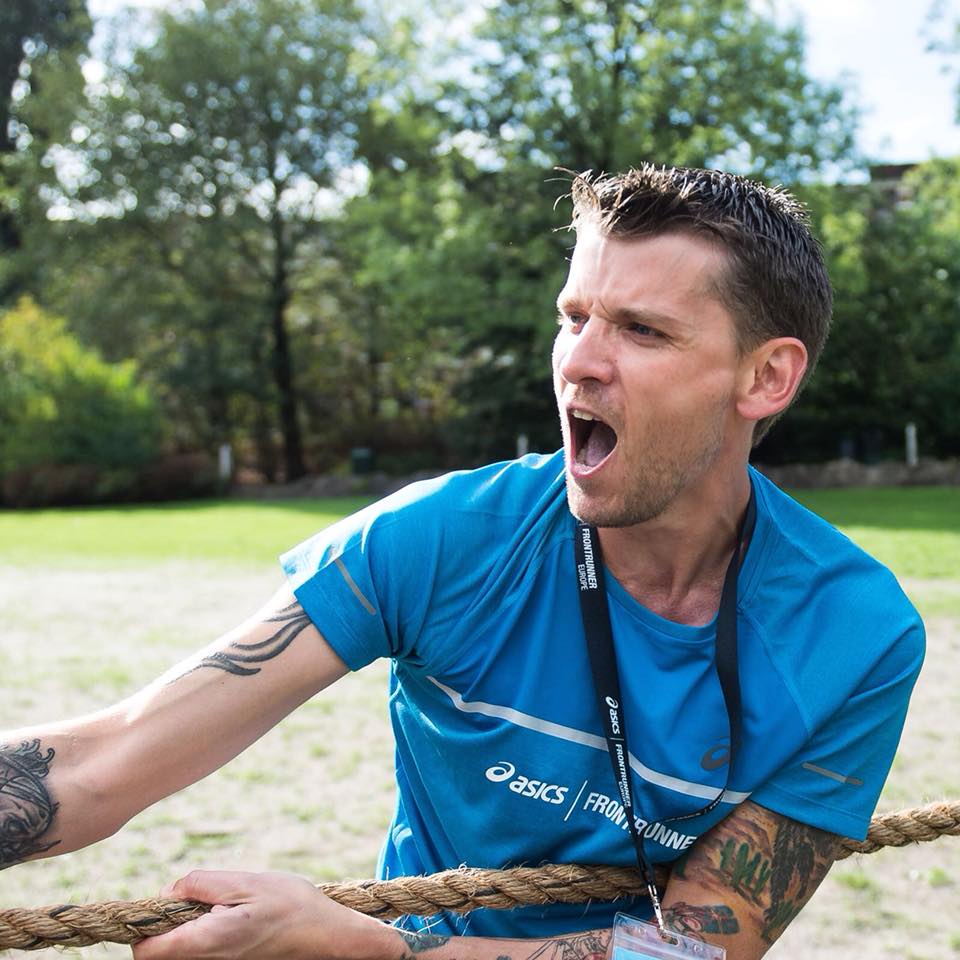 Following the Farmers games on Saturday, team members attended workshops and classes. Geoff had a bash at his first ever yoga session..
" I attended some workshops one of which being my first ever yoga session with instructor Hie Kim. I really enjoyed it although at times I found I was concentrating on the movement too much and had lost track of the rhythm of my breathing. I'll definitely look into attending some more classes as I think it's a great way to not only work on strength and conditioning but will help to focus the mind at the same time"
Whilst Lotta took part in the SOMA MOVE class….
"The rain took the SOMA MOVE class from outdoors down to the indoor basement, which was definitely an improvement! The class could be described as yoga type short routines including tough exercises such as lunges and push-ups all done in one spot on the floor. One position was called 'lion pose', another one 'cobra' - or did I just make the second one up? Not sure but there were some connotations to these animals. The music was rhythmic exotic sounds, I liked it a lot but am lacking words to describe it. Our instructor Sanna Hed suggested we'd move at our own pace rather than the one set by her. I found this class great, not too vigorous but definitely challenging - and now I want more of it! In a way am happy the photographers weren't there to document the amount I sweated, at the same time a part of me was super proud to be looking like a bathed panda"
Saturday night saw us all partying into the early hours, not the ideal way to prepare for a race the next day some would say (However, with a fair few people hitting PBs and others absolutely smashing their race I'm starting to think a couple of beers and 3 hours' sleep might be the way forward)
Sunday morning started with many sore heads and tired faces, but we soldiered on and headed out to the boating lake for a morning of watersports. The weather was much more settled and the sun even came out. There was raft building, paddle boarding, pedalos and boat trips for those feeling active, and a Coffee shop for those who weren't!
Lotta tried the sailing:
"Sailing seemed to be more popular than anticipated. Many people were eager to get on those cute tiny boats and get out there where the sail and wind would take them. Well, there actually is a way to steer the direction - if you're lucky enough to have wind. So, due to the high volume of participants half were taken on a motorboat through a beautiful area of residential luxury houses to a tiny island where the other half had sailed. We said hi to the fishermen on the island, changed from the motorboat to the sailing boats (and visa versa) and were headed back to the base. What I learned when sailing: Sit on the floor and keep your head down. The skipper knows what they're doing even though you may think the boat is flipping (where are the pictures of our faces?!). The skipper pulls some ropes and maybe flips a pole from one side to the other. Easy? Probably not. Enjoyable? Very. Quite a wonderful way of catching fresh air and spending a sunny moment in gorgeous surroundings with nice people.  Yes, I would do this again."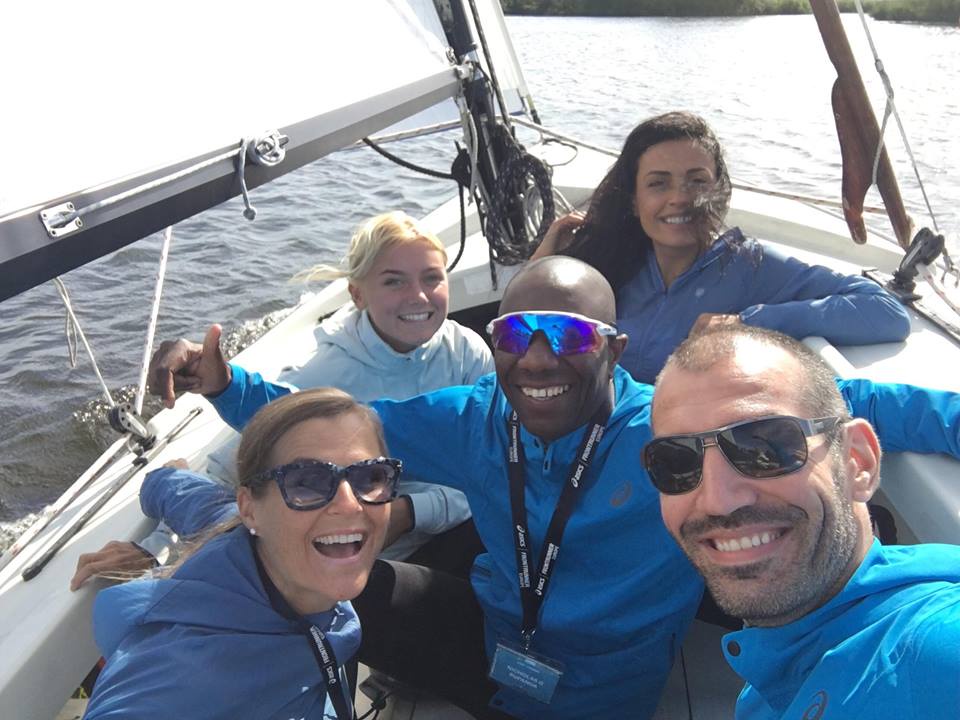 We also had a bash at the raft building and made a successful raft that held five people!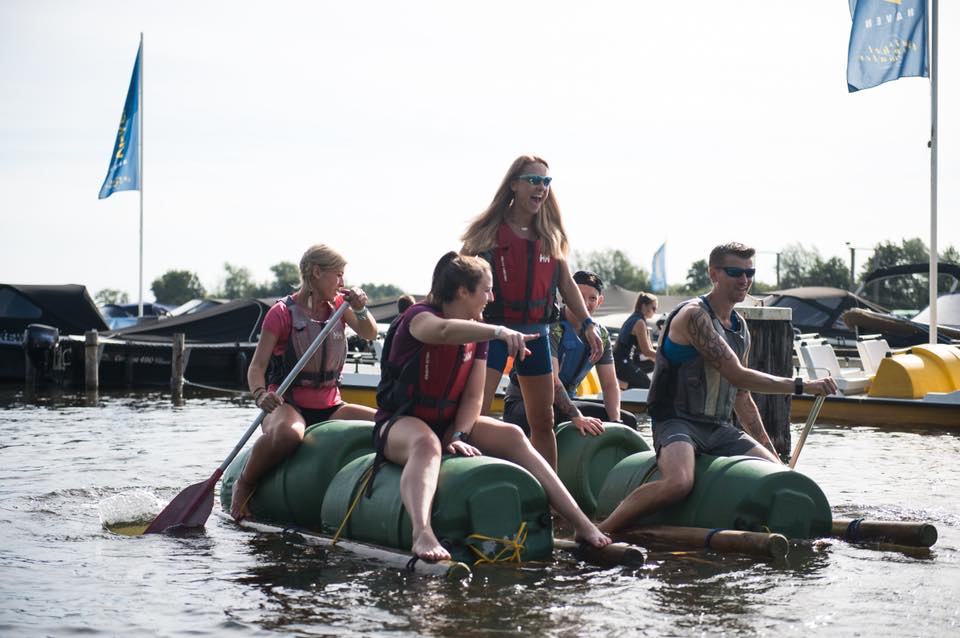 The rest of the morning was then spent relaxing in the sunshine and commandeering the pedalo boats- interject a lot of singing "I'm on a boat!"
After lunch the team all headed to Harmelen for the Hardloopevent Harmelen, a local 5 or 10km race around the beautiful countryside outside of Amsterdam. Kerry, Lotta, Carl, Aaron, Jenna, Marcus, Geoff and Veronica all wisely tackled the 5km race. Everyone was in good spirits and even though we were tired from the previous night's antics, no one can resist a good race. Racing is second nature to Olympian Kerry, and she put in a fantastic effort to take second lady!
"For me the ASICS FR weekend in Amsterdam brought me back to the reason why I run. Health, Happiness, Friendship and Fun. For the past number of years my Running has been focussed on the competitive International side of things. This has been at times very stressful, nerve racking and also disappointing when races or major Championships don't go to plan. But as a whole my Running has shaped the person I am today, taken me to countries I may never had got to visit, helped me make friendships that will last a lifetime & pushed me to achieve the dreams that you could only dare to dream. The Asics FR weekend in Amsterdam brought back all the reasons why I love to run, it helped me to destress after a tough International track season with like minded people, friends, family. Running the 5k Fun Run brought back the fun element to Running that I have been missing. Of course we were all a little competitive once the gun went (that's what makes us who we are) but as the race progressed I relaxed into it enjoying the surroundings - apart from the mighty head winds, and enjoyed the race for the Running element and not the wanting to win element. It was a bonus however to make the podium in second behind Paulina Kaczynska from Poland (5000m PB 15:29), who was flying. My Asics FR UK team mates all had super runs too and it was great to share the day with them. The International meet was a great way for me to make new friends within our wider Asics FR family, but it also brought me closer to my ASICS FR UK family too.  We made memories and had fun and laughs that will last a lifetime - and we made a pretty awesome raft too! - See not competitive at all!"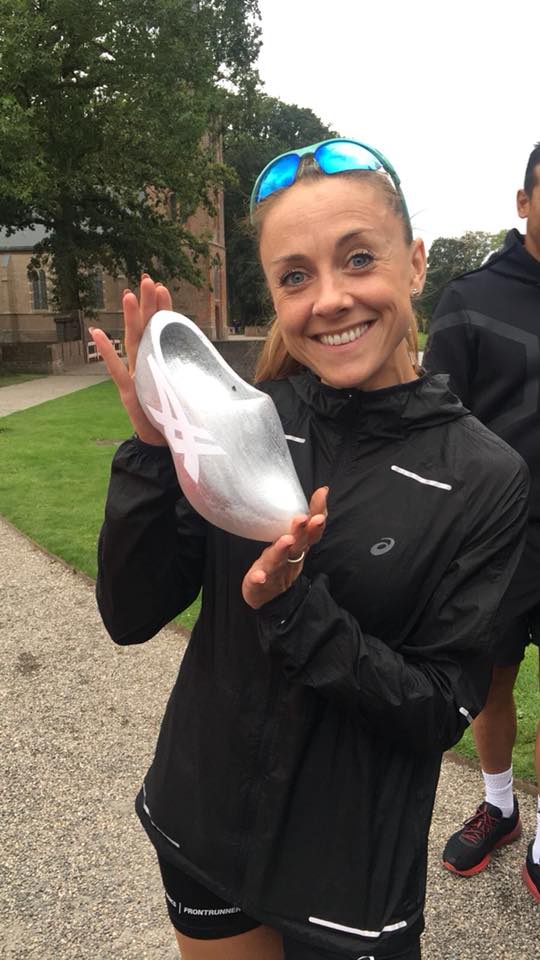 Big shout outs also go to Geoff who did his first race back after a stress fracture, Jenna who flew to a sub 20 minute finish and hero of the hour Aaron who stormed to a very well deserved PB.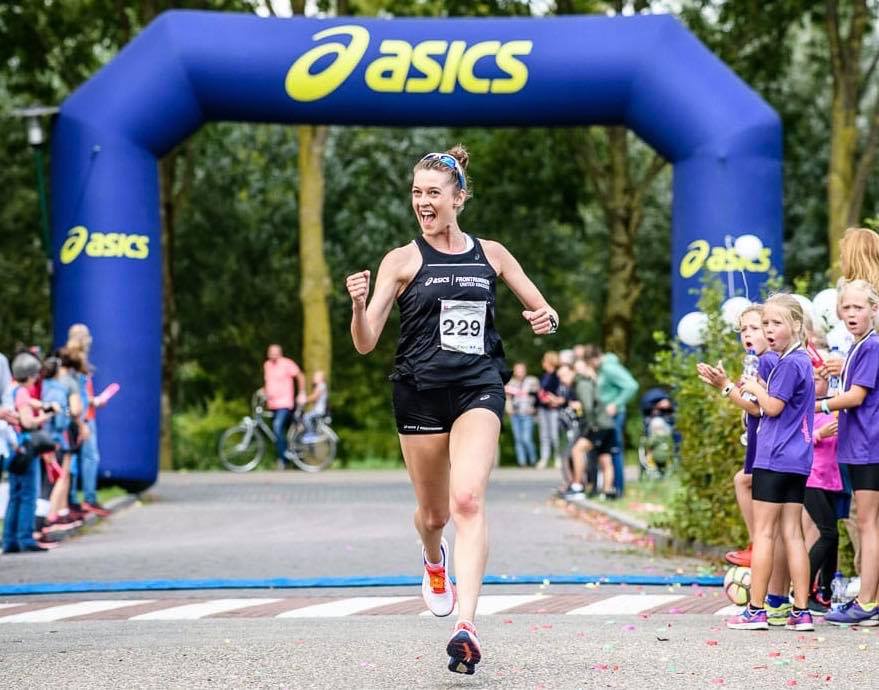 Kelly and I were brave enough (or crazy enough) to tackle the 10km run. This incorporated the same start and finish sections of the 5km run but with an additional 5km around a beautiful boating lake! We took it steady and enjoyed the peace and tranquility of running through the Dutch countryside, a real rarity for me as I'm so used to pounding the pavements in London. The UK team were waiting to cheer us over the finish.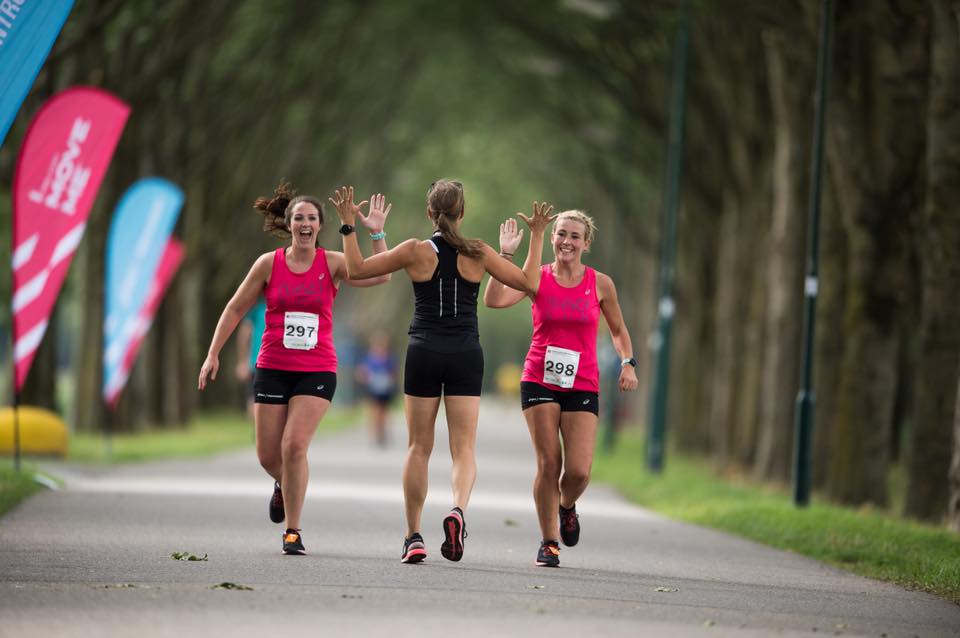 We then celebrated our achievements, caught up with our international team members and bagged some epic sports massages courtesy of Kerry, before we headed off on the coach for the final evening meal of the trip.
The last evening was a chance to celebrate not only the amazing efforts of the day, but also reflect on what had been an incredible trip. We had a lovely BBQ at a Castle and awards were given to those who had placed during the races and the farmers games.We sadly bid farewell to Lotta who heading for Chamonix (crazy lady) and Carl. We then headed back to the Hostel for free time. We chose to go and explore Amsterdam one last night- making the most of every minute. We were all very sad that the weekend was over!
Some of flew back earlier on the Monday morning, but Jenna stayed and enjoyed the last activity of the weekend, the mindfulness run….
"Luckily for me I was able to stay until Monday afternoon, so I was invited to the final run of the programme, 'the Mindfulness Run'.After being split into various groups we started our run around Oosterpark and stopped at various intervals to complete different mindful activities. We completed group activities such as intertwining our arms and having to 'correct' ourselves, and then we were put in pairs to complete a blindfolded run. Each activity highlighted the importance of concentration (if I started to think of how I was going to get to the airport then I definitely would've fallen over in my blindfold!) so we could only think about what was happening right now. We even had one task where we had to tape our mouths closed, which was quite interesting for someone like me who loves to talk! But it enabled me to only think about my breathing while running around the park.
I hadn't given too much thought into mindfulness in running, but being present in that exact moment, and not worrying about any other stresses can really relax you. Sound mind, sound body"
 Beyond the activities, what made Amsterdam special was the range of runners from a large variety of countries all united by a passion for running. Friendship plays a huge part in the ASICS running community. For Marcus, the highlight of the ASICS Frontrunner international meet up was the opportunity to meet the people behind the instagram filters, to learn more about what drives them, and to learn about why they run. Marcus is a super talented 6 star marathon finisher, dad and dedicated runner. He drew inspiration from the weekend, and those involved.
"As I look to become a better a runner it's a great opportunity to learn from those who are more experienced, or those that just see things from another perspective. Below are some conversations with my teammates that highlighted this. @dennislicht the Dutch middle/long distance runner, this guy is so humble despite his running achievements. @rupanga_n_g is a ultra runner who is a father, husband holding down a full time job but training to place in the top ten of the Comrades ultra. He was telling me about his training and how he'd use his holiday allowance to train for the race. No short cuts just hard work. @_szycha_ This guy loves running and it comes across. In talking to him it was his consistency to training, focusing on the journey rather then just training for a race, was an important reminder to me. @xpatrunner she puts the work in daily, and like me is mostly a solo runner whilst training, so it was good to run in a group for a change. She joined me on a 2hr marathon training run, which is a platform for great conversations about running, life etc. @jermaine.is.running This guy is driven and a family man like myself, but he works hard to be the best that he can be, whilst making the most of each moment. @runkerryrun to have an Olympian on your team is a gift, I was fortunate enough to join her on a warm up and warm down for a 5k race. To run, talk and learn from her vast running experience was a highlight for me. I had so many good conversations with other my FrontRunner teammates not all mentioned here. For me it was clear that they live to be the best version of themselves, and this inspires me to be the best version of myself."
So thanks for having us- we had an absolute blast and the Dutch team put on an incredible event. I wish we could do it all over again! and thank you so much to the team mates I got to share this with. You inspire me everyday and I am so glad I had the chance to share this experience with you!
written by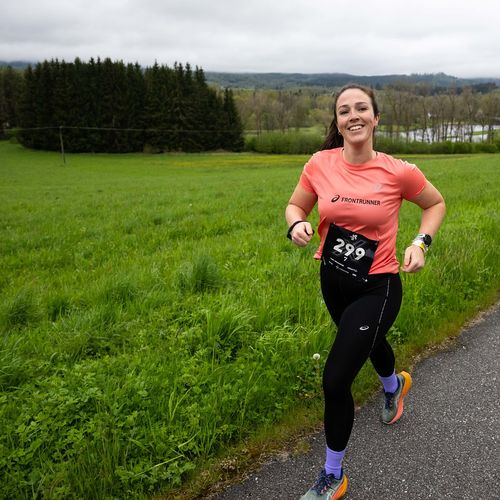 Becca B
Envrionmental Research from London

Age group: 30 - 35
Club: Greenwich Tritons

MY DISCIPLINES