Queen Beyonce said so herself. Girls run the world! The mothers, step-mothers, grandmothers, daughters, sisters, aunts, cousins, nieces, friends, in laws, wives, girlfriends, here is to strong, independent and incredible women everywhere. Women have been pivotal in the course of history: from Rosa Parks to Emmeline Pankhurst, Malala Yousafzai to Marie Curie. Thursday 8 March 2018 is International Womens' Day, a chance to celebrate the achievements of women the world over.
Our ASICS Frontrunner team is filled with incredible women all united by a passion for running. I want to use International Womens' Day to showcase the achievements and passions of these wonderful ladies, I recently asked our girl squad... "What empowers you to run?" and "what tips do you have for anyone wanting to get into running?" So Ladies and Gentlemen... here come the girls......
Anna @annarunsmarathons
I ran through high school, both on the track and cross country, and was always very active across a number of sports growing up. At the end of university when I qualified as a human physiotherapist I was involved a horrible attack in January 2008 where I was severely injured, but miraculously survived after lifesaving surgery on my lungs and heart. I remember not being able to run more than a few hundred meters at a time and questioned whether I would ever be able to go back to sport or running. A few years later I signed up and trained for my first half marathon at the start of 2012 and I haven't looked back since. Your body is incredible at adapting to physical or mental challenges and I am beyond grateful that I am now a stronger runner than I ever was before! Since then I could have honestly never have guessed that I would go on to run over 40 half marathons, 12 marathons, 8 ultras and plenty of other distances in between. My advice would be that your body is so much more capable than you think! I love the freedom you can find on a run and I encourage everyone to give a new distance a go: whether it be a park run or a marathon. You never know what you can really do unless you try!
Mel @little.runner.mel
I came to running later in life. An office job, long commute and sedentary lifestyle has left me 3 stone overweight. I was unfit and unhappy.
Then we adopted our son, he was almost 3 and a bundle of energy. I had to get fit for him. I started running and as the weight fell off and my confidence grew, I was hooked. Having my son as my reason why, means I am never without motivation.
Martha @martha_runs
I was bullied at school for being overweight. Kids would sing mean songs about me and it left me feeling very self conscious. I was fearful of exposing myself to any form of exercise in case people judged me or taunted me. In 2013, I decided to take up running. I started doing it in the dark so no one would see me. As time went on, I realised I enjoyed the sense of achievement and "buzz" of finishing a run. When I got back, I always felt good about myself and for a brief moment in time I didn't care what other people thought about me. So I challenged myself to go further and faster and entered my first 10k. It was scary but I realised I was just like everyone else. Over the past few years, running has given me the confidence to try new things, get fit and lose a few lbs, beat my anxiety and depression AND helped me meet loads of new friends (who all believe in and respect me).I feel empowered every time I think of those bullies and how far I have come. I also feel empowered that my own progress might help and inspire others who want to try something new but feel afraid of taking that first step.I can only promise you that it's worth it when you do.
Here are my top tips if you're thinking of starting / coming back to running:
- Firstly, just get out and go. Don't worry about the time or distance. Just do it for you. There are lots of Couch to 5km apps out there which are brilliant places to start
- Find a group you can join or grab some friends and do it together
- Go along to a parkrun - it's FREE and you can walk/run it if you need to. - Set yourself small attainable goals and find ways you can reward yourself with when you reach them (I used to buy a new bit of running gear each time I achieved a goal)
- Don't let one bad run knock you down. We all get them. By the time you get home, it's already done and time to move forward to the next one.
- Lastly, enjoy yourself and stay positive- who knows where this exciting adventure might take you!
Kerry @runkerryrun
I found Running at the young age of 13, 22 years later I became an Olympian. I've had many knock backs throughout those years but my family have inspired me to follow my dreams. My parents took me to many a muddy field in the early days and my Papa, Fred, was always so proud of me. He was the first person I would call after a race. He encouraged me so much and as a child I would watch the athletics on the television with him. We lost him to cancer in 2012 while I was trying to make the 2012 Olympics. Before he past he was able to watch me compete in the US (on an ipad) & said to my family "she's going to make it". Loosing him was a massive blow & along with picking up an injury the Olympic dream was gone that year. I felt I had let him down & it's been so hard not having him around anymore but I know that a lot of my strength and determination comes from him. So much so I knew I had to make that Olympic dream come true. In 2016 I stood on that start line at the Rio Olympic. A lifetime dream achieved with my number one fan looking down on me. I am inspired by Dame Mary Peters, she was an amazing athlete & has been a great support to me over the years.
Advice to any ladies starting running; Joining a Running group is a fantastic way to motivate yourself, get/give support & also have a good laugh & a bit of craic along the way.
Jevi @jevisjourney
I'm empowered by empowering others! I come from a household where we are five sisters altogether and we have been each other's strengths. Even in my running group, I make it my aim to make women feel better about themselves and believe they can run. It's time more women supported each other because this improve their emotional wellbeing and self worth. Apart from being running mad, I'm also a huge feminist and make up junkie.
If you want to start running; my advice is to lace up some trainers and go for it. Don't worry about your appearance, ability, judgement and performance. Do it for you.

Beth @runner_beth
I'm empowered to run because I know it keeps my mind and body healthy through anything. If I've had a bad day or week as long as I have a run to look forward to that evening I know I'll feel better afterwards. It's also been the best way to make friends after moving 370 miles from home to a city where I knew no one. Outside of running I'm passionate about chococlate, pizza, donuts... the list could go on.
I'd encourage any woman who is nervous to run to look in to your nearest club. People start running clubs because they are passionate about helping others, there is no judgement! 
Dr Lis @lis_kilcourse
Running is how I alleviate the stressors of everyday life and feel as though I have escaped away from every thing else. I love to cook, because I hate being told that gluten free food must be boring.
Start running slowly, don't be afraid to walk / run for the first few weeks and don't be put off if you can't do even a 10 or 20 minute run straight away ( we all started like that) a couch to 5k programme is a good place to start. Remember if you have been inactive for a while any increase in how much you do is a huge achievement so be kind to yourself and just aim to do a little bit more each week.
Hannah @escapingthecity
I run because "life is not measured by the number of breaths we take, but by the number of moments that take our breath away."
Running changed my life. It gave me a sense of purpose, and allowed me to push my mental and physical boundaries further than I ever thought possible. It gives me the chance to explore the amazing outdoors; whether that's the many parks of London or the mountain trails around the world. Running gives me the chance to prove to myself that I am strong, and that I can achieve amazing things, as well as inspire others to do the same.
My main piece of advice for those starting out is to run with others. Running is amazing but it's even more amazing when you can share your ups and downs with others, and gain advice and inspiration from them. It's such an inclusive sport so make the most of it. I trained for my first marathon completely on my own, going around and around the same 1 mile loop of my local park (the longest run I did on that loop was 22 miles!). I'm sure I could have done much better, and enjoyed the process so much more if I had joined a club or a social running group.
Lastly, DON'T GIVE UP! Starting is the hardest part - it gets easier and more enjoyable the more you do it.
Lotta @lottarunsandjumps
I once read that you never regret afterwards that you had gone for a run. I totally agree. It is the feeling afterwards that gives me the boost. Meeting old and new friends when running keeps me going too. I certainly would not run as much as I do if it wasn't with other people!
Also, when there is no time or speed pressure I enjoy running much more. My passion outside of running is motivating others to be active. I work as personal trainer and live a wonderful life in lycra - pretty much everything I do has to do with active life style. I mainly work at a gym and in parks but also lead runs and take bootcamps in and from ASICS London Oxford Street shop 2-3 times a week.
My other type of passion is crisps but let's not talk about that...

My top tips for anyone wanting to get into running are:
1) Take it slow. I would guess that the most typical mistake for beginners is starting to run too fast, then feeling exhausted and finally giving up. I always say that you may need to jog so slowly that powerwalkers overtake you. Maybe you walk to the first lamp post, and then jog to the next one, then walk again, and jog again...
2) Find someone to run with. It is just some much easier with someone else. You can share your thoughts, experinces and feelings.
3) Set up a goal. This could be a local 5k Saturday ParkRun in two months' time or similar. The word 'race' scares many people. However, these days it only means that the event is timed so that each runner gets their personal finishing time. Some people run, some jog, some may walk. Remember: You judge yourself, others don't - and ignore them if they do. Focus on the positive!

I use two phrases a lot: Firstly, "Anything is better than nothing", meaning even a little jog is much better than no jog at all. The second phrase is "Any age is a good age". People have these funny opinions about how young/old people should or should not be running and training. I think any age is a good age for physical training, we just need to adjust the training to right level.
#anythingisbetterthannothing #anyageisagoodage
Hayley @runningmummioof4
I started running 3 years ago at the age of 47. Running gives me a passion and fire that makes me feel alive, not because I am fast or winning races but just the pure and simple joy of putting my trainers on and getting outside. I love the freedom of being outdoors and the feeling of elation and achievement after I have completed a run. I believe in leading by example for my 4 children, showing them that by working hard you can achieve your goals. I think you should always make time for the things that make you happy and I believe running makes me a better parent and person.
My running journey started with the NHS Couch to 5k app which I did in the mornings before my children woke up. I then joined a running club which has been so supportive in my growth as a runner and various social media sites. There is a great running support network out there in the form of running groups and social media. I have found these inspirational, motivating, encouraging and extremely supportive. My top tip is to find what works best for you, whether that's running on your own or with a group, and at a time that fits in with your daily schedule. Along with my running I also really enjoy my weekly Pilates classes and last month i have just started to bring strength training into my training.
Kelly @kellogs_ontherun
Running for me means taking control of that one aspect of my life that provides so many benefits. It improves my mental and physical health, helps me to have better control as a type 1 Diabetic. It's my me time, away from being a mother and a wife. Freedom to explore and work towards goals, that only I can push myself to do and that makes me feel strong! Outside of running, spending time exploring with the dogs and eating cake!
Corey @coreylearn
Running makes me feel strong and powerful. I decide how long to run and how often and connects me with others who love it as much as I do. Sure the medals are great but it's the community and support that is awesome. Take a chance, sign up for a 5k, join a running club - it could be the start of a whole new chapter in your life...it was for me!
Lauren @lauren_tinkler
Every leader step, every gulp for air, every burning muscle and every drip of sweat. These moments are what empower me to run! I know that I have managed to overcome these things and that is what has gotten me to the point at I am at now!! And I am forever grateful
Sarah @mia79gbr
I run for headspace and to be ME for an hour. For an hour, I don't have to be Mum, I don't have to be an employee and I don't have to worry about anything except my feet hitting the trails and the sound of my breathing. For that one hour, I'm Sarah and I'm running. For the first 6 months you'll probably hate running. If you can get through that 6 months, you've cracked running and you've got it for life. Congratulations … you've won a lifetime of less than 10 toenails and some really interesting chafe marks. However you'll also have gained some AMAZING running friends (trust me – you'll even share snacks with them), an appreciation of second breakfast and some really good stories about falling into hedges and amazing sunrises.
Victoria @victoriastears
What empowers me to run? There are two things that really empower me to run; the ability to be outside amongst nature which I find truly therapeutic and restorative (especially when the sun shines), and the feeling of strength that running gives me.
Top tip for ladies wanting to get into running? My top tip for any ladies wanting to get into running would be to find a friend or two and all start this journey together – you can create your tribe, make it a habit and have a truly fantastic time with your girlfriends exploring some beautiful scenery whilst burning off some pent-up energy. Passion outside of running? I have two big loves outside of running; the first is sailing – I am a true water baby and cannot be without the sea. For me, sailing gives me an opportunity to get away from the real world and can be sufficiently challenging with an element of danger. My second big passion is ballet which I use as my strength training to complement my running, I love the discipline that ballet brings into my life and it really helps me to keep in tune with my body.
Holly @rushbynature
What empowers me to run? Simply because I can…I feel so lucky that I am healthy enough to run daily and enjoy all the benefits that come with it. Running is my natural anti-depressant…when I cant move I feel sad. The feeling running gives me out weighs any drug or emotion. 
How would I get women into running? Start running with a friend. Something shared always makes you get out the door whatever the weather or time if you have arranged to meet someone its harder to get out off and you can also share the journey. Dont do too much too soon, and dont be afraid to walk!
Grace @graciee_riri
One of the biggest aspects of running which empowers me to run is the tribe of runners I meet. Over the last year, I have met some hugely inspiring runners who have battled through injuries and beat all the odds to perform at the highest level. The positivity and enthusiasm they have for life is electric and I find myself empowered with a higher drive and motivation to achieve my own running goals. Running has also thought me valuable life lessons and moulded me into theh person I am today. It has helped me to find the deeper meaning to life, and to apporoach all situations with a positive mindest. One of my big passions outside of running is injury prevention. As a sports and Exercise Scientist and Neuromuscular therapist, I love helping clients to stay injury free.I incorporate injury prevention exercises to all the classes I teach in my gym supervisor position. Consistency is key to running progression and performance, so prevention of injury is a key aspect of any runners' routine.
My top tip for getting into running is: enjoyment is key. Get a few running buddies with you and I can guarantee the miles will fly by!! Don't forget to get in some mobility work after each run! Even just 5 minutes will do wonders for your body.

Becca @thisbunnyruns
I'm empowered by the mental clarity running gives me. It is the one constant in my hectic lifestyle. I started as a size 18 runner and through running and zumba lost over a third of my body weight. I came back to running to deal with grief after an unfortunate series of circumstances. The comfort running gives me has gotten me through a womens' health scare, redundancy and finishing my PhD. I'm now enjoying the challenges of training for my first marathon. I want to empower anyone and everyone. You CAN achieve anything and you are so much stronger than you think. That is exactly how I feel every time I run! I'm so glad I found my running family. Beyond running I am passionate about the environment. I have a doctorate in Icelandic Glaciology and environmental biogeochemistry. I'm passionate about climate change and the legacy we leave for future generations. I also love rabbits (you never would have guessed!)
My best advice for anyone wanting to get into running is just pop on those trainers and go. No one is judging you, in fact you'll find some wonderful support in the running community. If you're nervous try a parkrun, they're incredible friendly gatherings where you can run in a safe and supportive environment. Be kind to yourself. Set goals and smash them!
Charlotte @running.charlotte
Why I want to run? To explore and connect with the city I live in and to challenge myself to go out of my comfort zone
Top tip: take a bus through a nice area and run/walk home - it is much more fun if you don't do loops or always the same route!
Sarah @sarahrunshaw
As someone who suffers from anxiety and low self esteem, running is something which empowers me. Running gives me confidence, I feel strong both physically and mentally and I'm proud of what my body can achieve. When not running, I'm an Architect, a profession where unfortunately still men outnumber women, I'm passionate about inspiring and empowering women in the design industry, hoping to challenge perspectives and inspire young women through practice and my role at the university.
For any women wanting to get into running I'd draw upon something I saw in the "This Girl Can' campaign. 'No matter how slow you go, you're still lapping everybody on the couch''. Put on those trainers, maybe even grab a friend and go put the world to rights, you won't regret it. 
written by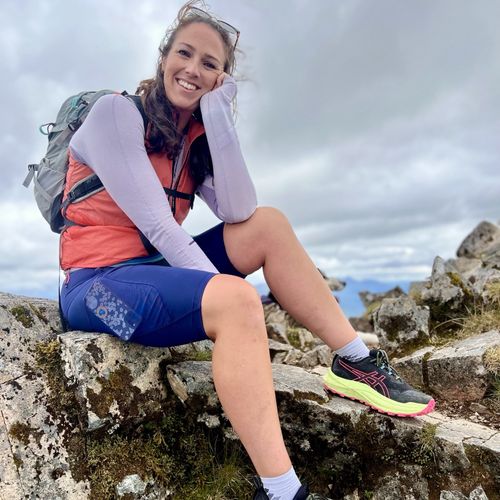 Becca B
Envrionmental Research from London/Southport

Age group: 30 - 35
Club: Greenwich Tritons, Southport Strollers

MY DISCIPLINES