Six-week beginner 5K-10k schedule
This plan has been put together for someone who's looking to race their first 5-10km or someone who's maybe had a bit of time off running but can run non stop for 5 minutes. If you're completely new to running then check out a complete beginners plan such as the Couch to 5km plan or Runkeeper and build up your running with smaller walk / run sessions. 
Also make sure you're running in the right shoes - check out this blog post here. 
The schedule is based on three sessions a week, consisting of easy running and some short, faster interval sessions to take you out of your comfort zone. The days indicated are purely a guide, swap them around to fit into your schedule, however respect the rest days. These are to allow you to recover and for your muscles repair and adapt to the training. The most common cause of injury is increasing the amount of training you are doing too much, too soon. On your rests days you can add in a session of cross training, such as cycling, yoga, swimming, or an other activity (other than running) that you enjoy doing. Adding strength-training into your routine is also very beneficial for runners. 
Your easy runs should be ran at a comfortable, conversational pace. Take further walking breaks if you need to.
The short intervals are to increase your speed, power, and ability to sustain both of these. Warm-up drills are great to get your legs moving before a faster session, you can check out some drills here.
For each session make sure that you are warmed up, walk briskly for 5mins or do some of the warm up drills and stretch after your run or incorporate some yoga / stretching into your rest days.
THE PLAN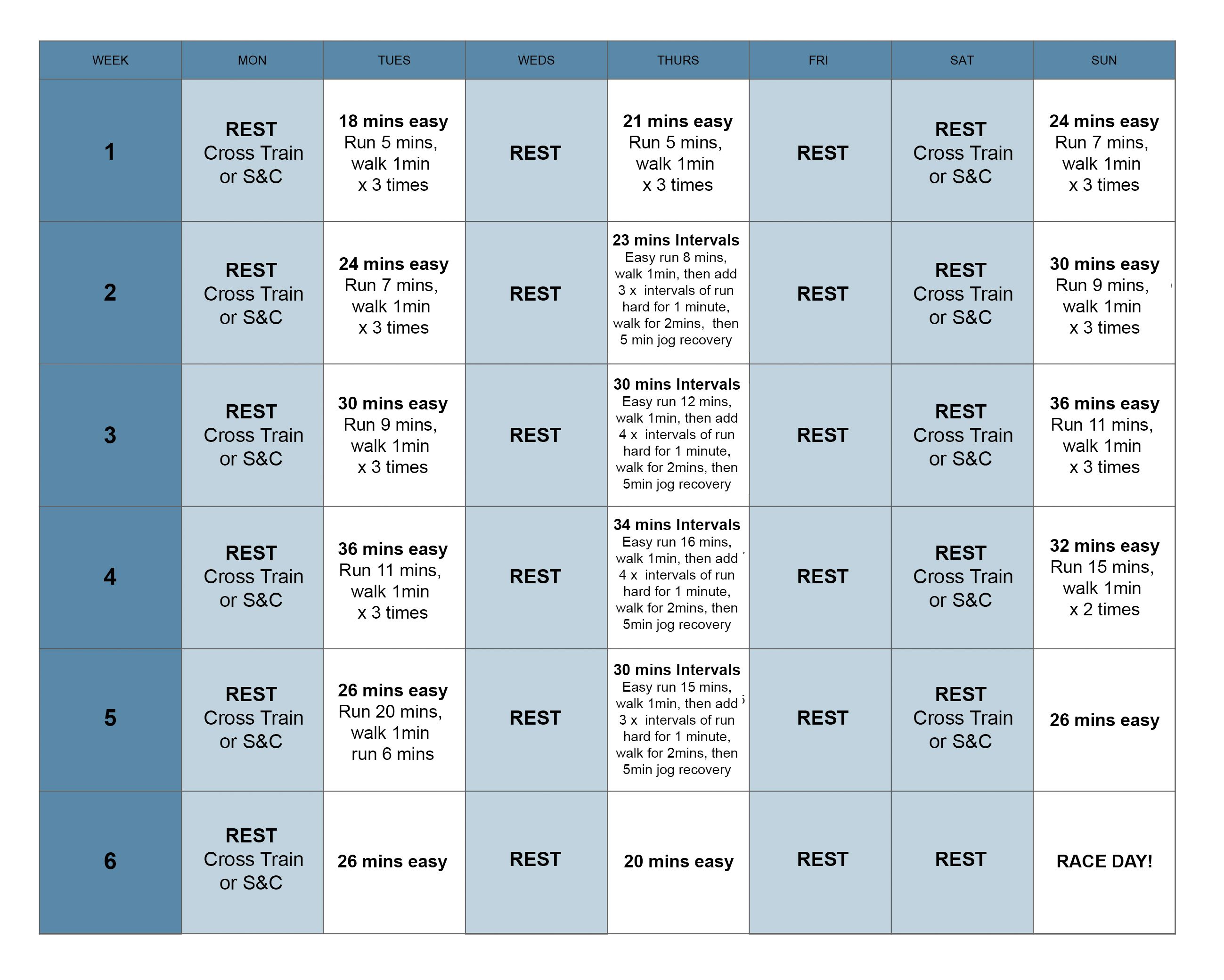 If you're finding the plan this too easy, or are already used to running for up to 30 minutes a few times a week, then you could increase the amount of running and decrease the amount of walking to run more of the time continuously or even increase the sessions by a couple of minutes. However listen to your body and don't try to do too much! 

Another great way of increasing the effort without changing the plan is to add some hills into your running route. 
An alternative interval session is to run 1km reps x 3 (or 6 if you're aiming for 10km) at your 5k pace. Start of with 3min recoveries between each one and then decrease these by 30seconds each week. This will really get you used to running the distance at pace. 
Try not to get too disappointed if you don't feel like you're improving, it takes time to improve as a runner. Each run will be gradually building your strength and fitness, but it might not be until race day (or beyond) that you really see the results. 
RACE DAY TIPS
On race day make sure you warm up properly, especially if you are going for that PB.

The mistake most runners make is to go out too fast. A 5K might seem a short race but it starts to feel very long indeed if you destroy yourself in the first kilometre.
Lastly try to enjoy it! This is meant to be fun!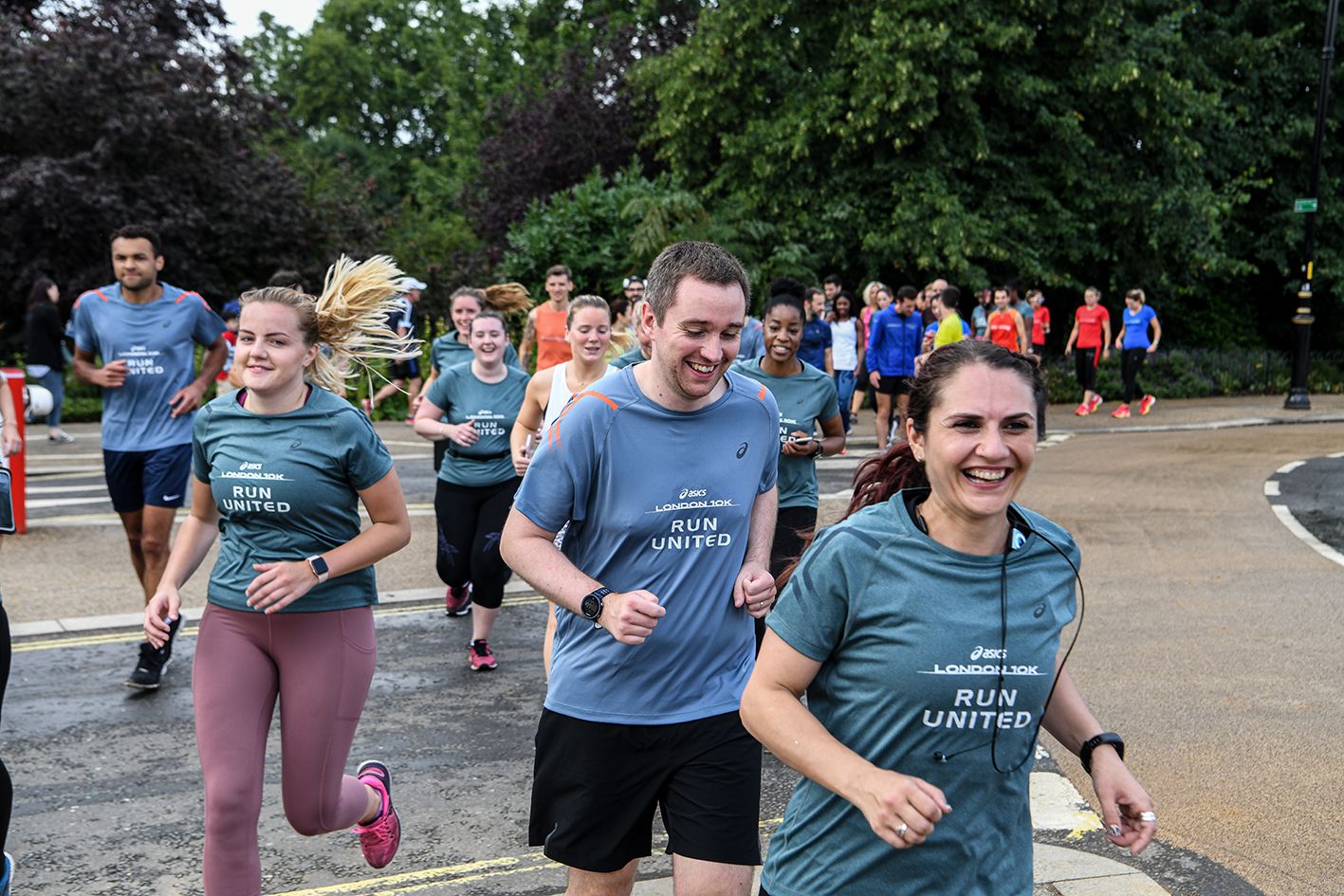 Photo credits Andy Astfalck
written by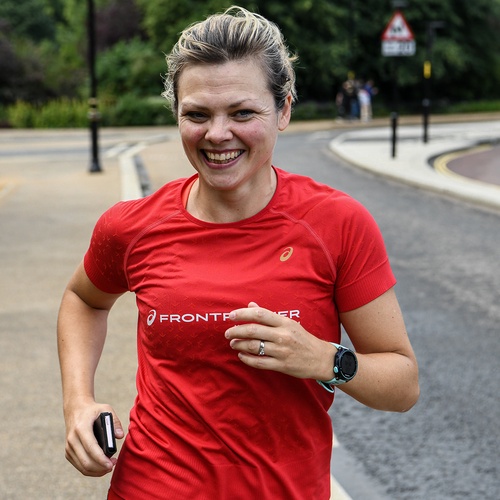 Sarah Renshaw
Architect from Manchester

Age group: 35-40
Club: Chorlton Runners

My Disciplines