What I have been up to recently at the World Championships and Spetsathlon races.
So arrived at the World Championships in good shape, despite getting a cold and a grumpy tendon, which luckily did not affect my training leading up to this although it was painful. Although I was very worried about my leg as it was getting worse, but once I was tapering and doing easy training it started to ease off. These things tend to happen a lot to me leading up to a big race.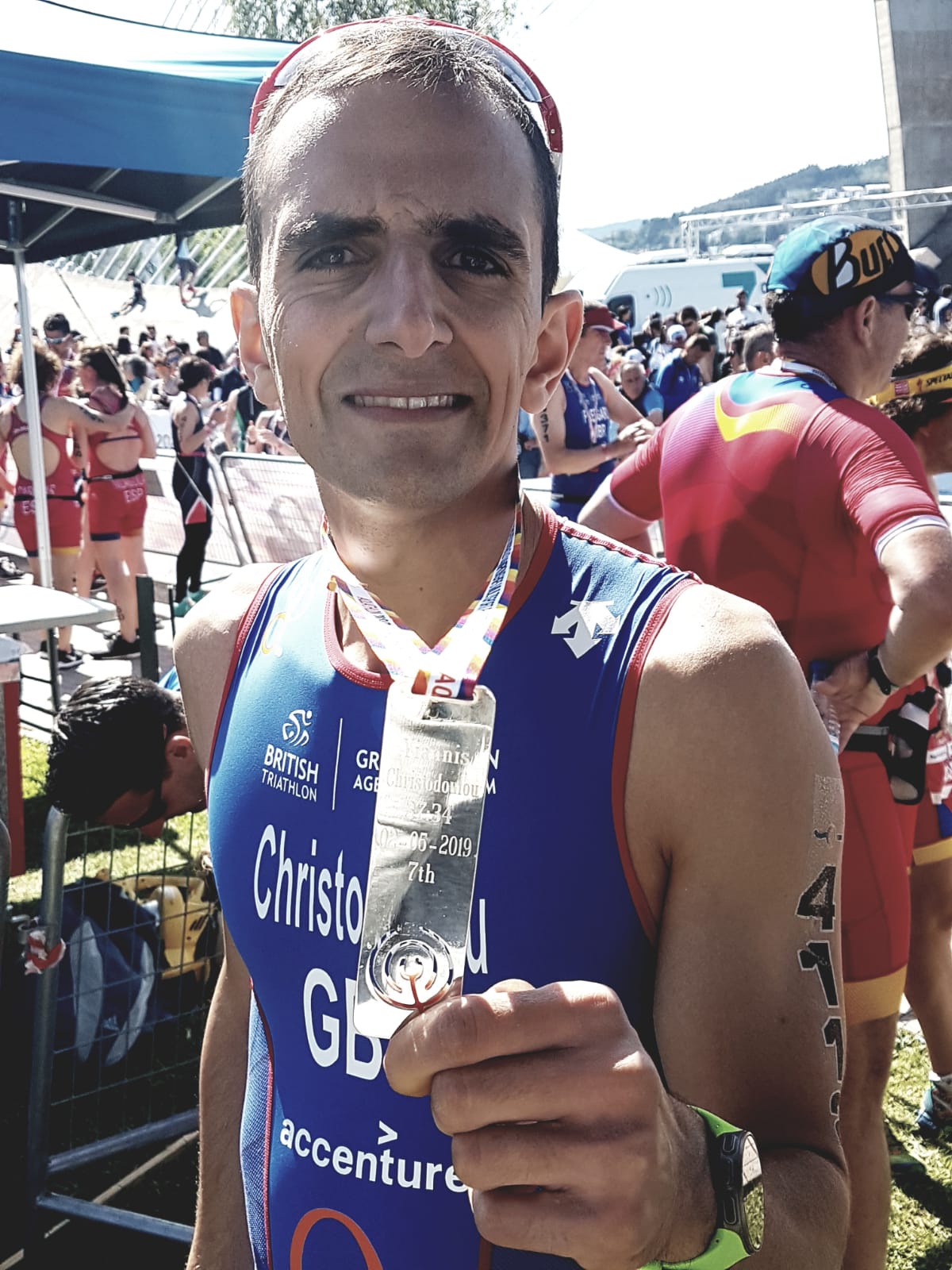 So I was very confident on a good race on race day, we were staying in Vigo so we were around 20 minutes away from Pontevedra where the race was. So on race day I woke up and felt much better as I was also not feeling as tired. I was very tired that week from illness and walking around London watching my wife run the London Marathon. I have to say watching the London marathon is truly special and highly recommend going up to watch it.
I knew I was in great shape and if I could get through the race with my tendon problem I was confident it would be a good performance for my last World Aquathlon Championships. Race day arrived and I headed to the race, nervous but excited as normal. The event looked like it was going to be another one to remember, people so friendly, athletes chatting to you from across the world, made it have a real buzz about it.
So I got to the start line in the 19-39 year old wave, the temperature of the river was around 13 to 14 degrees so not warm but it seemed a lot colder than that. The first half of the race was up stream and against the current so this was going to be tough. I got into the river and was freezing, I headed to the start line and waited for the horn. The horn went off and my plan was sprint for around 100 metres, the swim was tough with loads of people around me. The first 500m was tough and it felt like it was taking a while. Once I hit the turnaround point it was much quicker being pushed with the current, however I could feel the water was cold and my hands and feet were not warm. I came out into transition which was a long one, about 250m long as I walked the length the day before.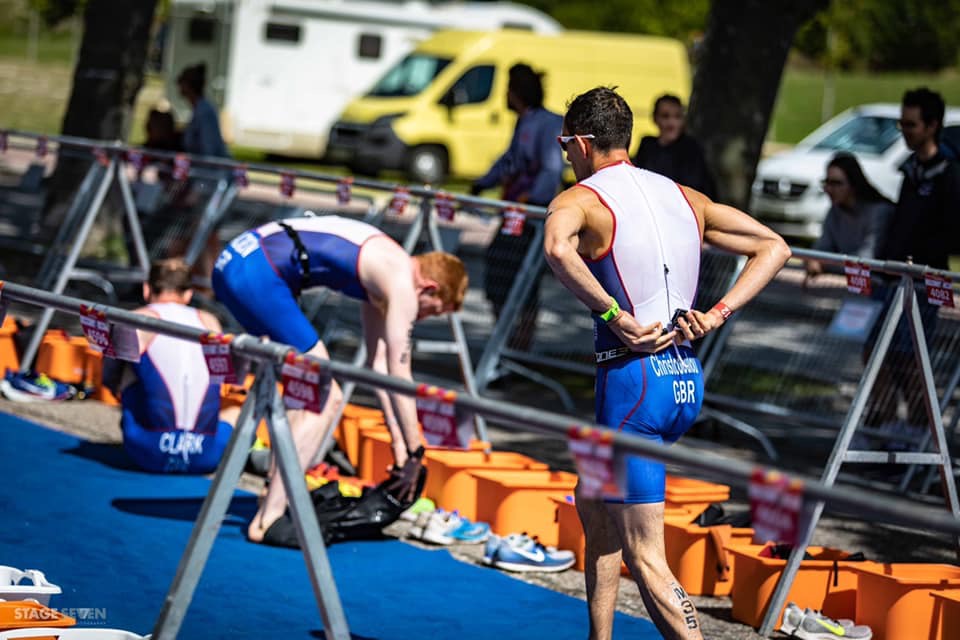 My swim was not my fastest in fact it was my slowest by a few minutes, but this was to be expected in the conditions. I came to my box and took my wetsuit off, I was freezing although it was very warm outside of the river. I then left transition for the run and I was feeling faint and wobbly because of the cold water. After a minute I was warmed up and I attacked the run, hunting athletes down and passing them, I felt good on the run. I came home in 7th in my Age Group and first Brit back. I was over the moon and it was my best performance by far. I couldn't do much more, my swim could have been better but I can't complain due to the lack of open water swimming in the UK. My run was the 4th fastest in my race.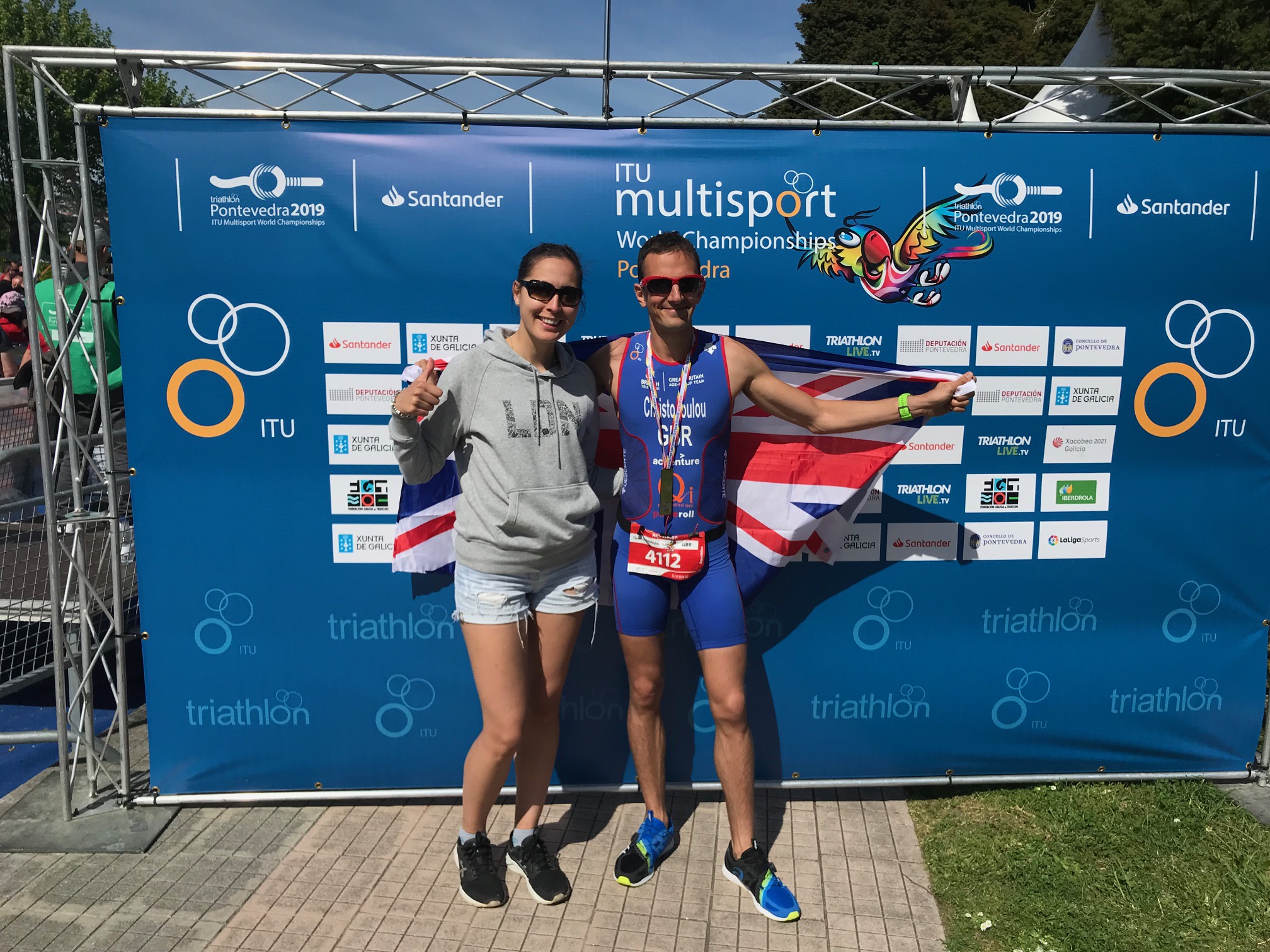 I have achieved more than I could ever of dreamed of since qualifying in 2016, 1x European Bronze, 3x top ten World Champs finishes and a National Championship title, Team Captain etc in Aquathlons and to represent GB in my AG at 4 world Championships. As many of you may know as I have achieved everything I wanted to in Aquathlons and this was my final World Aquathlon Championships, I am not shutting the door on Aquathlons but I may come back in future years but next year I won't be competing for the GB Aquathlon team, even though I have an automatic place from this year from today's result. As I will be concentrating on other sporting and life goals I still have the Europeans and the Nationals to go and now targeting these and who knows I might be back in a different sport but this year was all about me focusing on newer goals.
So I got back from the World Championships and went back to work for a few days before I headed off the Greece to a tiny island called Spetses to do the Spetsathlon Sprint Triathlon. I was kindly invited by the organisers to compete and I thought why not as I am moving more to triathlons this year.
My wife and I left home at 2am in the morning and finally arrived in Spetse at 5.30pm. It was a long day with flying to Athens and getting a boat across to the island. When we arrived the island looked small with no cars around and horse and carts being used a taxi's. The whole island seemed to have a buzz because of the event.
We arrived at the Klimis Hotel which was a lovely hotel and we had a sea view. The organisers had left a goody bag and some tops with my name on, which were awesome. At 9pm we were invited to have dinner with the organisers and the athletes. That was an amazing experience talking to Elites, Pros and Olympians. Some athletes had gone to the Olympics and come back with medals.
The following day they had swimming races and I was due to race in the 1k swim. However I was just shattered from travelling and decided not to race, but went down to watch. I should of done it now thinking back to it. Later that evening they had a cycle race and the 5k charity race. I went down to watch and my wife was running in the 5k so I watched her and cheered her on. I then picked up my hire bike which I was using for the race.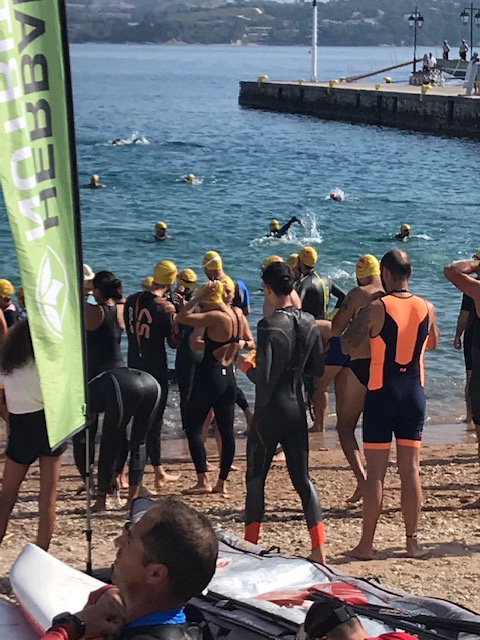 The whole island was buzzing from the event and the following morning was at the Triathlon event, 750m sea swim, 25k bike ride and 5k run. Everyone headed to the start, the organisers then started announcing the Olympians etc who was competing. I was then announced and I started getting nervous as I was nowhere near their level. The race started and I managed to get on the back of an Olympic medalist and was able to stay with her for all the swim. I hung on and came out with a huge PB, I raced out of the sea onto my hire bike. Unfortunately it wasn't my own bike so was a struggle. I lost a lot of time on the bike and the course was brutal, it was so hilly my legs were screaming at me. Having lots of people overtaking me wasn't doing my confidence any good. So I kept thinking to myself, keep the legs spinning eventually you will start to come downhill. I then got back into transition and headed for the run, surprising the legs felt good and I cracked on targeting people one by one. I was getting quicker and quicker the longer I was running and then I finished 13th overall and 3rd in my age group. I was very happy with that considering the level of athletes here. I also had the 2nd quickest run so I was happy with that.
The spestashon was a great event and I highly recommend this event to anyone. I would love to come back and thank you to the organisers for inviting me.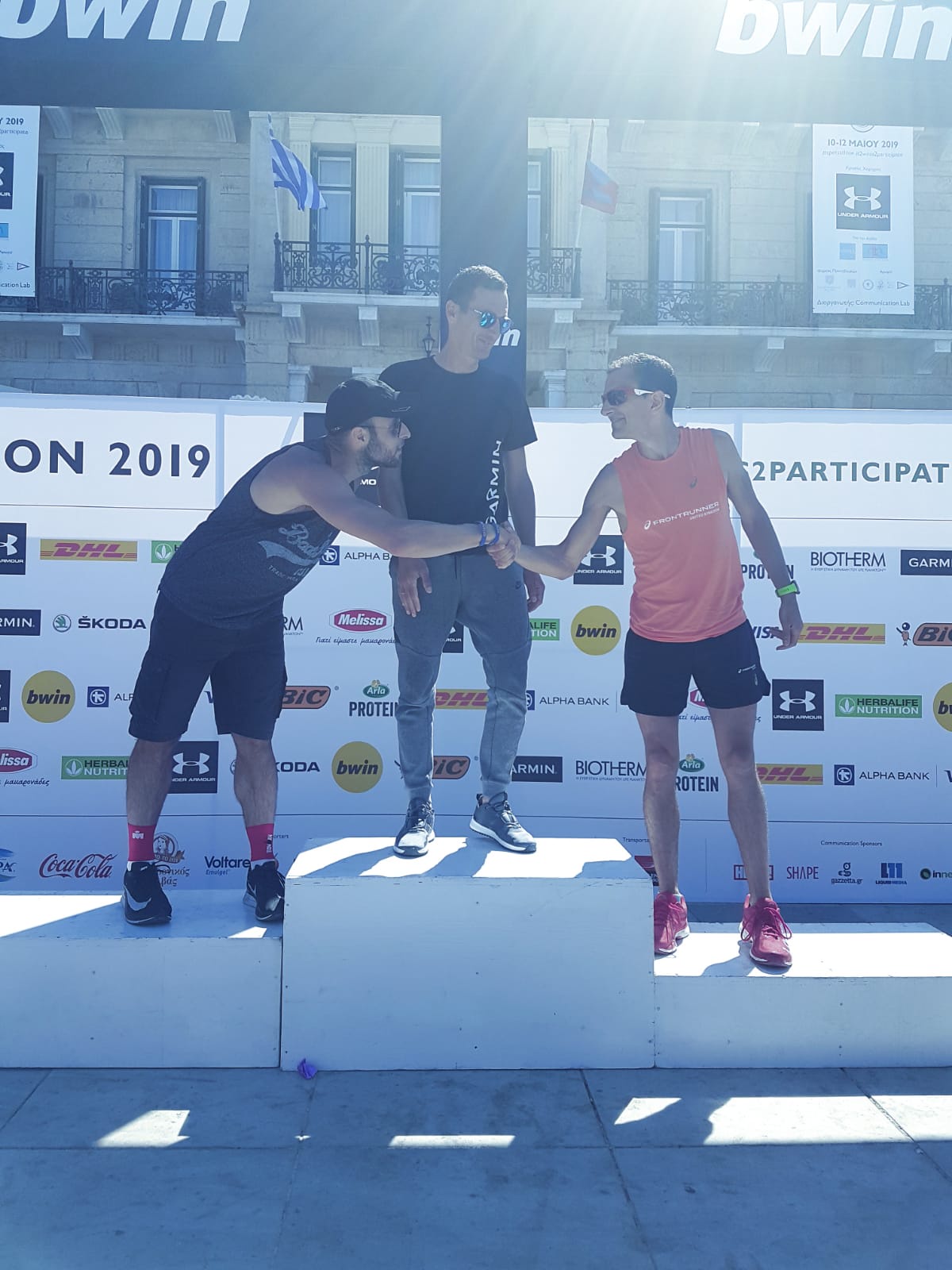 written by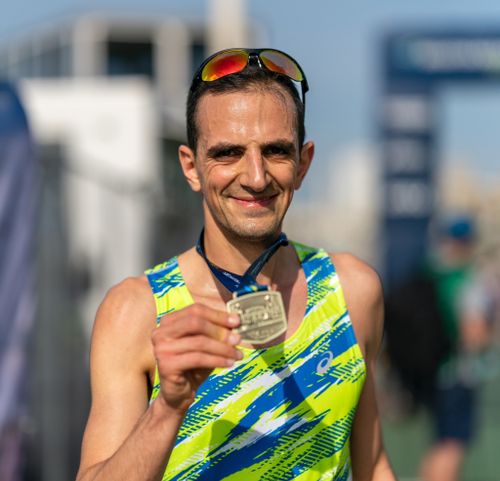 Yiannis Christodoulou
NHS Performance analyst from Canterbury

Age group: 40-44
Club: Canterbury Harriers, Ashford Triathlon Club, GB Age group team, Age group 2017 Aquathlon team captain
Coach: My self in running Level 2 coach in running fitness, Craig Coggle Strength coach, John Wood Swimming coach
MY DISCIPLINES