After a big breakthrough year in 2017, Asics Frontrunner Jade Nicole Roberts seems set to take the leap from competitive age group athlete to pro in the world's toughest sport.
"I never thought I would get to a point where I'd be on the verge of deciding to take the jump into the professional field and race triathlons as a career," says Jade Roberts, who kicked off her top-flight sporting career at the fresh age of sixteen as an elite-level cyclist. 
It's all super scary as it takes me out my comfort zone, but at the same time, it's a once-in-a-lifetime opportunity to give it a shot
Jade spent four years after school on the pro cycling circuit, before deciding to hang up the endurance sports kit. It was only a few years later, in 2015, with the motivation of a good friend, that she decided to enter a triathlon to 'get back into training.' 
Fast-forward three years and she has already achieved what most elite age-groupers never do in their careers. A rise nothing short of meteoric: She won the women's category at Durban 70.3 in 2017 and was the first woman home at the Indian Ocean triathlon in Mauritius 2017 in her age group (25- 29). In 2018 so far she won her age-group at both East London 70.3 and the Durban Ultra, where she finished second overall.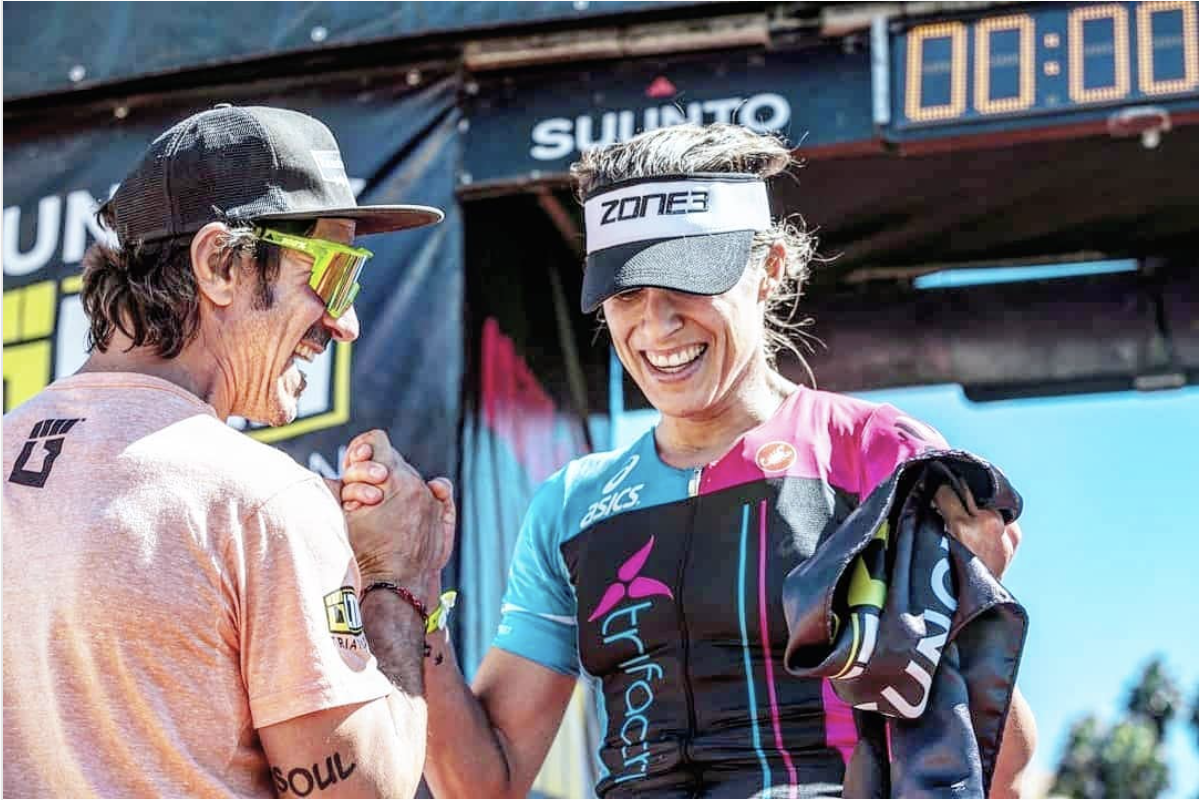 There's nowhere to hide in any triathlon, let alone the endurance level disciplines of the sport: 70.3 (originally known as the 'half-IRONMAN) and full IRONMAN. Triathlon is a sport that is really three and you have to manage your weaknesses and capitalise on your strengths.
Ironically for Jade – with her history in elite-level cycling – it was running that proved the biggest early weakness, but in the true character of a future champion, she has overcome that. 
"I found the running to the most difficult to get back as I wasn't the smallest athlete starting out," she explains of the initial training back in 2015 when she entered her first event. "To build up the mileage and speed at the same time was going took some focused time and patience."
18 months to be exact, according to Jade. "Leading up to the 2018 season I did a lot of quality work in the swim and run prep, and found that I'm a far more rounded triathlete now." 
With the experience I have now, I know that when it gets to the top-end of the competitive field, you cannot have one discipline that is your weakness.
Jade's main goal for the year is to win the gold medal in her age group at 70.3 World Champs in Port Elizabeth in September. "It's so awesome to have the opportunity to represent your country at a World Champs event on home soil," she says, not that this budding star needs any motivational boost.  

It is after this event that Jade and coach Lucie Zelenkova a former professional triathlete associated with Trifactri Triathlon club in Johannesburg, will reassess and look at the possibility of turning full pro. 
The question is, exactly what will that take. What does it take to make the huge leap up?
"The opportunity to turn pro has been my ultimate goal since I started racing triathlons and I really believe that with the right mindset and desire in your heart, there are no limits to chasing your dream," Jade says. Yet she is under no illusions as the the challenges ahead. 
"Physically, the body has to be in tip-top shape year round. I have to ensure I'm  fuelling correctly before and after every session - I burn between 3000-4000 calories a day. Getting in enough rest and sleep is extremely important to ensure the body is fully recovered. Go for regular massage and physio treatments to avoid injuries and to allow the body to run at optimum level is also crucial," she says. 
"Mentally you have to believe in your abilities as an athlete. Success is no accident - It's the same routine and drive, day in and day out that. The most important key to achieving success is to decide upon your goal. Once you decide what you want, you have to decide how you'll get it. What that means to me is hard work in training, commitment to the dream, belief in myself and persistence."