What Is Ekiden and How Does It Work?
Ekiden's meaning originates from the Japanese phrase "relaying station." This running event, involving several teams composed of multiple runners, is widely celebrated and cherished throughout Japan. It's great for those who are looking to challenge themselves and be a part of a dedicated team of people who love running.
What is Ekiden?
What exactly is Ekiden? Simply put, Ekiden is a type of long-distance relay race. Each team has its own sash, also known as a tasuki, which is worn by the runner and then handed off to the teammate running the next leg of the race. Running as a sport is taken very seriously within Japan, and those who participate train constantly in their free time leading up to the event.
One of the most popular and traditional Ekiden events is the Hakone Ekiden— where teams from numerous universities around Tokyo compete. For an occasion such as this, it's important to understand Ekiden's meaning, history, and how it works.
A history of the Ekiden run
The tradition of Ekiden racing began in Japan in 1917. It was inspired by the couriers of Japan's Edo period (1603-1868), who would run to deliver messages between Tokyo and Kyoto (the old imperial capital). These messengers would stop at stations for rest and refreshments, often passing the messages to other couriers to run the next leg of the journey.
The tasuki that is used within this popular occasion holds serious importance: It symbolizes the immense effort that you and your teammates have to win. Ekiden brings feelings of camaraderie and hard work to those who participate.
Culturally speaking, wa or "group harmony" is the distinguishing characteristic of Japanese sporting events. "Sharing the distance with teammates was a great experience; we all had the same overall goal and supported and encouraged each other," says Chris Campion, a UK IT manager and ASICS FrontRunner.
There's a profound feeling individuals experience when it comes to carrying the Ekiden tasuki. The bonding among teammates is what attracts runners to this style of racing. "I really like the concept of the relay race because you rely on each other," ASICS FrontRunner Jérémie Vayer says. "To share a common bib is really cool to me," he adds. And this sense of deep meaning is shared by the many spectators watching on the sidelines and at home on television.
How does an Ekiden work?
Each Ekiden can differ slightly, but there are some elements that remain the same: All of the events have teams made up of experienced runners, and the participant wears a tasuki, which they transfer to their teammate once they complete their leg of the race.
How are teams structured?
Most teams are made up of six individuals, such as is the case with the Mount Fuji Ekiden. But the number of runners allowed on a given team can vary from race to race. For example, the Grand Tour Kyushu — the longest Ekiden in Japan, lasting eight days — has teams made up of 51 individuals.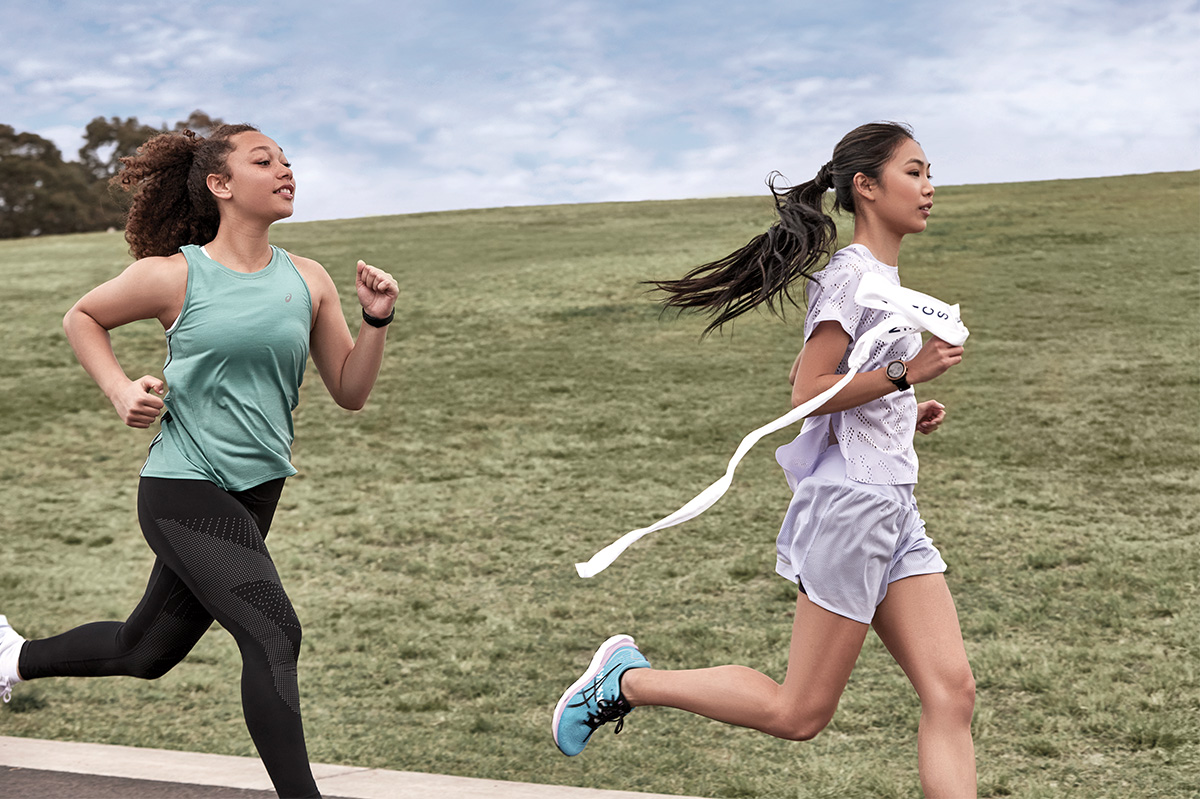 What is the training process?
The training for an Ekiden relay often starts while in high school. Almost all of the training is done on tracks and road surfaces because of the lack of running areas in Japan. To include better access to training areas, however, there are permanent running trails in the mountains.
Preparing for an Ekiden race can be just as intense as the event itself, with hour-long warmups. Runners practice handing off the tasuki, remaining calm throughout the entirety of the Ekiden to stay focused.
What happens on race day?
Before the race begins, runners can be seen slapping their arms and legs — even their faces — to prepare for the event. Each runner carries a tasuki that is passed along to their teammate once they've finished their section of the competition.
Most races are on roads (like the All-Japan Corporate Team Ekiden Championships), but there are cross-country events as well. It's necessary to keep in mind that not all races can be completed within a day – but most can take anywhere from one to three days to complete.
How long is an Ekiden?
There is no set distance for every Ekiden event. For example, the Mount Fuji Ekiden covers 47 kilometers (29 miles), while the Grand Tour Kyushu is 739 kilometers (458 miles). This may seem daunting if you imagine only one runner per team trying to compete, but this is broken down between multiple runners on each team. You may only be running a 5K leg, as former professional runner Katie Newton did when she participated in the Chiba Ekiden for the U.S. team.
ASICS World Ekiden 2022
Runners looking for a new and exciting challenge can register for the ASICS World Ekiden 2022, which will be taking place November 9th - November 21st. Registration for the event begins October 4th and ends November 21 at 4 am EST. This race will be inspired by the traditional Japanese Ekiden but will be 26.2 miles, or 42.195 kilometers, the length of a standard marathon. Teams of six runners will be challenged to complete the marathon distance over six legs — 5km, 5km, 10km, 5km, 10km, and 7.2km — for a total of 42.195 km. Frequently asked questions about this year's ASICS World Ekiden are addressed below.

Where will the ASICS World Ekiden 2022 take place?
You won't need to book a flight to Japan to run in the 2022 ASICS World Ekiden. This race will be a virtual event — welcoming runners from all around the world! This marathon-distance relay race is open to all runners who wish to participate.
How do I register for the ASICS World Ekiden 2022?
Registering is made easy with the ASICS Runkeeper™ app on your mobile device. Or, if you prefer to sign up using your computer's browser, you can do so through the event registration page. You can also use the ASICS Runkeeper™ app to keep track of your progress throughout your preparation for the race.
How many runners can be on my team?
Your team can have up to six people. However, if your team has fewer than six individuals, keep in mind that there are still six legs of the race: One or more teammates will have to compete in multiple legs of the competition.
How do I track my virtual run and share my results?
Both runners and their teammates can track their runs and keep record of their results using the ASICS Runkeeper™ app. The app can help monitor your pace and distance, but it can also keep you motivated: Insights can not only help you reflect on where you are in your training progress but also get you more excited for what's to come. Please note: In order to fully compete in this Ekiden relay, all six legs of the race must be documented completely and tracked using the Runkeeper™ app.