True sport performance brand ASICS and iconic British designer Vivienne Westwood have come together to create an exclusive capsule collection of limited- edition styles. 
The collaboration will mark the first partnership with Vivienne Westwood for ASICS - with five exclusive trainer styles from the ASICS and ASICSTIGER collections to be released over 2019, the first two having launched in  late April, globally.
The two styles that have had both sneaker heads and fashion aficionados' tongues wagging are the GEL-MAI Knit & KAYANO 5 respectively.
"ASICS are brilliant technicians – known for their expertise, they are the best in their field," commented Andreas Kronthaler, Westwood's creative director,

"We love the look of their trainers because they are form following  function - which attracted us to this collaboration. We wanted to  create something real. They are not just decoration or a fashion  statement- they are functional. With this collaboration we wanted to bring together both," he said.

ASICSTIGER X VIVIENNE WESTWOOD – GEL-MAI™ KNIT
The knitted GEL-MAI is reborn and soars high in it's re-imagined style with a smooth, crisp white leather cage, and muted white knitted upper featuring a red pattern adding an undeniable x-factor to these sought after kicks. Vivienne Westwood has delved into her rich archival aesthetic, namely the "Squiggle" print, a design feature that first made its premiere to the world in her much revered Fall/Winter 1981 collection.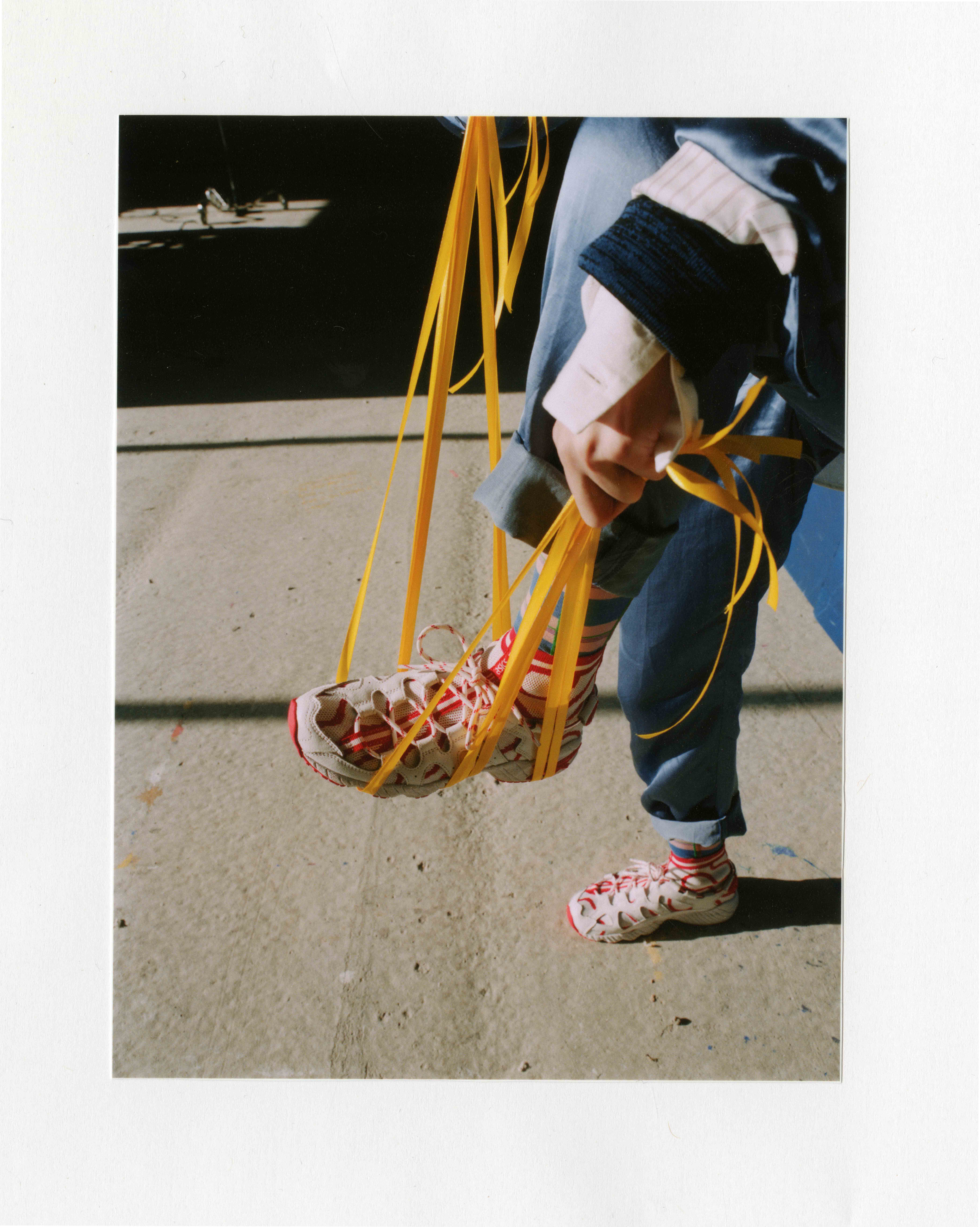 Using the original red & white contrasting squiggle colour-way the motif has been used to accentuate the technical design features of the shoe. The flexible sock is intarsia knitted with the squiggle pattern whilst the external structure, adding strength and fastening to the shape, is in block white leather.

The style was chosen for its asymmetric lacing – a technique often used in Westwood's tailoring and fastenings. The iconic Vivienne Westwood orb logo is also embroidered on the back of the shoe.


ASICS X VIVIENNE WESTWOOD -GEL KAYANO™ 5 OG
Let's begin with the the most notable key features to look out for on both trailblazing collaboration pairs. First, the GEL- KAYANO 5 has had a  stellar resurgence and this Vivienne Westwood refuses to be nothing  other than spectacular. The GEL-KAYANO 5 OG is decked out in vivacious red with intricate blue detailing and blue laces respectively. It's a shoe hard to miss and even harder to forget.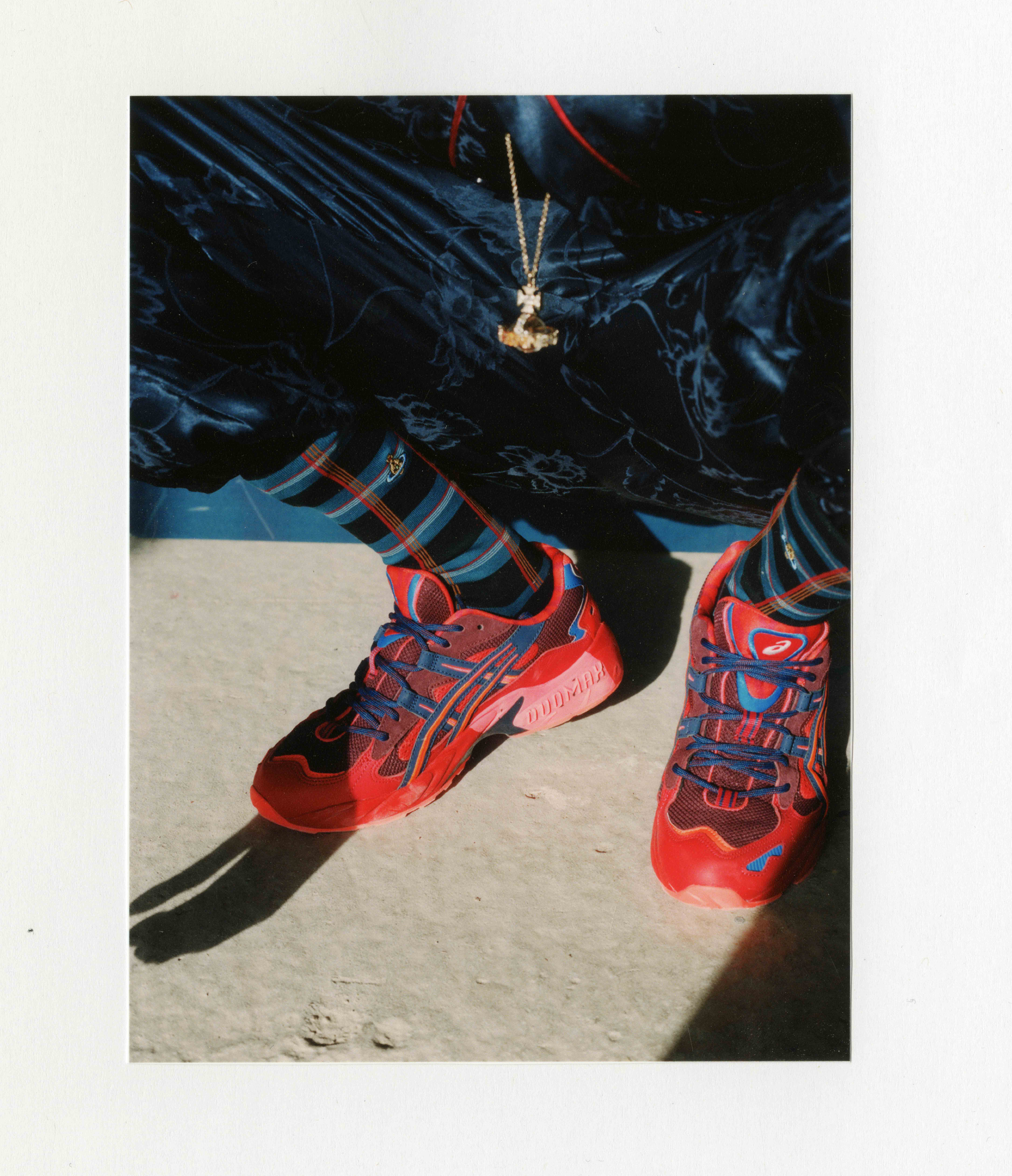 The GEL-KAYANO™ 5 OG shoe was first released by ASICS in 1999 – relaunched in 2018. The trainer was selected for its history and desire to reimagine a classic shape. The red & orange colour palette of the trainer was informed by one of the original colour-ways of the Vivienne Westwood archive Squiggle print. The trainer is lined with this original print and features the Vivienne Westwood multi-coloured orb embroidered on the back of the shoe.

For more ASICSTIGER breaking news, keep an eye on the website and Instagram page.