We talk to Mzukisi Mbane, the designer behind the Commemorative jersey which will be used in one End of Year Tour Match.
Mzukisi Mbane, the designer behind Imprint ZA is a Khayelitsha local who is passionate about telling an African story through his designs.
Firstly, give us some insight into your signature style?
It's very much rooted in my African heritage. The brand's aesthetic is very afro-futuristic. It's a mix of the original traditional African with elements of the future. When you look at the colours, it's usually very bright. My style also translates directly to the name of my brand, Imprint. The idea being, when you step out, or you wear an original Imprint, you leave a mark and you are sure to be remembered.
Is this your first sports colab and how was it working with a brand like ASICS?
Indeed. And what an experience it was! It was interesting to learn, because in fashion, you can do anything - there are no limitations. Whereas in sport you have limitations. It was great to remove myself from 'unlimited' fashion and to be in a new space. Also, ASICS has so much heritage as a brand and for me to step into a space that is so big and represents something to a lot of people was huge.... There were a lot of nerves stepping into this, but also a lot of excitement.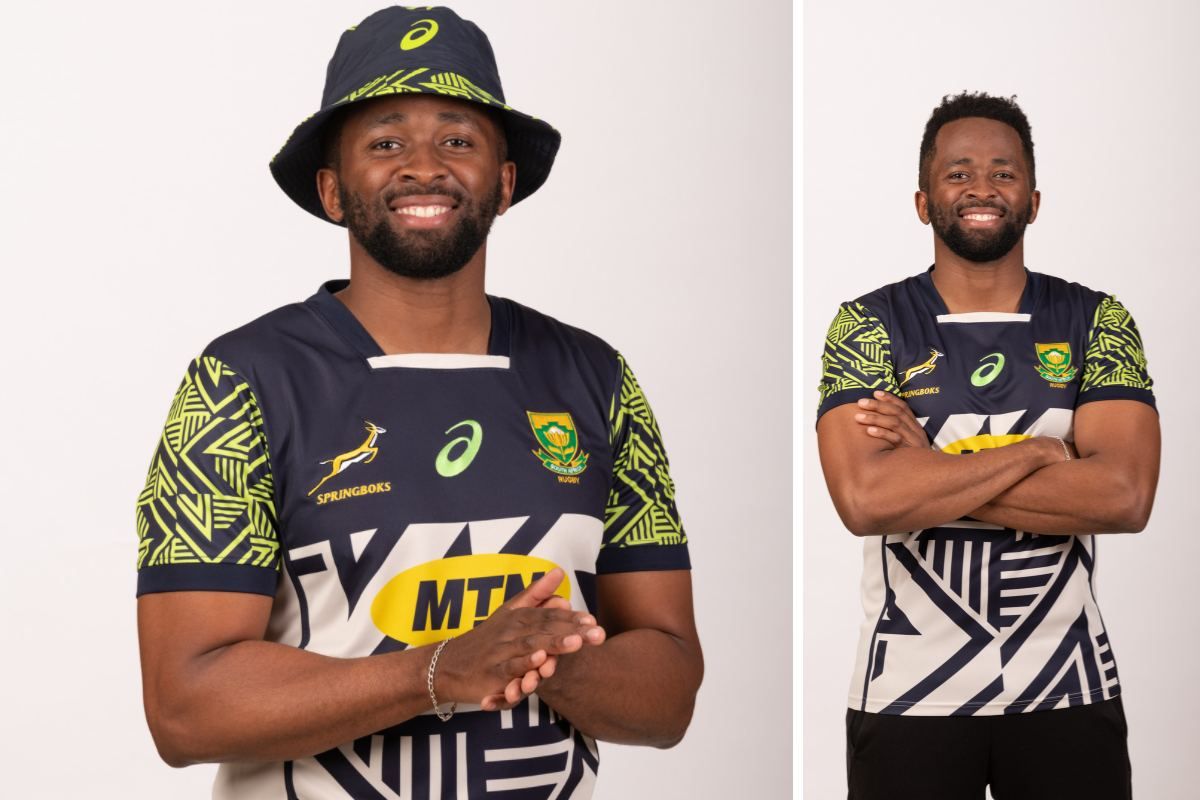 How exciting is it going to be to see your jersey being worn by the springboks?
That's going to be magical. I've been counting down to it.. It's going to be the most magical moment. It's Always beautiful to see my work ending up on the streets, but having a moment like that with the Springboks... When I see that they are wearing something that I contributed to, it's beyond anything I could ever have imagined.
Tell us about the inspiration of the jersey and where the design came from with your history and roots?
So, the print that I decided to go with for the jersey, is largely inspired by the iconic African 'imprint'. For inspiration, I went all the way back back to when I started designing prints. I was doing the Design Indaba 2015 where I was inspired by this Chinese shopping bag. For me that bag didn't just represent a shopping bag for Africans, it represented a suitcase. I am always tapping into those stories. So just looking at the pattern on that bag, it inspired the lines but also connects to my Xhosa-Nguni clan with the geometric lines.


So the pattern on the jersey is inspired by the story I was telling about the print, which is people moving around looking for a better life. That is represented by a maze. When you look into the jersey you see this interesting maze with this Africa feel. The story of my people moving from different rural areas to the cities looking for a better life.
The new jersey is available online and in store at SARugby, Totalsports, Superbalist & Takealot.com.