Called the Edo Era Tribute Pack, the new collection underscores ASICS' sustainability credentials by honouring the eco-friendly practices of Edo (present day Tokyo) from the 17th to 19th centuries. It was during that period that reusing and recycling was integral to life in Japan. People saw everything as a valuable resource, from old clothes and used paper to worn-out pans and broken ceramic items and even candle wax drippings.
The new offerings recall the eco-centric self-sufficiency ethos of bygone times in Tokyo in 2021 in which the eyes of the world turn to that city's biggest sporting event.
The range is in keeping with ASICS' commitment to sustainability in various aspects of its business. The uppers of the collection's six performance running shoe models employ recycled polyester fibers made from a total of around 300,000 PET bottles. These items represent the first stage of an ASICS drive to switch to 100% recycled polyester fibers in all of its uppers by 2030 to help combat climate change.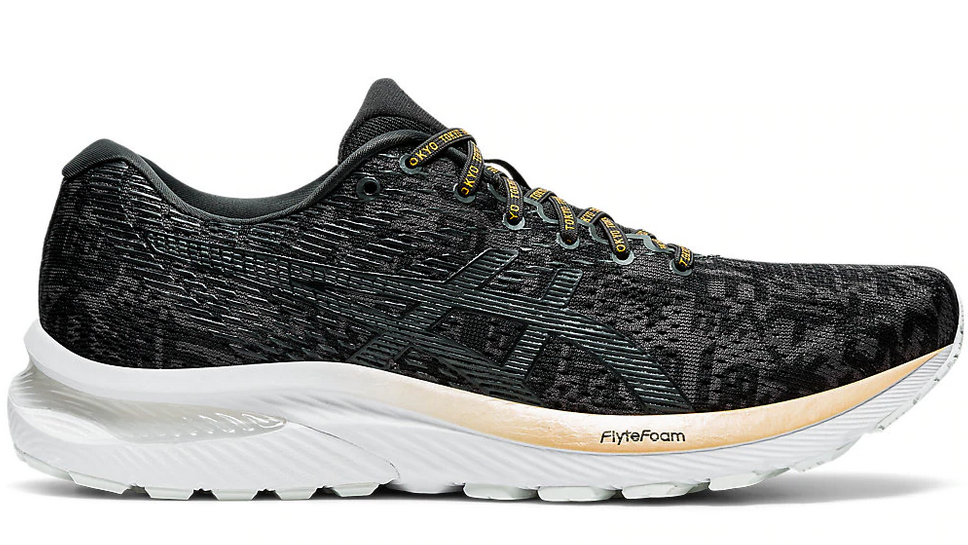 In the collection, we use 100% recycled paper shoe boxes with approx.10% less material than our standard designs, and ASICS switches from oil-based inks to water-based ones have halved ink usage. These sustainable shoe boxes will expand sequentially from July, 2020. The boxes in the scope of these changes will be switched in 2021, thereby cutting ASICS' annual CO2 emissions by approx. 1,200 metric tons.
The graphics for the uppers incorporate a combination of two Edo Era lettering styles in a nod to that period's inspiration for the collection. One lettering style is yose moji, typically used for posters and flyers. The other is kakuji, which are thick, squared characters, which often featured on scraps of paper that worshippers often posted on the gates of shrines and temples.
*Selected styles available at ASICS Flagship stores