The TRABUCO MAX™ 2 shoe draws inspiration from the concept of technology and how it can be synchronized with nature to free the mind and body. 
Read on to learn more: 
WHAT THEY OFFER:

Maximum Protection: Thanks to the one-piece FlytFoam blast + midsole, they deliver exceptional comfort and spring, capable of absorbing the harshest impacts even on the most challenging trails.
Amazing Grip: The ASICS Grip technology incorporated into the sole ensures superior traction and security, thanks to its multidirectional lugs. Combined with the additional 4mm base in the midfoot, the sole provides even greater stability compared to its predecessor.
Energy Efficiency: Featuring the forefoot egg construction seen in the ASICS METASPEED™, these shoes offer increased propulsion. On long trail runs, you'll notice greater stride efficiency, leading to less energy consumption and reduced muscle fatigue.
Innovative Lace System: Say goodbye to eyelets and fixed toggle laces. The TRABUCO MAX™ 2 introduces new lugs built into the mesh upper, allowing for a more customized and secure fit. This technology is akin to what's used in the renowned ASICS GEL-NIMBUS™ 25, known for its unrivalled comfort in the road-running world.
Lightweight Technical Mesh: Designed to keep the shoe as lightweight as possible, the technical mesh offers added comfort and breathability without the need for extra layers of fabric. This also means the shoe dries quickly on wet or muddy terrain.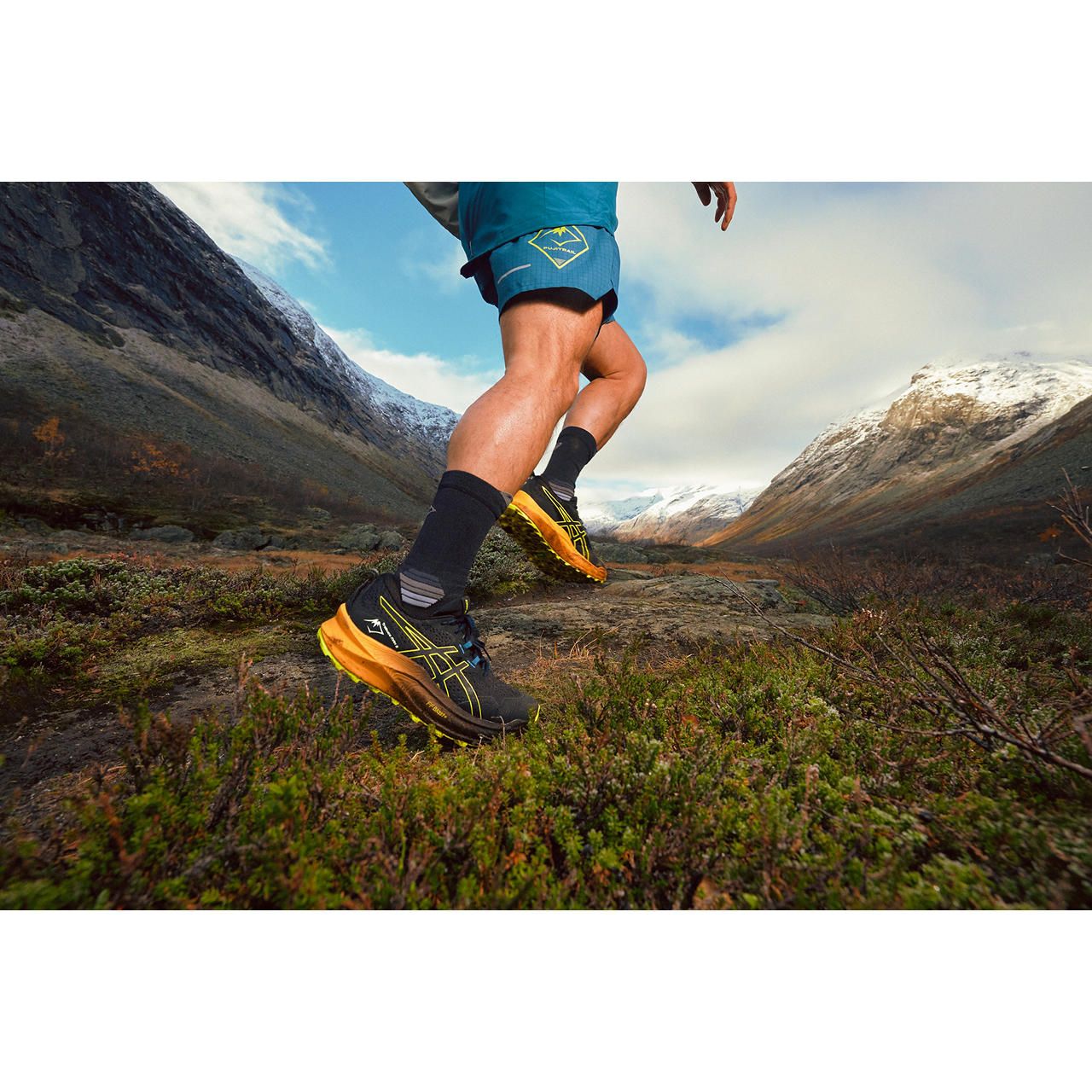 Which type of runner is the ASICS TRABUCO MAX 2
These trail shoes are designed for intermediate to advanced neutral runners who tackle long or ultra-long trails. They are suitable for those who maintain a slow to moderate pace on various off-road and mountain terrains. With their exceptional protection, cushioning and stability, they are the ideal choice for anyone seeking a smoother, less impactful and more comfortable trail running experience. 
If you're on the hunt for the perfect trail shoe, your search ends here. The ASICS TRABUCO MAX™ 2 is a standout choice that combines style, comfort, and performance in one impressive package.