I heard the last years about an Asics new type of running shoes with a curved sole, they were supposed to give more support and help the runner to run easier. I was really curious about it and finally I was able to run with the Glideride 2. How is it to run with a curved sole? Keep reading to know it!
First sensations running with them ....
The first day running with them, I was feeling a little strange, I thought: Let's go easy for a pair of kms to see how it feels. I realised that even when I run normally with my forefoot or midfoot, I would get even more support from this curved sole running more on my the rearfoot of my feet. 
I was feeling tired after the run the previous day, so I just wanted to go for an easy run with the new shoes.Then I felt that after 2kms it was getting really easy to keep a fast pace with them without problems. What I planned as a slow test run, was becoming a fast pace run even with heavy legs. I was really amazed! 
I found that cushion is really good and at the same time the weight of the shoes is not heavy at all. Therefore, running rearfoot was not a problem at all with that cushion protection. 
Some days later with my legs totally rested, I went for a 10kms run and I made my PB, therefore I discovered that the magic of the Glideride 2 is that they help you to save your energy and at the same time to get into smooth easy way to keep the speed. Your legs keep moving really easy, so you just need to put the automatic pilot and keep moving.
What is new?
The Glideride 2 (285g men's shoe) is lighter than the Glideride 1 (289g men's shoe), it is not a big difference but in a running shoe for long distances the lighter the better. The upper has been updated and now it is more flexible and breathable than the previous model.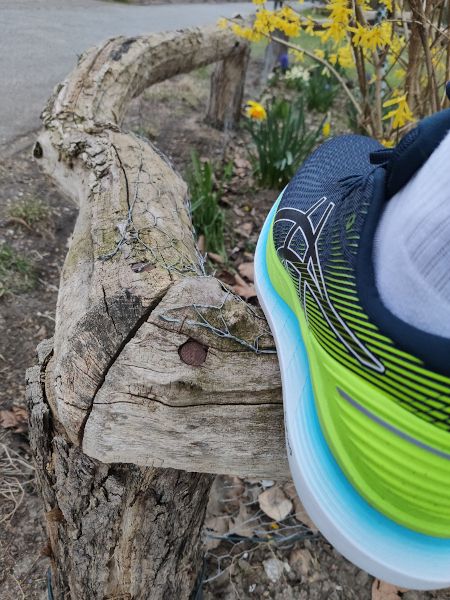 The technology behind …
Engineered mesh upper improves breathability - Really necessary for the Spring and Summer hot days
3D print on the upper improves support – Really good for changes
GUIDESOLE™ technology helps conserve energy – In the long runs you can really feel it
FLYTEFOAM™ technology cushioning – Best way to run comfortable and protected
FLYTEFOAM™ Propel technology cushioning increases impact absorption and responsiveness
AHARPLUS™ outsole improves durability
Some curiosities ...
- When you can get the maximum performance with those shoes is running without changing the direction so much, every time that it is possible to run for some meters in a straight line you can feel that it is getting really easy to keep the pace and speed up.
- The Glideride 2 shoe is designed to run on the road so don't go for a run in the forest with them!
- The curved sole means a totally different way to run, maybe not every runner will feel comfortable at the beginning. After running with them for some kilometers you will adapt and enjoy running with them.
- The Glideride 2 is made for neutral and under pronation runners.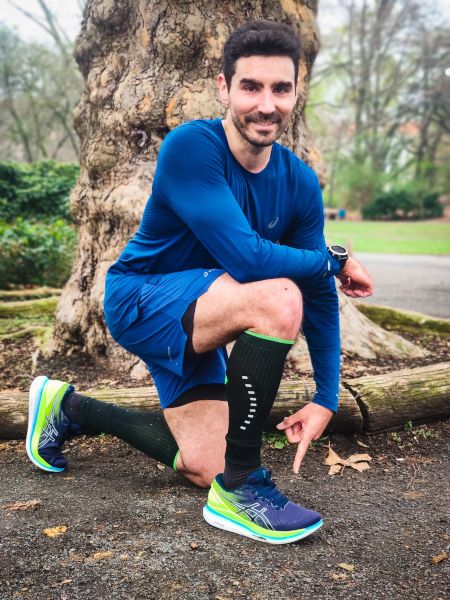 Conclusion
Of course, the Glideride 2 is not super light compared with other running shoes options but for long distances like half marathon or marathon for people in 4:25 or above paces are a really good option. For faster and light runners this can be a really good training shoe for long distances to get ready for the race day. The Glideride 2 will keep heavy runners safe with the extra cushion and the weight shouldn't be a big issue for them.
Running midfoot or rearfoot is the best way to get the most benefit of the Glideride 2 sole design so for forefoot runners I would recommend to try to run midfoot with them. 
After running with the Glideride 2 they became my favorite shoes for long distances but I'm also running with them shorter distances like 10kms.
What I really like is the energy saving and also the responsiveness which helps me to keep the pace for a longer time and distance, without getting tired. I was not sure about how it would be running with a curved sole, but I realized that it is a really game changer and it really helps me to keep running with my fast pace for longer time and distance.
I'm sure I will be able to beat my half marathon PB this year with them so stay tuned!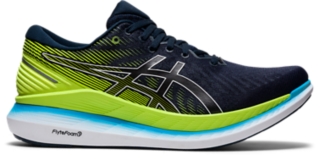 GlideRide 2
The GLIDERIDE™ 2 shoe is scientifically proven to save energy over the long run. By reducing energy through the phases of the gait cycle from footstrike to toe-off, this running shoe can help you cover greater distances. This season, we wanted t...
Jetzt kaufen
erstellt von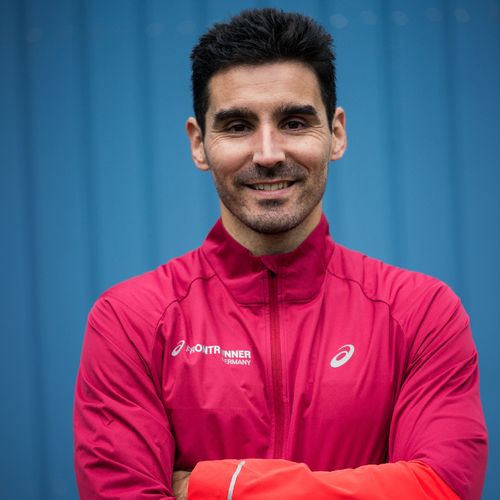 Meine Disziplinen