A much loved sport for high-performance teams and community gets a huge boost through ASICS partnership
A new partnership between Touch NZ and ASICS will provide our national sides with boots specifically designed to protect them on the field and keep them performing on the world stage. The two year agreement supports Touch NZ's three high performance teams, the Touch Blacks: Mens, Womens and Mixed - as well as aiming to educate the sizable touch community on the technology to look for in touch boots.
ASICS New Zealand Marketing Manager, Jason Niles, says that being able to supply Touch NZ with boots is a fantastic opportunity that the team is proud of. "We're really looking forward to helping the Touch Blacks as they continue their campaigns and also supporting the touch community as one of New Zealand's much loved sports. With our boots designed to cushion and protect on hard ground surfaces we hope this will help keep the Touch Blacks performing at the highest level and achieve their lofty goals" says Niles.
Touch NZ Communications Manager, Tamara Keefe, says that the partnership is really exciting and it will be fantastic to see all the players in ASICS shoes given how respected the ASICS brand is. Touch rugby is a sport which has one of the biggest participation numbers in New Zealand says Keefe. "It's a game that you can play with people of all ages. It's pretty cool to see a granddad out there with his grandchild. It's one of those games which can bring a lot of people together and is enjoyed year-round to promote a healthy lifestyle."

Advanced shoe tech for both comfort and performance
Specialised rugby boot technology is included in ASICS touch shoes like the Lethal Speed in particular the HG10mm technology which is a landmark in boot design aimed to reduce the load on the lower limbs. The 10mm heel gradient in the boots provides a feeling similar to running shoes, distributing loads more appropriately and aiming to lessen the potential injury risk.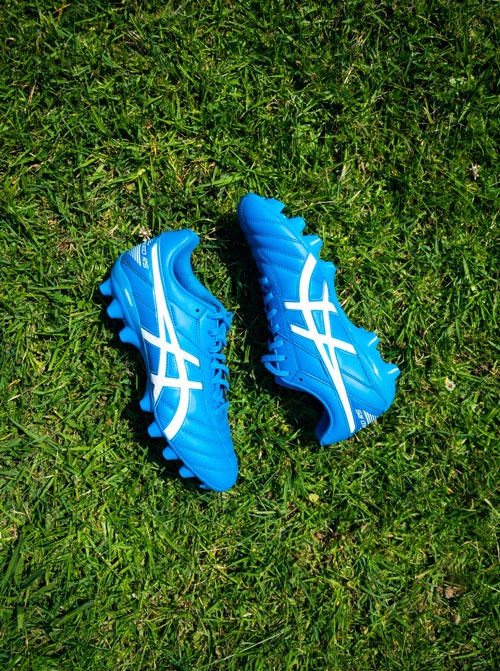 For Touch Rugby players who are often playing on hard ground in the summer heat this shoe tech offers a huge advantage. One advocate is Codie Taute, a member of the Touch Blacks Mixed Team for the last three years and a big fan of ASICS touch boots for the stability and support they provide her feet on the field. "I love my ASICS boots. I used to roll my ankles a lot before I used ASICS. It's not a problem anymore in these boots which is awesome."
Touch Blacks Open Men's Player, Carlos Savage, who debuted for the national side in 2012, says the announcement of the ASICS sponsorship at the Premier Touch League finals has been met with much excitement from the players. He says everyone knows ASICS is a great footwear brand in the touch community. "I have very wide feet and I've found that ASICS are strong around the outside so when I change direction they can hold my step," says Savage.

The team at ASICS looks forward to cheering on our national representative players in their upcoming summer season. For all your touch footwear needs check out the ASICS selection here.