Having never run more than 7km in his life, John Tarapi set out to accomplish a feat he never imagined himself completing - the fabled marathon. The ASICS Flagship Store Manager shared with us how it felt to train for and tackle such a distance with little running experience.
Born in Rarotonga, John and his family moved to South Auckland when he was a child. He grew up with a love for exercise and in recent times has focused on gym workouts like crossfit for building strength. Dance is important to him as well, regularly performing with a traditional Cook Islands troupe to stay active and connected to his roots.
Happy in the gym and on the dancefloor, completing a marathon was never really on the radar until fellow ASICS team members planted the seed by nominating him for the ASB Auckland Marathon. One work dinner and a few drinks later, next thing he knew he'd agreed to sign up and needed to start training! John's weekly marathon training schedule consisted of usually 3 runs: 5k for a quick short-run, a slow moderate 7k with hills, and a longer 15 to 27k with the longest training run he did being 33k.
"The biggest hurdle was going distances far further than I was used to. But through the process of training, completing the longer distance sessions, I found I could tune out and power through."
Transitioning into a new exercise he felt a lot of muscles he hadn't used were being activated but once past the initial struggle of starting off he felt motivated to continue pushing himself. John wished he'd had more time to train but mentally felt prepared for the marathon distance knowing the atmosphere and energy of the day would be encouraging and help push him through.
Here's a glimpse into the running routine that got him over the finish line.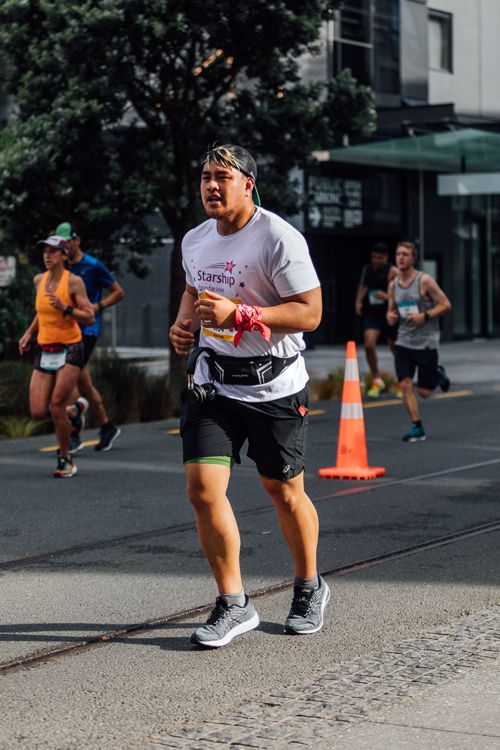 Morning, lunchtime, evening runner?
Morning for sure.
Favourite post-run snack/meal?
A banana, muesli bar and apple
Outside of your shoes, what's one running essential you can't go without?
Electrolytes
Best piece of running advice you've ever received?
Just go at your own pace. It's not a race with anyone but yourself.
Running Solo or Running in a group?
Solo (so I can go at my own pace).
Music, Podcast, or your own thoughts?
Music is very much preferred.
How would you describe yourself as a runner?
Slow and Steady
Favourite running route in NZ?
Panmure Basin (nice easy run)
Running distance a week?
15 - 20kms
I run because….
I want to stay healthy and fit.
Where does your mind tend to wander while running?
I tend to focus on seeing how far I can go. Pushing myself.
What's your #1 way for maintaining a sound mind?
I've got two. Positivity and an exercise routine.
Favourite ASICS running shoe?
GT-2000 9
"In the beginning of the event, I was just trying to get my mind prepared for what was to come. The first 21k's were good. I ran at my own pace. I stuck to my game plan which was to keep at my own pace and not get too ahead of myself. After the first 21k's, that's when things started to change. At that stage, you wish you can just run to the finish line with all the half marathon runners but you also get hit with the reality that you have to run that length one more time."
John's biggest motivating factor was his 'why' which he reminded himself of often: the decision to dedicate the marathon to his brother who passed away due to lung disease. He was also raising funds for the Starship Foundation, which friends and family contributed a generous $1,508. "I ran with music for the first 21kms but as things began to get harder I started listening to my own thoughts. I had to keep telling myself what my purpose was."
Another factor keeping him going on the day were energy gels, consuming them when he felt he needed a boost, finding he was really hungry after about 17k's. He did this when he came up to a water station, also having a sports drink for replenishing electrolytes.
John's Top Running Tips for New Marathoners
Train well, prepare well, and don't leave the training until the last minute. Allow ample time and take the training seriously.
Run on the pavement, not a treadmill. It's important to get the feel for the road and prepare your muscles for the harder ground.
Take some gels and anything to keep your sugar levels up.
STICK TO YOUR OWN PACE. Don't try and race with people who are passing you. Remember, you still have a long way to go.
DONT STOP. Keep moving no matter what. Once you stop, your muscles will start to seize.
At the end of the big day, regardless of the immense soreness, John felt like he had accomplished a tremendous achievement in his life. Because of the training he now consistently runs shorter distances and has kept up his cardio, feeling like he's in the best shape of his life.
Words of wisdom for anyone else in his similar shoes: "Definitely have fun - it's only a race with yourself for yourself, not against others."
Thinking about running a marathon? Follow along with these top running tips for event training and our article on going from zero to marathon.

Visit the Knowledge Base for resources on important topics for runners - everything from how to improve your speed or distance to what to look for in running shoes.