Just two years after returning to a sport she loved as a teenager, Christchurch mum Helena Dinnissen, has returned from the Oceania Masters Athletics Championships in September with nine gold medals. These included nine personal bests along with multiple Oceania and NZ age-group records. She's a mum on a mission – to be a World Masters Athletics champion and fulfill the sporting potential she's always believed she has.
"I'm incredibly happy with how I performed. To have personal bests in every event was thrilling and I've made some huge gains. In the long jump, for example, I set a half meter personal best – it's crazy!" says Dinnissen.
Running to Improve Health
Dinnissen's incredible results haven't come without a lot of hard work and dedication. Two years ago Helena Dinnissen (34) needed a goal to combat post-natal depression so she signed up for the Christchurch Half Marathon. After the birth of her third child (now 4), Dinnissen knew she needed to avoid the dark places she'd been to in the past.
"I've previously struggled with anxiety and depression so I just knew I needed to complete a fitness goal," reflects Dinnissen. "Naturally my body is way more suited to shorter distances - I'd never run over 5km in my life before."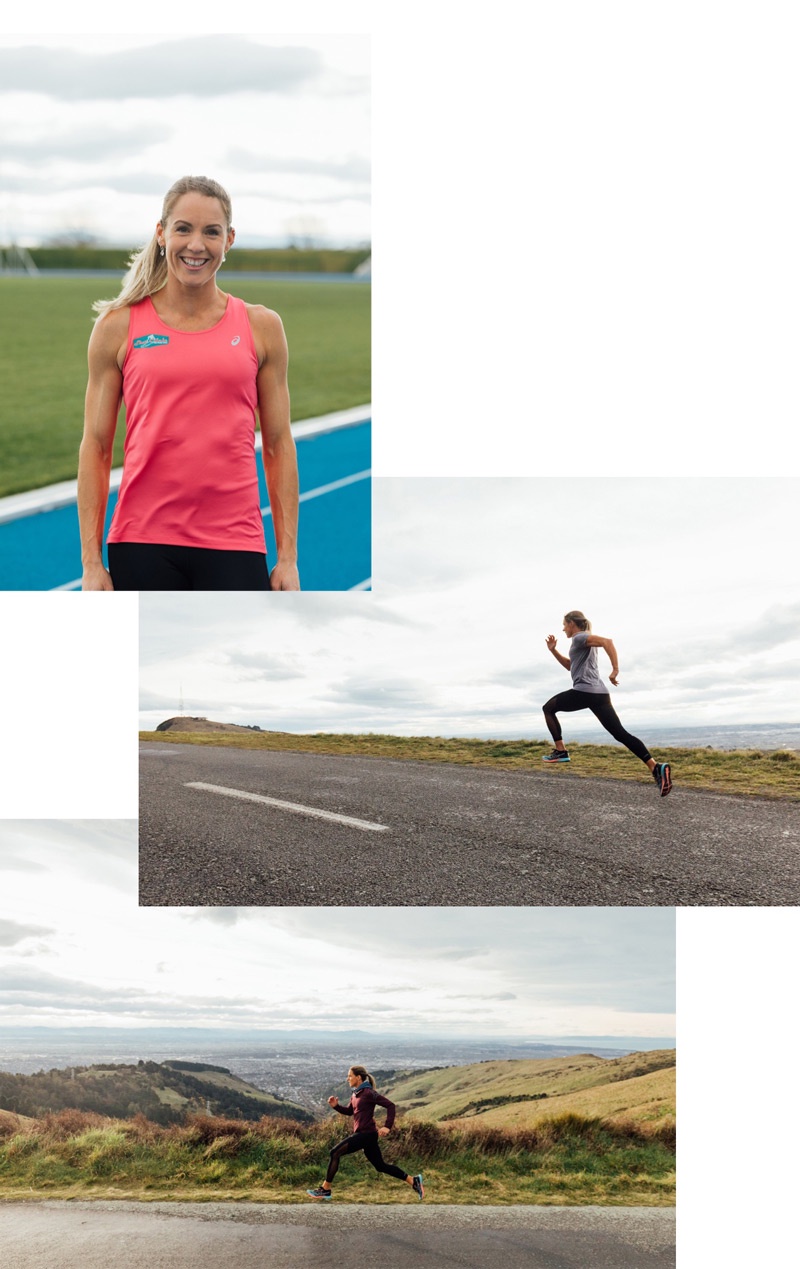 What started out as a half marathon journey has become much more for Dinnissen. During her half marathon training she found herself in the "Hagley 100" – a 100m sprint in the middle of a loop of Christchurch's picturesque Hagley Park. As a teenager, Dinnissen had done some athletics so she wanted to test if she still had her speed. "When I was running that 100m I felt so alive. It was exhilarating for my body to move again like that," says Dinnissen.
Up for grabs as a prize that day was a Shoe Clinic voucher for the top five females and males – flash forward to today - Shoe Clinic is now sponsoring Dinnissen, in partnership with ASICS NZ supplying her with apparel and footwear. "I really wanted that voucher which is funny now but I was 6th fastest. The girls who beat me were all teenagers and here I was mum of three at 32," says Dinnissen. She was intrigued and that 100m sparked a deep passion for athletics which she felt she needed to explore further. Dinnissen contacted her now coach, Andrew Maclennan of Get Fast & Strong, asking if he would take her on and train her, acknowledging she had no idea if people in similar situations to her did this. Two years later, she's training six days a week, breaking records and loving it.
Her first year as a track and field athlete in the masters section she says was demoralising. Having to race much younger athletes was hard going on the determined mum. "My joints didn't hold up well to the initial loading when I came back to training. It was hard going physically and mentally." Dinnissen has had a history of bilateral hip labral tears and a prolapsed disc following the birth of her son. She needed to go carefully to manage her body with the intense loads she wanted to put it under.
"I had a lot of people asking me why I was doing this. Why I wanted to keep going despite all the frustrations. I've needed to stop questioning myself, "What if?", because for a long time I've regretted not exploring sport to a higher level. I couldn't quit now."
Motivated by Success
Dinnissen's story is one of courage to pursue a lifelong passion for sport. She admits that during major championships like the Olympics she always had a heavy heart wondering, "What if that could have been me?"
With a fresh approach and mindset to training, Dinnissen, assisted by her coach, was able to develop consistency in training – not needing to take huge breaks because her body couldn't handle the stress. "I finally started to feel great and really enjoy moving so well. We have a quality over quantity approach and it seems to be working for me," says Dinnissen.
From where she was at the beginning of her return to sport to now, Dinnissen lights up when speaking about how much her success in Queensland at the Oceanias means to her and her family. "It's hard on the family how much I train but we're in this together. It was pretty cool to show my kids all my medals when I got home from Oceanias."
Motivated by her success at Oceanias and her drive to fulfill her potential, Dinnissen's next big focus is the World Masters Athletics Championships in Toronto in July 2020. "I'm aiming to compete in the heptathlon in Toronto so it means for me learning how to throw and also developing my aerobic fitness to run the 800m after completing 6 other events. In preparation I'll compete in the national open heptathlon in February 2020 and I'd love to win it."
It's tempting to sit back and watch her kids running around but for Dinnissen she loves the feeling of moving fast, being powerful, and figuring out how far she can go. "It's just so much fun and I'm so glad I was brave enough to come back. To answer some of my own questions and in the process, hopefully, inspire others along the way."
ASICS NZ, in partnership with Shoe Clinic, looks forward to continuing to support Helena throughout her athletic journey and endeavors to become the fastest mum in New Zealand.