"Focus on what you can control." That has become Jazz Tevaga's mantra. No stranger to injuries and setbacks, Jazz was sidelined with an injury a year ago. Just when he was set to return, he was hit with another slew of physical setbacks. But Jazz would not be deterred—instead he's returned to the rugby league field stronger than ever.
"Don't be in a rush to get back out there. Listen to your body. Be present and take each day as it comes and celebrate the little wins," Jazz says. An important lesson that as an athlete helps him to maintain a sound mind and sound body.
With a new coaching staff for the Vodafone Warriors, Jazz welcomes the chance to learn new methods of looking at the game. He's taken the new approach to playing to heart and made a conscious effort to see things in a new way—a way he cites has helped to improve his play.
Aside from learning about how his NRL season is going, we also caught up with Jazz on his running go-tos and words of wisdom—some of which may catch you by surprise.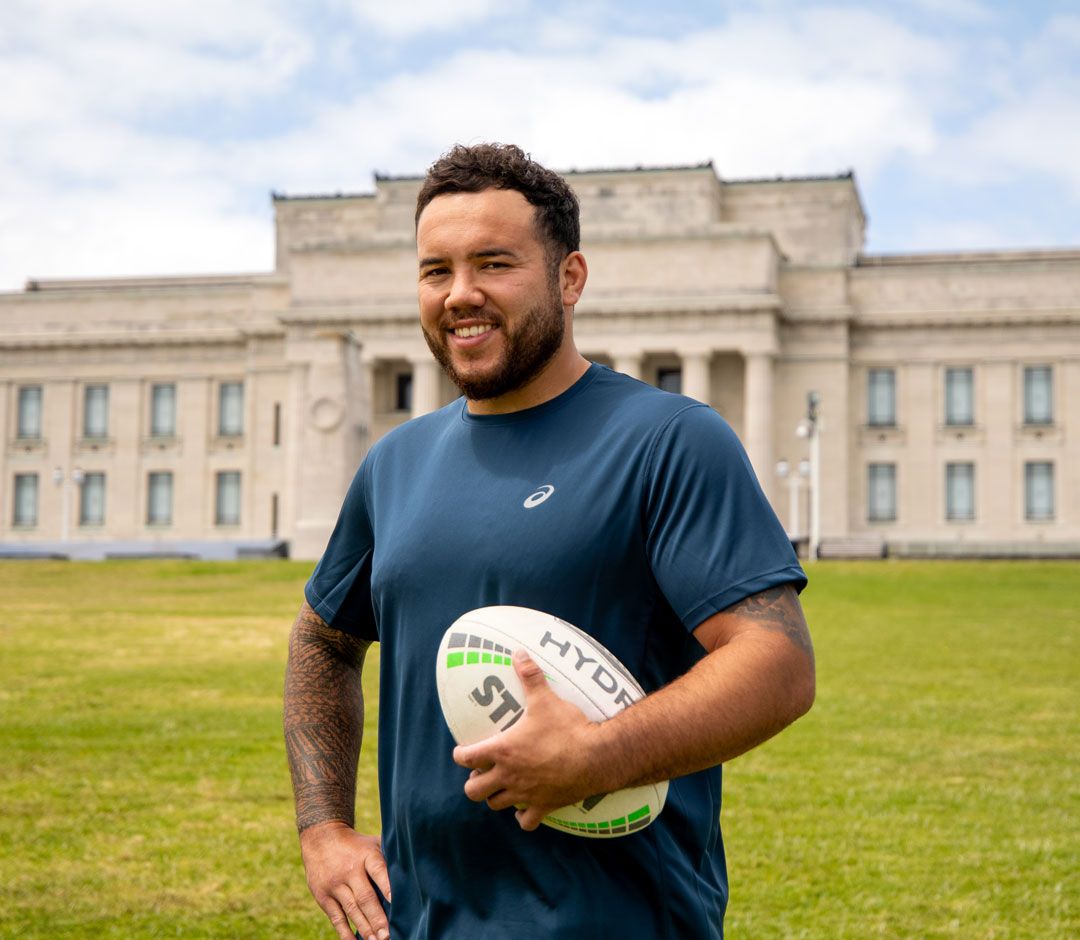 Morning, lunchtime, evening runner?
Morning runner - after doing my business though. Always best to avoid being derailed by a toilet hunt or ducking into the bushes.
Favourite post-run snack/meal?
Smoothie. Frozen banana, berries, protein, spinach and a little peanut butter.
Outside of your shoes, what's one running essential you can't go without?
One thing I need is music - I need tracks to keep me going.
Best piece of running advice you've ever received?
Head to the loo before you start, emergencies are no fun. And loosen up the areas that need loosening, for me it's my back.
Running Solo or Running in a group?
Solo
Music, Podcast, or your own thoughts?
Music. Hip-hop/rap usually, but love me some house. 50 Cent, Drake, 2Pac.
How would you describe yourself as a runner?
Sloppy, fat & slow. Hahaha nah - steady, smooth & fit. I'm a good runner, I enjoy running, not a massive fan of weights.
Favourite running route in NZ?
Definitely streets of Papakura. Keeps me humble. Reminds me of the struggle and how far I've come.
Running distance a week?
We don't do any road running in-season but in the off-season, I try to run 3-4 times a week, around 5-7km each run.
I run because….
I want to maintain a healthy lifestyle both mentally and physically.
Where does your mind tend to wander while running?
Normally to how good KFC would be haha.
What's your #1 way for maintaining a sound mind?
#1 way to have a sound mind to me is to laugh. Have fun. Enjoy life. Work out, eat healthy. Living a healthier lifestyle is a happier life.
Favourite ASICS running shoe?
I love the Gel-Quantum's for day to day. My running shoe of choice is the Gel-Nimbus Lite.
After a tough year of surgery and time off he's returned to the NRL with a new outlook on the game he wants to share with others. Any player will inevitably experience hardships and setbacks—especially in rugby league. Injuries during training or games, being dropped from a team, not being selected, being out of form, or any number of other roadblocks can bring a player down.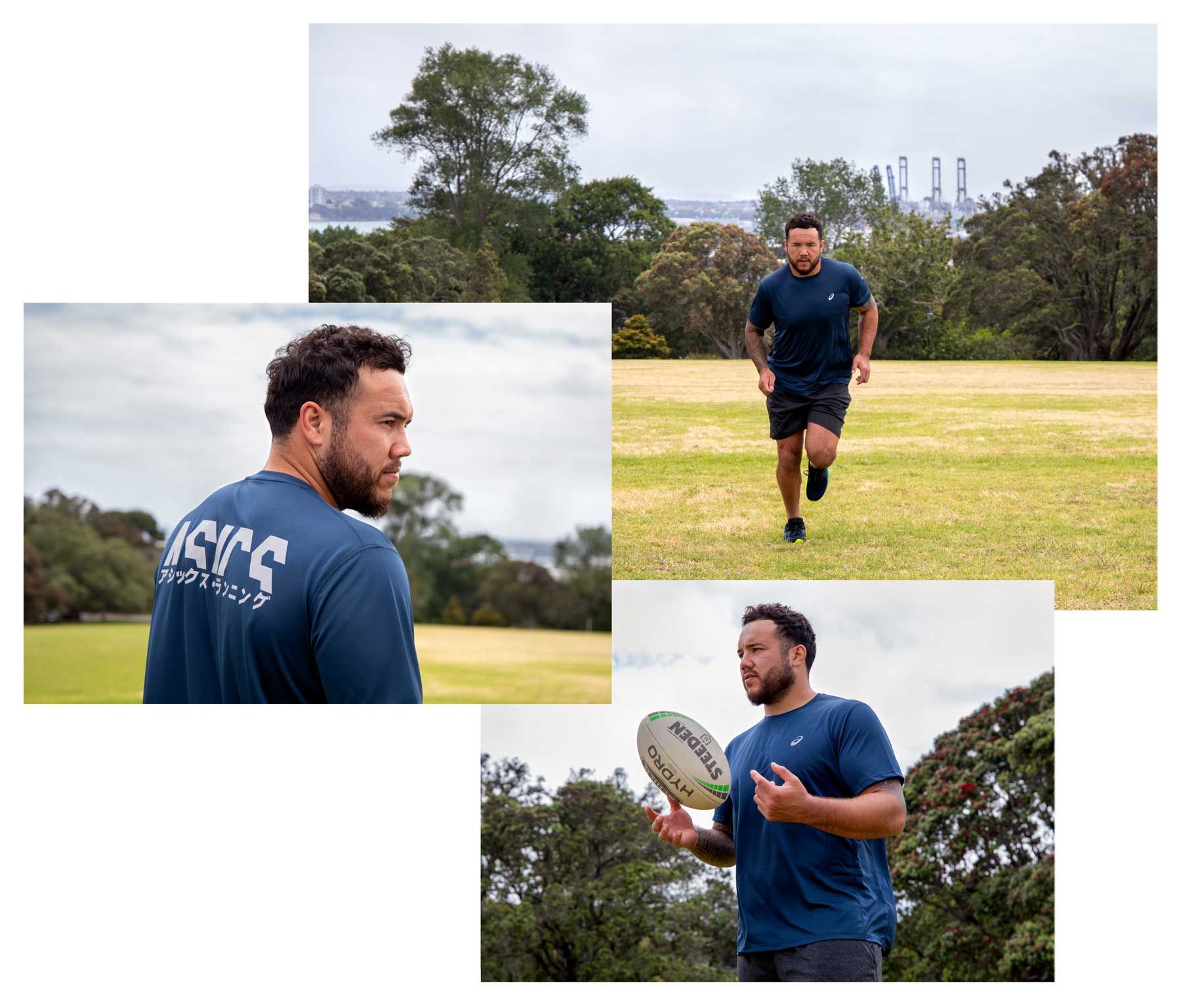 Throughout the obstacles he's reminded himself of those elements he can control, "Your attitude, how you turn up to training, the energy you bring. What you do off field. I'm still learning, but one thing I do is work hard." Maintaining a clear vision of goals and an understanding of your body does wonders.
Apart from the game, and especially during pre-season when players have more time on their hands, Jazz tries to stay active. He enjoys mornings on the beach along with some good coffee and food with his mates. He keeps his mind sharp with reading and studying, and after dinner likes to wind down with a movie or some time on his PlayStation.
"It's important to take your mind off footy. Knowing when to switch on and switch off. I find I have a fresher more enthusiastic approach that way."
Lately his life outside of the game has been taking some getting used to, mainly not being able to see family in New Zealand. Being stationed in Oz with the Warriors, away from his loved ones, his beloved dog Biggie, and his motorbike has been strenuous. It's tough to suddenly not have family around you like they once were, but as Jazz has proven, he can adapt. Like the team he represents, Jazz is indeed a Warrior.
Read more from runners of the ASICS community in our Sound Mind Sound Body Series on the blog.

Visit the Knowledge Base for resources on important topics for runners - everything from how to improve your speed or distance to what to look for in running shoes.