As a Neurological Physiotherapist, Gilly Davy's role focuses on where the brain and movement meet along with how that correlation aids in overcoming brain injury and neurodegenerative disorders. She's often asked if she massages brains. Not quite - although her work may certainly help spur similar effects of rejuvenation to the mind.
Located at Connect Neuro Physiotherapy in Auckland, Gilly concentrates on how the brain and body can work together to heal as best as possible from problems like cognitive decline, neurological conditions, and brain or spinal cord injury. One of her primary objectives is to identify how her patients can most efficiently incorporate movement as medicine for their unique recovery needs. She's also an expert in brain plasticity, aiding to slow the progression of degenerative disease and neurological disorders. This includes conditions like multiple sclerosis, Parkinson's disease, Alzheimer's, motor neuron disease, and stroke.
Gilly took the time to answer our questions and share techniques for how she finds her stride and maintains a sound mind - her favourites? 
"Exercise, exercise, exercise, followed by rest, meditation and yoga. Human interaction is vital, so spending time with those who make you laugh and smile is a must." 
She knows first hand the benefits of a run, "Personally running is my go-to for clearing my thoughts and managing my mental health. The added bonus of getting out of breath when you run, is it not only helps your heart, lungs, muscles and more, it actually reduces brain cell loss that occurs with aging."
An avid racer and awarded competitor, winning a share of races over the years, Gilly took home the trophy in 2015 at the Xterra Asia Pacific trail running championship held in New South Wales. From the UK originally, she grew up on a farm and loved running in the countryside. "I found running easy and enjoyed it, so naturally I did athletics as a school kid and raced 800m/1500m at Uni. When I moved to New Zealand I had started triathlons but unfortunately ended up getting burnout and overtrained." After taking a step back to evaluate she realised her absolute love for running and found new ways to find needed balance. Here she shares her answers on the in's and out's of her running routine.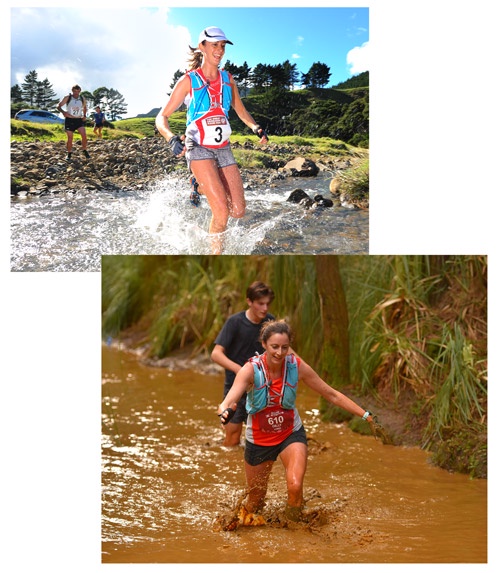 Morning, lunchtime, evening runner?
Morning

Favourite post-run snack/meal?
Anything, but I'm a salad lover - breakfast, lunch or dinner.

Outside of your shoes, what's one running essential you can't go without?
Running pack, on the trails you always need to be prepared to be out there longer than you planned. Water, food, foil blankets and a map is always essential!

Best piece of running advice you've ever received?
Your arms power your legs - my godmother told me that when I was 12 years old, she competed at the Commonwealth Games as a hurdler.

Running solo or running in a group?
I love to run with friends, great for chatter and a competitive edge.

Music, Podcast, or your own thoughts? What are they?
I go for the sounds of nature, trail running is great for listening to birdsong.

In 3 words how would you describe yourself as a runner?
Gritty trail lover.

Favourite running route in NZ?
Too hard to answer, there are so many that I am yet to see and do.
Favourite running event in NZ and why?
Anything run by Total Sport, they are an amazing race organiser… and Mt Difficulty in the South Island, it's brutal but amazing.

What is your favourite event distance?
20 - 25km I am still young enough to have some speed, so prefer the short trail running distances.

Running distance a week?
Normally 60ish km.

I run because….
I love it, that simply.
What is your favourite brain benefit from running?
Putting a smile on my face, helping with mental health management, which has only truly been noticed while I have not been able to run for the last year. After going through hip surgery I am desperate to lace up the shoes and run again, I've got another 3 months to go before I am allowed.

How do you prefer your trails: rocky, muddy, hilly, scenic… or?
All of the above, the more varied the better, but beautiful scenery is at the top.
What's your #1 tip for maintaining a sound mind?
Spending time in nature, it's vital, we are natural beings after all.
Favourite ASICS shoes?
Fuji-Trabuco Lyte.


For Gilly, the work that goes in fuels her love, "There is no better way to enjoy the beauty and rawness of nature than trail running. The added bonus about competing is that you get to spend hours training on the trails, and that is a pure joy."
Find out more from Gilly on exactly how to best protect your brain from the impacts of aging and disease in Slowing Cognitive Decline Through Running.
Interested in learning more about the connection between our brains and running? Check out our article on Running and the Brain, where we dive into the extensive array of ways our minds benefit from being a runner.

Or visit our Knowledge Base where you'll find resources to help with becoming a runner and discover how to pick the right running shoes for you.