One of New Zealand's favourite funny guys and morale boosters, William Waiirua is a man of many talents and characters. The former Dancing with the Stars contestant has focused most recently on bringing his best cast of characters to the TV in Whatta Beauty. He's also embarked on a running journey that began with a goal to run 100 days in a row but he didn't quit there. Now he's past the one-year mark, what started as a challenge for himself through lockdown has become his new normal.
Another thing William's great at - coming up with his own unique phrases. You may come across some new words in this interview. Here's a thesaurus for you: jyoooogh = jog, moraaaahle = morale, halllways = always
We wondered how the ASICS Ambassador found the self motivation to continue running daily and the benefits he's felt. "At first the motivation was to jyoghhhh every day during the first lockdown & hopefully that encouraged others to give it a go also... but the impact the daily jyoghhhh had on me mentally assisted me in my day to day mahi and all-round wellbeing hence why I'm still going."
"The biggest benefits for me have been mentally... clears the mind, it's a good time to think & reflect."
When he's not out for a run or bringing his cast of characters to life, William is passionate about having a good time, feeling good, laughing, smiling, and making others feel exactly the same too. "I love to spend my time making funny & positive content & try to make people feel good and laugh."
Get inspired by William's daily run routine and learn more below on what keeps him going.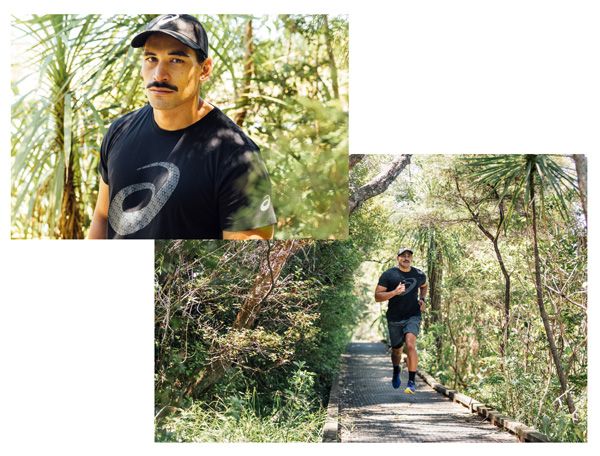 Morning, lunchtime, evening runner?
Anytime where my moraaahhle is at its most high but... preferably in the morning as there's no better feeling when the sun is rising and the birds are chirping really partners my morning moraaahhle nicely. Everyone really must try a morning jyoghhhh if you haven't before.
Favourite post-run snack/meal?
Love some Vogels with real butter, lot's of it, and Manuka honey... really puts me in a good space.
Outside of your shoes, what's one running essential you can't go without?
Earphones.
Best piece of running advice you've ever received?
'Stay..... In.... it.....' Stay..... hhhhin naarrrt!!
Running Solo or Running in a group?
I don't mind either. Both have amazing pros. Solo = Chance to have some alone time and reflect. Group = Catch up, have a few laughs & bit of competition.
Music, Podcast, or your own thoughts? What are they?
Bitta both. Music = Backstreet Boys, NSYNC, 98° at the moment really gets me going. Podcasts = Gauranga Das Think Like A Monk from On Purpose with Jay Shetty. I'm trying to learn how to be a bit better each day.
In 3 words how would you describe yourself as a runner?
Slow n' steady & halllways staying in it!
Favourite running route in NZ?
Being back home in Feilding was gooood. 95% of the time I jyoghhhh around in the North Shore. Always try to get into some IB (Intense Bush) to connect to nature.
Running distance a week?
30-40km
I run because….
It makes me feel good, especially mentally.
Where does your mind tend to wander while running?
When running up hills it goes completely blank n' black... otherwise just clear n' free.
What's your #1 way for maintaining a sound mind?
Breathing & being positive.
Favourite ASICS shoe?
Gel-Nimbus is my fantastic flamboyant favourite.

Are you hoping to channel William Waiirua's positive energy and embark on a new running journey? Learn how to stick to a running routine in our article on How To Make Running a Habit.

Plus visit our Knowledge Base where you'll find resources on an array of topics for runners - from learning how to get started or break out of a running rut, to discovering how to choose the right running shoes for you.