Bethel Fau'olo realised in August 2021 that he needed to make a change. He was feeling fatigued physically, and hadn't yet found a way to manage some of the self-doubt and anxiety he was dealing with. He was frustrated with himself but hopeful of finding a solution. Although he couldn't have imagined it at the time, running would be his catalyst for change. A change that would see him improve his relationship with himself and inspire those around him.
This is Bethel's inspiring running journey.
Born and raised in Samoa, and moving to New Zealand at the age of 19, Bethel's idea of running didn't go further than putting on the footy boots and getting to the park . Lacing up the running shoes and hitting the pavement couldn't have been further from his mind. Even the thought of running as an activity gave him an uneasy feeling. How much would it hurt, how tiring would it be?
Fast forward a few years and here was his good friend William Waiirua heading out the door everyday for a run and telling him and others how good he was feeling. Could running be the answer to some of the frustrations he was dealing with?
Certainly the first few runs didn't give much away. He felt heavy on his feet and still had that same nagging self-doubt. But he was tired of the situation and committed to seeing if running could make a positive change. He would learn to push against that voice in the back of his head that was offering up excuses and instead lace up everyday. His excuses were not uncommon to what we all experience.
You can just run tomorrow.
You're feeling lethargic today, and running will only make it worse.
It won't hurt to miss just one day.
Bethel says that he, "would put on motivational music and podcasts and remind myself about my goals and that you will feel much better once it's done." He also explored a mindfulness method known as breath work which involved taking conscious breaths to concentrate on taking any discomfort away. He found that this worked for him, with each step becoming easier and more enjoyable, he trained his mind to make a run feel amazing. This method has now transferred into other parts of his life and is helping him manage stress in a better and more considered way.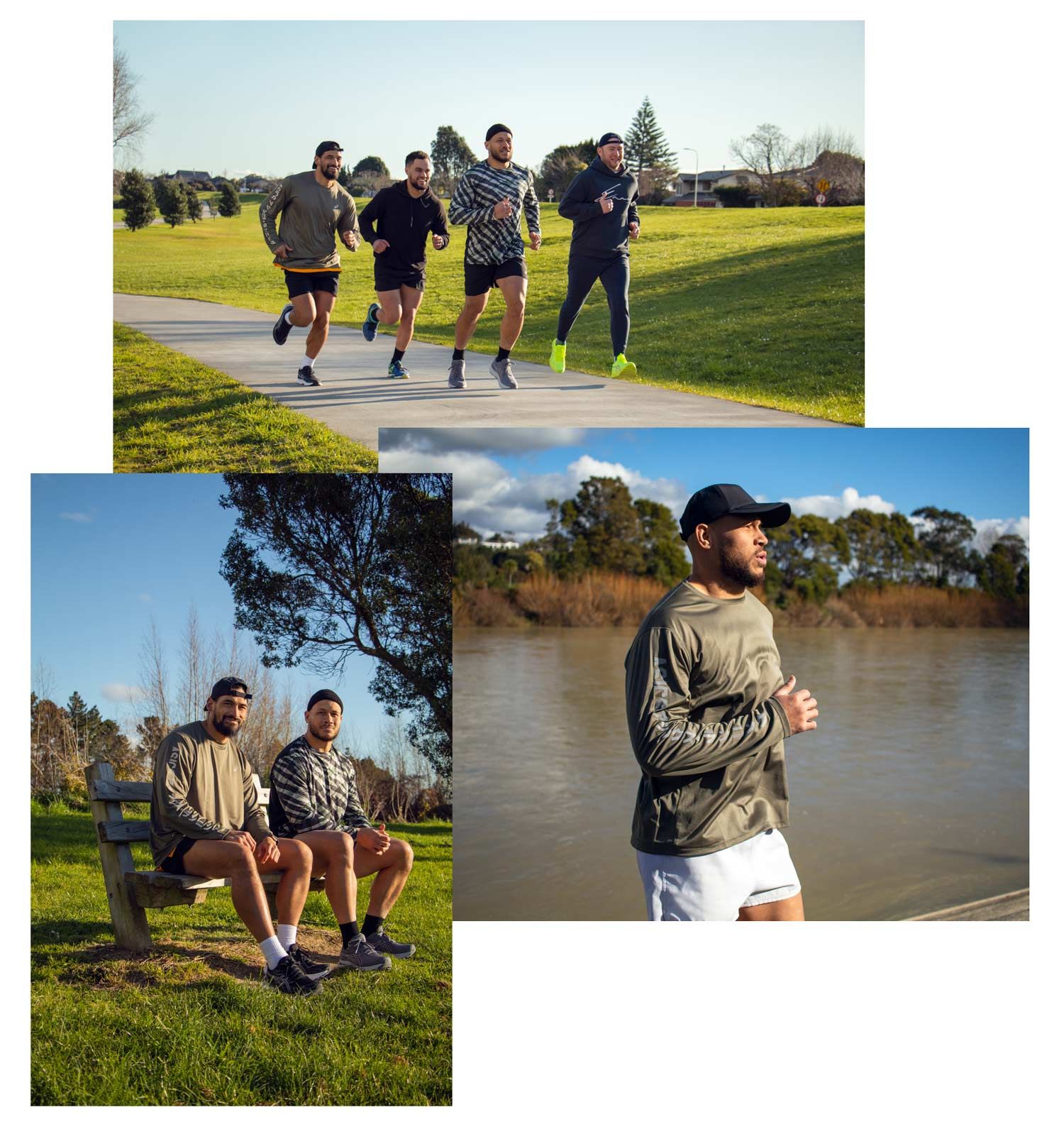 This once far-fetched concept of running, was now becoming a staple in Bethel's life and he was noticing more physical and mental health benefits than anticipated
Feeling more resilient than ever before. One of Bethel's personal goals he hoped to achieve through his running journey was to build his mental health and resiliency, and that is exactly what he did. Bethel's running journey has improved his confidence, helped him feel more positive, and helped him find calm in even the most stressful of situations.
His family becoming closer than ever. Bethel used his running as an opportunity to spend some quality time with his family. As he prepared for his runs, Bethel's family would gather their bikes and ride alongside him, granting them ample opportunity to enjoy each other's company while taking care of their health.
Finding himself feeling stronger, fitter, and healthier than ever. As to be expected with any running journey, Bethel found himself feeling good as he continued his rugby journey. He felt better as he played rugby and was able to keep up with the physical demands of his job better than ever before.
"Your steps can inspire the next person's steps."
Now the journey is more than his own personal journey. Bethel has built himself an excellent community as well. In his own words, Bethel says, "It's an amazing feeling, knowing that you have inspired others to start their running journey. I never thought that my actions could have an impact on others. It's a humbling experience and I'm grateful."
Within his running community, Bethel has found himself surrounded by friends, old rugby teammates, and work buddies. As these people witnessed the amazing benefits Bethel was reaping on his own running journey, they decided to join him on his runs to begin their own.
"Don't overthink it."
When asked about any tips Bethel has for those considering starting their own running journey, Bethel had a significant piece of knowledge to share: don't overthink it. Bethel found that, at the beginning of his journey, he would often feel overwhelmed with his thoughts and goals. As he dreamt of running faster and longer, Bethel found himself wanting to quit as it all felt like too much to tackle. So, as Bethel says he would advise any runner beginning their own journey to, "Take it slow. Don't overthink it."
Another excellent tip for those starting their own running journey is to use the RunKeeper app. Bethel believes this app is an awesome running companion, granting an ideal opportunity to connect with other people on their own running journey and allowing them to find inspiration and encouragement from their running community. All while keeping track of your individual progress so you can reflect on the strides you've made.
While Bethel has found himself enjoying an array of benefits from his running journey, he still has days that leave him feeling unmotivated and uninspired, just like the rest of us. However, he refuses to allow those days to get in the way of his goals. Bethel started this journey with the goal of building his mental resilience and has already seen some amazing improvement, so as he says, why would he stop now?
Morning, lunchtime, evening runner?
Love running in the morning. Energy levels are high and a great way to set the tone for the day.
Favourite post-run snack / meal?
A protein shake is always great. Porridge and banana on toast. Very simple and easy-to-prepare snacks are my go-to post-run meals.
Outside of your shoes, what's one running essential you can't go without.
I need to have my phone with me.
Best piece of running advice you've ever received?
Start slow and build your stamina and strength and be patient with yourself.
Running Solo or Running in a group?
Love running with others or in a group.
Music, Podcast, or your own thoughts? What are they?
Love listening to podcasts, I think it's a great way to learn and train the mind while getting my run done. Don't really listen to music it's mainly on my own thoughts or podcasts.
In 3 words how would you describe yourself as a runner?

A Learner
Social
Resilient
Favourite running route in NZ?
Love running along the Manawatu river. Beautiful scenery, the air feels nice and crisp.
Running distance a week?
25K to 30k
I run because….
I want to stay healthy and fit.
Where does your mind tend to wander while running?
Most of the time, I try to be present and focus on myself, my body, what's sore, take a deep breath and relax my shoulders. How's your form? How's my time? Pace? Oh no, I need to go fast…
At times, especially when I'm feeling fatigued, I tend to wonder about me finishing the run, or I would have an internal conversation with myself.
What's your #1 way of maintaining a sound mind?
Running.
Favourite ASICS shoe?
Kayano 29 (4E) the widest fitting. :)


Bethel is proud of his commitment to running. After dealing with mental health struggles like anxiety and seeing how much running strengthens his battles against them, Bethel doesn't think he'll stop any time soon.
"Anxiety doesn't just say to itself, "Oh I'll stop bothering Bethel because he's tired." No. It's a day-to-day thing, and I feel like running was a way for me to metabolise that kind of feeling and deal with it." Running offered Bethel an excellent opportunity to strengthen his mind against anxiety, and he maintains that mindset to keep him from giving up. "Mental health issues don't take a break," Bethel says, "They don't know what days off are."
These days, Bethel enjoys spending his free time relaxing and watching rugby or trying to keep up with tidying the mess his kids have left him and his wife to clean for the day. He intends to continue on his running journey, expanding on the immense benefits and building his mental strength every day.
Interested in learning more about running? Visit our Knowledge Base, where you'll find resources on an array of topics for runners - from how to get started and mapping out a training plan to discovering how to pick the right running shoes for you.