Learn how the right netball shoes can keep you playing at your best.
Educating Kiwis to play smarter, safer and stronger netball
Whether you're attacking, defending or shooting, there's something for everyone in a game of netball. It's fast, it's exciting and it can bring out the competitive spirit in all of us.
However, this exhilarating game can come at a price – netball can be grueling on the body.
In fact, every year, there are around 30,000 netball-related injuries in New Zealand. These are costing ACC $27 million, with women making up 96% of these cases.
Why wearing netball shoes on the court is vital for injury prevention
At ASICS, we're passionate about supporting Kiwis to play their favourite sports, which is why we've teamed up with Netball New Zealand and their national injury prevention programme, NetballSmart.
As part of our research, we caught up with the head of Netball Smart, Sharon Kearney, former physiotherapist to the Silver Ferns and the Programme Manager for NetballSmart.
According to Sharon, the nature of the game places large forces on the body.
"It's explosive and power based," she says, "And the rules mean that there are constant short and sharp movements as players try to stop suddenly."
She also says that the average player will be playing on asphalt, which is particularly unforgiving. According to Sharon, the most common injuries seen in Netball are in the ankles and the knees.
She does say, though, that if players are prepared, the risk of injury can be mitigated. There are several ways to get yourself prepared – by getting fit and strong, and by wearing proper netball shoes.
Understanding the physical demands of the game
Anyone who's simply watched a game of netball could tell you that it's physically intense. You're constantly changing direction at speed, jumping, and landing with force. Your mind is on passing, sprinting and defending, and your body is racing to keep up.
While your running shoes may be super comfortable, wearing them on the court is a big step in the wrong direction.
"When players are wearing casual or running shoes, you can see the difference it makes when they are moving around the court. Their shoes are made for forward motion, and you can see them moving around on the base," says Sharon.
Why running shoes aren't fit for the court
Running shoes are simply not designed for high intensity, high impact netball games. Sharon explains that when you're changing direction at speed the way you do on the netball court, you need a stable platform.
"A netball shoe is made for multi-directional activity, while a running shoe and others are not. If a player is in a netball shoe, their foot will be more stable as they change direction. This helps with performance and to protect against injury," says Sharon.
We also caught up with Silver Fern Captain, Laura Langman, who says she used to be a running shoe-wearing-player herself. This was before an injury caused her to look beyond what what she thought looked good.
"I want to play an explosive style of netball where I change direction, land on the circle edge and jump at maximum effort," Laura says.
So what will a netball shoe do for you?
In the same way that rugby boots help players to grip and change direction on a muddy field, netball shoes are designed specifically to endure and protect against the intense demands of the game.
These are a few of the strengths that a well-designed netball shoe will offer you:
Extra-strong grip: Sharon says the first thing to do is 'check your tread.' The sole of a netball shoe is designed to give exceptional grip on outdoor and indoor courts to stop you slipping and sliding.
Durability: Strong but functional materials are used to make sure a netball shoe lasts longer than a running shoe. The upper in particular, says Sharon, should be strong to prevent against ripping.
Protection and Support: Designed specifically to support your foot during high impact lateral (sideways) movements, with wrapped outer soles to help stability
Small details that make a big difference
Netball shoes have a few more 'netball-specific' features that help to prevent injury and add extra support.
They have wider tongues to leave space for strapping, a higher cut to support your ankles, and a higher heel gradient to ease stress on your Achilles tendons.
Even the lace design matters – the right laces will keep your feet firmly in place as you race around the court.
Laura explains that when jumping, a rounded outer soul minimises the stress on your ankles. "And when accelerating, a supporting upper allows you to gain quick control of your movement," she says.
In other words, well-designed netball shoes will support you, your feet and your ankles to keep you in the game for longer.
ASICS netball shoes, designed for power and protection
Here at ASICS, we know the importance of injury prevention on the netball court. We want to make sure every player can be in it for the long haul, and we know this starts with your netball shoes.
That's why we're proud supporters of Netball New Zealand. It's also why we've been designing top-of-the-line netball shoes for years, improving them with the latest technology as we go.
For Laura, whose feet are her best mates on the court, playing in ASICS netball shoes is the best way to support them.
"When I play in ASICS netball shoes, I don't need to think – I just do," says Laura.
"They are so responsive to my change of direction – they ensure I am niggle free and available for selection every time," she says.
Our netball shoe range caters to both indoor and outdoor netball surfaces, and for all types of players.
We've used the latest technology to create netball shoes that help you play your best game
On top of the classic netball shoe design, our shoes are enhanced with the latest innovative features to keep you safe and strong on the court.
Impact Guidance System: The Impact Guidance System helps to guide your foot to perform in the most natural way.
Light Midsole: A light and durable midsole to boost the spring rate (which is great for jumping!)
GEL Cushioning System: Our GEL-units are strategically placed in the midsole of the shoe to help absorb impact on any court surface.
AHAR: ASICS High Abrasion Rubber is the tough material that protects the high-impact areas of the outersole.Personal Heel Fit System (P.H.F): Our P.H.F moulds itself to your heel shape, making the shoes accommodating for the demands of netball.
Removable Sockliner: The sockliner moulds to the shape of your foot and can be taken out to make space for an orthotic. By increasing the shoe's supportive footbed, it reduces the collapsing of the arch, which is what leads to muscle fatigue and running inefficiency.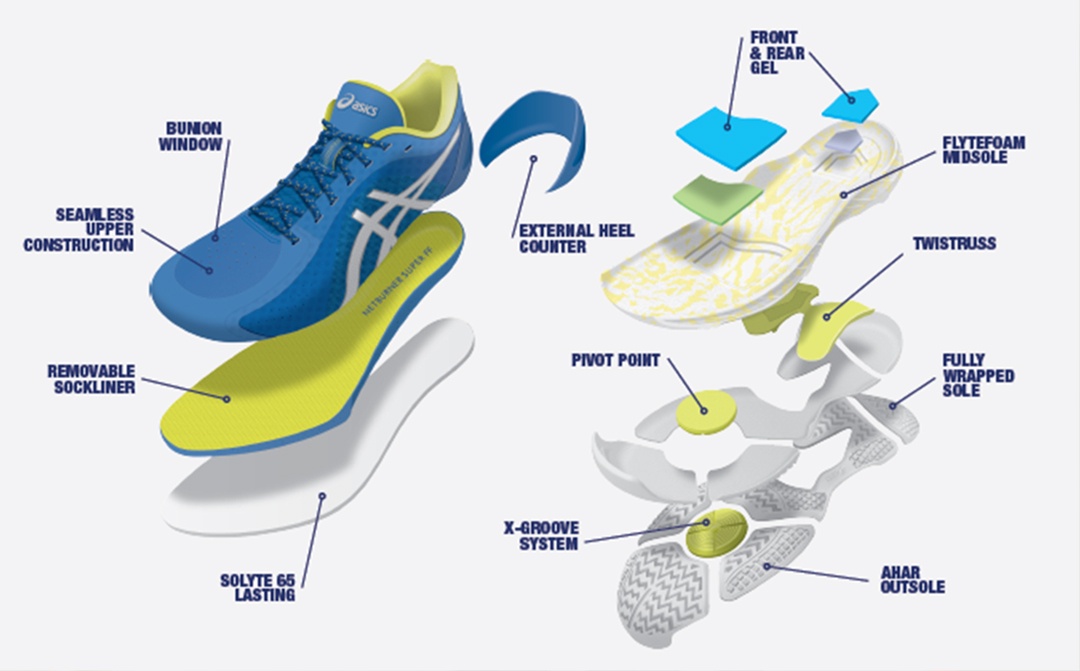 NETBURNER SUPER FF TECHNOLOGY HIGHLIGHTS
Play smart, so you can play for life
Our ASICS research team has spent years perfecting the design of exceptional netball shoes. Backed by research, a deep understanding, and the latest technology - we're dedicated to keeping you on the court for longer.
Protect yourself with proper netball shoes and enjoy happier, healthier knees and ankles.
For expertly designed footwear that supports injury prevention on the court, check out our range of Womens Netball Shoes today.