Goals, fatherhood and what's made the difference for Ken Maumalo in 2019
At Southern Cross Campus in Mangere, Warriors Winger Ken Maumalo (25) was focused on playing rugby union for his high school team on Saturdays. In 2010 the school's rugby league coach asked him to play on a Wednesday to make up numbers for the team. Maumalo agreed to help the team and it turned into a pivotal moment in his life. A rugby league scout was at the game and quickly snapped Maumalo up for the Warriors Development Team. It was a Wednesday to remember for the New Zealand born Samoan.
Record breaking year
Fast forward to 2019 Maumalo has had his best season with the Vodafone Warriors to date. At the end of round 23 in the National Rugby League competition, Maumalo leads the post contact line metres with 1352 metres for the season. He sits second in the run metres and has scored 16 tries to date this season to be the third highest try scorer. The storming winger has been on fire for the Vodafone Warriors.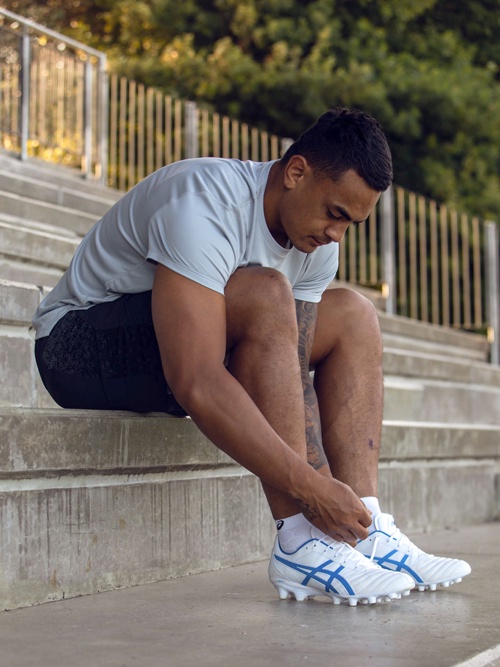 "When I looked back at my season at the halfway point, I definitely realised I'd made a lot of progress in my game," says Maumalo who made his NRL debut in 2015 against the Parramatta Eels.
Maumalo's ability to dazzle defense lines and cross the line has been exceptional this year. His blistering runs, secure takes of the highball and energy on the field has helped provide much needed electricity for the Auckland based franchise.
The difference in 2019 Maumalo feels has been his preparation. He admits with his experience in his fourth NRL season he's learned to make better choices - with food, hydration and how he commits to each football training session.
"I guess I haven't always been as prepared as I should have been. With the years I've been at the club I've definitely learned how to make the right choices I needed to execute on the field and do my job. It's the little things.
Motivation for more metres
Central to Maumalo's success he points out has also been his greatest challenge in life to date, becoming a father. When ASICS caught up with Maumalo it was the same day of son Leighken's first birthday.
"It's been a huge year at home and on the field," reflects Maumalo clearly relishing being a parent. "My son is my motivation to do better. It's been awesome being a Dad."
"Coming home to him every day just helps me so much. Time with him and my partner being able to have time outside of footy makes me a better player." Maumalo adds without the support of his partner who he says is taking such great care of Leighken he wouldn't be able to do what he does for his beloved Warriors.
Another huge source of inspiration to Maumalo are his parents who he says have supported him from the start and are extremely proud of his achievements to date. Immigrating to New Zealand from Samoa in the 1980s to provide better opportunities for Maumalo and his siblings, Maumalo says he's always wanted to pay them back for their sacrifice.
The intensity of preparing for an NRL Season
The NRL competition is relentless - in the regular season twenty-five rounds of hit after hit with an international rugby league test window in the middle. Maumalo admits that it's taken time to be able to learn how to prepare for the relentless nature of the competition.
"Simple things like eating right has made a difference to my game. With the years I'm doing stuff that probably the 'younger Kenny' wouldn't have done. Now when I go into schools and speak in the community that's the main thing I want them to know - that you can be much more professional without being a 'professional'," says Maumalo.
A typical week for Maumalo depending on the turnaround in between games usually starts with two days off following the game with individuals in charge of their recovery. If it's a longer week Maumalo and teammates will aim to fit in three training sessions plus the gym to prepare for the following week.
When it comes to game day rituals, Maumalo says he is not a player subscribing to strict habits preferring to stay relaxed. "What I do though is change the way I wear my socks. At training, I like to have them around my ankles but on game day I pull them up high. It's like, it's time," explains Maumalo.
Goals for the future
The Kiwis winger who also played for Toa Samoa in the last Rugby League World Cup shares with ASICS two goals he set for himself this year - to play consistent footy for the Vodafone Warriors and make the Kiwis for the mid year test.
His ultimate goal is to win an NRL Premiership. "I'd love to be part of the first Warriors Team to win - that's what I want to do."
A humble and focused weapon on the field Maumalo says that continuing to make improvements to his game is essential. There's no denying Maumalo is a force on attack for the Vodafone Warriors but he says he needs to up his defensive game to take his overall game to another level.
"I pride myself on my attack but I'd love to be the best defensive winger in the competition."
Motivated by big goals and inspired by family it's clear Maumalo's star will continue to shine brighter for the Vodafone Warriors for many years to come.