Finding time to run can be challenging. If you're struggling to fit those early morning runs into your schedule, or they're just not working for you, then you might prefer to run at night. Here are some tips to help you prepare.

"I like to run at night because I have a sense of freedom that I don't have during the day," said Vanessa Baltzer, an ASICS FrontRunner member. "I am alone and I like to enjoy this moment."
Is it ok to run before bed?
Some runners believe exercising before bed helps them sleep through the night because the exercise relieves stress and anxiety that may keep you awake.
"Running at night gives me the opportunity to unplug from stress at work and my daily worries, helping me to focus on my feelings, my breath, and my body. Thus, it helps me sleep better, earlier, and more relaxed." says ASICS FrontRunner member, Juan Martin.
Other runners say it leaves them restless or too tired the next day to run.
"I prefer to run in the morning, but when I don't have time and I need to leave training for the night, I finish training in the golden hour, it gives me peace, nature is amazing, it gives me peace to my mind." says ASICS FrontRunner member, Priscila Gonçalves.
Testing out different running times can narrow down what works best for you and your schedule.
The benefits of running in the evening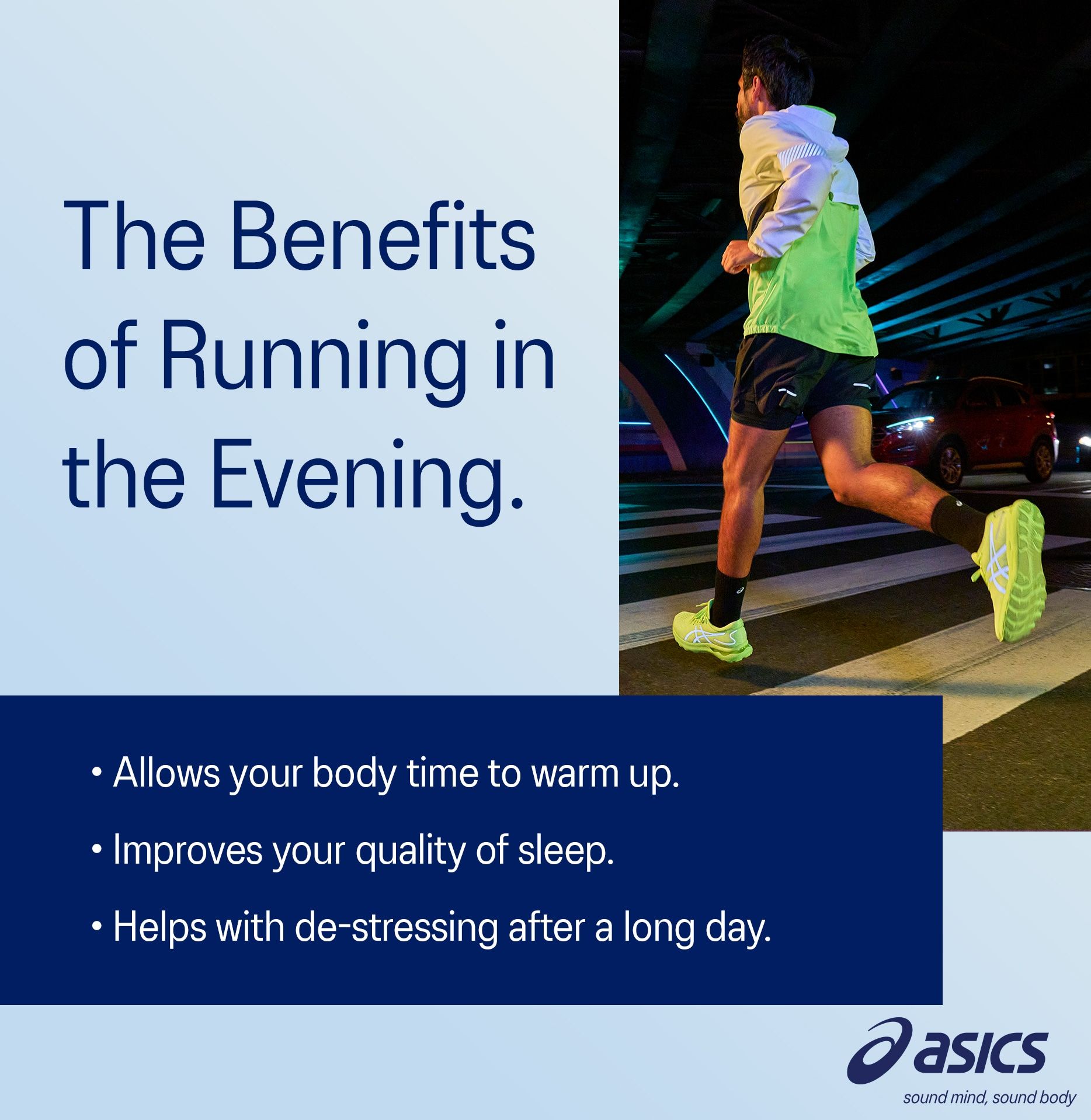 Running in the evening has its upsides, especially for those who can't find time during the day to run or lack energy in the morning. Here are our top 3 benefits:
● It allows your body time to warm up. If you've been moving during the day you'll already be relatively loose and warm, requiring less time for stretching and other warm-up exercises.
● It may improve your quality of sleep. Running at night can support a relaxed mind by burning off excess energy. Exercise can also help you create a normal sleep pattern.
● It helps you de-stress at the end of the day. Running releases endorphins that can help boost your mood and clear your anxiety. 

Note: These are generally accepted effects, but the effects may vary from person to person.
8 tips for running at night
Running before bed can be a difficult adjustment. Many runners enjoy it because it feels relaxing or fits into their schedule. Here are 8 tips to get you started running at night:
1. Decide on a time for your evening run
Consider timing. If you're not comfortable with running in low light, start before sunset and plan out your distance or intended run-time to make sure you're home before dark. The time between sunset and darkness differs depending on the season and place where you live, so you'll need to factor that in. 

2. Plan your route in advance
Pre-plan your route to maintain safety efforts. Tell someone you trust where you're running and when you'll be back, especially when running alone. If possible, consider running with others. 
3. Run in a familiar, well-lit location
Running in a familiar, well-lit location can be an effective way to remain safe when running at night. Consider avoiding low populated areas and trail runs at night. Stick to high-visibility areas.
4. Wear highly-visible, reflective clothing
Wearing something reflective or bright at night will help you remain visible while running. It's important to always be seen by other pedestrians and drivers.
Recommended ASICS gear for running at night
The ASICS LITE-SHOW™ collection is designed with reflective panels to improve your visibility in low-light conditions. 
5. Invest in a pair of night-time running shoes
Wear neon or reflective clothes and running gear that will help you stay seen and visible. Our Lite-Show range features these models in our core range: GEL-NIMBUS™, GEL-KAYANO™, and GT-2000™. 

6. Utilize your phone's safety features
Be ready for an emergency. Enable GPS tracking, share your location with a friend, and take advantage of your phone's safety features to mitigate the risk of harm or danger. Check that your phone battery life will last until the end of your run or longer if something goes wrong. Many smartwatches have similar features if you prefer running without your phone.

7. Prepare a running at night safety kit
While preparing for a night run, you may want to think about bringing and wearing objects that are going to protect you.
What to INCLUDE IN YOUR RUNNING KIT:
Equip yourself with the following running safety gear:
● Headlamp
● Reflective tape
● Flashlight
8. Run with a partner
There's safety in numbers. Find a running group or partner with the ASICS RunKeeper™ app. The app will help you connect with running groups in your area.
With enough planning and care, running at night can be a refreshing and effective way to get the exercise you need that might not otherwise fit into your day. 
Check out the LITE-SHOW Collection which includes features made to help you be more visible in the dark. Or shop the full range of ASICS women's running range and men's running range to stand out during your nighttime runs.
Find the next perfect pair for you with our Shoe Finder tool. Answer a few questions and we'll match you with some of the best shoe options.