Everyone loves a jog on a sunny day, but you can't always count on it being nice out.
Sometimes, to get that long run in, or keep your training routine going, you have to work with what Mother Nature has in mind.

In this article, we're sharing our top tips for rainy-day running with practical advice to help you stay safe during wet weather runs.
WHAT'S THE PROBLEM WITH GETTING YOUR WET FEET?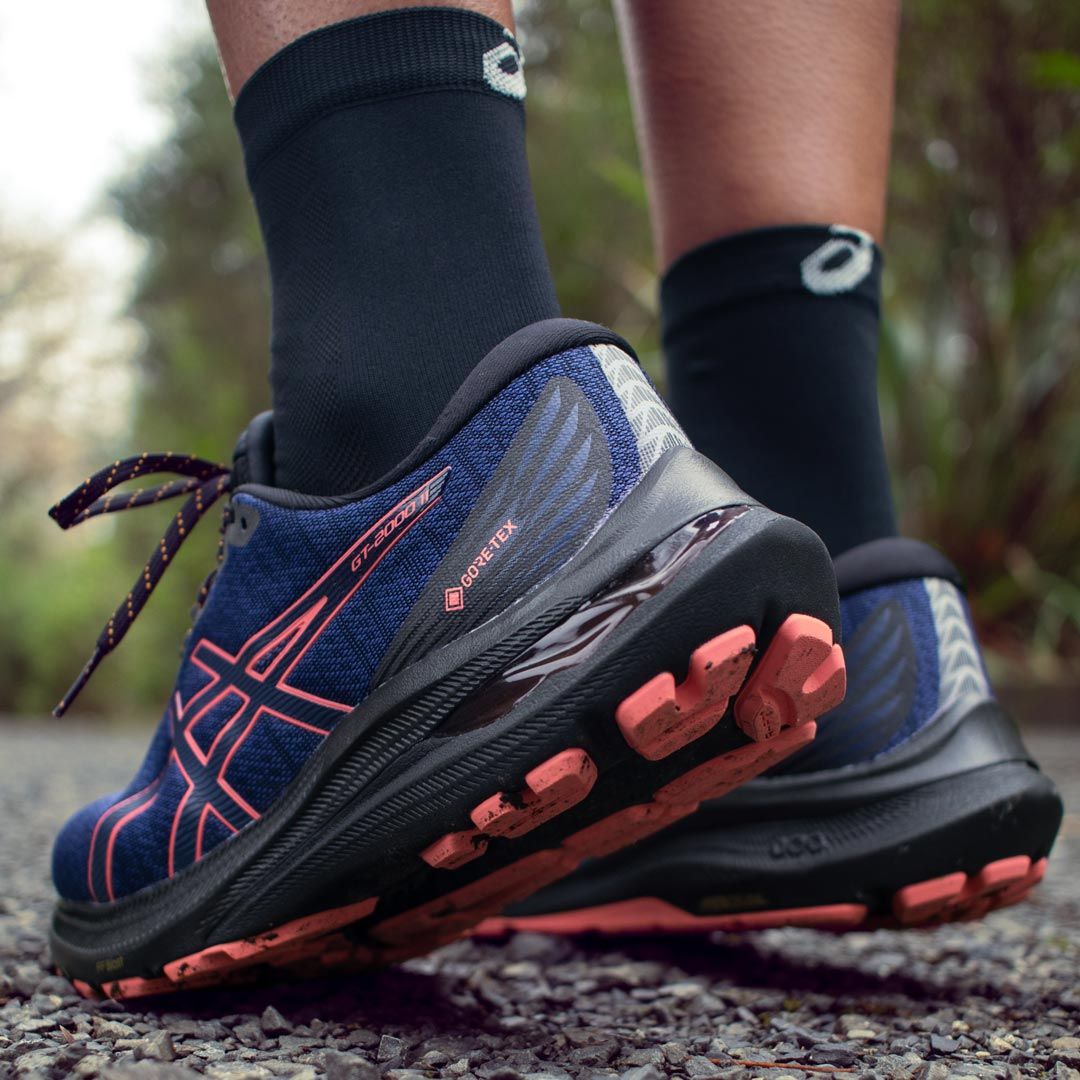 The problem with getting wet feet when running in the rain is that your feet are, well, your feet. Your feet are home to millions of nerve endings, and they play an important role in how you feel while you run. Wet feet may affect your running performance, or it could lead to injury — everything from trench foot and blisters to pulled muscles. It's also not very pleasant having cold, wet feet while you are trying to run a personal best.
One of the best ways to keep your feet happy in wet conditions is with waterproof footwear. Read more in our article Best ASICS Running Shoes for the Rain to learn about the technology to look for.

STAY SAFE ON RUNS WHEN IT IS RAINING
When it rains, roads and sidewalks become slick. Here are seven practical tips to help you to stay safe.
Make Sure You Have Proper Gear: Rain gear and waterproof or water-repellant shoes are advisable when running in the rain. A hat and gloves will also keep you both warm and dry. If you are trail running in wet conditions you'll need a lot more grip, so think carefully about the features of your footwear.
Buy Suitable Running Shoes for Running in the Rain: Whether you run for exercise or for competition, you want an athletic shoe that will keep your feet protected and supported as you go. Look for waterproof running shoes with GORE-TEX™.
Stay Focused: If your mind is on the rain, you will be more likely to slip or fall and get hurt. Try to focus on your running pace and just enjoy yourself.
Avoid Puddles and Be Aware of Your Footing: Puddles can be deeper than they appear, so try to avoid them if at all possible. Also, when running in the rain, you will not be able to see how slick a surface is until you're already on it. Be wary of wet leaves or other slippery ground surfaces.
Never Run in Thunder and Lightning: Never run in lightning or if there are thunderstorms in the area — get inside immediately!
Run With a Partner: Don't run alone. With the increased risk of a slip or fall during wet weather runs, it's best to run with someone. This may also give you peace of mind. It's a good idea to carry a smartphone too; just in case you need to make an emergency call.
Be Visible and Pay Attention: It's important to be even more visible than normal when running in the rain. The rain can affect visibility and make it harder to see you. Wear brightly coloured or reflective clothing, running strobe lights, and reflectors.
Wear a Hat: Choosing a hat that has a brim is a great accessory for running in the rain. The visor will keep the water out of your eyes, and it can also help maintain your body temperature.
Shop our range of running shoes featuring waterproof GORE-TEX™ with upper materials that are breathable and help keep your feet from getting too hot while keeping them dry. 
For help finding the next perfect pair for all weather conditions try the ASICS Shoe Finder tool. Answer a few questions and we'll match you with some of the best shoe options.