ASICS strives to improve the lives of consumers around the globe. As a company, it values sustainability and is committed to continually improving its products and processes. The company supports its consumers' quests for health and wellness through products and services designed to fulfill that role. ASICS also looks to work with suppliers and people that share a similar commitment to sustainability.

The motivation behind ASICS' sustainability framework
Since 1949, ASICS has helped people achieve a sound mind in a sound body. ASICS is committed to making a positive impact. Its sustainability framework falls into two pillars: people and planet.
ASICS believes human rights should be supported throughout the supply chain. ASICS also believes in the dire threat of pollutants and climate change. Addressing both of these issues is a key part of ASICS' sustainability plan.

Working towards the United Nations' Sustainable Development Goals
The United Nations' 17 Sustainable Development Goals (SDGs) are a blueprint for peace and prosperity for people and the planet. This guide influenced ASICS' recent sustainability efforts.
Through the philosophy of achieving a sound mind in a sound body, ASICS aims to deter critical social and environmental crises. These goals aim to ensure a stable future packed with sports and wellness.
Sustainable Development Goal 3: Promoting good health and well being
ASICS supports the well-being of consumers, supply chain workers and colleagues around the world. For example, the COVID-19 pandemic has had a major impact on the health and wellbeing of many people. And mitigation efforts like social distancing and quarantine made conventional team and outdoor sports a challenge.
As a result, ASICS became committed to supporting projects that get people moving for physical and mental well-being. The company established new approaches to sport that fit within the context of COVID-19, such as ASICS World Ekiden, an online running event open to athletes from across the globe.
Sustainable Development Goal 5: Achieving gender equality in the workplace
ASICS' sustainability practices are ever-evolving. The company is committed to raising awareness, strengthening programs and developing diversity training. Along with this, ASICS also supports career development plans for female employees.
Sustainable Development Goal 6: Utilizing clean water and sanitation
Water is one of life's most precious resources and reducing unnecessary consumption is one of ASICS' goals. From production to manufacturing, ASICS aims to utilize water from municipal water utilities in our operations as it has lower risks to the environment compared to using naturally sourced water.
ASICS America HQ in Irvine uses waterless urinals to save daily water usage, and in Germany, rainwater is recycled and used for sanitary purposes. In 2020, ASICS managed to reduce water consumption in its operations by 8.3% compared to the previous year. And with ASICS' Tier 1 suppliers, water consumption per pair of shoes decreased by 20.2% compared to the 2015 baseline.
Sustainable Development Goal 8: Promoting decent work and economic growth
ASICS values economic growth and quality employment in line with the UN's SDGs to "promote sustained, inclusive and sustainable economic growth, full and productive employment and decent work for all." By 2023, the company aims to work with 100% Tier 1 supplier factories that meet ASICS CSR standards. ASICS conducts yearly audits to ensure that economic growth is maintained and equally considered.
Sustainable Development Goal 12: Utilizing responsible consumption and production
The UN's SDGs ask companies to consider consumption and production patterns and strive for sustainability in all products and operations. ASICS is committed to quality measures, safety standards, and minimizing resource consumption. The company aims to use 100% recycled polyester in our shoes and sportswear by 2030.
Sustainable Development Goal 13: Climate action
ASICS aims to accelerate its efforts in combating climate change by setting science-based emissions reduction targets. The company aims to reduce CO2 emissions from direct operations and supply chain by 63% by 2030 as compared to 2015, as well as achieve net-zero carbon emissions by 2050.
Sustainable Development Goal 17: Partnership for the goals
Building partnerships with sustainable companies and promoting transparency within the supply chain helps support environmental goals at ASICS. Maintaining fair business practices and complying with labor laws benefits communities, the environment and consumers. This supports the UN's SDGs with ethical partnerships.
ASICS' 2030 & 2050 commitment to address climate change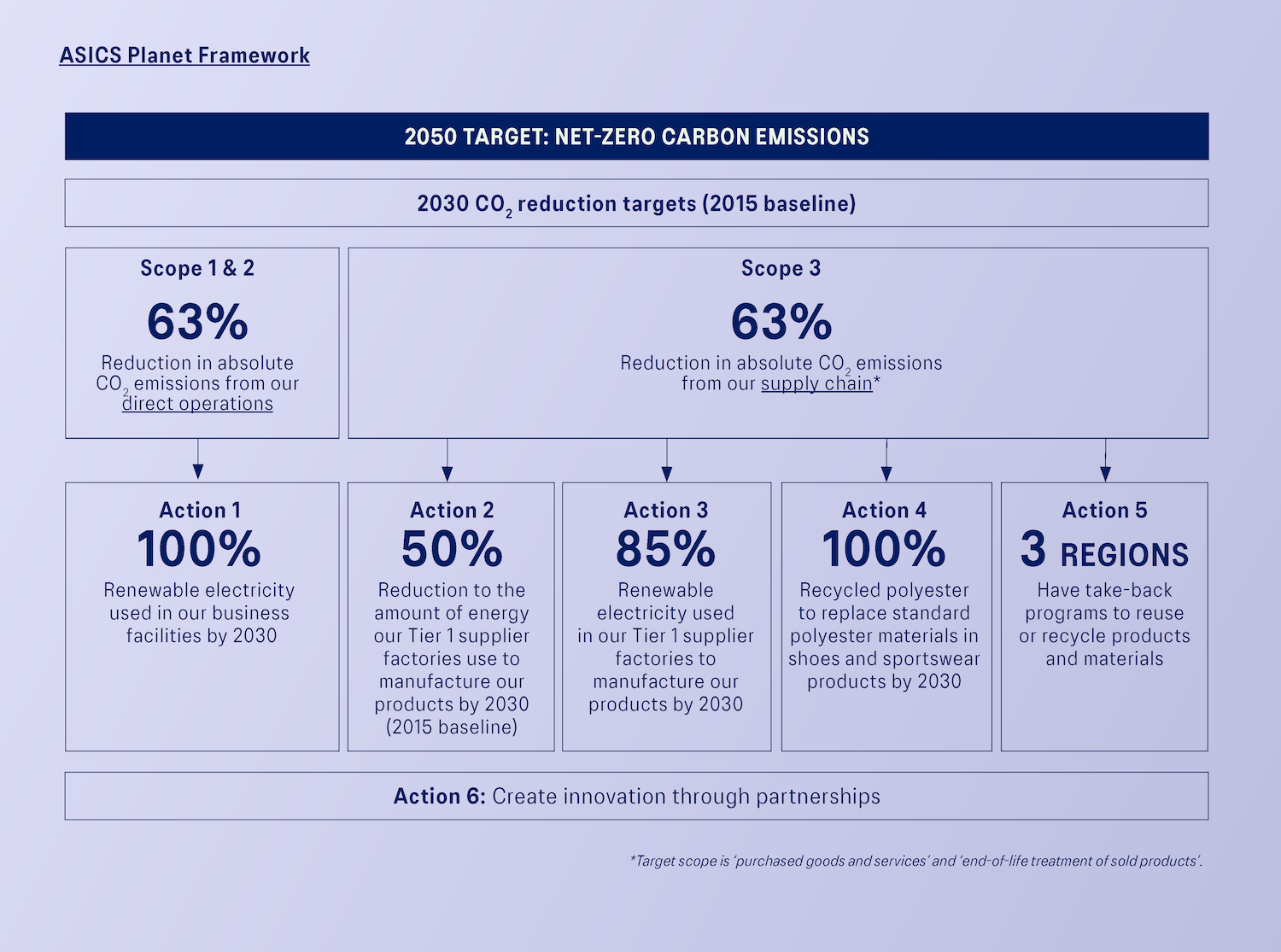 To help tackle climate change, ASICS supports the global goal of keeping the temperature rise under 1.5˚C. That's why the company has set targets which have been approved by the Science Based Targets initiative. ASICS also expanded its sustainability efforts by becoming the first Japanese company to join The Fashion Pact, a textile industry collective committed to mitigating climate change, restoring biodiversity and protecting the oceans.