When it comes to exercising, running is one of the most popular and easily accessible options. However, the shoes you wear can make or break a great run.
If you wear running shoes that are heavy in weight, this may cause the runner to go through more fatigue while exercising. However, the right pair of shoes can lessen that strain. Choosing the right lightweight running shoes might seem straightforward — lightest wins, right? — but there are some key things to consider before making your purchase.

Are lightweight running shoes better than traditional running shoes?
Lighter running shoes are beneficial in many ways: You can reduce load on the feet and provide specific support to ensure the activity is fully enjoyed versus spending most of the time concerned about how your feet feel.
Conventional shoes used for running are made to cushion feet while on asphalt and similar surfaces. Despite this, these types of shoes can be heavier, resulting in more energy needed to be used to carry on a certain pace while running. But, with the advancement of technology and producing better materials, traditional exercise shoes often do not offer the same benefits as lighter shoes.
Can lighter running shoes make you go faster?
Using light shoes while running may help boost your speed. Materials used in creating lightweight running shoes offer enhanced support and comfort. And with less physical and mental strain for the person to go through while exercising, this gives the runner the opportunity to use their energy to focus more on their session.
"Outside of the physical benefits of you carrying less weight with you every step of your run, there is no denying the mental benefits one can feel," says AJ Andrassy, the Global Director of Performance Running Footwear at ASICS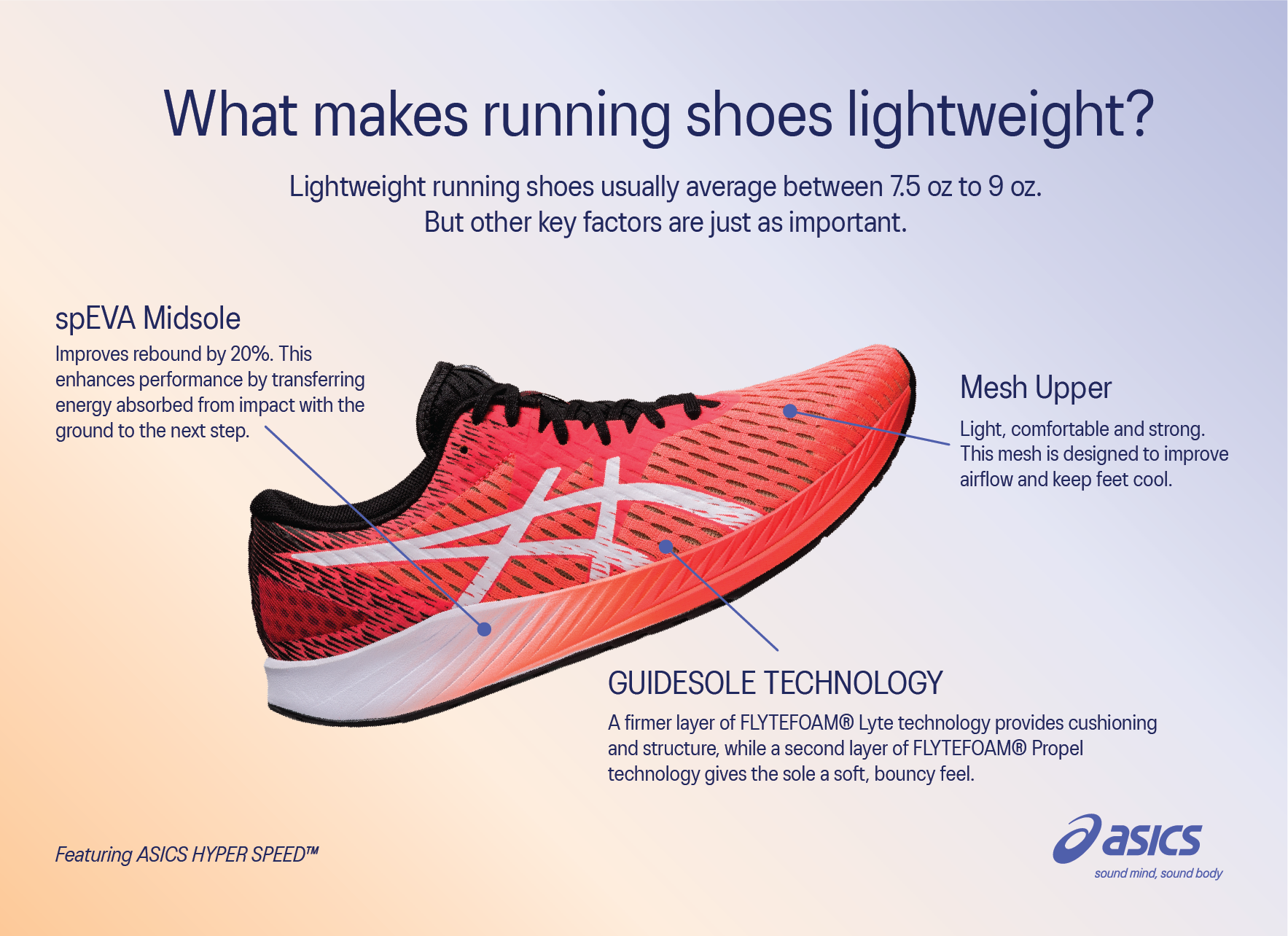 What to look for in lightweight running shoes
Choosing the right lightweight running shoes can have benefits that extend beyond just your feet. To get the proper footwear, you'll need to weigh several factors that get into your specific needs and priorities as a runner.
1. Weight
Are lighter shoes better for running? For many, the answer is yes. Ultimately, comfort comes down to a straightforward measurement of grams or ounces. The GEL-KAYANO™ Lite 2 model is a great option for a lighter shoe, with the women's model weighing in at approximately 244 g/8.6 oz*. Compare that to a traditional women's running shoe, which can weigh up to 283 g/10 oz.
*Weight is approximated, based on a U.S. women's size 7.
2. Durability
You don't have to sacrifice life span and durability by opting for lightweight running shoes. Whether you're an experienced runner or are just starting out, you need shoes that provide longevity to help you reach your goals.
The NOOSA TRI™ 13 model is a prime example of durability in a lightweight running shoe. This type of shoe has an AHARPLUS™ outsole extend sole wear.
3. Support and protection
Foot support and protection are essential elements when finding lightweight running shoes to fit your needs. Naturally, the mechanics of running places stress on your lower body. Common injuries include plantar fasciitis and bone spurs.
The curved sole of the MAGIC SPEED™ running shoe is made with support and protection in mind. GUIDESOLE™ technology helps with absorbing shock. This results, reduces load for the runner to experience within the leg muscle area — in many increasing efficiency.
Cushioning can provide additional peace of mind. The NOVABLAST™ 2 shoe is made with FF BLAST™ a light foam located in the midsole area that results in a more responsive cushion with each step you take.
4. Comfort
Comfort is another feature to look for when choosing running shoes. Your feet are in constant contact with the ground while running, so it's important to have a pair of shoes that help decrease the load put on certain areas of the foot. A shoe made with comfort in mind, like the GEL-NIMBUS™ Lite 2 model, can truly benefit your running. There is excellent cushion within this shoe along with the rearfoot design absorbing the shock from the heel of the foot.
5. Fit and width
The way running shoes fit and their width matters. Your feet should feel secure in both the heel and midfoot area, but not constricted. As noted in the ASICS Width Guide, you may need a wider shoe if you notice stretching around the outside of your shoes or excessive swelling of your forefoot.
Some shoes are made specifically for runners with wider feet. For example, the men's GEL-KAYANO™ 28 (4E) model is an extra-wide shoe and offers an outside heel counter that gently holds your foot in place with a better fit and rearfoot support.
6. Sustainability
Most people don't think about what materials make up the shoes they own — to know materials were selected with the intent to help better the environment would be a bonus. The EVORIDE™ 2 model is a great example of having a lightweight pair of running shoes that also helps with the environment. At least 20% of the primary material of the shoe's upper is made using recycled materials to help reduce waste and carbon emissions.