Injuries happen - but they can oftentimes be prevented by focusing on the important aspects of supporting your training. Runners often overload themselves, possess a lack of strength and flexibility, or skip recovery days. 
Avoid running yourself into an injury by knowing how to reduce risk before setting out.

WORK ON STRENGTHENING YOUR BODY
Strength exercises help build up the muscles in your legs and feet, meaning your landings are more secure and your push offs more powerful. A solid, strong foundation makes your body better able to withstand the demands of running. Two key areas to focus on are the core and glutes. Read our article featuring some of the best strength exercises for runners.
WARM-UP BEFORE AND STRETCH AFTER EVERY RUN
It's the oldest rule in the book, but runners should always loosen up their muscles before setting off on a run. Add a few short dynamic stretches beforehand as a warm-up. These are movements that prepare your muscles, ligaments, and joints for running by going through a full range of motion beforehand. Not only will dynamic stretching decrease muscle stiffness but it can help you with agility, speed, and acceleration. 
Post-run it's crucial to incorporate static stretching to increase your flexibility and mobility along with aiding muscle recovery. All things to make you a better runner for days to come. Static stretches are performed by holding a single position to the furthest point you can without pain for up to 45 seconds.
ROTATE YOUR RUNNING SHOES
Running in different shoes can reduce your risk of injury, according to a study from the US National Library of Medicine. In the report, it was found that runners who had used a mix of different shoes had a 39% lower risk of injury compared to those who ran in just one pair of shoes.
To rotate shoes that are similar in support and fit, but meant for different styles of running, you could incorporate these two ASICS designs into your training gear:
BE CAUTIOUS IN BAD WEATHER
You're at higher risk of injury in the rain and ice – whether that's slipping or turning an ankle. So make sure you always have a solid footing with an outsole designed to grip the surface beneath you.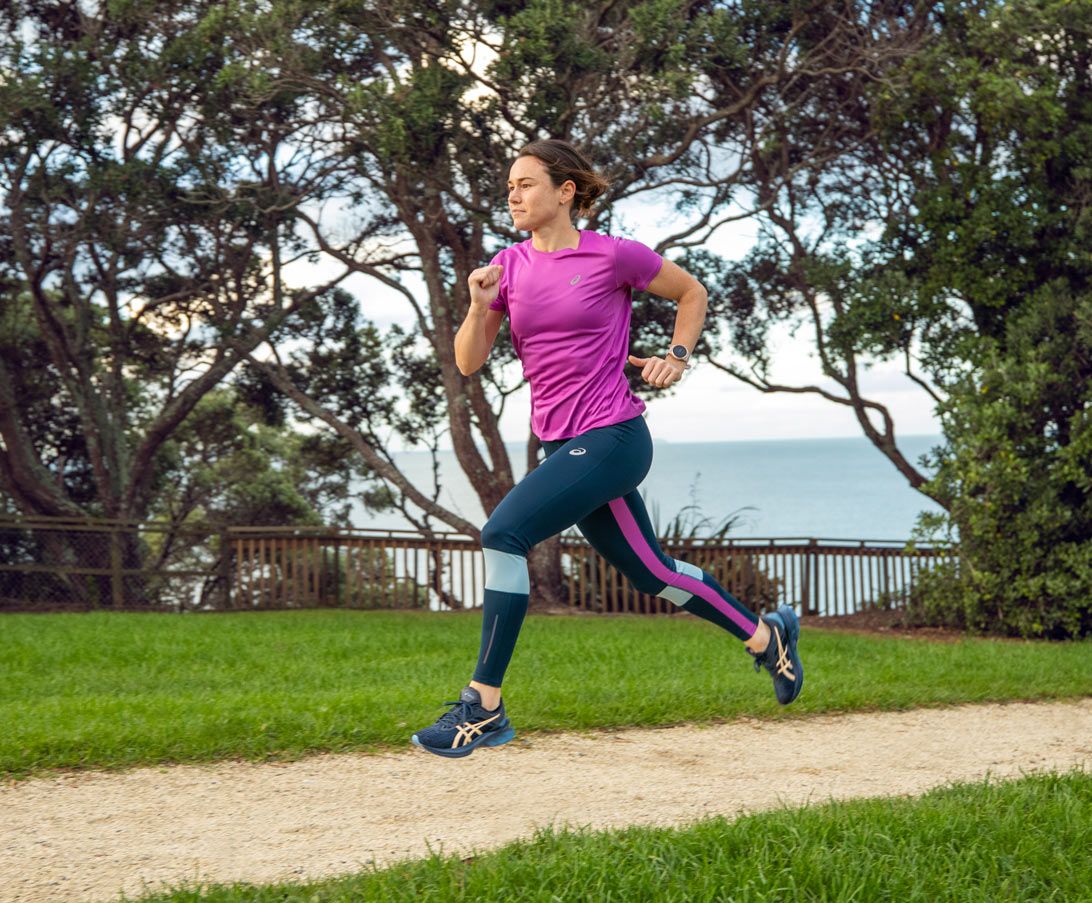 MIX UP YOUR RUNNING STYLE
Become a better all-around runner by getting the benefits of different running styles. One day you're strengthening your lower legs on a hilly run, the next you're improving your balance on an adventurous and scenic trail run.
EAT FOOD TO FUEL YOUR WORKOUT
Keep your body in good shape by eating enough calories. Otherwise, your body can't meet energy needs or repair tissue, and your muscles will begin to break down.
SUPPORT YOUR MUSCLES WITH COMPRESSION RUNNING GEAR
The right training gear will support you and reduce muscle fatigue as you run, lessening the chance of making a mistake. It's all thanks to compression panels on key body parts, like your core, calves, back and thighs. These panels also apply pressure to the muscles, reducing vibration which can cause pain post-run. 
TRAIN TO YOUR FITNESS LEVEL
Your running routine should be about improving gradually – so make sure your training plan is helping you build your strength and endurance each week, and that you're not setting unreachable goals for yourself.
REST WHEN YOU'RE TIRED
Recognise when you're tapped out and take the rest days to recover. Exhaustion is your body telling you to slow down. In fact, you can do greater harm to your performance by running on empty. Be sure to take 2-3 rest days during the week where you do nothing but allow your body to recover.
DON'T RUN ON AN INJURY
Major injuries can sometimes start as minor ones, the type you can run through but shouldn't. You'll know your body better than anyone, so look out for signs of injury that are more than just fatigue. Do you know the difference between repetitive and traumatic injuries or the most common running injuries? Every injury requires special attention and time to heal - it's far better to recover and come back strong. Be sure to stop and consult with a physician rather than push through the pain.
Learn more about running injury prevention by visiting the Knowledge Base where we cover a range of valuable topics for runners.
If you'd like to find the right running shoes for you, see the full collections below:
Find the next perfect pair for you with the ASICS Shoe Finder tool. Answer a few questions and we'll match you with some of the best shoe options.