To celebrate International Women's Day ASICS sat down with four of our Mumbassadors on how they juggle the demands of Motherhood and looking after themselves. We salute them and all incredible women who are striving individually to make a collective difference to the world.
Lorraine Scapens is a leading specialist in helping pregnant women safely exercise and mums return to exercise following the arrival of their little bundles. Mum of three active young women Lorraine has been in the exercise industry for over twenty years and is an accomplished age group triathlete. Dedicated to helping women, Lorraine is passionate about sharing her wealth of knowledge to empower them to lead active healthy lives.
With all the information on the internet, it can be entirely confusing for active women to know what is safe and what type of exercise program they should be following during pregnancy.
Tiredness is a significant factor when planning your training program. If it's your first pregnancy, this new tiredness factor can knock you for six! Some women may not be able to get up from the sofa for several weeks in the first and third trimesters. As a general rule of thumb, I suggest to my clients and members that for every hour they exercise, they must also factor in the equivalent rest time. This extra rest period helps prevent increased tiredness and allows you to adapt to not just the training loads but to the pregnancy changes too.
Listening to your body is not necessarily the best. You hear this all the time during pregnancy; "Listen to your body"; it's a good starting point, but it's not perfect. The reason for this is that some exercises can still feel pretty good, but they may not be the most suitable. As an example, Pull-Ups, Full Press-ups, and Heavyweights can again feel ok, but they may increase extra stress on the linea alba (the fibrous structure that runs down the middle of your abdominals), your pelvic floor muscles, and core function.
Intensity of exercise is also an important consideration. As an athlete, your pre-pregnancy programme would include interval and intensity specifics. However, during pregnancy, it's best to keep most of your training somewhere between 70-80% (think aerobic), and it's recommended you don't exercise above 90%.
Why is it important for women to stay active during pregnancy?
There are many reasons as to why women need to keep active and healthy during pregnancy. Many think that most of the benefits are for Mum but there are also many for your baby. Here are two often surprising facts:
The faster growth of the placenta observed in studies of exercising Mums in the late first and second trimester means that a more substantial overall placenta will provide a baby with increased nutrients and calories. Bigger placentas have a larger surface area and have about 15% more vessels at term. This increase in size ultimately improves the function and capacity of this organ in late pregnancy.
Your baby is much better prepared to deal with the demands of labour. Because your baby's heart-rate goes up and not down during exercise, this makes it possible for your baby to adjust to significant decreases in oxygen delivery without developing oxygen deficiency in the tissues of the heart. The increased stress on the baby at the time of birth is less likely to affect the baby of an exercising mother.
Pregnancy comes with some huge adjustments in your body - what advice do you have for women who are normally very active who are struggling to deal with these changes?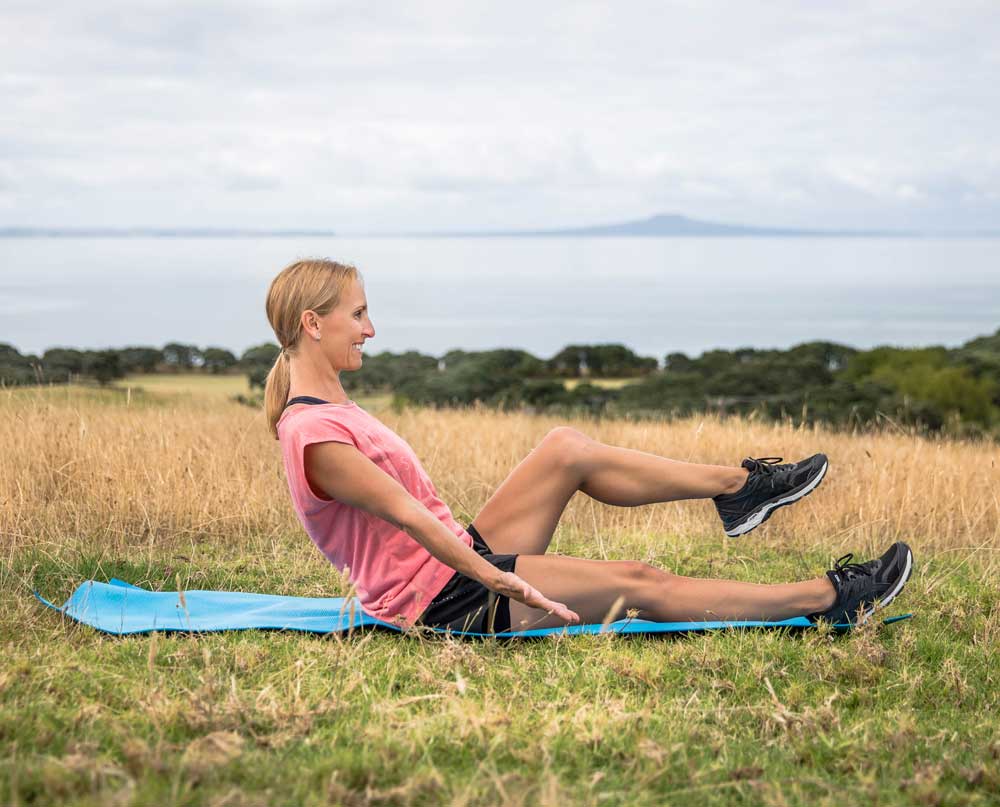 I think the moment you decide you want to have a baby is when you need to accept that your body is going to change. We can't stop the changes; your body needs to develop to grow a healthy human being. Athletes need to try and embrace the changes (which I know is hard) and see it as a special time, knowing that if they can continue to keep fit and healthy that their body will return postpartum.
As a mum of 3 girls and being a role model for them, what are the key messages you want them to understand when it comes to exercise?
We are a very active family, and I think if you get your kids involved in a sport early, they don't ever see exercise as a chore. My girls don't envisage going for a bike ride or a surf as exercise and something that they need to do. They do it because they love it. Later on in life kids who have been active through their school years often by choice find gyms and aerobic classes as their bodies love to move!
Who will you be thinking of this International Women's Day?
I think about my daughters and trying to ensure I raise strong and thoughtful women, my mum, who has prepared me to take on the challenges of motherhood and gave me the tools to be who I am today. And finally, to the women who are preparing themselves to compete at their very best at the 2020 Olympics!


Supporting women through both a hugely rewarding, and on the flipside a very difficult, time with pregnancy and motherhood Lorraine is able to draw on her own experience as a mum. Lorraine's advice is sensible and supported by research which is why so many Kiwi Mum's have turned to her for help to stay fit and healthy. With three gorgeous daughters and a thriving business this energetic active mum continues to be an inspiration for all women.
We're proud of all our Mumbassadors living healthy and active lives and in the process inspiring others to do the same. Happy International Women's Day to all from the team at ASICS.
This is one article in a series of four. Check out the others with Ameliaranne Ekenasio, Matilda Green, and Helena Dinnissen.