The 2018 NRL season has been a stellar one for the Vodafone Warriors. For the first time in seven years, the team have made it to the qualifying semi finals, currently ranking 8th on the NRL ladder.
Adding to their success, fan-favourite winger David Fusitu'a has come out on top as the 2018 NRL top try-scorer.
Leading with 22 tries, just one ahead of Sharks player Valentine Holmes, Fusitu'a has made history as the first Vodafone Warriors player to top the NRL try-scoring list.
Ahead of their momentous match against the Panthers this Saturday, we sat down with Fusitu'a to find out what he thinks about the Vodafone Warriors' triumphant return to the NRL finals series.
The long-awaited comeback of the Vodafone Warriors
After a disappointing 2017 season, the 2018 season started off strong for the Vodafone Warriors, with five straight wins – their best ever start to a season. Despite a few losses, the Vodafone Warriors have continued with their winning streak, currently 8th on the NRL ladder and gearing up for their first finals series match since 2011.
David Fusitu'a is proud of his team's success and the improvements they've made. "We're definitely in a position we'd like to be in. There were times throughout the season where we found it tough, but we were able to regather and stick to our guns and finally get the results that we needed. There are exciting times ahead, for sure."
There are a number of factors that have aided the Vodafone Warriors progress this season. For one thing, the leadership has changed, with ex-Kiwis coach Stephen Kearney joining in 2016 as Head Coach, and Roger Tuivasa-Sheck being named captain last year. 2018 also saw the return of talented New Zealand internationals, such as Adam Blair, Tohu Harris, Gerard Beale and Peta Hiku.
Fusitu'a attributes much of the team's success to all the work they've been putting in behind the scenes. "I think there's a lot more consistency compared to last season. We've been focusing on our performance a whole lot more, taking it personally. I think a lot of it comes down to preparing well for each game."
Another key element to victory is teamwork, both on and off the field. "You've got to be able to rely on your mates when times are tough," Fusitu'a says.
"What we've built along this season is our connection and relationships, not only as players on the field but as mates off the field. We've formed a great bond, and it can only get better from now."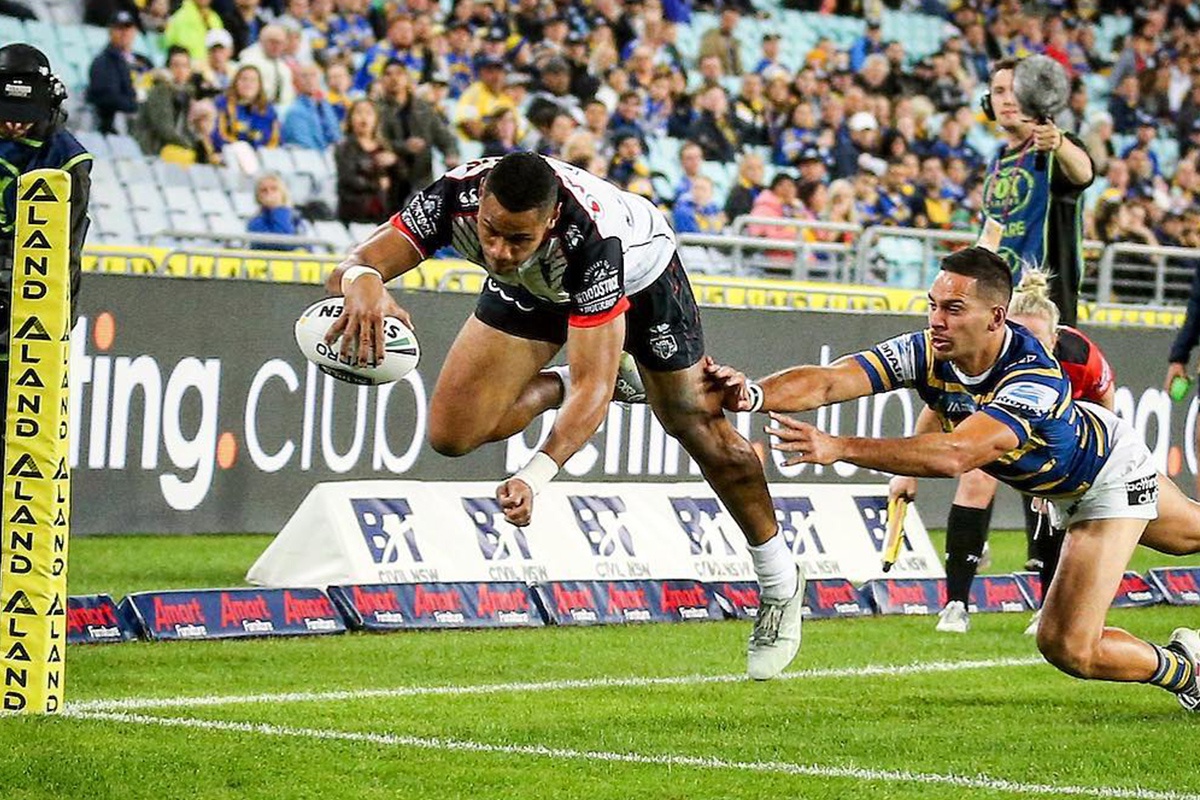 A 24 hour athlete mindset
To get to the top on the NRL try-scoring leaderboard, Fusitu'a has taken every element of training and preparation seriously.
"A lot of it comes down to the little things, the things you take for granted, like stretching, diet, and hydration," he tells us. "Leading up to a game, those are really crucial. Here at the club, we always talk about being 24 hour athletes. That's something a lot of us strive to be – I think it's really important."
Fusitu'a doesn't take the 24 hour athlete mindset lightly, and its been something that he's put a particular focus on this season. "I think its about me getting better every week and not settling in my performances. That comes down to learning each week and making sure I prepare individually for every game."
"On top of that, there's a lot of stuff that people don't see, like stretching at home – it's the little things that get you over the line."
Fusitu'a's memorable hat-trick moves have proved him a favourite amongst the NRL try-scorers, so how does he practice his killer try-scoring moves?
"I've been doing a lot of extra things on the side, training to get better at catching the high-balls and doing lots of speed work. When the pressure's on, it's pretty hard to catch some of those high balls, so I just make sure I've done the reps and put the work in behind me so I can go into the game with confidence."
Getting past major injuries
Despite his success this season, it hasn't always been smooth sailing for Fusitu'a. The 2015 NRL season saw him spend most his time off the field, riddled with groin and hamstring injuries.
"It was tough," says Fusitu'a. "I just kept hitting roadblock after roadblock. I thought my body just wasn't cut out for rugby league."
But support from family, fellow players and the club helped him through. "It was really important having people around me that were supportive. The staff really looked after me. The whole club really stuck with me throughout my journey."
Now, finishing off his 5th season with the Vodafone Warriors, Fusitu'a has learned a lot about dealing with injuries.
"I really focused on my stretching and mobility off the field. A lot of my injuries were muscle-related so I really worked on making sure I stretched at home, had extra ice baths, put the effort in for full recovery.
"It all goes back to that idea of the 24 hour athlete. I'm making sure I apply myself, even when no one's looking. I think looking after myself off the field was really important to me getting back on my feet and getting my confidence back."
Sticking with the Vodafone Warriors until 2023
Having just signed a 4-year contract with the Vodafone Warriors, Fusitu'a is set to become one of only eight players to commit a decade with the club.
For Fusitu'a, the commitment is one way of showing his gratitude to the club that stuck with with during the harder times.
"I'm just really grateful that the club is showing faith in me," he tells us. "I've always wanted to play for the Vodafone Warriors and New Zealand is my home so it feels really special."
But before he starts thinking about the next four years, Fusitu'a is just focusing on bringing home a win at the next game. "I'm excited to finish off the season strong and hopefully bring home the title which has eluded us for so long."
As a proud sponsor of the Vodafone Warriors, ASICS brings you performance football shoes and gear that support every player on and off the field.