Factors that can affect your marathon finishing time
There are various factors that may affect your marathon finishing time. Some are easier to manage, while others, such as weather, can be beyond your control.
"If you train hard, if you are committed, there's [a good chance] that you'll make your goal," said Fábio Lima, an ASICS FrontRunner member. "For me, the main factor is the training leading to the race. But on race day there are so many factors that could influence [your performance], such as the weather, especially if it's hot."
Type of terrain. The surface you run on isn't guaranteed to be smooth. Your pace and range of movement can be affected by the terrain.
Experience level. Experienced marathon runners will likely be able to set more ambitious goals for their finishing time. Beginners, on the other hand, may take a bit longer to reach the finish line.
Weather. The weather can be unpredictable on race day. Heat causes sweating and slows down your pace during rehydration. Colder weather can tighten muscles and make it more difficult to complete the race.
Average marathon times explained
According to statistics, the average marathon time for runners can also vary based on other factors such as age, gender and experience level. However, it's important to keep in mind how the data was collected and what could have influenced the numbers, such as the growing number of participants and runners having longer racing careers.
Average marathon time by age
Historically, data shows that athletes of different ages usually finish marathons with different times. The bullets below can give you an idea of what the average completion time is for your age group:
Under 30 years old: 4 hours and 32 minutes
30-50 years old: 4 hours and 24 minutes
50-60 years old: 4 hours and 34 minutes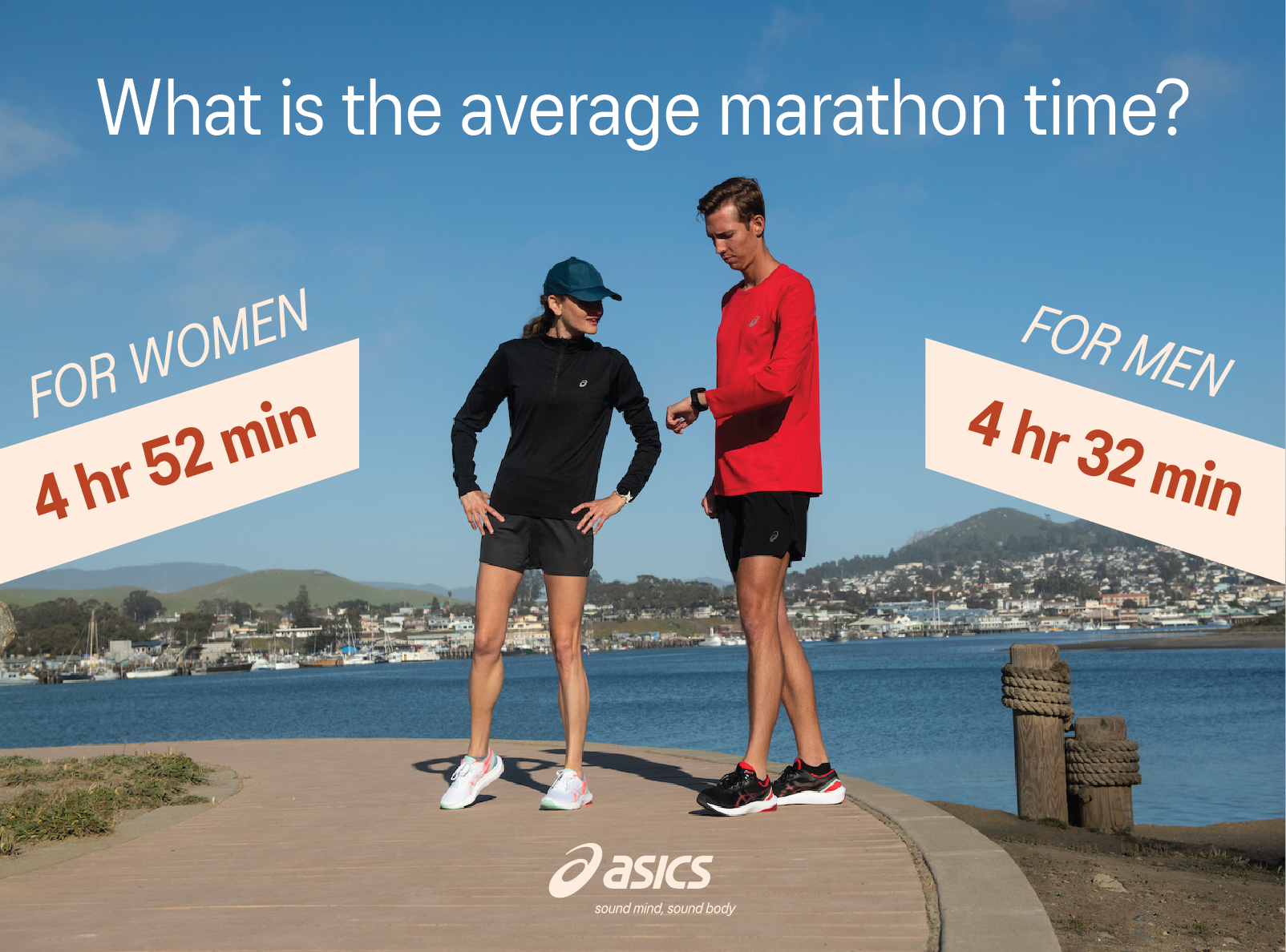 Average marathon time for women
Women's average marathon times have increased since 1986, from 4 hours and 18 minutes to 4 hours and 56 minutes in 2001. This could be due to an increased number of women runners in marathon competitions. Although the time has decreased by 1.3%, the average marathon time for women was
4 hours and 52 minutes
in 2018.
Average marathon time for men
The average marathon times for men have also shifted over the years, from 3 hours and 48 minutes in 1986 to 4 hours and 56 minutes in 2001. As of 2018, their average marathon time was 4 hours and 32 minutes.
What's the average pace for marathon runners?
The average pace of male marathon runners is 6 minutes and 43 seconds per kilometer, and 7 minutes and 26 seconds per kilometer for female marathon runners.
How to predict your marathon time
You can predict your marathon time with this equation: first, multiply the average time it takes you to complete a mile by the number of miles in the race. Convert the result to hours and minutes.
If you run a 10 minute mile on average and the marathon is 26.2 miles long, take 10 and multiply by 26.2. Then take 262 and divide it by 60. This will give you an expected marathon finishing time of 4 hours and 22 minutes.
The ASICS Runkeeper™ app is a great tool to utilize when you want to monitor your progress.
H2: Tips for reaching your time goal
There are many techniques and strategies you can use to reach your desired marathon time. Sticking to a schedule can help you stay on track and allow you to visualize your progression before race day.
Develop a training schedule. Keeping a training schedule can help you focus on specific needs as you prepare for a marathon, such as breathing stamina and proper form.
Build your muscles. A strong upper body will allow you to maintain proper posture and decrease fatigue.
Track your progress. Tracking your training progress can motivate you to keep pushing forward towards your goal. The ASICS Runkeeper™ app is a helpful tool to see your progress per running session. The app provides interactive insights and allows runners to connect with others across the globe.
Can you run a marathon without training?
It's important to train before a marathon regardless of your experience level. Insufficient training is not only a competitive disadvantage but may result in muscle injuries and loss of confidence.
Get great tips to prepare for your next marathon by reading "Marathon Training Plan" and "Running a Marathon on a Bet".
Whether you're a beginner seeking a challenge or an avid runner looking to complete another race, any length of long distance running can be challenging to prepare for. Creating a personalized plan will allow you to achieve your marathon time goals and strive for success.