ASICS team members know that questioning leads to innovation. Every day is an opportunity to expand our knowledge about what sport science is and develop high-quality products and services to be enjoyed across the globe. Over the years, ASICS has developed a strong culture of inquisitiveness and trailblazing: When we see problems, we use them as springboards for the exciting new solutions of the future.
And at the heart of this ethos is the ASICS Institute of Sport Science (ISS). Since 1985, the focus of the Institute has been to understand humans inside-out in order to create unique materials and products that propel the sporting industry forward.
Using a human-centric approach to design
ASICS' corporate vision is to "Create Quality Lifestyle through Intelligent Sport Technology." This sentiment drives its research process. ASICS Institute of Sport Science produces a wide variety of research, where human form, movement and physiology are the main focus. With long hours of research and development going into each project, the ISS is always pushing the envelope of athletic performance.
In addition to research and development, the Institute's scope includes running analysis, service systems and developing technologies such as the 3D FOOT SCAN™.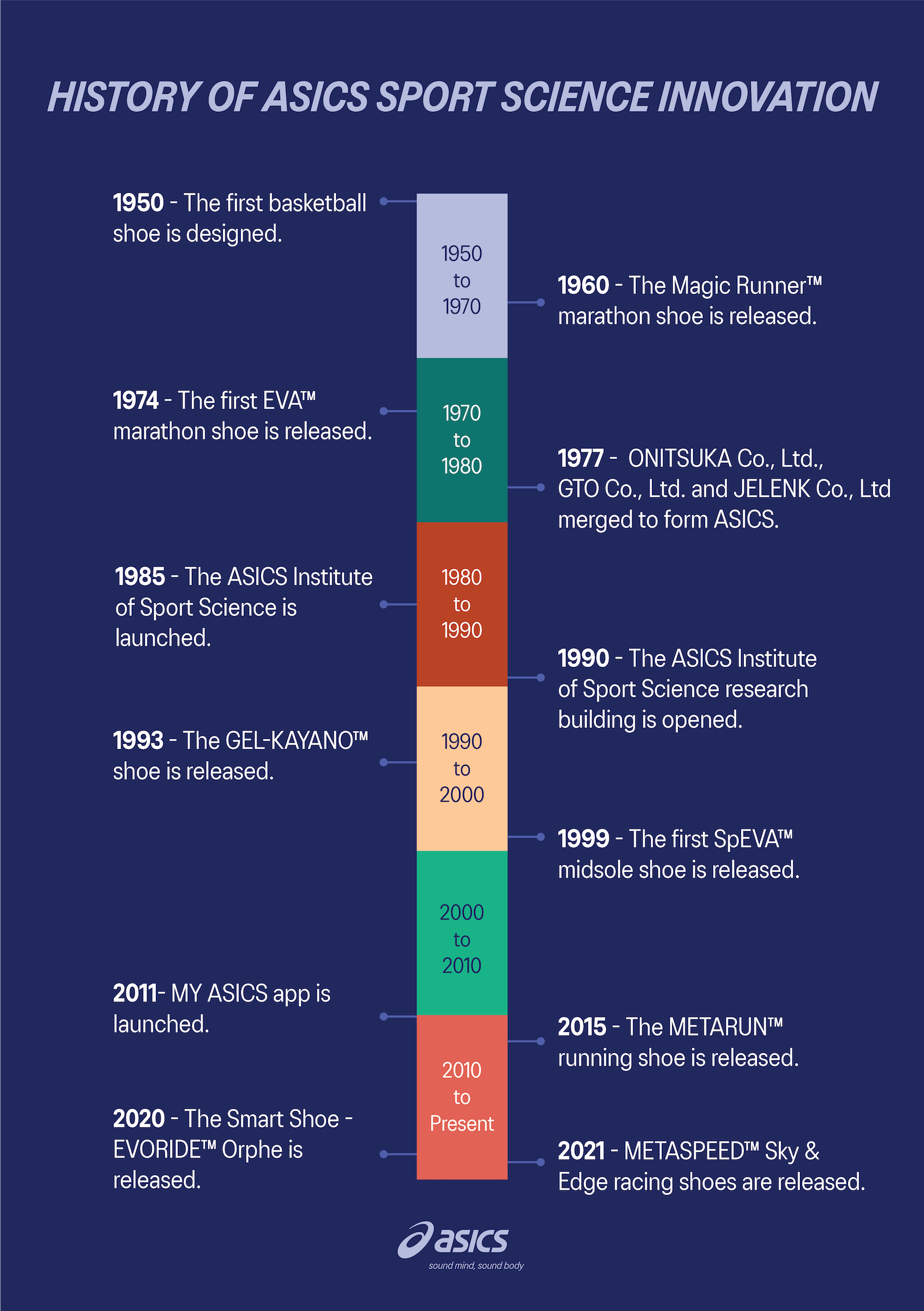 History of ASICS Institute of Sport Science: A timeline
ASICS has grown and changed immensely since its corporate origins in 1949. But a common goal resonates across the decades: staying ahead of the innovation curve and working hard to make sure that ASICS products are being used while also being useful. A major step in pursuing that priority was the creation of the ISS.
Inception of the Institute of Sport Science (ISS)
This time period was a huge development period for ASICS. In 1977, ONITSUKA Co., Ltd., GTO Co., Ltd. and JELENK Co., Ltd merged to form ASICS, a sportswear company with a strong foundation in performance running. Out of this merger, the Technology Research Section for research on apparel products was established.
The decade between 1980 and 1990 marked a period of growth for ASICS. For example, the company paved a new path with the launch of the ASICS Institute of Sport Science in 1985.
ASICS created a number of shoes in this time period, from the FABRE JAPAN basketball shoes to lightweight marathon shoes and everything in between. The impressive output of innovative technologies in this time period, such as the introduction of GEL™ technology, allowed ASICS to broaden and expand its customer base.
ASICS continued to grow between the years 1990 and 2000. In 1990, the Institute of Sport Science research building opened its doors. This facility was built to analyze sport from a scientific standpoint and then develop athletic gear based on that research.
The facility is equipped with an all-weather track, two types of tennis courts, an experimental gymnasium and many other research rooms. Following the completion of the ISS, ASICS used this hub to develop many innovative products and sport technology advancements, such as FLYTEFOAM™ PROPEL and AHAR.
FLYTEFOAM™ PROPEL was a breakthrough in running shoe midsole technology, as it provided lighter, bouncier, more durable shoes to improve the performance and protection of runners.
Since the Institute of Sport Science opened, ASICS has worked to be ahead of the times with innovation. ASICS has expanded the scope in which the ISS functions. They have worked to strengthen research and development to be a leader in the field.
Having an institute dedicated to creating high-quality products for consumers is exactly what was missing in the market. And researchers at ISS are now expanding beyond physical products. They also dive deep into physiology and digital technology, creating tools that help accomplish the human-centric design by providing personalized value to users.
Looking at footwear from a scientific standpoint and having the ability to perform detailed research is what makes ASICS an industry leader today.
How ASICS ISS innovates sports performance
A five-stage holistic design process ensures the performance and protection of athletes:
Identifying the parts of the shoe that need to be adjusted or improved through motion analysis.
Computer modeling to help develop or enhance the shoe's structure.
Material development of shoe sole and parts.
Making footwear samples.
Quantitative and qualitative tests to compare previous samples and competitive footwear models.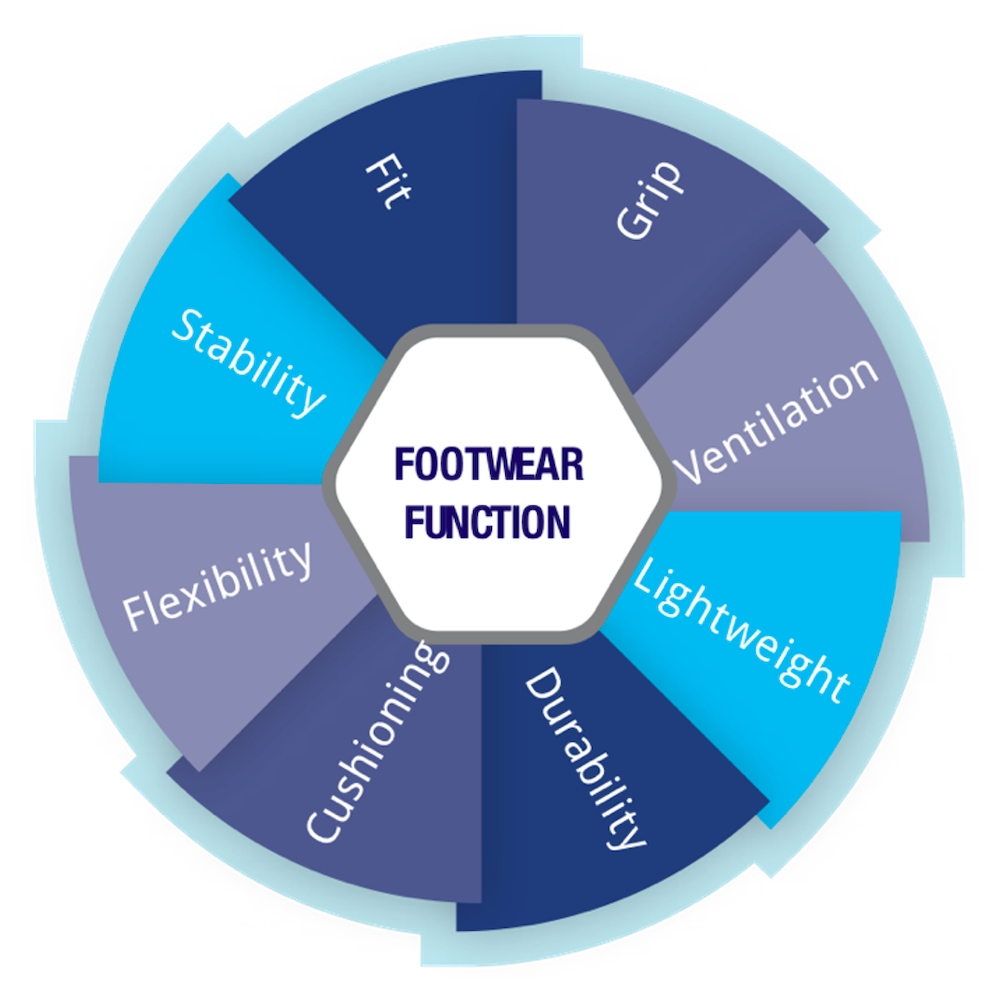 8 key functions of ASICS shoes
When creating a new technology, ASICS is looking for certain criteria so that the shoe performs how it was designed to. Functions such as cushioning, durability, fit, flexibility, grip, light weight, stability and ventilation are all key functions of ASICS' ISS technology.
1. Cushioning
​​ISS has created cushioning technology to reduce the impact on the body when landing. An example of this type of cushioning is GEL™ technology.
2. Durability
ISS has developed durability technology that provides better resistance toward wear and tear and the fatigue of materials. This is meant to help your shoes last longer. For running shoes with added durability, consider models that feature AHAR™ or FLYTEFOAM™ with CNF technologies.
3. Fit
The ​​ISS developed a fit technology that helps to reduce movement of the foot inside of shoes and to improve overall comfort. Dynamic fitting technology such as the External Heel Counter will help to keep your foot in a structured position.
4. Flexibility
​​ISS has developed flexibility technology that will match the movement of the runner. This allows your shoes to move with your feet, creating a more natural feeling while you run.
5. Grip
​​ISS has developed ASICSGRIP™ technology to reduce traction between the outsoles of your foot and the ground. This lightweight rubber outsole material provides excellent durability and improves grip to help prevent slippage.
6. Lightweight
​​The Institute of Sport Science sees a lack of technology in a certain area and creates it. The ISS has developed lightweight technology, such as the FLYTEFOAM™ midsole to reduce weight burden and improve energy efficiency.
7. Stability
The ​​ISS has created stability technology for a stable transition from the moment the foot strikes the ground to when the toes push off the ground. The result is the reduction of pronation while running. This technology can be found in products that feature DUOMAX™ and TRUSSTIC™ technologies.
8. Ventilation
Ventilation technology is key to a successful running shoe. ASICS ISS has worked hard to create technology that helps to increase airflow and breathability, as well as decrease temperature and remove humidity from the inside of running shoes. You can find this technology in the METARACER™ shoe's ventilation system.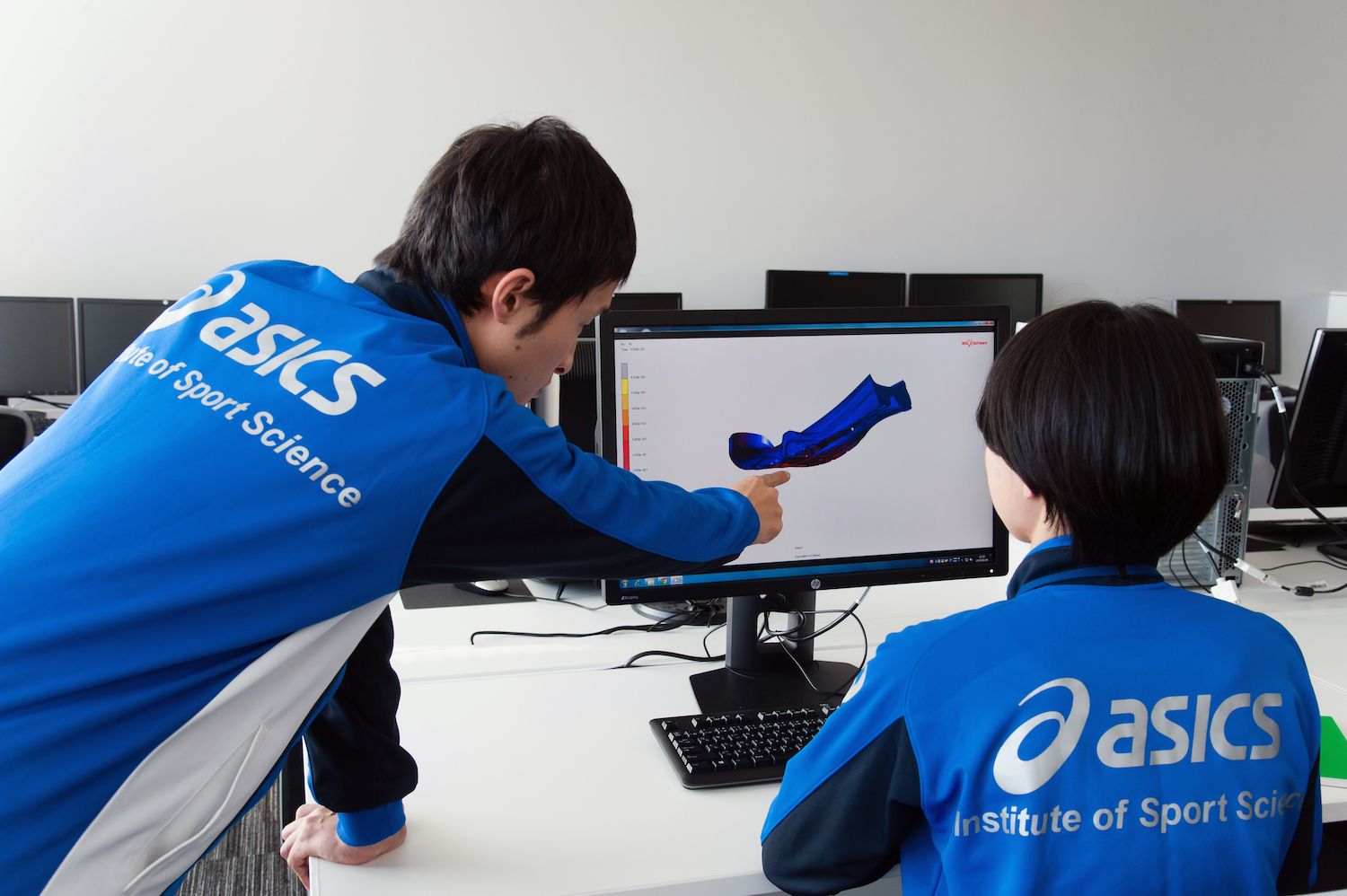 Important ASICS ISS technologies
At the ASICS Institute of Sport Science, work and research is being done day in and day out to create and provide athletes with helpful technologies. Performing research and creating products that work and are reliable is what improves the lives of the customers.
GEL™
Launched in 1986, GEL™ technology allows shoes to handle shock absorption with ease. "GEL™ is our most iconic and legendary technology," says AJ Andrassy, Global Director of Performance Running Footwear for ASICS. This innovation has been utilized in ASICS footwear for over a generation.
FLYTEFOAM™ / FLYTEFOAM™Blast
FLYTEFOAM™ is one of the lightest, durable materials that ASICS has ever used. There's also FLYTEFOAM™ Blast technology, which is a bouncier, more responsive version of the material. Both are popular choices among athletes. "[It] makes running simple and fun," says Andrassy. "The response from consumers tells us that we've built something special."
GUIDESOLE™
GUIDESOLE™ technology consists of a curved sole design that helps runners conserve energy by reducing ankle flexion. This creates an easy forward roll during their stride. This technology is incorporated into many different shoe designs, such as METARIDE™.
The future of sport science and innovation
Over the years, ASICS has addressed what sport science is and worked hard to research, develop and create quality products for customers. The ASICS Institute of Sport Science continues to work tirelessly to develop products that perpetuate the enjoyment and development of athletics using personalization and digital technology.