In most years running shoe models get minor updates to either the upper or the sole. Yet the ASICS GEL-NIMBUS series comes back each year with almost complete redesigns yet they always stay true to what the GEL-NIMBUS trainer is there to achieve. For their 25th Birthday, that's no different. Yet this time it's a redesign with not only you in mind but the planet! Don't be fooled though whilst you can't see the GEL as you usually can with the GEL-NIMBUS it's still there and better than ever!
NEW FEATURES of the GEL-NIMBUS 25
All new full-length FF Blast+ ECO foam made with 24% Bio Content
Hidden PureGEL that's 65% softer
All-knit tongue design for a true sock-like feel!
New 8mm heel Drop
They maintain the form from previous GEL-NIMBUS trainers yet blink and you'd think it's a completely different shoe. They feature a new soft feeling inner that your foot slides into like a dream and heel hook that makes getting them on and off a breeze.

Learn more about the newest updates in the article covering GEL-NIMBUS 25 vs GEL-NIMBUS 24.
What are they Good for?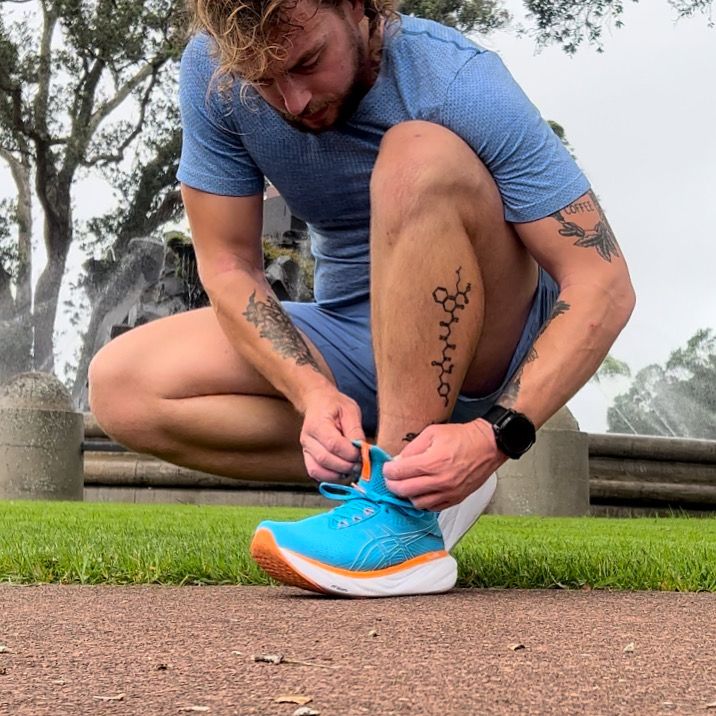 Whilst I wouldn't personally wear them for speed sessions they are fantastic at supporting those Sunday long runs and the ones where you want to just enjoy the process of running.
Sustainable quality
As always with the GEL-NIMBUS, the details and the materials in the shoe are based on you. This time round ASICS has put a greater emphasis on our planet using materials. It's not the first time in their trainers or the GEL-NIMBUS they've upped their Earth game even more. Using the latest FF Blast ECO Foam that's made with 24% Bio content, new dying techniques, and an 88% sustainable upper. But its sustainability doesn't forget build quality. The GEL-NIMBUS 25 feels just as robust as anything ASICS has came out with before.
Testing, Testing!
Testing them was a pretty easy affair, straight out of the box and straight out of the door. The new lacing design took some getting used to, yet after the first kilometre was out of the way we were onto a winner. It took a gentle 5k, a steady 10K, and a brisk Sunday long run to come up with this review.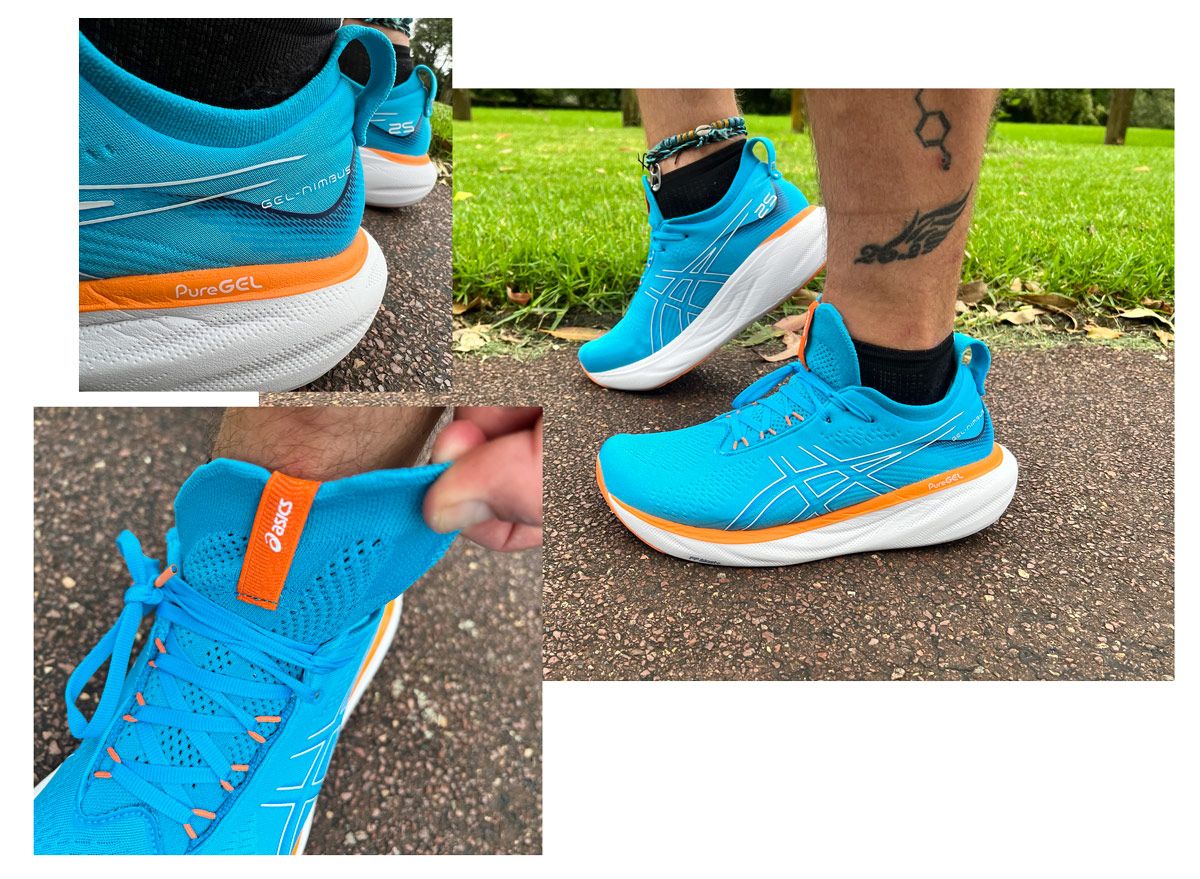 FEEL
I have to start here by mentioning the feel when you're putting the GEL-NIMBUS 25 on. They actually feel like you're wearing a pair of socks that have been engineered specifically for your own feet! They have the stretchy knit tongue that was loved from the GEL-NIMBUS 24 yet not the whole upper is a knit construction. It took me a while to adjust the lacing to how I preferred them, yet this was a joyous task as you could adjust the fit a little easier with the new looping system that runs up the tongue. They pull the entire knit rather than just where the holes would be.
Compared to the GEL-NIMBUS 24, you do lose a little ground feel yet they make up for that with smoother transitions and a more energetic feel whilst running. Carbon-plated trainers don't agree with my ankles, there's just too much energy return from them for me, so with the GEL-NIMBUS 25 I feel you get that energy return yet your natural foot movement isn't restricted. 
On my first long run, they blew me away. The ride, the cushioning, in fact, the whole shoe felt like they were working in harmony to aid the entire run. At the start, I felt like I needed to hold back a little as they would gently push me forward. The bounce from the cushioning feels perfected compared to other cushioned trainers. You get that airy underfoot feel without sacrificing support. Towards the KMs where I'd usually feel fatigued, I felt they helped me push that much further into the run and I was able to continue on further than expected.
Verdict
Probably the first trainer that has both physically and aesthetically impressed me. For a while, the GEL-NIMBUS was following a similar build from model to model yet this time ASICS has definitely broken the mould and created something incredible. Whilst I wouldn't be putting them into a speed session, they're the all-rounder that's a must in the running collection (we all know one pair isn't enough). Plus It's nice to see they are leading the way by improving their already great sustainability efforts.
The GEL-NIMBUS 25 is a shoe that feels like it's been rebuilt from the ground up but doesn't forget you or the planet.
Shop the GEL-NIMBUS 25 on our site here. Or find the next perfect pair for you with the ASICS Shoe Finder tool. Answer a few questions and we'll match you with some of the best shoe options.
Or for more information to take your running to the next level, visit the ASICS NZ Knowledge Base where you'll find Training and Running Tips.