Selecting running shoes that fit your foot size and width is important. Learn how to find the right wide running shoes for you and which options ASICS offers.
How do you know if you need wide running shoes?
Should you consider wide running shoes? If you're running in a regular-width shoe and noticing any of the following signs, a wider shoe could be a better option.
Your running shoes are stretched or bulged on the sides.
Take a look at your current running shoes. Are they stretched and projecting outward along the sides? If so, your running shoes might be too narrow.
Your regular-sized running shoes don't fit.
If you buy running shoes in the same size as your regular shoes, but they feel too snug, you may want to try on a wider shoe.
You're getting blisters or bunions from running.
Foot injuries like blisters or bunions form when your shoe puts pressure and friction on your foot. If your foot is wide, these injuries can be common and debilitating.
The pain in your feet increases toward the end of your run.
A running shoe that feels just a little tight at the beginning of your run may become uncomfortably snug by the end as your soft tissues naturally swell.
Your foot doesn't feel supported when you run.
If your running shoes feel like they're lacking arch support or like the laces apply pressure to the wrong parts of your feet, you may want to consider wide running shoes.
Which ASICS shoes are recommended for wide feet?
Our most popular shoe for wide feet: GT-2000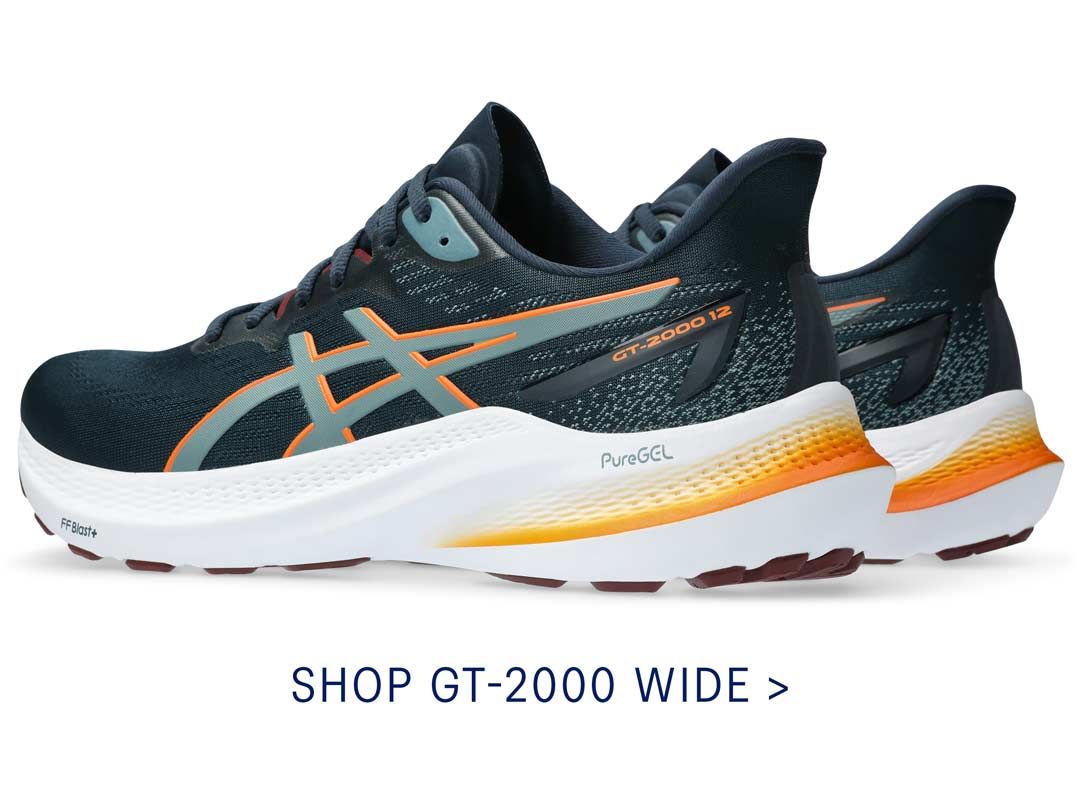 The GT-2000 is ranked highly in recommendations for a wide stability shoe. Rearfoot GEL™ technology helps absorb more impact, while an updated midsole with full-length FF BLAST™ cushioning further softens landings and provides a responsive rebound.​ The 3D GUIDANCE SYSTEM™ consists of wider basenets for a more stable platform, an increased heel bevel for controlled impact with smoother transitions, and forefoot flare for a smooth ride. As a result, you'll experience a silky-smooth transition from footstrike to toe-off.

Recommended wide stability shoe: GEL-KAYANO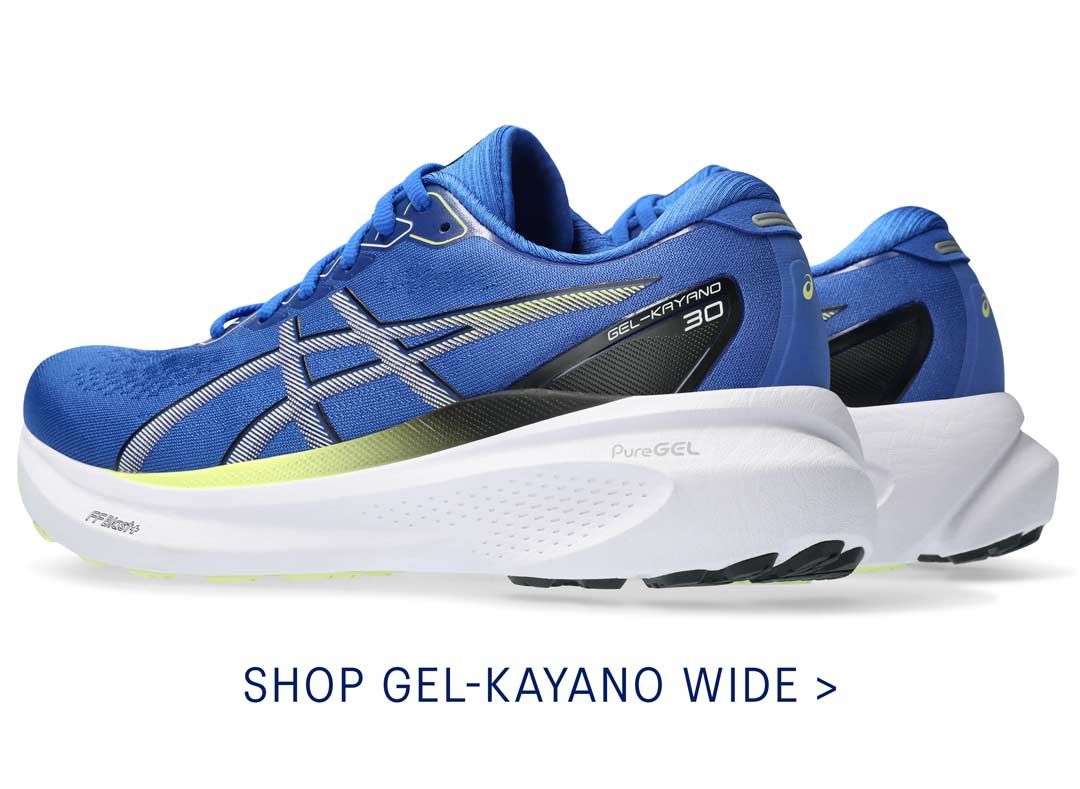 Providing a stable running experience for wide feet the GEL-KAYANO is one of the best options. With a highly responsive feel underfoot it's ideal for runners looking for a combination of moderate support and high-cushioning during their run. FF BLAST™ PLUS technology in the midsole creates cloud-like softness in every step. The 4D GUIDANCE SYSTEM™ is our innovative new take on stabilizing the foot. A newly designed lateral guidance line and updated midfoot foam provides comfort for the fatiguing foot.  

Recommended wide shoe for neutral feet: GEL-NIMBUS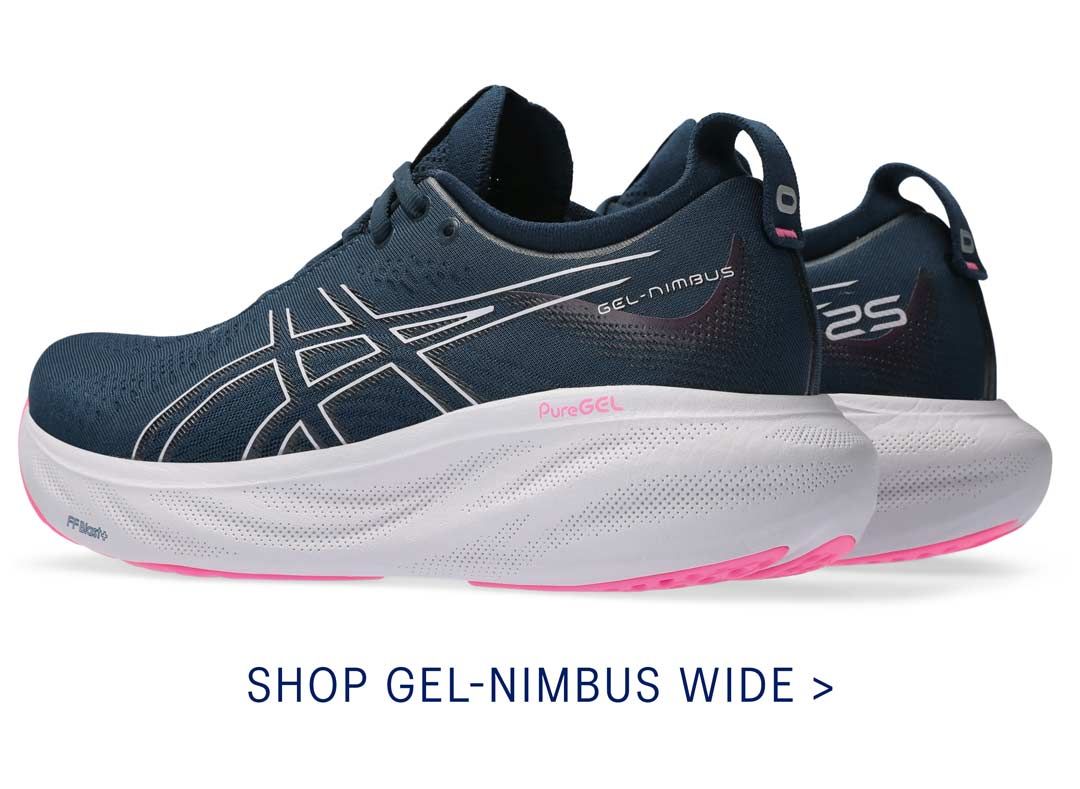 The engineered mesh upper of the GEL-NIMBUS shoe provides support that accommodates a wider foot and moves seamlessly through your stride. FF BLAST™ PLUS ECO cushioning provides lightweight impact absorption. The shoe's sole features PureGEL™ technology, which improves cushioning in the heel while still maintaining a light weight.
Understanding ASICS wide running shoe sizes
For men, wide shoes are marked as 2E, which is also extra wide for women. Extra wide running shoes for men are marked as 4E. Women's wide shoes start as a D. Our width classification guide makes it easier to determine the best ASICS wide running shoes and sizes for you.
Read more on width and how to measure your feet in our Knowledge Base article on Finding the Right Fit.
Ready to select your next pair? Shop Men's Wide Shoes or Shop Women's Wide Shoes